Top Challenges for Embedded Analytics and How to Overcome Them
We've gathered the most popular challenges and solutions for embedded analytics. Hopefully, that would make the implementation and adoption of an embedded analytics tool a no-brainer. 
Bilyana Petrova
12 min read
Embedded analytics is everywhere around us – in our cars, in our homes, in our security systems, in the digital advertising that we see while surfing the web, and even in the healthcare services we are being treated with.
Analytics is widely seen as the solution to many problems across a variety of different industries, including banking, manufacturing, education, retail, real estate, and more.
And that is because data nowadays is everything.
Especially in business.
If businesses don't analyze the data they possess in order to extract valuable insights to help them remain competitive in the market and increase their profits, then they will soon be left behind the pack – and by their customers.
Embedded analytics is no longer ''nice to have'', but a definite ''must-have'' solution.
But of course, there are a certain amount of concerns and questions that you are likely to face when choosing a vendor to partner with and when embedding the solution in your apps.
We've gathered the most popular challenges and solutions for embedded analytics. Hopefully, that would make implementing and adopting an embedded analytics tool a no-brainer.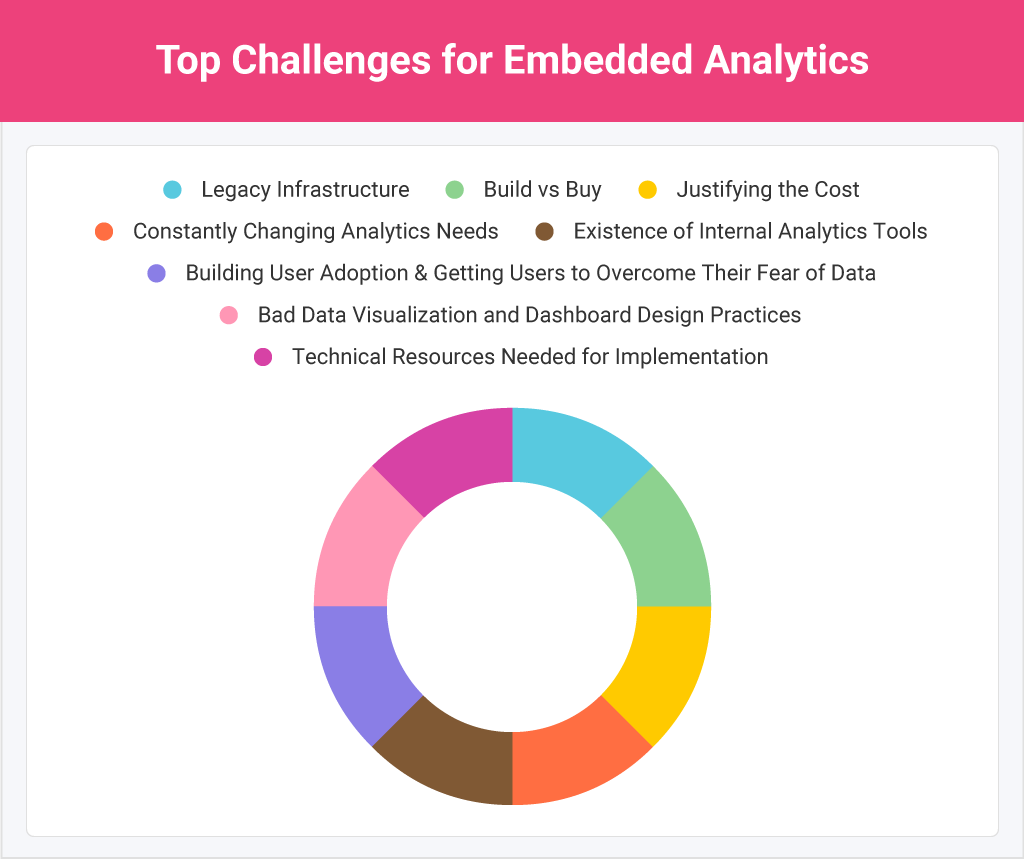 1. Legacy Infrastructure
In today's data-driven and highly competitive business environment, it is surprising that many finance, insurance, or supply chain organizations still use legacy systems to analyze and work with their data despite the fact that they need to be armed with real-time, up-to-date technologies and tools to be able to survive in the market.
We call a legacy system a complex, outdated system that uses old technology, or software that no longer meets users' expectations. Legacy systems typically still function and perform the tasks they were designed to do, but they don't integrate well with new technologies, have stopped maintenance, and no longer allow for growth.
There are many reasons why many organizations still rely on and use these technologies, which were built some more than a decade ago. Most organizations feel more comfortable with what they already know and how to deal with and fear the uncertainty and the investment in a modern solution that requires user training and time to get used to.
Furthermore, legacy systems tend to get slower over time, which forces users to become slower in their work, respectively, as a result, inefficient. Also, legacy systems are more vulnerable to hacker attacks since they have outdated security systems – a breach that can damage an organization's reputation by exposing sensitive data.
Solution: Modern embedded analytics platforms support a full stack of integrated analytics functions — from interactive dashboards and reporting to self-service analytics and white-labeling capabilities, alerts, collaboration, data preparation, and machine learning on a unified, scalable architecture with common administrative and management functions.
Also, modern embedded analytics platforms give end-users the freedom to edit visualizations or dashboards to create their own, enabling the collaboration between BI and visualizations so users can extract insights and actionable information in times when these insights are needed the most.
2. Technical Resources Needed for Implementation
Whether you've already chosen an embedded analytics solution or are still evaluating, one of the most important steps is the integration process into your existing applications. But when the solution hasn't been purpose-built for embedded, the process of implementation and the time needed to set it up will take longer than expected. Not to mention your developers' time that will go to waste. Instead of focusing on their domain expertise and the core of your product, they'll be burdened with the task of making your new analytics tool work.
A good embedded analytics solution is more than just the right technology. You should also consider the processes and people it will take for successful implementation and maintenance – will it sacrifice other things you are trying to do in terms of resources, or do you need to use your senior guys only?
Solution: The importance of making sure your embedded analytics vendor was purpose-built to be embedded equals faster integration times, lower costs, and overall higher satisfaction.
Purpose-built for embed, Reveal's modern architecture includes native SDKs for any platform to deliver the best experience across devices. This makes connecting anywhere and anytime from the cloud, desktop, and mobile devices easy and convenient. Reveal is also faster to integrate into your code as it doesn't require that you host it in a third-party cloud location. Learn more.
3. Constantly Changing Analytics Needs
Business intelligence (BI) is not a new concept, but the capabilities that served data analysts and their organizations in the past couple of years have matured and evolved recently. And that is a trend that doesn't seem to stop anytime soon. Embedded analytics is a dynamic industry. In fact, analytics has evolved faster than any other practice. We're seeing new features and functionalities all the time.
Experts in the analytics space say that the analytics industry has seen three generations:
Analytics 1.0 – the era of business intelligence
Analytics 2.0 – the era of big data
Analytics 3.0 – the era of data-enriched offerings
Now we are in the Analytics 3.0 era in which machine learning and AI, big data analytics, cognitive computing, and cloud storage platforms operate simultaneously.
Keeping up with all the new embedded analytics trends is hard. And it's even harder to understand the way they work and connect with one another for maximum effectiveness.
Solution: Change is inevitable. In the future, embedded analytics tools and technologies must and will continue to evolve along with the organizations and users that use them. The level of change is difficult, no matter what the benefits of modern embedded analytics solutions are.
Fortunately, modern BI and embedded analytics platforms are making the shift a lot easier. For example, they can:
Be incorporated into any environment
Configured to multiple users, no matter each user's role or technical proficiency
Vendors are on continuous release schedules to keep up with new trends and technologies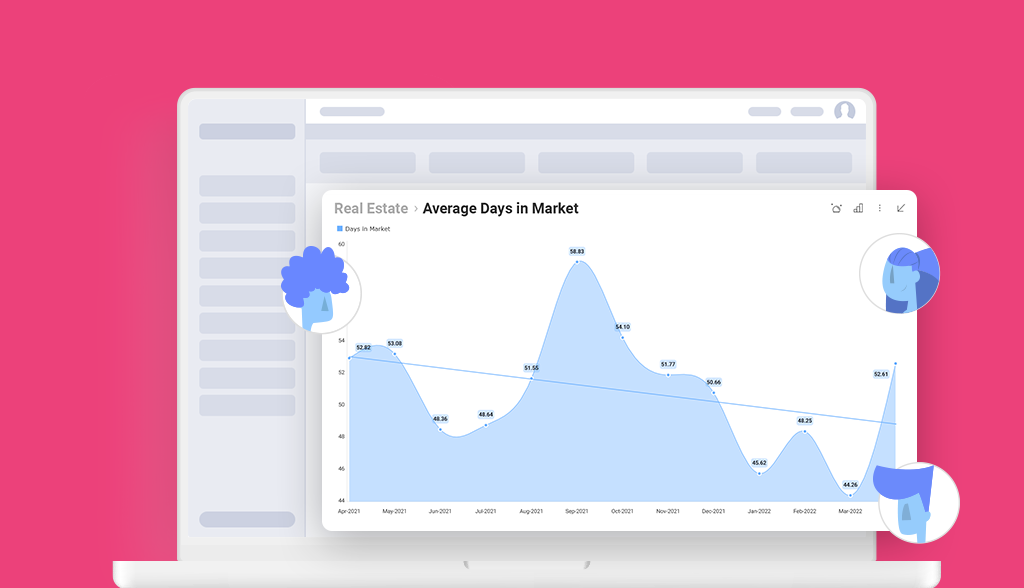 4. Existence of Internal Analytics Tools
Even if your businesses don't have integrated analytics, it is very likely that you use some form of reporting. Be it a free online tool such as Data Studio or Superset, a database created by your analysts' team, or some basic internal tool made by your developers.
If that is the case, you're probably thinking that you already have a tool that can take care of your business' data needs, and you find paying for any other solution pointless.
But you're wrong.
Although your internal analytics tool might have basic reporting capabilities to help you analyze your data, it is not a solution that keeps up with trends and technologies and can't ensure you'll stay competitive in the market.
Solution: Modern embedded analytics platforms support a full stack of integrated analytic functions — from reporting and dashboards to self-service and white-label analytics, alerts, collaboration, data preparation, and machine learning on a unified, scalable architecture with common administrative and management functions. And unlike restricted internal analytics platforms that limit what users can do, purpose-built embedded platforms give end-users the freedom to edit visualizations or dashboards or to create their own. Also modern embedded analytics platforms make it easier for developers to create custom analytic applications.
5. Building User Adoption & Getting Users to Overcome Their Fear of Data
Getting users to overcome their fear of data and working with it is a key challenge for embedded analytics. User adoption of embedded analytics features and functionalities takes real work, as people are typically afraid of change and easily overwhelmed by data. End users don't see why something will have to change if it does the job – even if it is more time-consuming, tedious, and often not well functioning. Even when inefficiencies are recognized, promoting a change can still be difficult.
Promoting such change to users who aren't typically good with data and don't have the technical knowledge to build dashboards or reports is especially challenging.
Solution: The right embedded analytics solution can provide users with insightful and actionable information without the need for a data analyst to collect, prepare and analyze the data and then process it into reports that users can understand. Empowering your employees and users with dashboards and reports they can immediately understand and use encourages the adoption of new analytical tools.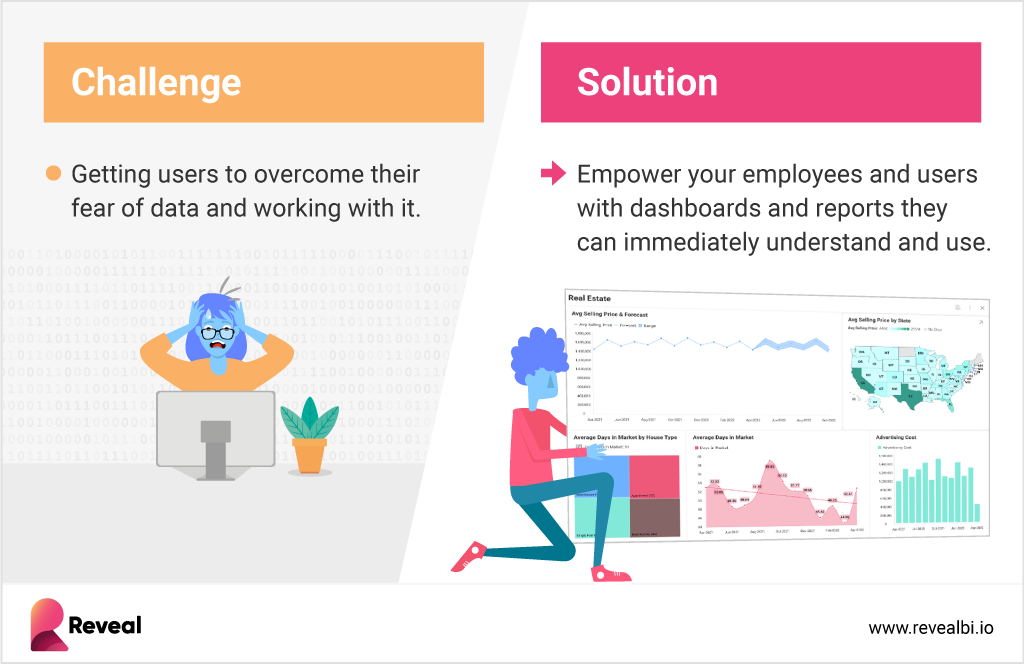 Involve your employees and get their input on the UX and benefits of the new tools early on. Whether it is gaining better visibility over their work, saving time, or supporting their job function, employees have to see how these new tools or technologies will make their job easier on a daily basis.
6. Bad Data Visualization and Dashboard Design Practices
Data visualizations can often go wrong – too many visual effects, too much information – making it harder for users to formulate takeaways and decipher the information the visualization is trying to present. Similarly, BI dashboards are only useful when users can easily navigate and understand the data insights that are being presented.
Unfortunately, many organizations only focus on getting the analytics solution up and running without thinking about design, UI, and UX.
Solution: Creating informative data visualizations and high-impact dashboards with embedded analytics is easy. A good embedded analytics solution comes with self-service capabilities that provide intuitive UI, making interacting with data more accessible for those who don't have the technical knowledge. With self-service capabilities, users can access and analyze data by themselves and build informative high-impact dashboards and reports on their own. And by following dashboard design best practices, you will be able to create informative and actionable dashboards and data visualizations that can help grow your business.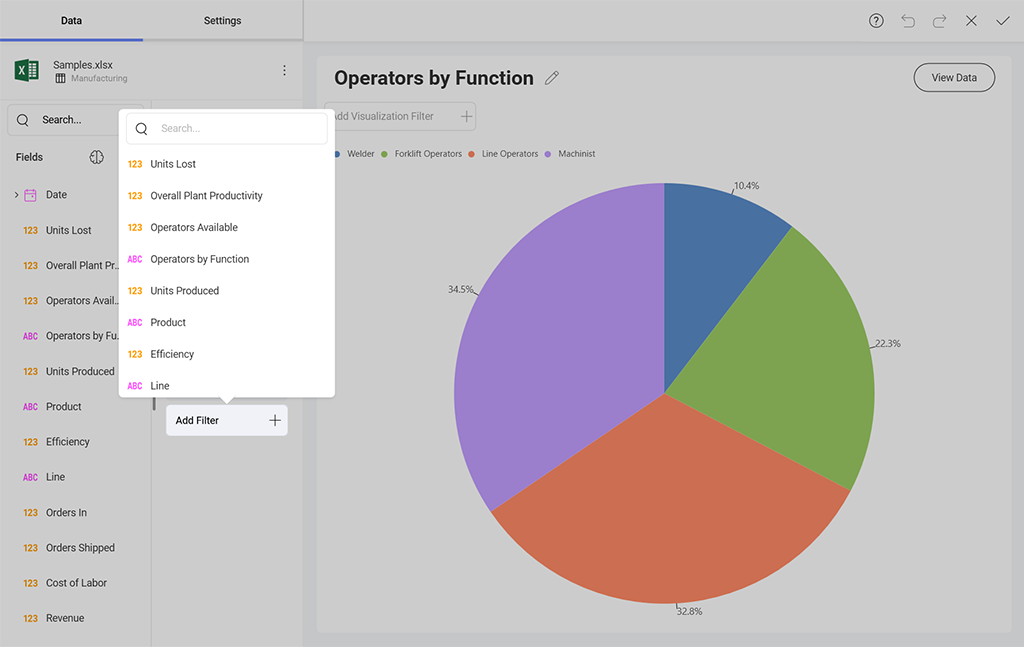 7. Build vs Buy
One of the biggest challenges for embedded analytics is the dilemma of build vs buy. Most organizations decide to buy an already established embedded analytics solution to integrate with their existing software for a couple of reasons. The primary reason why this is the preferred option is that buying saves you both time and money. It also allows you to free up your developers' resources and time so that they can focus on your core competency and what your business was initially designed for.
But of course, there are pros and cons to both decisions.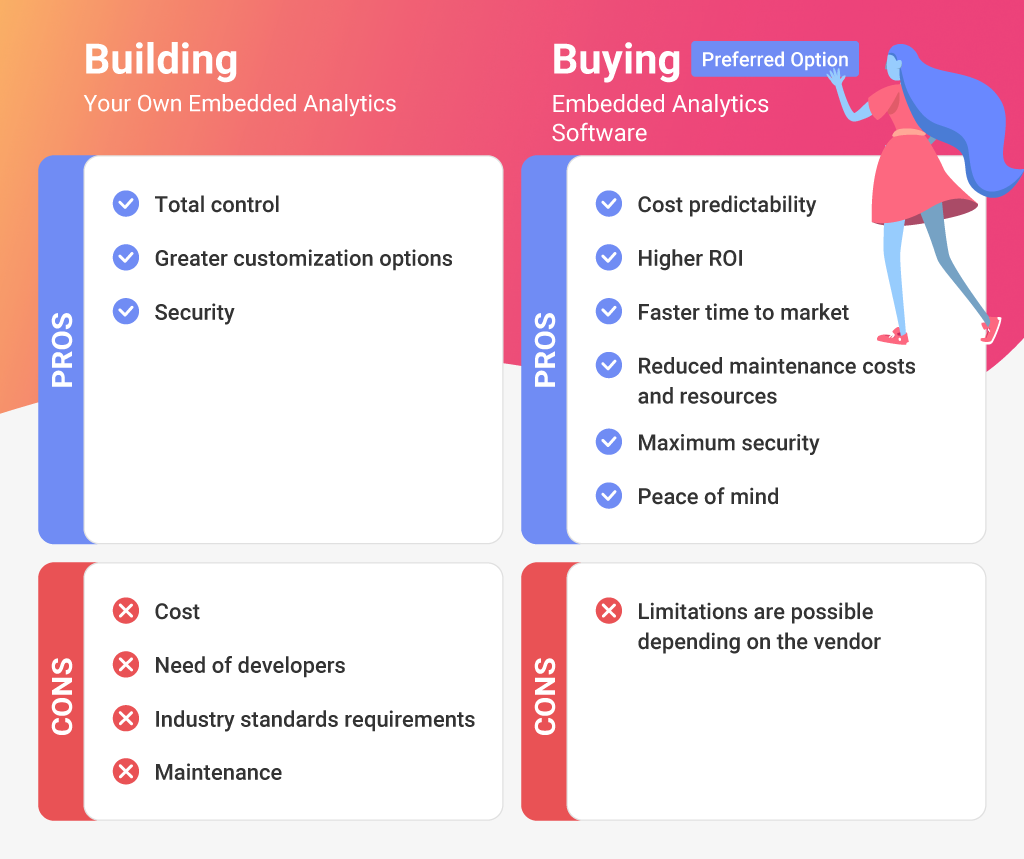 Buying embedded analytics software from a vendor comes with speed and reliability, while building it yourself gives you greater control over every aspect of the application. And the full burden of development and execution.
Solution: Buying an established embedded analytics solution helps you focus on your core product offering, saves time and money over training a development team, and eliminates the need for training where internal resources are simply not available. Maintenance and support are also included when you're buying, so you will not have to allocate resources for fixing issues if and when they occur.
With average build-it-yourself times taking seven months or more, the buy option is preferable also because it helps you get your product on the market as quickly as possible. Embedded analytics providers must comply with high data security standards, the quality of which is assessed by SSL security certificates, so security is also something you wouldn't have to worry about when choosing to buy an embedded analytics solution.
8. Justifying the Cost
The standard price for an embedded solution starts at anywhere from $30K to $75K per year. That might not be much for big enterprises, but for small and medium-sized businesses in need of analytics capabilities and with a tight budget, making such an investment is a big concern. This is a big investment, so it is natural you want to be able to justify that cost.
Unfortunately, this is becoming one of the biggest challenges for embedded analytics also because, in this space, you'll be hard-pressed to find clear, transparent, and publicly available pricing. Most embedded analytics vendors keep their pricing a secret and charge you unpredictable costs like usage and users. These are the most common embedded analytics pricing models that are designed to maximize the vendor's profits while you are left with a shocked face when your invoice arrives.
Solution: Luckily, not all embedded analytics vendors are the same, so it's worth finding a solution that offers a simple, transparent, and fixed pricing. To help distinguish vendors that use sketchy pricing techniques and those with an honest and transparent pricing model.
Ask the vendors these questions:
What is the total cost of the solution? (including implementation, training, support, and other fees)
Are there any undisclosed costs?
Do you have cloud usage or per-user fees?
Can the solution be deployed for local or cloud-based hosting on Windows or Linux containers?
Reveal: A Modern, Self-Service Embedded Analytics Solution
Reveal is a self-service embedded analytics solution that enables your teams and customers to drive data insights with embedded intelligence, accelerate time to market, and transform the user experience of your apps. Built with embed in mind first, on today's most modern architecture, Reveal's powerful API removes the complexity of embedding analytics into your applications.
Reveal provides interactive data visualizations, true self-service, white-label capabilities, advanced analytics, including machine learning and AI, drill-down, collaboration, sharing, and drag-and-drop dashboard creator experience. Users can easily access and create beautiful yet informative data visualizations and dashboards at any time and from any device.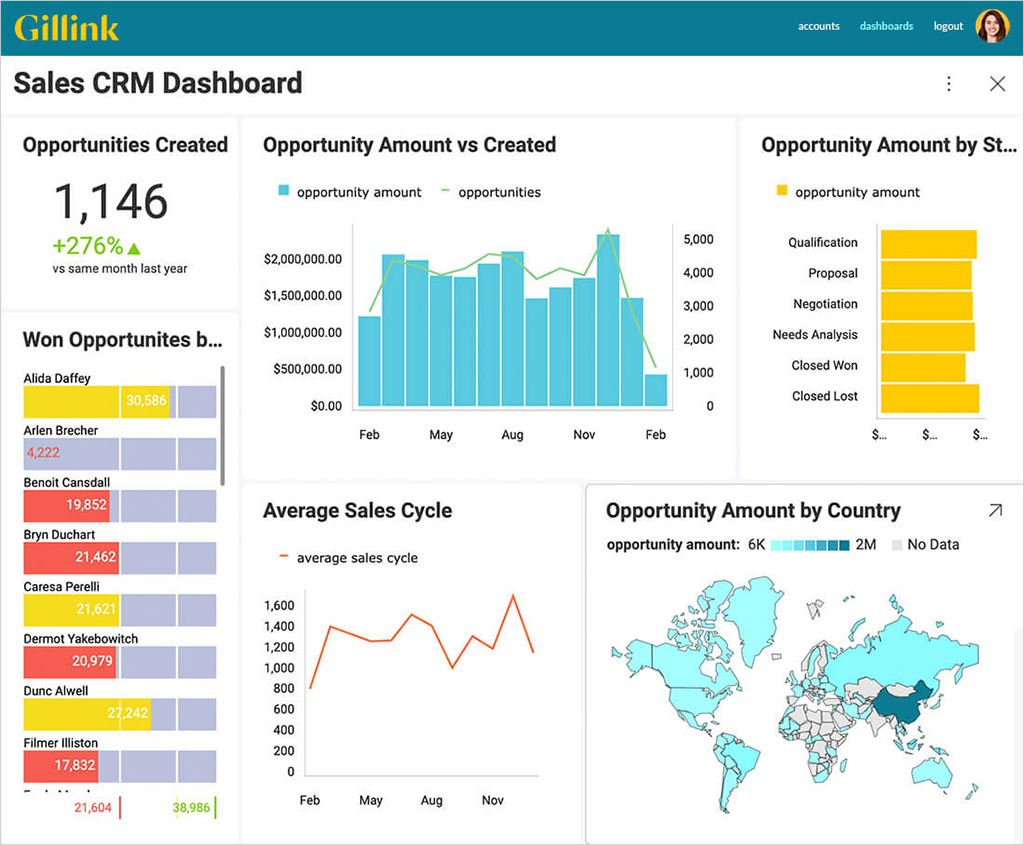 Reveal offers one single and simple, and affordable price point that enables you to reach unlimited users per application. Our pricing structure is both affordable and transparent, which means you can predict exactly what you will be paying and therefore calculate ROI better.
You can learn more about Reveal and how it works by downloading our SDK or by scheduling a quick demo.