How 

Much 

Does Business Intelligence Cost? 
Pricing is one of the most important things to take into consideration when it comes to choosing a vendor to go with. This can vary drastically when it comes to your standalone business intelligence app vs and embedded analytics solution.  
If you're considering embedded analytics, you'll be hard pressed to find clear, transparent and publicly-posted pricing. In fact, most embedded BI vendors keep their pricing secret, preferring to offer you  "customized" pricing. Here's why.
So they can maximize the price you pay while leaving "no money on the table." They do this by charging you on a per-user or usage-based model. This pricing structure is often a poor choice for you long-term because when you experience user or usage growth, your costs will increase dramatically.
We've found that, in some cases, embedded BI vendors will ask you for the price of your app and your company revenue streams before they'll give you a price! In reality, this so-called customized pricing boils down to "how much do you got?" It's a pricing strategy designed to maximize the price to the software vendor while maximizing profits to the embedded BI vendor.
The user-based pricing model
The user-based model works well when the user base is small, but then becomes an issue as the company grows. With user-based models, companies need to understand the types of users they have. The users may be viewers, or they may be power users, which are very different both in user needs and in user quantity. Companies may receive overly high pricing quotes due to the ratio of thousands of viewers they have vs the small number of power users that needed edit and creator capabilities. Ultimately, companies that are searching for a white label or OEM solution should avoid BI vendors that charge them per user because they will be penalized as they grow.
The usage-based pricing model
This model charges derives from usage or essentially the number of times a dashboard or visualization is viewed. The usage model has many of the same drawbacks as the number-of-users model, but with the added downside of increased complexity.  For example, Microsoft Power BI uses a complex pricing calculator that requires choosing from different node types – each of which differs based on the number of V-cores and RAM.
The usage model keeps the software vendor from achieving financial economies of scale. The benefits of increased usage and success of your app are transferred to the embedded BI vendor in the form of higher fees based on usage.
The unknown cost risk in both models is extremely high in both pricing models. Both models may also have additional costs depending on the type of and number of data sources from which your data is connected.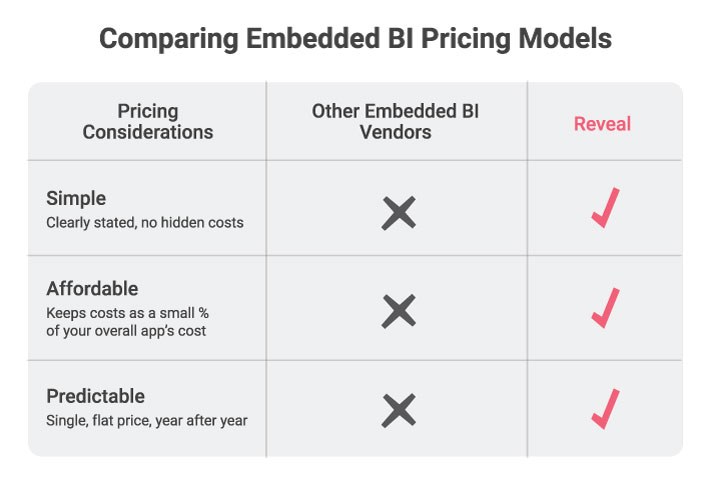 Comparing Embedded BI Pricing Models
Introducing Reveal – simple, transparent, predictable pricing
Many Embedded BI vendors will initially attempt to dodge the cost question and require multiple meetings before revealing their cost structure. Yet this remains the central question for application providers trying to make a build-or-buy decision or even to integrate BI at all.   The process can be so off putting, it's a wonder that application providers work with embedded BI vendors at all.
Software vendors shouldn't have to put up with hidden and complex pricing that is not transparent and is often unpredictable.  Embedded BI vendors should be making the build vs. buy decision easy, not more complex.
Our goal with Reveal is to make the build vs. buy decision easy.  We believe we've done that with our simple pricing that includes:
No usage or user tiers. The price is one affordable, all-you-can-eat price.  This also makes Reveal pricing 100% predictable for now and in the future.
We also don't want to penalize you, requiring that you pay for an embedded solution based on your continued growth and success of your app. That's why our pricing is capped and not tiered or based on data usage – there are zero additional embed costs to you for any additional customers that use your app
Reveal also has no hidden fees. All data connectors, for example, come free of charge.
Our goal with every customer is to be a valued partner for the long haul. Every customer is different so request a quote today to find the right price for you embedded analytics solution!
Categories:
Embedded Analytics