White Label Software and Analytics: Enhancing Your Brand
Fully branded white label dashboards offer custom personalization so that your customers can present a holistic service that is all branded to one company.
Casey McGuigan
9 min read
As a business owner or manager, it's natural to want your business to run smoothly and efficiently. It is also natural to want to keep your team focused on their areas of expertise and rely on already established solution providers in areas we need help. When it comes to embedded analytics a lot of business owners and managers use white labeling software that helps them build trustful and loyal relationships with their valuable customers.
You might have heard of white labeling or white label software – but what does that really mean?
In this article, we'll be taking a deep dive into what white label analytics is and how businesses can benefit from on-demand capabilities with relatively low upfront investment.
What Is White Labeling Software?
White labeling is defined as the process that allows one company to purchase and rebrand a product or service owned by another company to use, promote, sell and advertise. This allows the purchaser to get to market faster with products and services that they might not be experts in – in order to save them time and money building them in-house. White labeling is a win-win for both parties involved driving additional revenue streams for both purchasers and sellers.
This is especially popular within software industries where business leaders are constantly juggling resources, development skills, and high-demanding backlogs. They will often invest in someone else's software to make their own.
White label analytics, also known as embedded analytics or embedded BI (Business Intelligence) is the ability to embed reports, dashboards, interactive data visualizations, and advanced analytics, including machine learning, directly into an enterprise business application. This eliminates the need for you to use your own internal dev resources in order to add more value to your applications.
A major feature that falls within embedded analytics is the ability to white label a vendor's data visualization and analytics software to match the branding in your current application. With white labeling software, you can fully customize the fonts, colors, button shapes, and more of a vendor's analytics so your white label dashboard matches your brand perfectly.
Benefits of Using White Label Analytics
When you white label a vendor's embedded analytics software, you gain many key benefits including:
Quicker Time to Market: With average build-it-yourself times taking seven months or more, many product teams decide to buy a bolt-on analytics solution due to the need to release a product as quickly as possible. In a fiercely competitive SaaS market, and with CEOs demanding quick turnaround, buying a pre-built, off-the-shelf solution drastically improves time to market.
Maintaining Brand Identity: You don't want your users to feel like something in your application doesn't belong. Or look like you "frankensteined" something in there. You want your data visualizations to feel seamless. Thanks to the white labeling software, users won't get distracted or even notice differences in your application, but instead, focus on the value of the insights. When white labeling is well done it can increase user adoption, ensure brand consistency, and provide a seamless user experience.
Improved Customer Experience: New app experiences and exciting new features give new opportunities to offer differentiating value to drive new revenue. There is constant pressure to improve and differentiate the app to reduce churn.
Client-Specific Business Insights – A white label analytics dashboard grants you full control over your reports. With interactive data visualizations, you can keep track of your key business insights.
Data Confidentiality – Businesses are typically hesitant to share their data with other companies for privacy reasons. With white label analytics, you don't have to worry since your data never leaves the provider's secure environment. Data can be also governed at the user level to avoid risks or security breaches.
Why White Label Dashboards Are Important?
Fully branded white label dashboards offer custom personalization so that your customers can present a holistic service that is all branded to one company. A white label dashboard can also:
Incorporates machine learning and AI to maximize understanding and value of insights with drag and drop self-service capabilities
Allows users to track their performance and KPIs in real-time all while observing their campaigns in action
Easily summarizes and visualizes large data sets for quick analysis and action
Help paint the full picture of your SEO, social media, etc., campaign, so users can draw conclusions when monitoring results and make timely modifications for better outcomes
Greatly improves your product's value proposition
Promotes brand awareness
Allows users to create any white label report they need, by themselves
White Label Analytics Examples
Let's run through some of the examples of the customization you can achieve with a white label dashboard:
Colors on your chart's series
Visualization background color
Font size, color, weight
Conditional formatting colors
Now let's look at some examples of dashboards before customization and after:
White Label SEO Dashboard
White label SEO dashboards allow you to provide your clients with the SEO performance data they need (keyword rankings, organic traffic, sales) while maintaining the brand consistency of your own brand. By incorporating a white label analytics solution into your internal marketing tools, you can start building and delivering branded reports and dashboards to your clients with ease.
Before: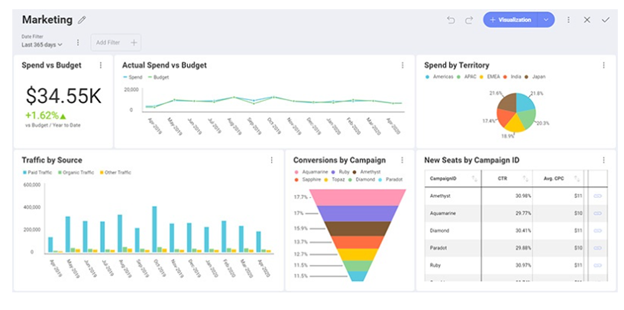 After: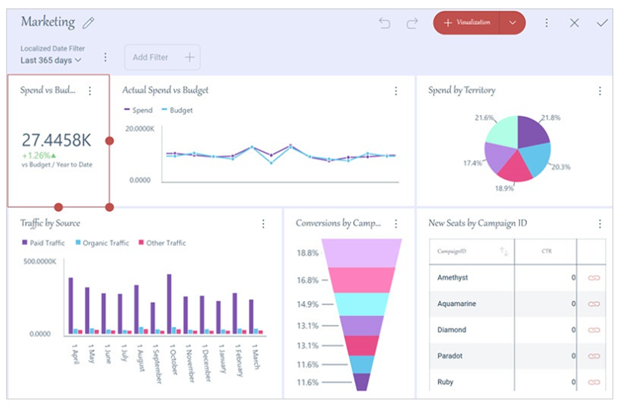 White Label Real Estate Dashboard
Property managers need to track bookings, tenant data, financial metrics, maintenance costs, repairs, and so much more. By gathering all the important data in one place, white label real estate analytical tools allow property managers to identify peak demand dates and set up their prices accordingly.
By utilizing data analytics in real estate, you can also improve the way you market your properties. For example, analytical tools can use digital advertising and search engine data to help realtors refine their audience and target potential buyers. They can also help them better understand what customers want and respond with personalized, branded offers.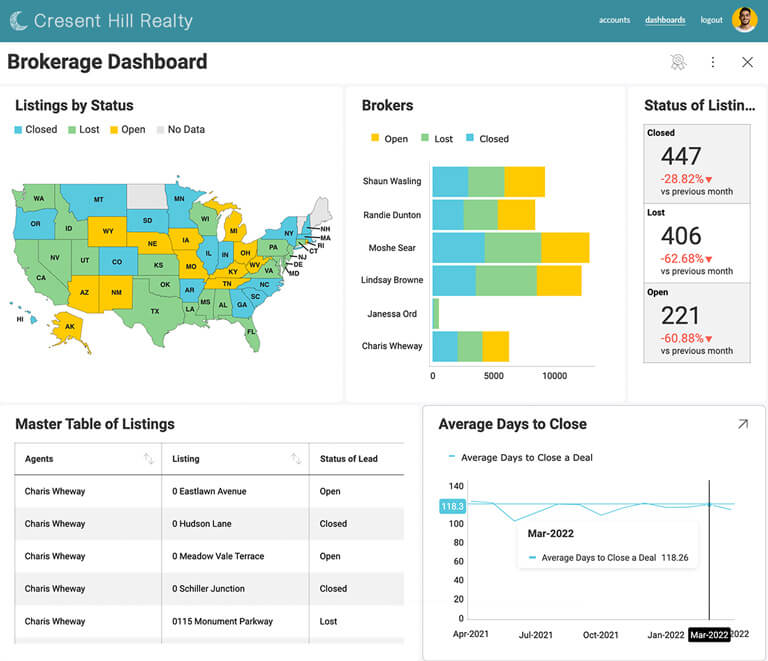 White Label Finance Dashboard
White label finance dashboard offers financial service providers myriad opportunities to learn more about their customers and act on these insights. For example, a white labeling analytics solution can help them customize all elements of their application so that users don't notice that they are dealing with a 3rd party vendor when, for instance, they get redirected to complete a single payment, and pay bills, etc.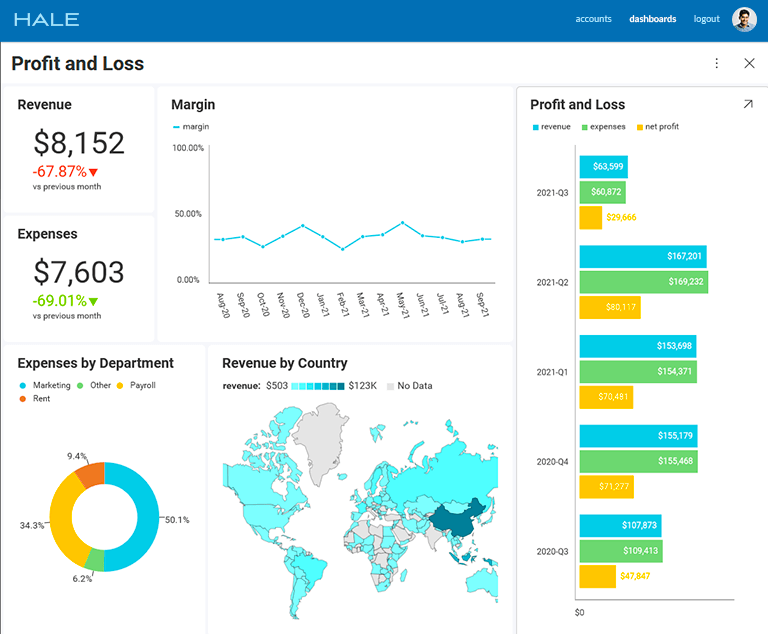 How to Choose White Labeling Software?
Many white label analytics tools are widely available on the market and ready to integrate with your existing software. But which one is right for you?
When it comes to picking a vendor to integrate into your application, consider these questions:
How much coding is required? – There will always be some level of coding involved, but can you make changes to the look and feel with a single line of code? Or will it require extensive hours to achieve your brand?
What is the integration process? – A key factor in choosing a white label analytics solution is seamless integration. Look for a modern, cloud-native system that will not only support embedding data visualizations and charts, but will also allow deeper analysis of your data, flexibility, and customization and will integrate with your own apps seamlessly. Look for a native SDK that utilizes the specific features of each platform and provides a superior user experience. Otherwise, if the solution doesn't integrate well, some of its functionalities can go unused.
APIs – In the white labeling analytics space, the cloud allows you to do more through expanded application programming interface (API) integrations that help make complex use cases such as applying filters or custom views for users much easier to perform. So, make sure to choose a solution that offers extensive API capabilities that enable control over your customer's reporting, along with an intuitive dashboard creator experience directly from the tool.
Are there any extra costs associated? – Many vendors don't offer a predicable pricing model and you may be shocked by your bill at the end of the month. Behind the upfront pricing structure, there are often multiple levels of service, as well as limits on usage and the number of applications the embedded analytics can be used in. This can make pricing far less predictable.
Does it allow for scalability? – Scalability allows your business to easily upscale or downscale your IT requirements as and when required. This means that a good white label analytics solution will allow you to increase your existing resources to accommodate increased business needs or changes, for example, an increase in users or usage.
Was the solution purpose-built for embedded scenarios? – Most embedded BI and analytics vendors started out building a web or desktop-based dashboard tool. In time, many of these vendors decided to create an embedded option, enabling customers to take the app experience and deliver it in their own apps. The problem – creating an amazing, embedded experience is hard. When a solution hasn't been purposely built for embedded that adds tremendous complexity, requiring complicated integration with their back-end proprietary system. To get the real value of a white label analytics solution, the platform you decide to partner with needs to be fully embedded into the tools your users are already using on a daily basis.
Security – Choose a white label analytics solution that is capable of working with your application's security model and provides you with the right level of control over your data. And a solution that gives you an option of where to deploy it – a public or a private cloud, or your own on-prem servers.
Reveal is an end-to-end self-service embedded analytics solution that brings the power of data into the hands of your employees, customers, partners, and suppliers. At its core, Reveal is centered around data-driven decision-making, and it has been designed to allow you to easily integrate interactive dashboards and data visualizations, white-label capabilities, advanced and predictive analytics, including machine learning, forecasting, statistical functions, and more into your apps, so your users can access real-time insights and build beautiful and informative dashboards anywhere and on any device.
You can learn more about Reveal and how does it work by downloading our SDK or by scheduling a quick demo.
---