What is white label software?
First, let's start with the basics. You might have heard of white labeling or white label software – but what does that really mean? When it comes to the software industry the process of white labeling means removing your brand and logo from your product and service at the request of the purchaser. Thus, allowing them to apply their own brand.
You might be familiar with the term embedded analytics. If not, embedded analytics is when a third-party software vendor delivers real-time reporting, interactive data visualization and/or advanced analytics, including machine learning, directly into an enterprise business application. This eliminates the need for you to use your own internal dev resources in order to add more value to your applications.
A major feature that falls within embedded analytics is the ability to white label a vendor's data visualization and analytics software to match the branding in your current application. With white labeling software you can fully customize the fonts, colors, button shapes and more of a vendor's analytics so your white label dashboard matches your brand perfectly. .
Benefits of using white label analytics
When you white label a vendor's embedded analytics software, you gain many key benefits:
Quicker Time to Market: With average build-it-yourself times taking seven months or more, many product teams decide to buy a bolt-on analytics solution due to the need to release a product as quickly as possible. In a fiercely competitive SaaS market, and with CEOs demanding quick turnaround, buying a pre-built, off-the-shelf solution drastically improves time to market.
Maintaining Brand Identity: You don't want your users to feel like something in your application doesn't belong. Or look like you "frankensteined" something in there. You want your data visualizations to feel seamless.
Improved Customer Experience: New app experiences and exciting new features give new opportunity to offer differentiating value to drive new revenue. There is constant pressure to improve and differentiate the app to reduce churn.
White label analytics examples
Let's run through some of the examples of the customization you can achieve with a white label dashboard:
Colors on your chart's series
Visualization background color
Font size, color, weight
Conditional formatting colors
Let's look at an example of an SEO dashboard before customization and after:
Before: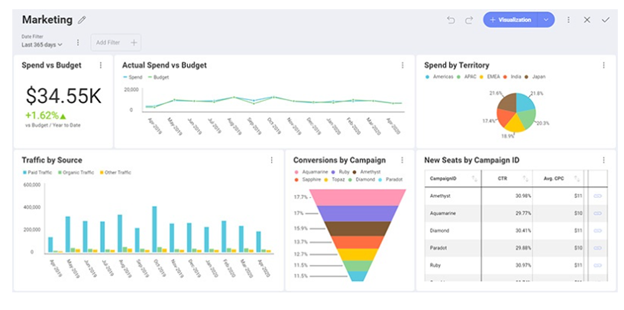 After: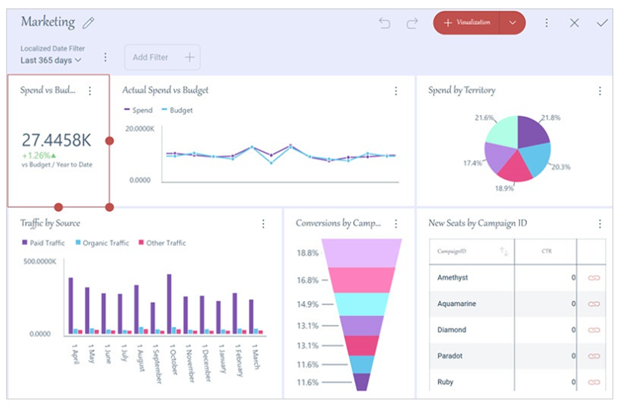 How to choose white labeling software
When it comes to picking a vendor to integrate into your application, consider these questions:
How much coding is required? There will always be some level of coding involved, but can you make changes to the look and feel with a single line of code? Or will it require extensive hours to achieve your brand?
Are there extra costs? Many vendors don't offer a predicable pricing model and you may be shocked by your bill at the end of the month. Behind the upfront pricing structure, there are often multiple levels of service, as well as limits on usage and number of applications the embedded analytics can be used in. This can make pricing far less predictable.
Was the solution purpose built for embed scenarios? Most embedded BI and analytics vendors started out building a web or desktop-based dashboard tool. In time, many of these vendors decided to create an embedded option, enabling customers to take the app experience and deliver it in their own apps. The problem – creating an amazing, embedded experience is hard.
To find out more about the features that come with embedded analytics software, visit Reveal embedded analytics.
---
Categories:
Embedded Analytics