The Future of BI: Top Embedded Analytics Trends
Organizations that want to leverage the full potential of their data to make on-the-spot decisions, have to continually follow the latest trends and technologies in the BI and data analytics space in order to increase revenue, accelerate growth, and improve productivity. 
Bilyana Petrova
10 min read
The business intelligence (BI) and data analytics world continue to undergo massive transformations every year.
Spreadsheets finally yield their buried treasure and evolved into insightful data visualizations and interactive high-impact dashboards.
Data exploded into Big Data.
Analyzing data became accessible to all business users.
And so much has changed the way businesses and customers consume and work with data.
There is no doubt that BI has become an indispensable asset to organizations of all sizes, and that its importance is only going to grow.
Organizations that want to leverage the full potential of their data to make on-the-spot decisions, have to continually follow the latest trends and technologies in the BI and data analytics space in order to increase revenue, accelerate growth, and improve productivity.
So, what is to come?
These are the top embedded analytics trends that will shape the future of BI:
Top Embedded Analytics Trends
1. Context-Enriched Analytics
According to the "12 Data and Analytics Trends to Keep on Your Radar" report by Gartner, by 2025, context-driven analytics and artificial intelligence (AI) models will replace 60% of existing models built on traditional data and improve business users' decision-making processes.
Contextual analytics or context-enriched analysis is the merging of analytics capabilities and the business applications they are embedded into to make data more contextualized and personalized for the end user's benefit. Data by itself does not always provide the full value it has to offer. When people are looking at raw numbers, they find it difficult to interpret and understand the insights hiding within the data and, therefore, cannot use it strategically to improve their decisions.  
Real-time contextual analytics enables deeper analysis using the relationships between various data points and the data points themselves. It helps users identify the context of the situation based on similarities, constraints, paths, and communities without having to switch windows and applications to get the data they need to make informed business decisions.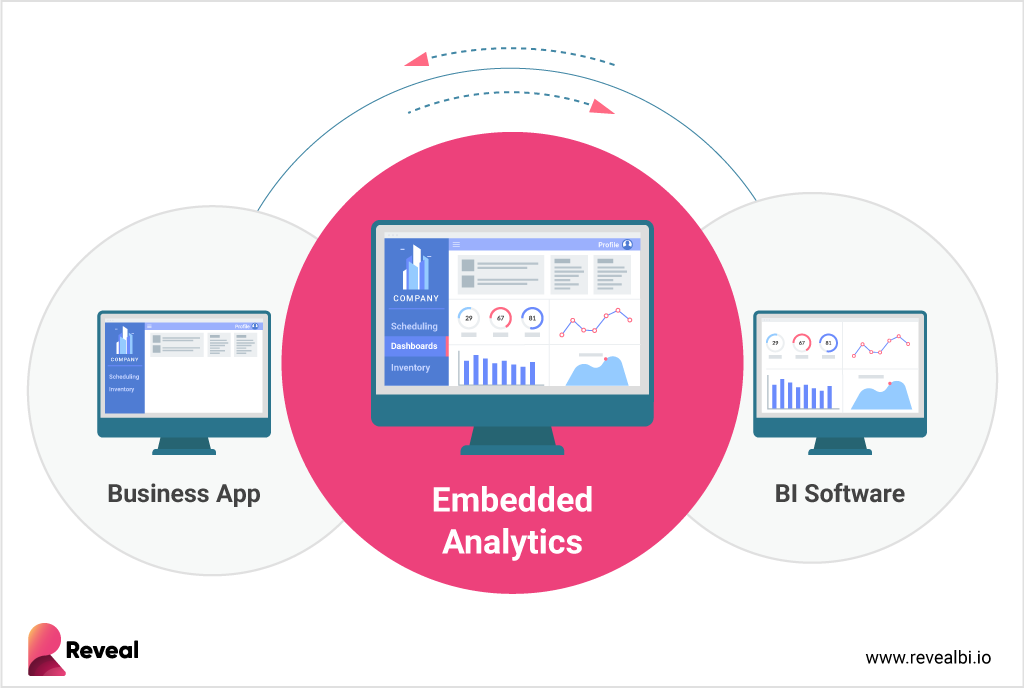 2. Decision-Centric Data Analytics
One of the biggest and perhaps most important embedded analytics trends is focused on the discipline of decision intelligence. Decision intelligence means that all business decisions and processes in an organization are based on data.  
Becoming a data-driven company requires making full use of your business' collected data, processing it with the right analytics tools, and extracting actionable insights from the results.
And although the value of decision intelligence is no new news, many companies still haven't shifted towards it. Businesses, no matter their industry and size, have to change their growth strategies from allowing only a few selected people access to data and insights to having data spread and accessible through the entire organization so that everyone can make data-driven decisions at the point of impact.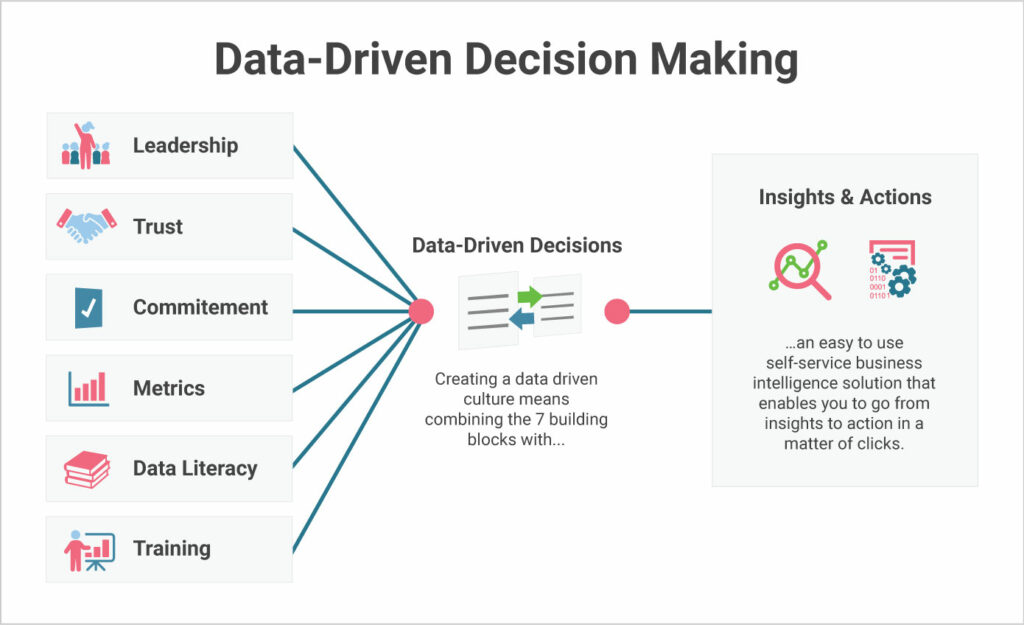 3. Improved Data Quality
Data quality is one of the biggest embedded analytics challenges. If the data is not accurate, consistent, and up-to-date, it can damage your entire business strategy, value, and profitability opportunities. In its "How to Improve Your Data Quality" report, Gartner estimates that poor data quality costs organizations approximately $12.9 million every year.  
Besides the impact of poor data quality on revenue, it also increases the complexity of data ecosystems and leads to poor decision-making. The right decisions can only be based on quality, accurate data. 
Good data quality is crucial when trying to obtain accurate, consistent, and up-to-date insights to guide your organization's decisions, and for that reason, the data quality management trend is on the rise. Data quality management (DQM) combines technology, processes, organizational culture, as well as the right people to deliver accurate and useful data that all users can benefit from.  
4. Cloud-Based BI Adoption
With the wide adoption of remote working in the last two years, cloud-based BI adoption is currently the biggest trend for embedded analytics. Nearly all BI and data analytics elements, including analytics models, data sources, data storage, and computing power, have already moved to the cloud, reducing risk and increasing flexibility.  
Cloud-based BI makes it possible to access data and analytics applications anywhere, anytime and from any device. With this in mind, if you're new to embedded analytics and looking for a vendor to partner with (or want to leave your current one for a better fit), make sure to choose an embedded analytics platform that supports a cloud-based deployment model and offers native SDKs that utilize the specific features of each platform and provide a superior user experience. 
5. Low-Code Development Tools
Being able to create end-to-end embedded analytics solutions without the heavy lifting of technical resources is one of the top embedded analytics trends to watch out for in the years to come.  
According to Reveal's top software challenges for 2022 report, citizen developers and low-code tools can help meet the demand for building fully functioning applications faster and with fewer resources. Fifty-four percent of the survey's respondents are planning to economize in 2022 by using low-code/no-code (app builder) tools to automate many developer/IT/analyst processes, all while eliminating the need to hire new on-demand employees.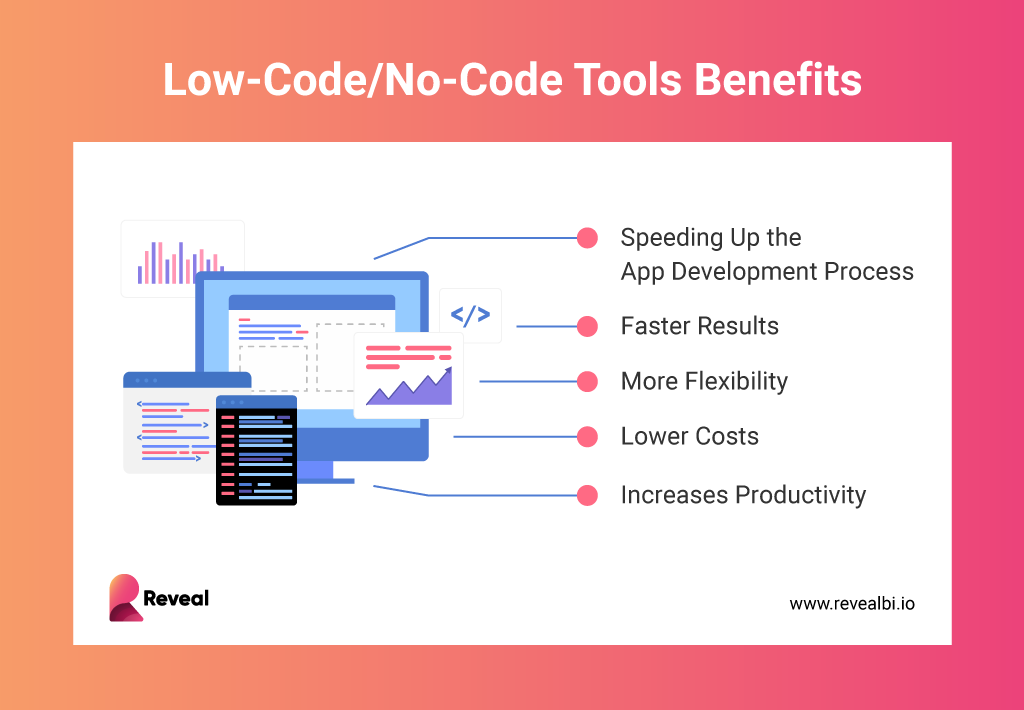 6. Collaborative BI
Collaborative BI is not an entirely new trend in the embedded analytics space, but with distributed teams becoming the norm, remote collaboration is now more important than ever.
Collaborative BI combines traditional BI tools with collaboration tools and features that allow real-time, contextual discussions, easy sharing of reports and dashboards with internal and external team members and stakeholders, and comments and discussion abilities supporting efficient decision-making. It allows easy access to key business data from outside and provides greater visibility for everyone involved in the decision-making process.  
7. Augmented Analytics
According to the global IT research firm, Gartner, augmented analytics is one of the top data analytics trends to watch for. Powered by two of the greatest analytics technologies – AI and machine learning – augmented analytics makes it easier for users to prepare, analyze, visualize, and interact with their data at a contextual level. 
Augmented analytics allows users to ask questions and automatically generate insights by exploring their data using conversational language. So, as AI and ML become more intertwined in our everyday lives and continue to make a great impact in the real world surrounding us, it is paramount to choose an embedded analytics vendor to partner with whose AI and ML capabilities include things like data preparation, natural language interfaces, and guided recommendations.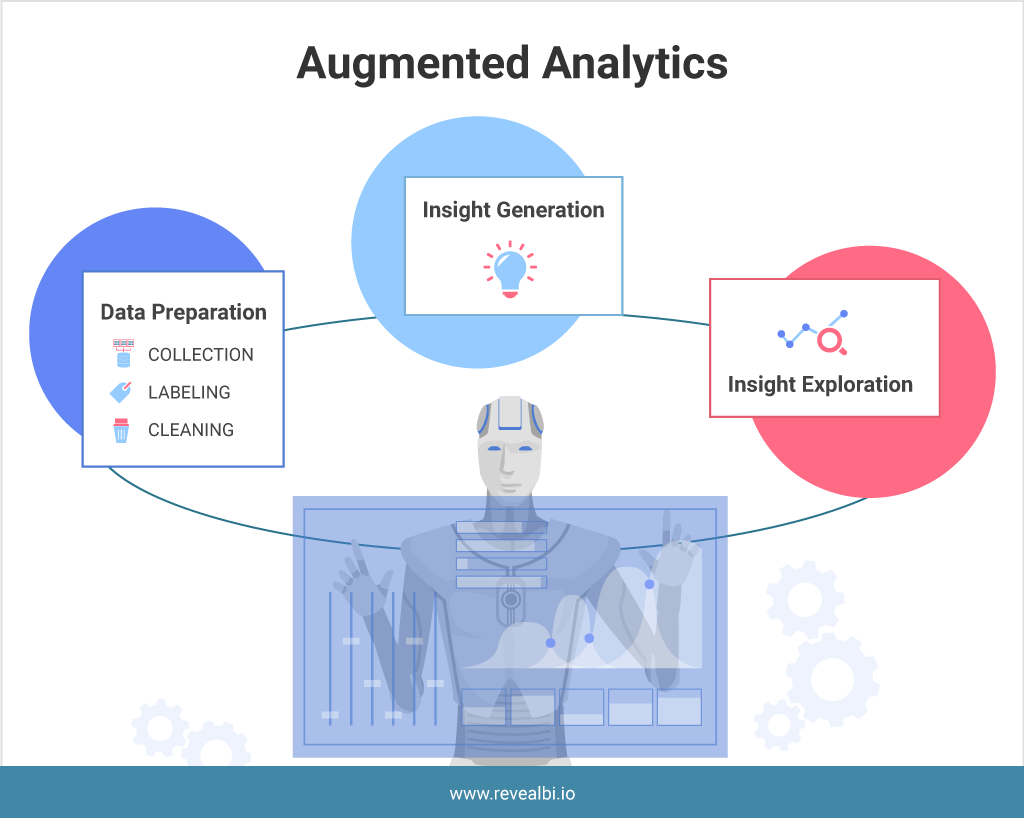 8. Embedded AI is the Future
Artificial intelligence (AI) is the science of building smart machines that can perform tasks that typically require human intelligence. Embedded analytics augmented by BI is reducing the manpower it takes in an organization to manage and analyze data.
AI and machine learning algorithms revamp the way users interact with analytics and data management by helping to create or provide data fabric capabilities, intelligent organization data catalogs, AI-powered data cleansing, self-service data preparation, and more:
Prediction – predicts the data needed to get a more accurate ML model or find fraudulent queries coming from an unauthorized source for SQL injection.
Automation – increases speed and prevents the need for manual work, therefore saving time.
Optimization – providing new ways to improve and apply best practices.
It is expected that in the coming years, organizations will start requiring a lot more from AI-based systems, and AI will evolve even more than what it is today to become a more responsible and scalable technology. 
9. Effective Governance
As opposed to BI and analysis management (which is focusing on data preparation and presentation for business management systems), data governance is all about the actual data in these systems and the process of managing the availability, usability, integrity, and security of the organization's data based on internal data standards and policies.  
Data governance ensures the quality of business assets through role-based access, authentication protocols, and auditing. By containing rules and frameworks for managing, monitoring, and protecting data, data governance is needed as a data strategy to address how the business strategy is translated into the analysis processes.  
Organizations need effective data governance at all levels to address their existing operational challenges and because it provides flexibility and scalability and is highly responsive to high-impact strategic business challenges and always-changing market dynamics.  

10. Storytelling on the Rise
Another embedded analytics trend that Gartner predicts in its "4 Data and Analytics Trends CFOs Can't Afford to Ignore" report is that by 2025, data stories will be the most widespread way of consuming analytics, and 75% of stories will be automatically generated using augmented analytics techniques.
Data-driven storytelling is the ability to transform raw data into easy-to-read and easy-to-understand stories that help users turn insights into action. It is a structured approach for communicating data insights through data visualization techniques, infographics, dashboards, and other visual elements.
In business, it is invaluable to turn your insights into data stories because that allows business users and decision-makers alike to see trends, understand problems, or interpret how sales strategies, website performance, or marketing campaigns are performing. Data by itself cannot provide that meaning because it must be understood in the context of the situation.

11. Cross-Functional Embedded Analytics
Historically, analytics tools have been isolated from our business applications and processes and have only been provided, accessed, and used as third-party tools. Because of this inconvenience, most of the business users never really leveraged the analytics capabilities provided to them and, as a result, have been missing key business insights, growth, and revenue opportunities.  
According to Ventana Research, more than two-thirds of line-of-business personnel will have instant access to cross-functional analytics embedded in their workflow and processes by 2024.
The rise of embedded analytics platforms like Reveal is increasingly helping businesses to transform their analytics activities and start making more intelligent business decisions on a daily basis – faster, easier, and more effective.
Final Words…
With the rise of AI, machine learning, NLP, and other analytics capabilities, the BI landscape and embedded analytics space are continually and rapidly evolving.
And as all these analytical technologies and capabilities are getting more and more accessible and paramount in the business world, organizations in all industries and of all sizes should seek to effectively use their insights intelligently and at the right moment.
To learn more about embedded analytics and what such tools can do for your business, check out our ultimate guide to embedded analytics, and if you don't know where to start when it comes to choosing the right vendor for your business needs, check out our product fit guide.
To get to know Reveal and see the benefits it has to offer in action, you can download the Reveal SDK, or schedule a quick product demo.