Benefits of Embedded Analytics: The Top 10 Advantages for Your Business
The benefits of embedded analytics are endless, but we consider these advantages to be the most important for businesses.  
Casey Ciniello
7 min read
The need for embedded analytics and the buzz around it continues to increase every year as more innovative technologies are being developed.
The value of embedded analytics is tremendous for everyone – it helps end users explore data and uncover insights without the help of data analytics experts and ITs while supporting product leaders and business owners to provide the best possible experience to customers.
And while the benefits of embedded analytics are endless, we consider these advantages to be the most important for businesses:
1. Contextualized Analytics
One of the primary benefits of embedded analytics is that it provides users with real-time, contextual analytics directly into their workflow. Oftentimes, data by itself cannot be understood or interpreted – rows or raw numbers don't speak insights to the business users.
Embedded analytics applications, however, come with robust data visualization and reporting capabilities that help users translate those raw numbers into easy-to-read and easy-to-understand business insights in a given situation.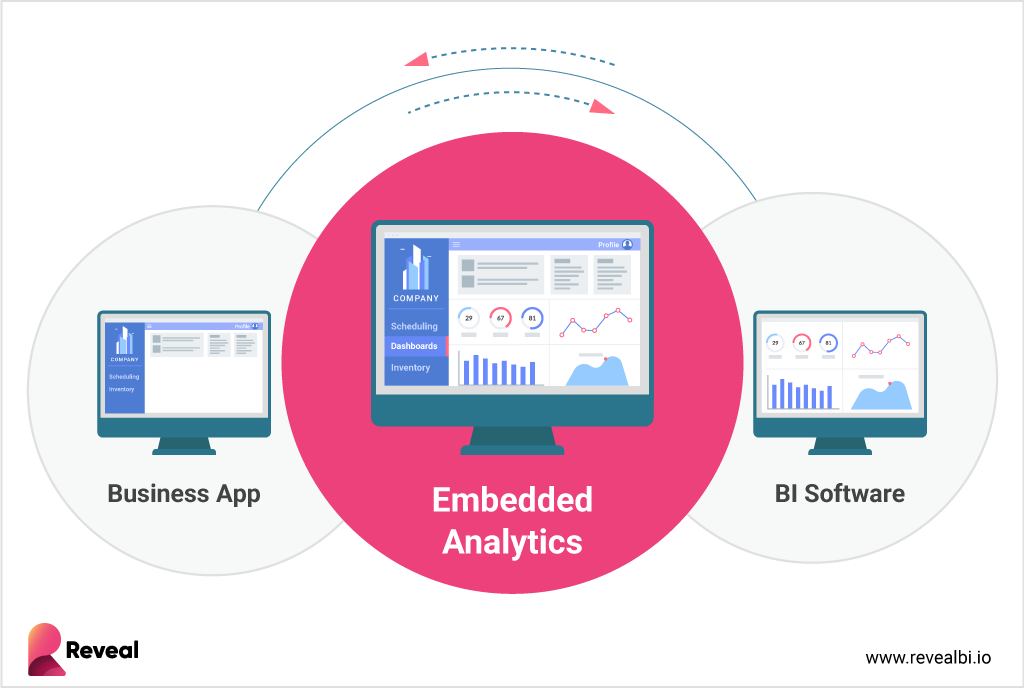 2. Enhances Data-Driven Culture & Decision Making
Giving users relevant and timely insights right within their workflow promotes a data-driven culture and encourages more analytical thinking. In-context analytics enables your users to make better, faster decisions that are based on the information available at that moment or visible on the specific screen they are viewing.
When people can better understand the impact of their decisions, they tend to feel more confident in making decisions. Data is more legitimate and solid than a gut feeling, helping to remove subjective decision-making. However, just because you are making decisions based on data does not mean the decisions will always be correct. It is important that you measure and monitor the metrics continuously and map them to each decision.
Transparency of data and using it to drive decisions in an organization also fosters trust and confidence across teams. Embedded analytics will enable you to share business goals and empower employees to use data to drive business goals. This is proven to deliver bottom-line value in organizations.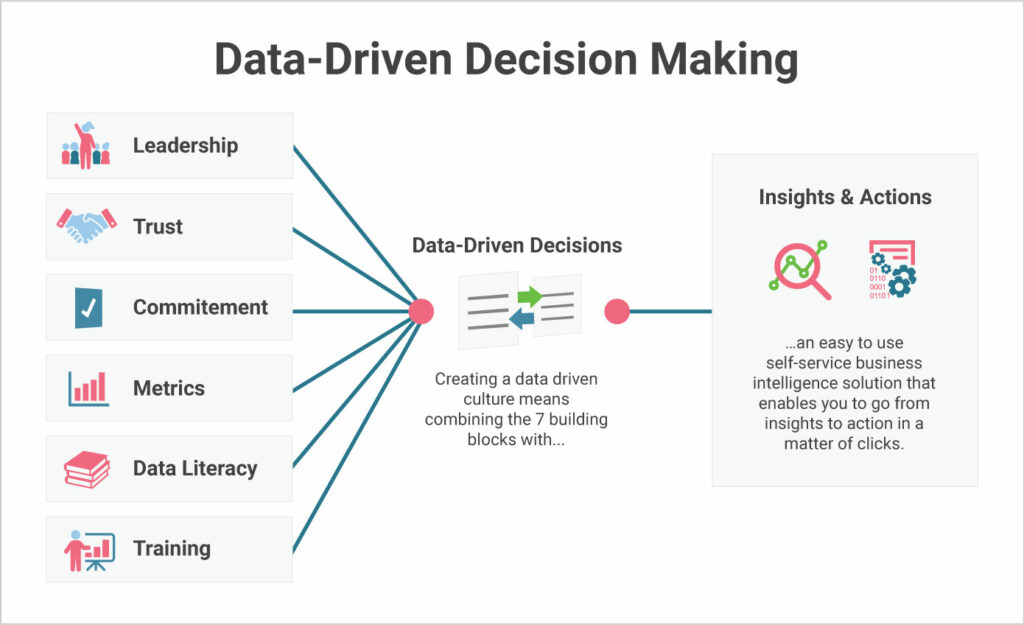 3. Increases Productivity and Improves Business Performance
Using embedded analytics means you are looking at data in context, so it removes the need for users to bounce between multiple applications to find the data they need. When users do not need to switch from business applications to analytics tools to search and hunt for insights, they can spend more time on essential tasks that require their skillset and time.
Embedded analytics can also significantly improve an organization's business performance by integrating operations with analytics. For example, a manufacturing company can use analytics to minimize downtime by automating machines' operations. Analytics in the insurance industry can help prevent fraudulent insurance claims. In the telecom sector, analytics can enhance better marketing campaigns and help companies develop personalized offerings and advertising deals to target the right audience at the right time.
4. Embedded Analytics Increases Competitive Advantage
One of the biggest benefits of embedded analytics is the competitive edge that it provides both software providers and end users. While your competitors who don't leverage or offer embedded BI are still trying to figure it out, your business can utilize or offer your customer's business insights to get ahead. Data analytics applications and their embedded analytics features provide a competitive advantage for both business owners and end-users. Some of these benefits include:
Easy and quick access to data and dashboard creation
A deeper understanding of your targeted market
Discovery of opportunities for improvements
Identification of performance issues that require action
Cost reduction and profits increase the possibilities
5. Quicker Time to Market
The buy vs build your own analytics solution dilemma is one of embedded analytics top challenges. Many companies who decide to integrate analytics capabilities into their SaaS applications start by considering the option of building their own in-house analytics solutions. With average build-it-yourself times taking seven months or more, many product teams decide to buy a bolt-on analytics solution due to the need to release a product as quickly as possible. In a fiercely competitive SaaS market, and with CEOs demanding quick turnaround, buying a pre-built, off-the-shelf solution drastically improves time to market.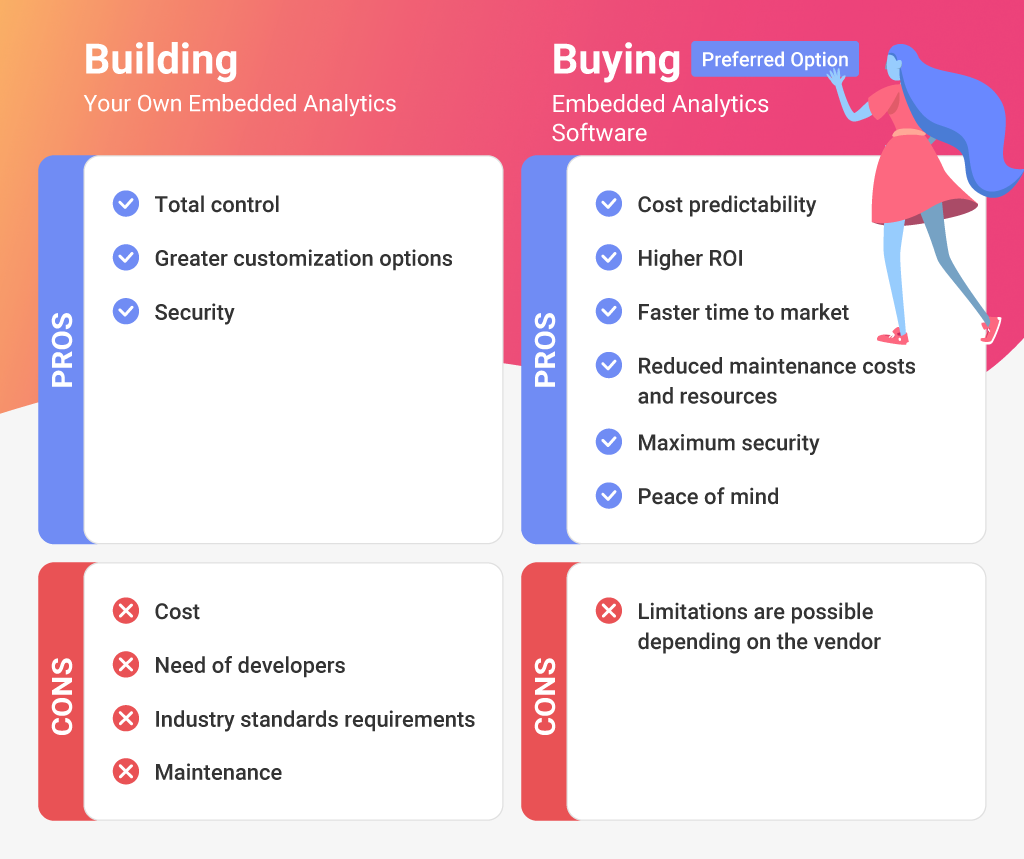 6. Increases Revenue
As per research published in AnalyticsWeek, of the 500 project managers, software developers, engineers, and executives surveyed, 96% said that embedded analytics contributes to their overall revenue growth, and 92% reported an increase in competitive differentiation.
When you increase customer satisfaction and application usage and provide your customers with the ability to make better, faster decisions based on data – you will increase your revenue streams.
Embedded analytics can help improve customer retention and grow your business by:
Increasing word of mouth through customer satisfaction
Expanding your potential customer reach to appeal to more users
Collecting more insights and data to analyze and reduce customer churn
Generate more revenue through data analytics monetization
7. Helps Maintain Brand Identity
To be able to fully benefit from embedded analytics, you have to choose a vendor to partner with of which offers white-labeling capabilities. You don't want your users to feel like something in your application doesn't belong. Or look like you "frankensteined" something in there. You want your data visualizations to feel seamless. Thanks to white labeling functionality, users won't get distracted or even notice differences in your application but instead focus on the value of the insights. When white labeling is well done, it can increase user adoption, ensure brand consistency, and provide a seamless user experience.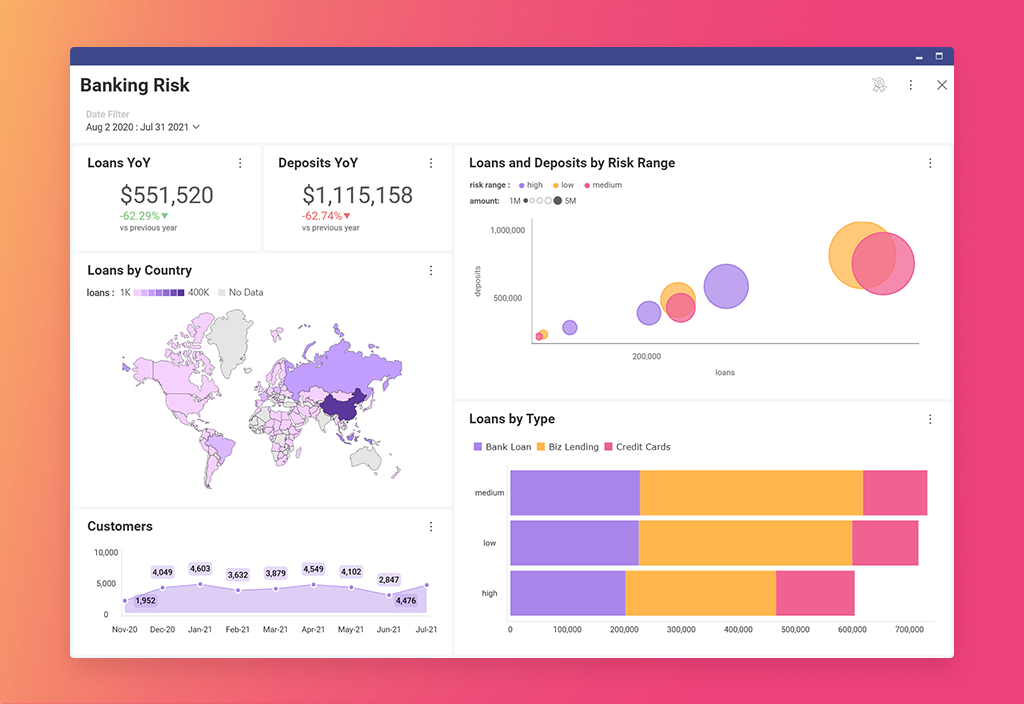 8. Self-Service Reporting Capabilities
The self-service reporting capabilities of embedded analytics tools help users answer their own questions with data. This adds value for everyone who uses your app – your own teams and departments and your clients. By embedding self-service reporting into your application with an easy-to-use drag-and-drop interface, you're allowing your users to create their own reports and dashboards whenever needed.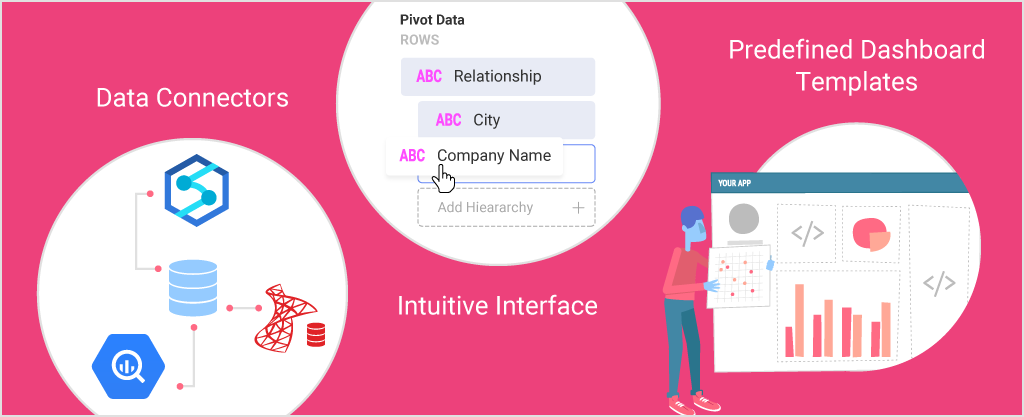 9. Embedded Analytics Consolidate Data
With the help of embedded reporting tools, you can easily consolidate data from multiple large data sets and data sources and get a 360-degree view of your business and/or specific areas of it. This decreases users' time analyzing different data sets, accelerates your time to insights, and significantly improves workflow productivity.
10. Data Confidentiality
This is a big embedded analytics benefit. Businesses are typically hesitant to share their data with other companies or third-party analytics tools for privacy reasons. Other businesses focus solely on the dashboard creation experience and neglect the security and privacy of their data – don't do that when embedding analytics into your apps.
You don't have to worry about an embedded analytics system since your data never leaves the provider's secure environment. Data can be also governed at the user level to avoid risks or security breaches.
Introduction to Reveal
Reveal is an end-to-end self-service embedded analytics solution that brings the power of data into the hands of your employees, customers, partners, and suppliers. At its core, Reveal is centered around data-driven decision-making, and it has been designed to allow you to easily integrate interactive dashboards and data visualizations, white-label capabilities, advanced and predictive analytics, including machine learning, forecasting, statistical functions, and more into your apps, so your users can access real-time insights and build beautiful and informative dashboards anywhere and on any device.
You can learn more about Reveal and how it works by downloading our SDK or by scheduling a quick demo.