Legacy Systems VS Modern Embedded Analytics
Modern analytics applications like embedded analytics solutions enable non-technical users to manage and work with data themselves by providing self-service and modern architecture capabilities. They deliver real-time reporting, interactive data visualizations, and advanced analytics capabilities including machine learning and AI directly into an enterprise business application. 
Bilyana Petrova
9 min read
Easy-to-use and understand analytics is a crucial part of every modern SaaS application. In today's digitalized and technology-oriented world, customers require much more than static data visualization or simple reporting. Customers demand visual, interactive data visualizations to drive their decision-making process and integrate into their workflows, insights that work anywhere and from any device, and so much more.  
Continue reading to find out what a modern embedded analytics solution is and how it can replace your legacy system by decreasing operational costs and increasing annual revenue.  
What Is a Legacy System?
A legacy system is a complex, outdated system, technology, or software that no longer meets users' expectations. It continues to be used by organizations as it still functions and performs the tasks that it was designed to do; however, legacy systems no longer allow for growth, don't work well with new technologies, and typically have stopped maintenance. Often referencing a legacy system as a legacy one usually means that it paved the way for the standards that would follow it in the future.  
What Is a Modern Application?
By definition, an application is modern at the moment that it is created. However, a modern application has a different meaning in the software context. Contrary to legacy systems, modern applications are built on new and innovative technologies that deliver a superior experience to customers. 
We call one application a modern application when it is built with a combination of modular architecture patterns, DevOps, DevSecOps, serverless operational models, and agile development processes that allow businesses to reduce risk and accelerate time to market. Modern applications also cover use cases that include web and mobile backends, IoT applications, AI/ML workloads, shared services platforms, and more.
What Is a Modern Analytics Application?
Modern analytics applications like embedded analytics solutions enable non-technical users to manage and work with data themselves by providing self-service and modern architecture capabilities. They directly deliver real-time reporting, interactive data visualizations, and advanced analytics capabilities, including machine learning and AI, into an enterprise business application. Embedded analytics solutions come with plenty of benefits as they bring the power of data into the hands of your employees, customers, partners, and suppliers, providing them with insights in the context of their workflow so they can act at the right moment and never miss an opportunity.  
What Are The Major Issues With Legacy Systems?
In today's modern business world, it is surprising that many retail, banking, finance, and manufacturing organizations still use legacy systems despite the fact that they need to be armed with real-time, up-to-date technologies and tools to survive in the market.  
So, why haven't they modernized their systems?
There are a number of reasons why organizations of all sizes and in different industries still rely on technologies built in the past decade, including the huge investments that they made in the first place, fear of uncertainty, resources to allocate to upgrading, and the fact that system testing and user training is a time-consuming task.
Regardless of if it's in life or in business, people tend to stick to what's familiar and are often scared of anything new. So, they prefer keeping up the legacy system that they know better than the palm of their hands as everything associated with it is familiar, and they know how to deal with it.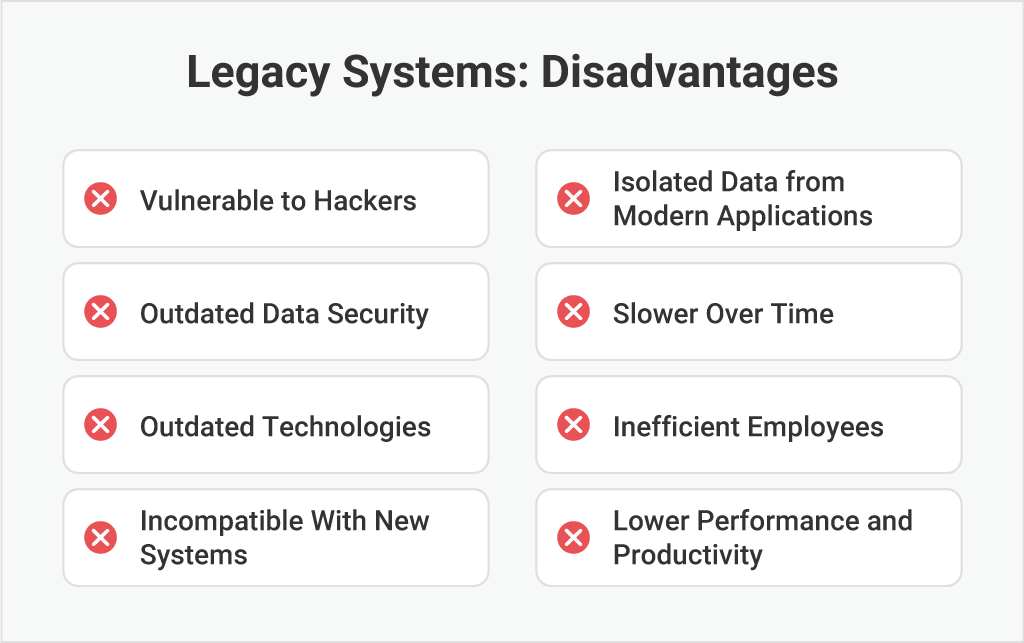 Data loss is also something that businesses are afraid of. It is impossible to transfer all of your data into a new system without losing some of it. But is it worse than a data breach? Legacy systems are more vulnerable to hackers than modern applications. They have outdated data security and can seriously damage an organization's reputation by exposing sensitive data.
Another issue with legacy systems is that as they use outdated technologies, they can become incompatible with new systems that are also important for business growth. Many of the older systems were never even designed to be able to integrate with other systems. As a result of using a legacy system, you are isolating data from other systems. If, for example, your IT department is using a legacy system while your marketing department is using a modern application, one team becomes isolated from business intelligence capabilities and insights from which the other team can leverage.  
Furthermore, legacy systems become slower and slower over time, which means that the users that are forced to use them become more inefficient in their work, and their performance and productivity suffer.  
Why do Businesses Need a Modern Analytics Stack?
Modern embedded analytics platforms support a full stack of integrated analytic functions — from reporting and dashboards to self-service analytics, alerts, collaboration, data preparation, and machine learning on a unified, scalable architecture with common administrative and management functions.
Also, compared to more restricted analytics platforms of the past that limited what users could do, modern embedded analytics platforms give end-users the freedom to edit visualizations or dashboards or create their own.  
According to research by Salesforce, 63% of retail businesses don't respond to consumer demands and insights in an agile manner. As we mentioned, they still use legacy systems that are not up-to-date with the newest technologies and can't perform the things those modern solutions can.  
Modern stack applications enable the collaboration between BI and visualizations to extract insights and actionable information when these insights are needed and can make an impact.  
On top of that, AI and machine learning play an imperative part in modern stack solutions. With their ability to analyze historical and real-time data, businesses can easily spot trends and patterns and predict the future. For example, those retail businesses can accurately forecast sales as well as demand for future products and services.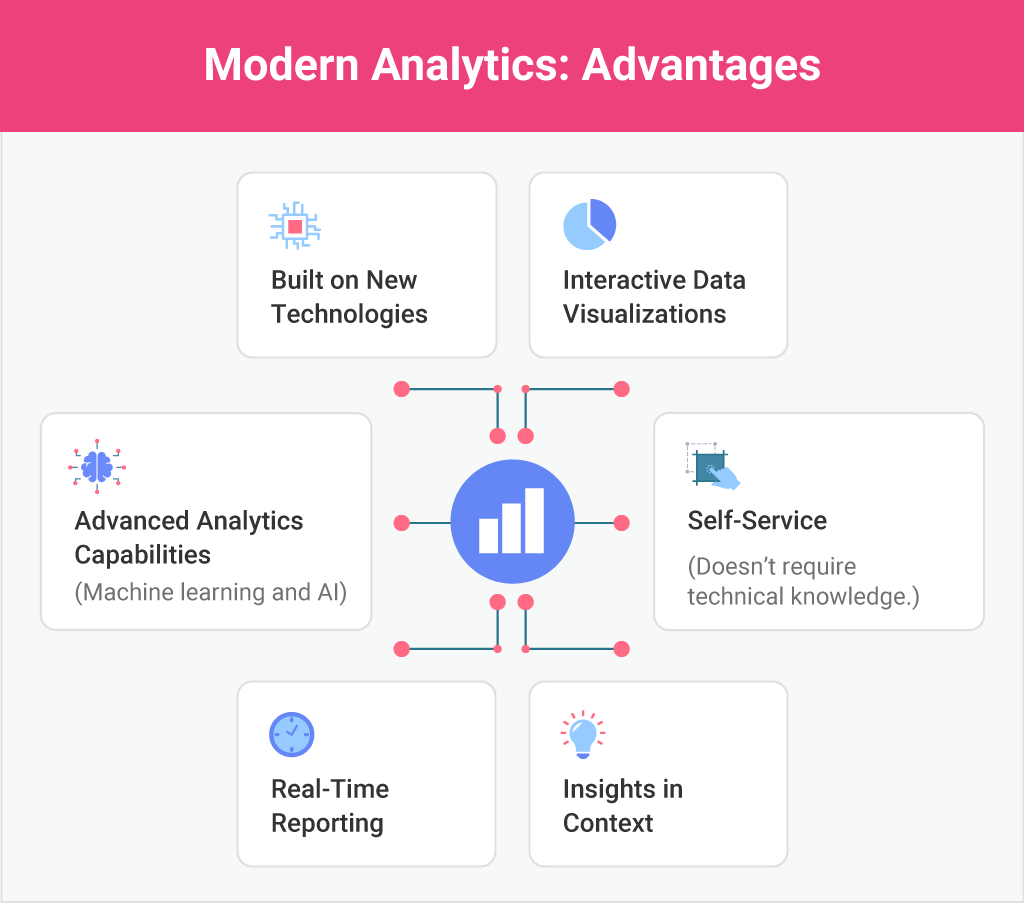 Build VS Buy Analytics Platform
Most organizations that take the step towards modernization buy an already established solution to integrate with their existing software. This is generally the easiest decision between buying or building an in-house embedded solution and is typically the preferred option as it saves time and money.  
Before buying, of course, you need to determine whether the embedded analytics solution is the right one for your business needs, but no matter the provider you choose, going for that option will save your developers' time so that they can focus on your business core competency and what it was initially designed for. When investing in an already established solution, you also save time, money, and worries on maintenance, upgrades, and updates, as all this will be done for you by the provider.  
You are also guaranteed maximum security as well as fast time to market. On top of that, according to Nucleus Research, analytics return $13.01 for every dollar spent. That's a 13:1 ROI for you and for your customers when you offer embedded analytics in your SaaS solution. Not a bad deal, don't you think?  
Building your own analytics capabilities into your application might be the right decision for those organizations that could afford the higher budget and the human resources to do it. The estimated average cost of building your own solution (the project takes about 7 months to complete) is as much as $350k. In comparison, the standard price for an embedded solution starts anywhere from $30K to $75K per year.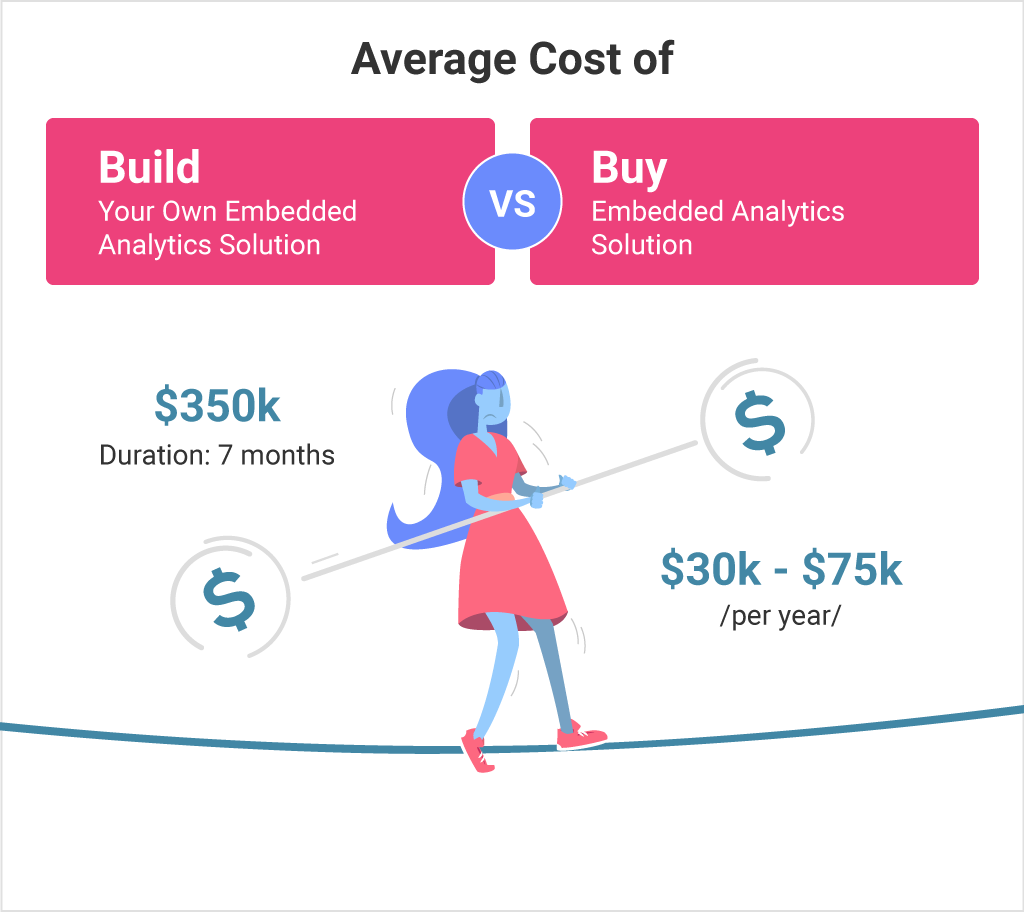 Building your own solution gives you complete control over the software. Keeping all aspects of the development in-house allows you to control everything from customization and branding to user experience and functionalities.  
Another argument in favor of building your own solution is that it allows you to solve any security problems internally. If you're working with sensitive data that requires higher security levels, you might want to consider that option. However, you shouldn't forget that the embedded analytics solutions on the market must comply with high data security standards, the quality of which is assessed by SSL security certificates, so you shouldn't have to worry about that even if you opt for the buy option.
What to Look For in a Modern Analytics Platform
There are several questions to ask when choosing an embedded analytics vendor including is the application is built on modern architecture and was the solution purpose-built for the embedded scenario. Knowing the answers to these questions will help you determine whether it's worth investing in a given vendor. 
That is, however, not everything you need to look for. The list of embedded analytics features available is also of significant importance. The features and functionalities that the solution offers are the tools that will help you create a data-driven culture and get ahead of the competition.
Modern analytics platforms are modern for a reason, so make sure to look for native advanced analytics capabilities, native SDKs that utilize the specific features of each platform and provide a superior user experience, and robust APIs for dashboard rendering, dashboard creation, deep linking in dashboards and custom UI for data source acquisition.
How Can Reveal Embedded Analytics Help Your Business
Reveal embedded analytics solution provides organizations with the most powerful, flexible, and predictable priced analytics tools on the market. Reveal provides developers with a wide range of highly customizable and easy-to-use embedded analytics tools and data visualizations, which end users can immediately understand. These tools make your app stickier and allow you to differentiate yourself from competitors.   
Built from the ground up with embedded first in mind and with your security as a #1 priority, Reveal allows you to easily integrate data analytics into your application with no added requirements. Reveal's flexible architecture and rich APIs give you control of the feature in your app, making it a seamless part of the user experience.    
With the power of data, you, your employees, customers, partners, or suppliers will no longer need to waste time trying to analyze spreadsheets but instead have more time to focus on the insights gathered and make choices based on facts.
You can learn more about Reveal and how it works by scheduling a free product tour.