Embedded Analytics for Banking
Data has been banking's most valuable resource for a long time now, but the concept of embedded analytics in banking is transforming the future of the industry by opening up a world of new opportunities and delivering great benefits to customers and employees alike.
Request a Demo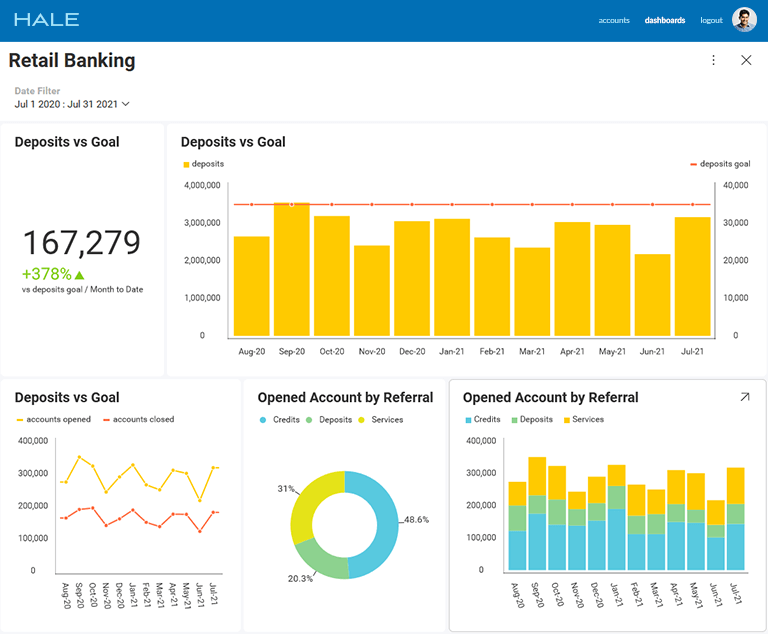 The Importance of Embedded Analytics for Banking
Data analytics solutions offer banks a better way to manage their assets, marketing campaigns, modeling credit risk, forecast consumer trends, ensure compliance, and much more. With the help of Business intelligence (BI) tools, banks can monitor their branches in real-time, tracking employee and operations performance with live data. This monitoring brings key insights into what works well, what doesn't and respectively supports that data-driven decision-making process to reduce or maximize resources, personnel or expertise.
BI removes the poring over incomprehensible spreadsheets and substitutes it with easy-to-understand and digest interactive dashboards. By using graphs, charts and other visual elements, dashboards translate the overall meaning of a data set in seconds.
4 Key Benefits Embedded Analytics Provides to Banking
Improved products and services
Smartphone banking apps, for example, are an incredible source of data which determines whether the features and functionalities added are actually meeting people's needs. Identifying these trends can help your bank's engineers create and maintain more user-friendly services that will be of better value to your customers.
Effective fraud prevention & better data protection
To evaluate risk and prevent fraud, banks are using BI tools to monitor customer spending patterns and identify unusual behavior that can be an indication that their account is under threat. Effective security backed with banking analytics protects not just the customers, but also the banks themselves.
Enhanced and tailored customer experience
Banks are increasingly using data to piece together a more complete picture of customers' lifestyles and spending habits. All this helps banks to offer more personalized services to customers based on their preferences and banking behavior.
Optimizing risk management operations
With advanced data algorithms, you can identify potential risks related to lending money to customers with poor credit scores and help you decide whether to approve or decline their loan application.
Banking Dashboard Samples
Banking dashboards are used to track and display banking KPIs (key performance indicators), financial performance, customer trends, banking business process results and just about anything you want to gain deeper insights about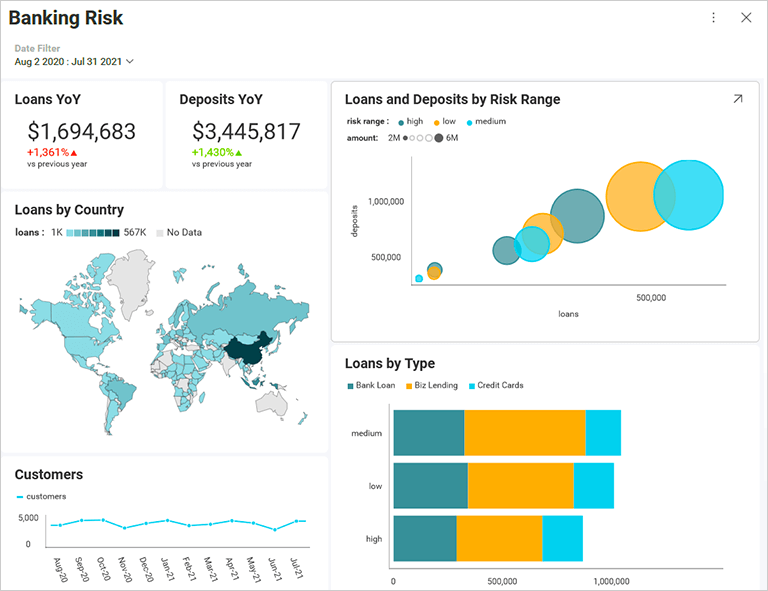 Banking Risk Analytics Dashboard
Risk mitigation strategies are among the top concerns of banks. To be able to handle those risks effectively, banks need data insights at their disposal to help them better understand the performance and effect of those risks so they can take data-driven actions to ensure healthy and profitable financial operations.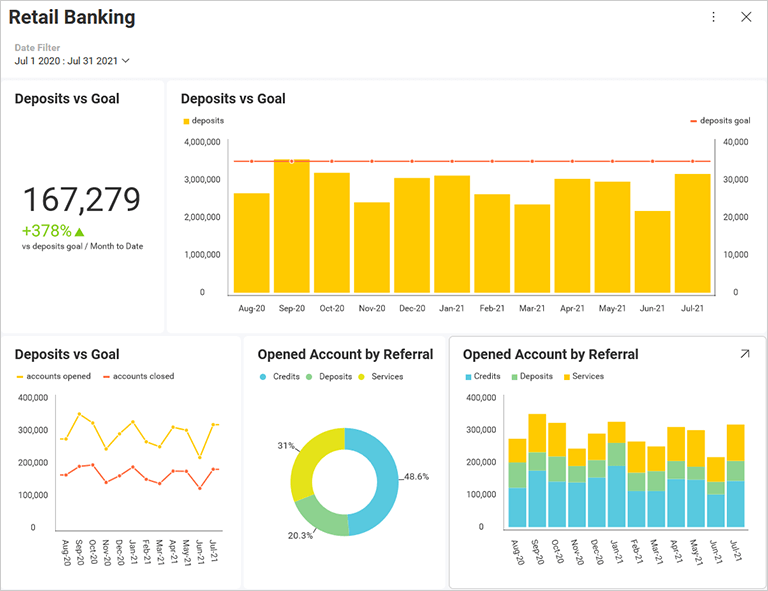 Retail Banking Analytics Dashboard
The retail banking analytics dashboards visualize the KPIs that bankers need to be able to grow and maintain clients' relationships. With data analytics and easy-to-create dashboards, they can track customers' deposits, referrals, branch activity, transactions, ATM's and online banking portals activity and transactions, and so much more.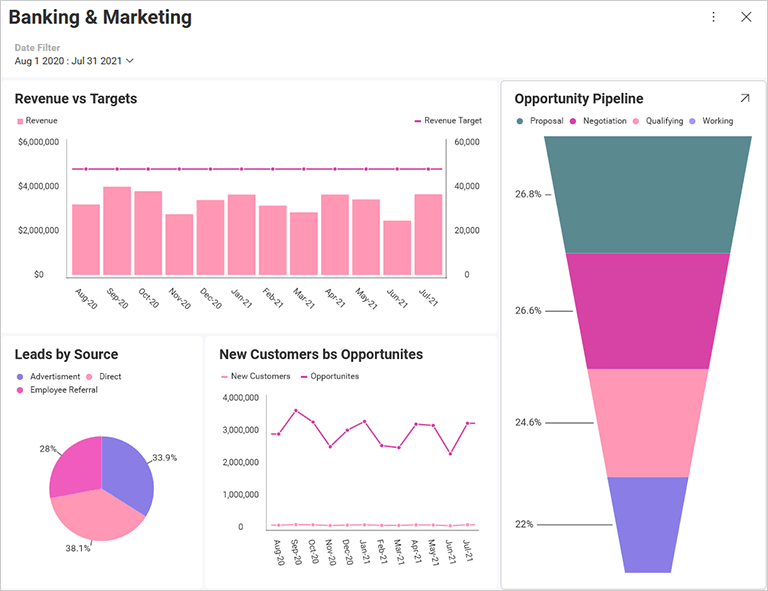 Sales and Marketing Banking Dashboard
Marketing and sales efforts in the banking industry are already being data driven. As mentioned, one of the best ways in which data analytics is used in the banking industry is to enhance and tailor the customer experience with personalized offerings. This is tightly connected to sales and marketing.
Frequently Asked Questions
What is banking analytics?
Banking analytics is every technology or assembly of technologies used to collect, process, and analyze complex data sets that consist of both structured and unstructured data. This data is being collected from a variety of sources and can potentially answer questions that you never knew you had and be a wealth of beneficial and profitable insights.
How is data being used in the banking industry?
Data analytics is used to make banking institutions more efficient by allowing them to position themselves higher in the marketplace, drive revenue and growth, improve strategies, and enhance customer experience. They do that by formulating an optimum banking business strategy, identifying and analyzing interest, mortgage and lending rates to increase profitability, personalize product offerings, predicting and reducing any delinquencies and much more.
Why should banks use a BI solution?
Business intelligence (BI) in banking is defined as the use of analytics software or SaaS (software as a service) that are used by banks end-users for the creation of interactive data visualizations and key insights rich reports. Furthermore, BI solutions offer banks a better way to manage their assets, marketing campaigns, modeling credit risk, forecast consumer trends, ensure compliance, and so much more.
Can Reveal banking analytics solution work with my banking system?
Reveal is designed to work in conjunction with all types of banking systems. It uses the data from your existing system and provides valuable insights based on big data, predictive analytics, and machine learning models.