Embedded Analytics for Manufacturing
Accounting for approximately 16% of the global GDP, manufacturing is one of the most important industries in the world's economy. As such, the need to streamline manufacturing processes is of essential importance. To do that the industry embraces the power of data analytics to ensure improved decision making and enhance performance.
Data analytics offers manufacturers the ability to gather, store, process and utilize data in their daily operations by drawing key insights about improvement and optimization opportunities.
Request a Demo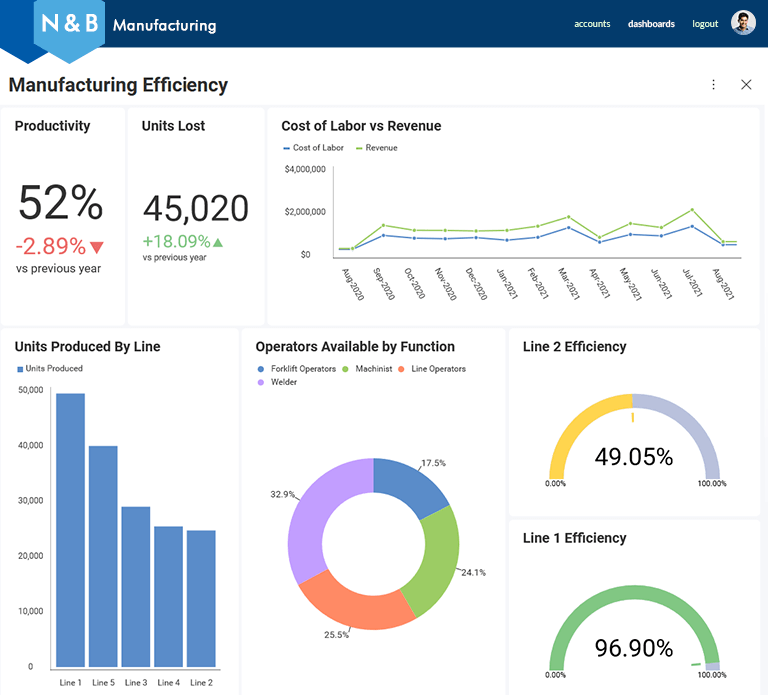 The Importance of Embedded Analytics for Manufacturing
Manufacturing analytics brings predictive analytics, big data, IoT, and mobile-first design to manufacturers so they can ensure quality, optimize performance and yield, reduce costs and improve supply chains. Manufacturing analytics collects, processes and analyzes large amounts of data from numerous sources like machines, orders, delivery, and people. With manufacturing analytics, the data gathered is transformed into easy-to-understand insights that manufacturers can act on in real time.
4 Key Benefits Embedded Analytics Provides to Manufacturing
Forecasts market demand
Market demand is rarely stable, making it harder for manufacturers to forecast the future and address market needs. In the past, demand forecasting relied on the analysis of historical data and experience, but now with the help of predictive analysis, manufacturers can have a clear and comprehensive view of the manufacturer's processes to effectively identify recurring trends and anomalies in data. That makes it easier to determine what needs to be prioritized and where the focus should be.
Greater customer service
Much of the success of a manufacturing company relies on customer satisfaction, so making customers happy is paramount. Today consumers want more personalized and customized products and to be able to keep up and provide such products, manufacturers need data, data, and more data. Data analytics provide them with actionable insights that help them transit from mass production to mass customization where products are personalized to the individual customer or market segment.
It's cost effective
Data analytics in manufacturing can reduce costs in many areas such as preventative maintenance to reduce equipment maintenance expenses; lower costs by delivering insights into energy consumption; improved forecasting to reduce inventory levels; and others.
Increases operational efficiency in the manufacturing processes
To achieve operational efficiency, manufacturers rely on data analytics to minimize downtime by automating machine's operations. The use of data analytics also helps manufacturers determine whether a machine is good for work or should it be shut down to prevent the occurrence of any issues.
Manufacturing Dashboard Samples
Manufacturing dashboards are used to track and display data from machines, devices, sensors, and employees to gain deeper insights into the company's overall performance. Visualize and track the entire manufacturing process in real time with these dashboards: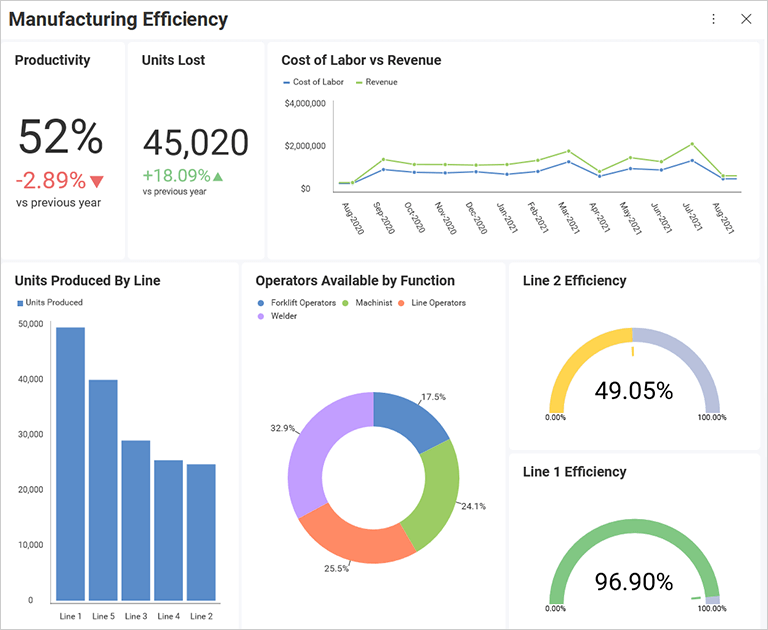 Manufacturing quality dashboard
Manufacturing quality dashboard makes quality data easy to access and understand and can help manufacturers make decisions to optimize different processes to ensure top product quality. Quality dashboards provide actionable insights and important metrics that can be suited to the demands of different roles in the manufacturing process. For example, a plant floor manager can focus on the metrics for a specific line and whether it meets forecast production and production standards, etc.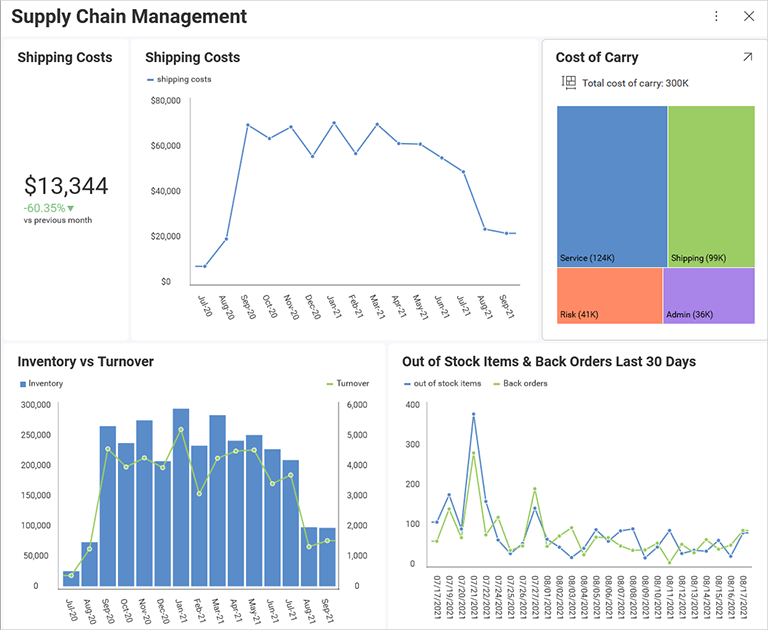 Supply chain optimization dashboard
A supply chain dashboard provides supply chain leaders with a great visibility of the supply chain for timely and effective decision making. It tracks inventory levels, logistics management and warehouse operations from a single display that helps identify improvement opportunities.
Frequently Asked Questions
What is manufacturing analytics?
Manufacturing analytics is the process of using data and data technologies in the manufacturing industry to optimize supply chain and processes, increase performance, ensure high quality and reduces costs.
How is analytics used in manufacturing?
From the shop floor to the top floor, and from when raw materials enter the plant to when the product exits the plant for distribution, analytics provide manufacturers with visibility on the entire process so they van better understand how things are performing and aligning with the company's financial picture.
What is manufacturing analytics software?
Manufacturing analytics software is a management tool that captures and analyzes manufacturing data analytics and provides real-time actionable insights to manufacturers for better decision-making and operations improvement.