Real-Time Mining Intelligence
Stay competitive and drive sustainable growth in today's rapidly changing mining industry. Deliver more significant mining insights through deeper analysis, boost productivity, and address material flow delays with Reveal's embedded analytics solution.
REQUEST A DEMO
TRY IT FOR FREE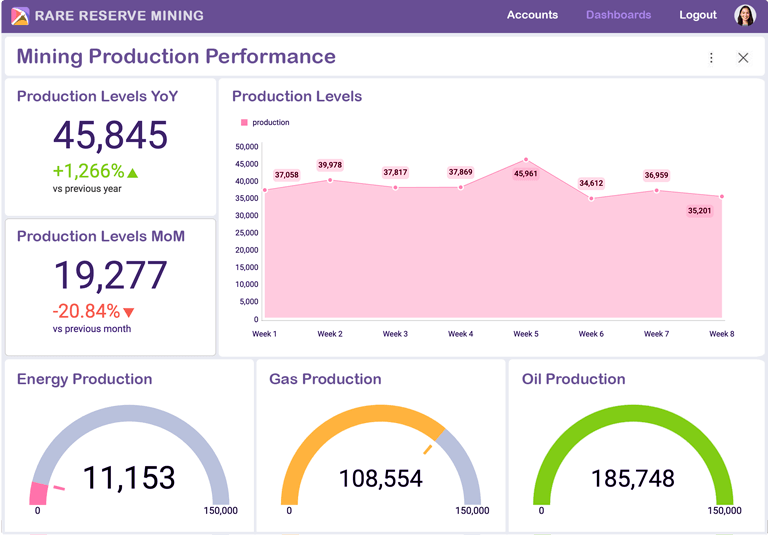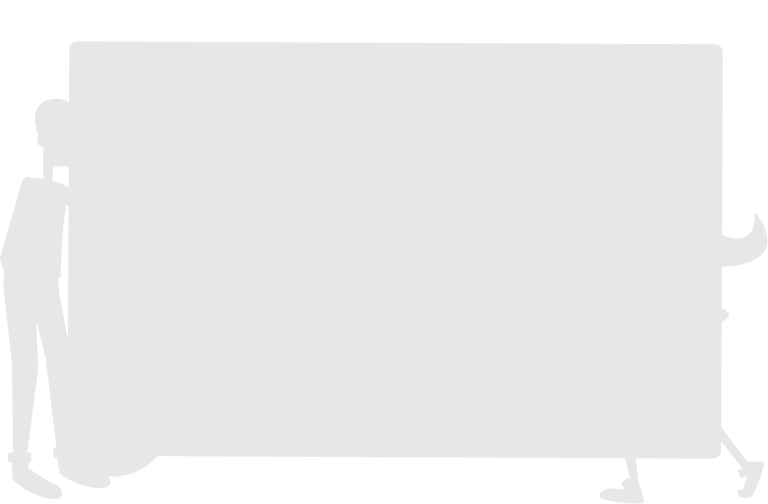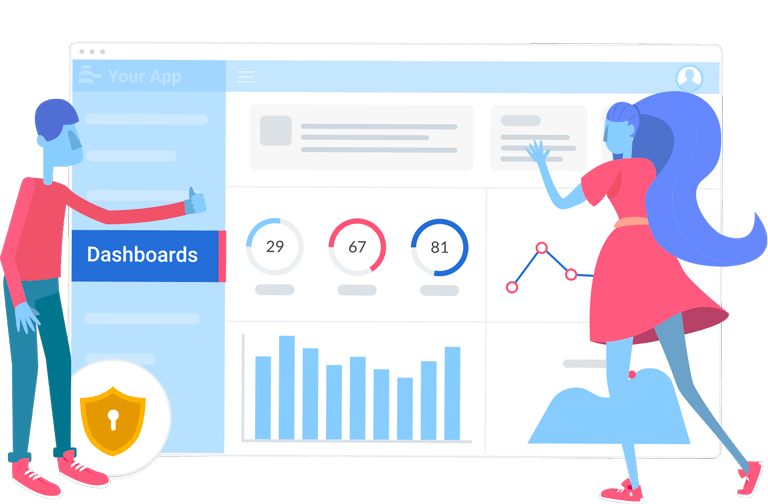 The Importance of Embedded Analytics in the Mining Industry
Embedded analytics is spurring the next wave of efficiency in the mining industry. By allowing companies to monitor production, sensors, equipment, people, and safety in real-time, mining analytics enables faster and better-informed decisions at all levels. With the help of embedded analytics mining companies can achieve better operational efficiency, higher profitability, and safer workers.
Top Benefits of Embedded Analytics for the Mining Industry
Improved Operational Efficiency
With easy access to real-time data from mining operations, you can quickly identify inefficiencies and areas for improvement, which leads to a boost in productivity and more efficiency throughout all mining operations and processes.
Better Resource Management
Analytics helps mining companies optimize production planning, supply chain management, inventory management, and other resource management practices. As a result, this helps reduce waste and increase overall productivity.
Data-Driven Decision-Making
Mining companies can make more informed decisions about their operations by analyzing data from various sources, including sensors and equipment logs. Trusting and guiding your operation with data ultimately leads to better outcomes and higher profitability.
Time and Money Saving
Predictive analytics can help mining companies reduce planning time and overall maintenance costs. Furthermore, data analytics can help prevent unforeseen operating costs and unplanned downtime avoidance.
Enhance Your Mining Operations with Reveal's Robust Analytics Features
Quickly identify equipment failures before they occur, optimize production processes, and forecast future demand for minerals.
Easily communicate insights to stakeholders and investors by making complex data more accessible and understandable.
Respond to changes in operational conditions in an instant. Optimize equipment performance to reduce downtime and monitor individual workers' health and vital signs.
Analyze and visualize spatial data from geological surveys, equipment locations, and more to provide insights into the relationship between multiple factors.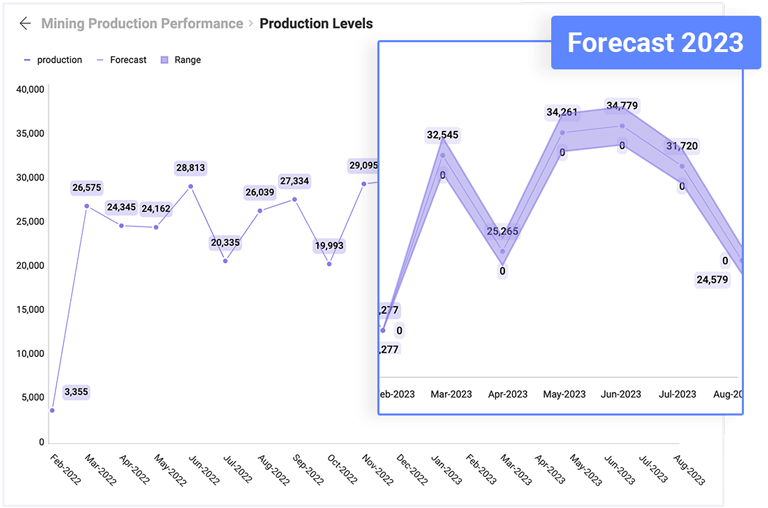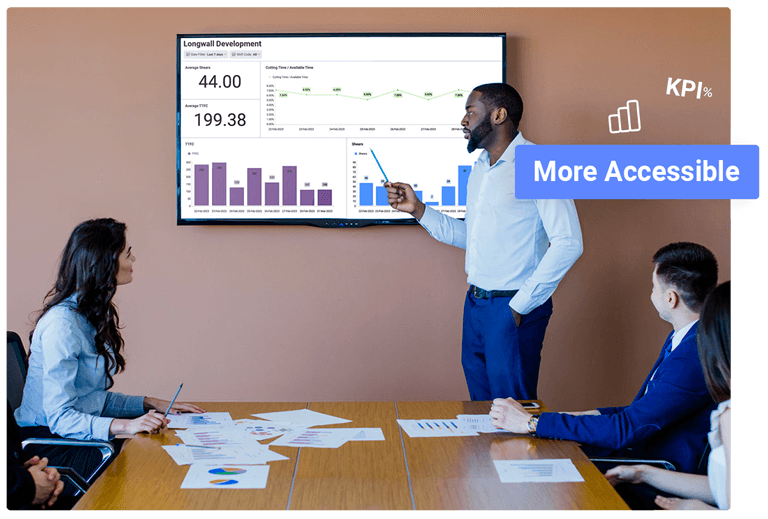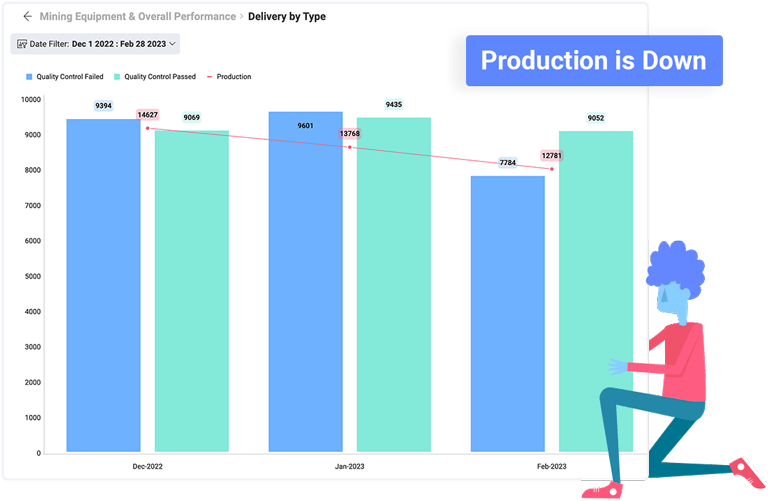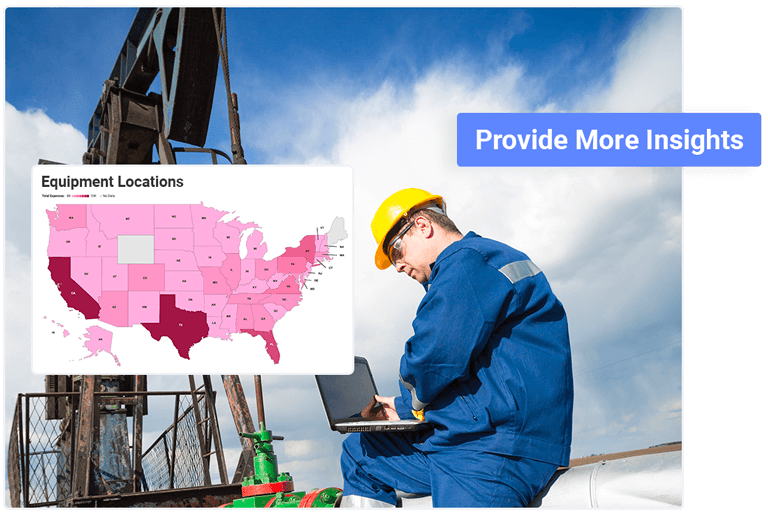 Seamless integration
Reveal's powerful API removes the complexity of embedding analytics into your apps and allows you to seamlessly integrate your data from any SQL database or data warehouse.
Deploy Anywhere
Reveal runs on Windows, Linux, or Mac servers, with backend SDKs for .NET, Java and NodeJS. Deploy on-prem, or to any cloud or any container in the cloud.
Dozens of Data Sources
REST, Postgres, JSON, CSV. Excel, SQL Server, Analysis Services, Google Big Query, Azure SQL, Azure Synapse and more.
Robust Security
You have complete control over queries, parameters and filters that are sent to your data sources. We also support multi-tenant backends, and row-level filtering for per-user security.
See What Our Customers Have to Say

The dashboards are within our products, so they get seen; they are there at the moment the customer needs the information. So they can get insights, and make decisions. Ultimately that's the power we've now built into our database software tools.
Jim Richardson
President of Atanasoft

Reveal allowed us to accelerate our visualization time-to-market easily by a factor of 10x.  Our engineers didn't need to become visualization experts, we didn't need to do all the testing of the visualization platform and we didn't need to think through how it will scale or worry about its reliability.
John Gomez
CEO of Sensato

We really like Reveal's intuitive UX because it appeals to our non-technical caseworkers. Reveal makes it simple for caseworkers to run a report and see it in an easy-to-read chart or visualization and meet their reporting demands.
Ninad Amondikar
Data Product Manager at Casebook
Mining Analytics Dashboard Samples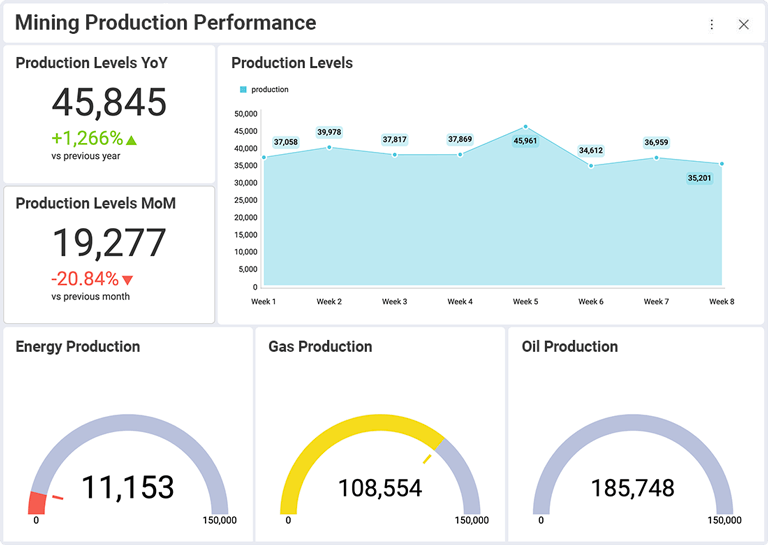 Production Monitoring
Get real-time data on production volumes, targets, and efficiency, and monitor performance against production plans to identify opportunities to optimize production processes.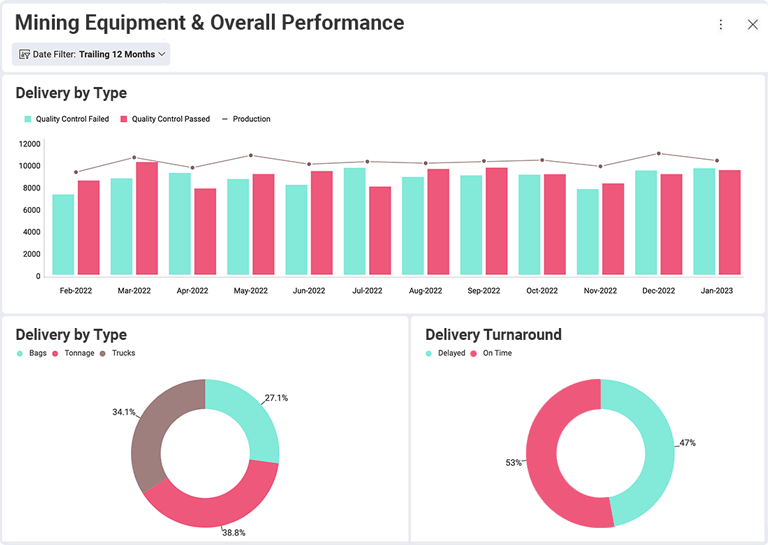 Equipment Performance
Closely monitor the health and performance of your mining equipment by looking at equipment utilization, availability, maintenance status, and more all in one view. Quickly identify potential equipment performance issues and take proactive measures before it's too late.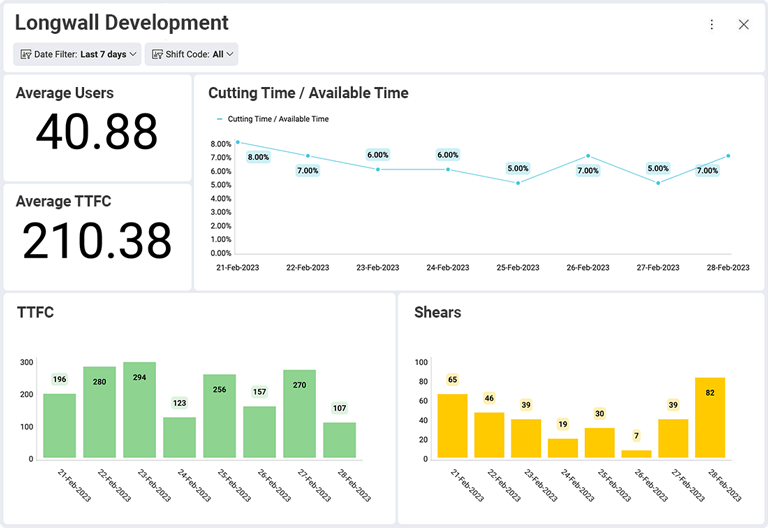 Longwall Development
Visualize coal production metrics, mine's geological and geographical data, percentage of target production achieved, and more. The Longwall dashboards can also include equipment status and safety data for information on injury rates, safety training completion rates, and more.
Frequently Asked Questions
Data analytics in mining or mining analytics refers to using real-time reporting, data visualization, and data analytics techniques to extract valuable insights from the data generated by a mining company's operations.
You can use data analytics to understand better your operations, sensors, equipment, and more. By analyzing your key mining data, you can identify areas for improvement, optimize processes, and make more intelligent business decisions.
Choosing Reveal over building your own analytics solution to significantly increase the speed, cost-effectiveness, and scalability of embedding analytics. Reveal can be quickly and easily integrated into your application, saving on development time and costs and allowing you to focus on other critical aspects of your mining business.
Predictive analytics is an integral part of Reveal's end-to-end embedded analytics platform, working simultaneously with its robust feature set of data integration and data visualization capabilities, as well as utilizing machine learning models from Azure ML and Google BigQuery.
Yes, Reveal is a self-service embedded analytics solution. With an intuitive drag-and-drop dashboard creator functionality, everyone, regales of technical experience and knowledge, can
create custom dashboards independently
.
Reveal is based on a cloud architecture that includes multiple authentication methods, local data caching to minimize sending of queries to servers and databases, and much more. You can
read more about Reveal's security here
.