Embedded Education Analytics
Analytics tools in the education system empower educational organizations around the world to use the power of data and BI to improve learning outcomes and provide students with data-driven information to make the best decisions around their education. Education analytics is also used to improve the quality of teaching by furnishing teaching staff with better information around the learning content and activities they provide to their students.
Request a Demo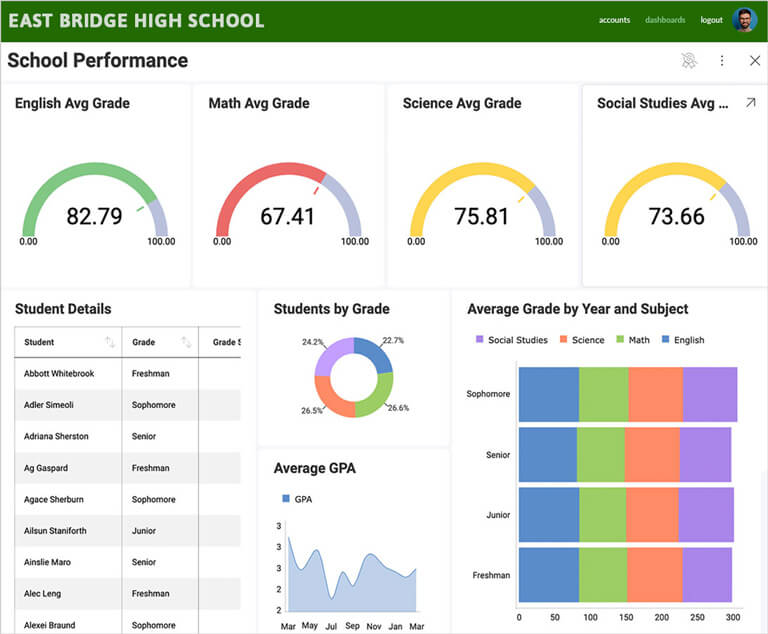 The Importance of Embedded Education Analytics
Data analytics is currently shaping the future of education. Nowadays, teachers have access to data more than ever before, providing them with valuable insights into how students are progressing through their learning journey and helping them identify students who need personalized learning plans. Outside of the classroom, education analytics supports administrative decisions by guiding important funding decisions and ensuring that resources are allocated according to needs.
4 Benefits of Embedded Education Analytics
Helps provide customized learning plans
No two students are the same. Education analytics assist teaching staff in tracking students' performance in real-time and identifying where they may need extra help. With that data teachers can easily personalize learning plans to meet each student's individual strengths and weaknesses, prior subject knowledge, and learning disabilities.
Drives the decision-making process
Analytics can drive the decision-making process in the education system at all levels. It can navigate students' education paths based on their performance, teachers can use analytics to modify their approach in the classroom for better students results, and faculties can create better learning environments by effectively evaluating their lessons and courses. Education analytics can also play a fundamental role in improving school/campus business and financial operations.
Improves governance and management
By making use of data and BI in education, platforms to meet the gap between students, teachers, administration, and parents can be created. Such platforms can align everyone with the same information, tasks, and resources and help focus time, effort, and money at the right places.
Enrich eLearning courses
To be able to develop and design successful eLearning courses, you need to understand the behavior of your learners. When you understand their behavior, you can create an experience that can guide them towards completing your course successfully. Not only can learning analytics carve paths to success, but data will also lead to a more powerful and impactful eLearning environment in the future.
Education Dashboard Examples
One way that data analytics and BI can support education is through dashboards. In the education sector, teachers and administration need to track various performance metrics and KPIs of student data. Education dashboards go beyond test scores to provide a complete picture of how students and educational institutions are performing and guide key decisions in improving learning plans and outcomes.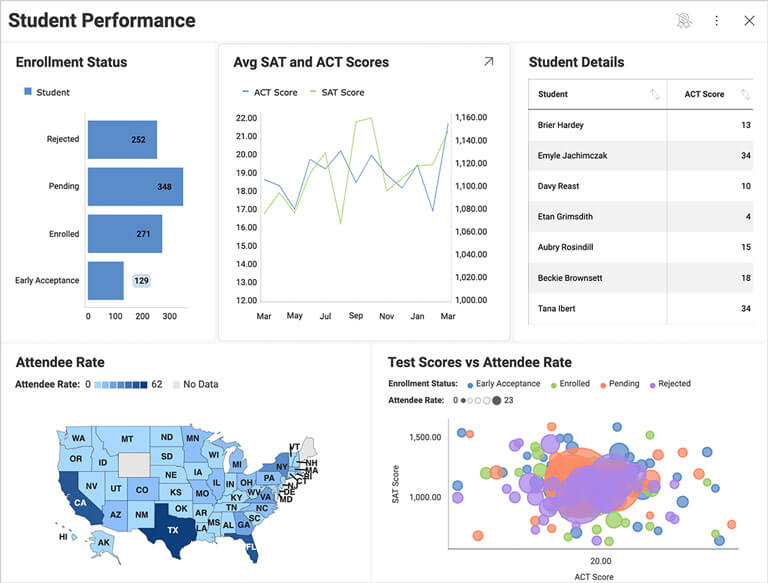 Student performance dashboard
A student performance dashboard allows teachers and school administrators to track the progress of each unique student learning progress, as well as other student educational metrics including attendance, test scores, enrollment, and more.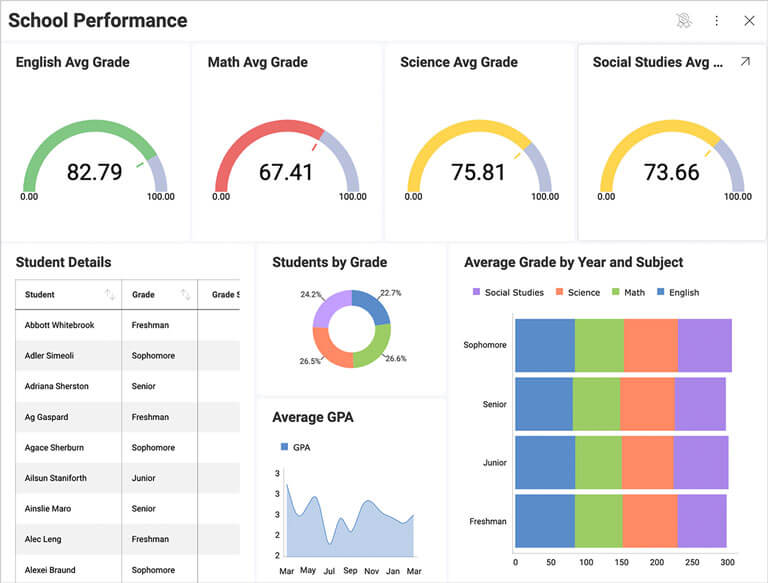 School performance dashboard
Get an overview of all important school management metrics and KPIs with a school performance dashboard. Keep track of retention rates of students and faculties, class attendance rates, trends in exam results over a given period of time and much more educational important statistics.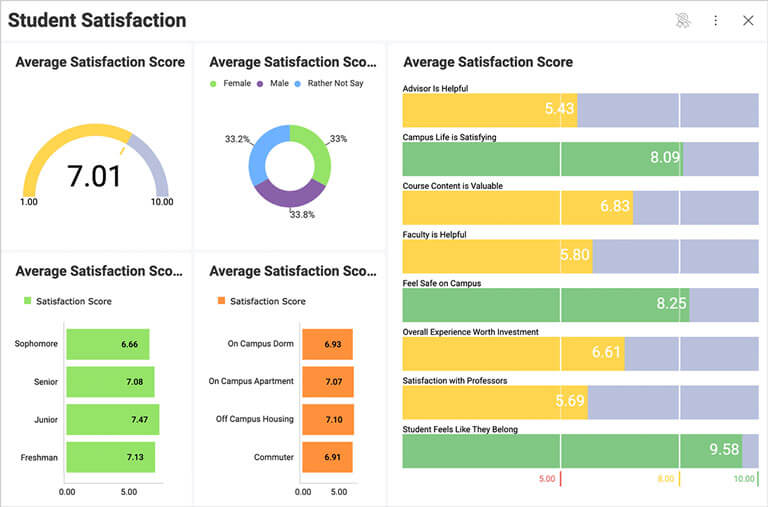 Student satisfaction
Does your educational institution meet the needs of your students? A student satisfaction dashboard helps you understand how satisfied students are with the effectiveness and quality of your campus operations and services and includes recommendations of how your courses, instructors and other services improve.
Frequently Asked Questions
What is learning analytics in education?
Learning analytics refers to the collection, analysis, and reporting of data about learners and their environments for the purpose of better understanding and improving it.
How is analytics used in education?
Data analytics in the education sector is focused on collecting and harnessing students' data to optimize and improve learning outcomes. This includes understanding in which educational areas students struggle or thrive, the time they spend on course work, and much more.
How is data analytics used in higher education?
Colleges and universities collect and analyze data to gain insights and make informed decisions on where to invest time, money and resources. Analytics provides them with insights to support student's learning needs, success and satisfaction of classes and other campus programs, as well as to evaluate use of campus buildings, faculties, and services.
What types of data are used in education analytics?
Educational data that is used in analytics falls into three and at times, overlapping, categories: student progress, student behavior, and student learning.