Embedded Analytics for IT
The importance of IT in business has long been proven. IT drives innovations in business – it helps the creation and improvement of products and services; it strengthens operations and makes businesses run more efficiently and more effectively. IT innovations increase businesses value, quality and ultimately grow profits. To achieve that, the IT sector uses the gold mine of data that it's sitting on. IT analytics bridges the gap between data, insights and action, so IT companies can get the most out of it, use it as their advantage and stay competitive.
Request a Demo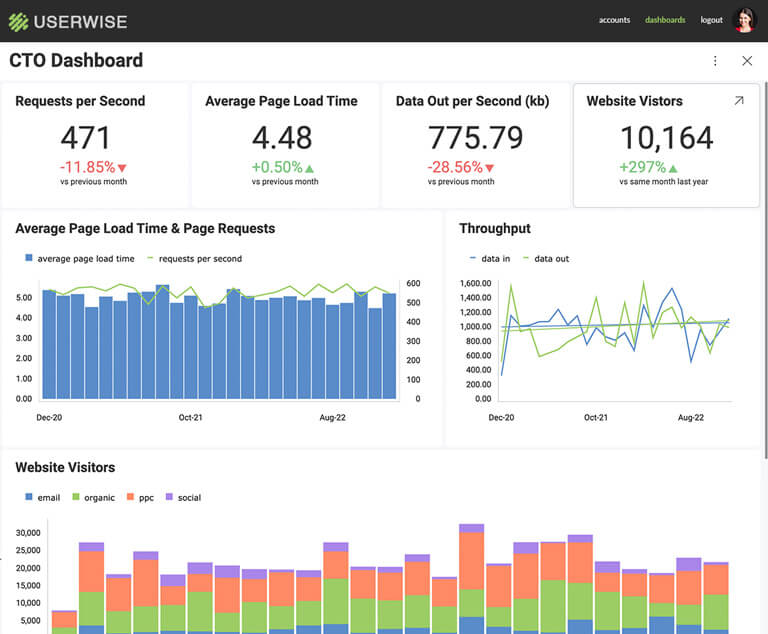 The Importance of Embedded Analytics for IT
The primary use and benefit of IT analytics is that it helps companies understand trends related to operations and make data-driven decisions to make their services and offerings optimal to all users and clients. With the power of real-time data, ITs get a clear overview of what is going on and how to improve to better serve all of us in today's modern technology world.
4 Key Benefits Embedded Analytics Provides IT
Predicts events
IT analytics can predict events such as when to expect the highest website traffic. Let's say that your company has been promoting a limited-edition release or limited time promo and you know that at a specific time high traffic will occur. This helps ITs to prepare accordingly and prevent the website's servers from slowing down.
Secures data
Providing a secure network is one of the IT industry pillars that's constantly being worked on. Analytics help by analyzing historical data and identifying unusual behavior – when it occurs, the system alerts administrators and managers so they can act fast and prevent any security breaches.
Minimize cost
With IT analytics, you can identify areas where you can save on budget and resources in the basic operations of your company and make better cost-saving decisions.
Improves customer satisfaction
Analytics provides you with real-time actionable insights, so you can solve problems at the moment of their occurrence. When you can act quickly and make sure that everything's working the way your customers expect it to, this will make their experience with your brand more satisfying.
IT Dashboard Samples
An IT dashboard puts key IT metrics in one snapshot for a clearer view of how an IT organization performs and in which areas is there room for improvements. It helps IT professionals track their projects, milestones, manage support tickers, server downtime and more.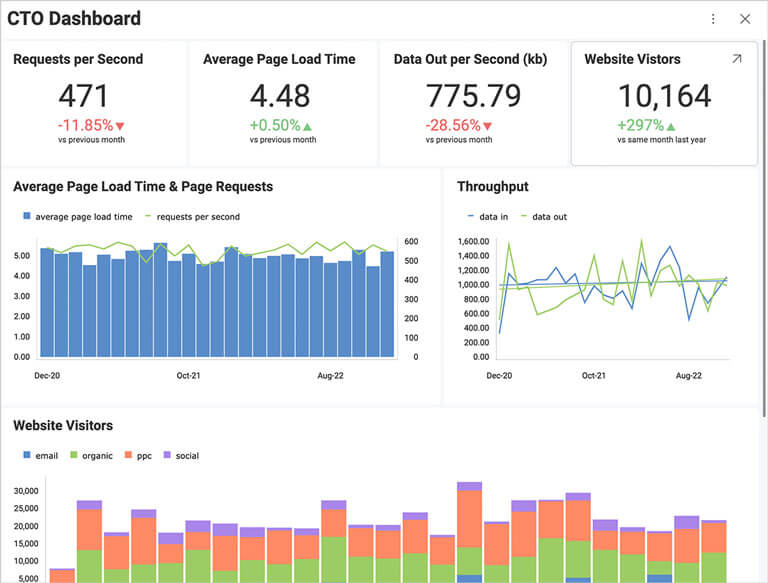 CTO Dashboard
The CTO dashboard is an important tool for IT executives to gain a complete overview of all-important IT metrics and allows them to make data-driven decisions and deliver high-quality technical support to employees and customers alike.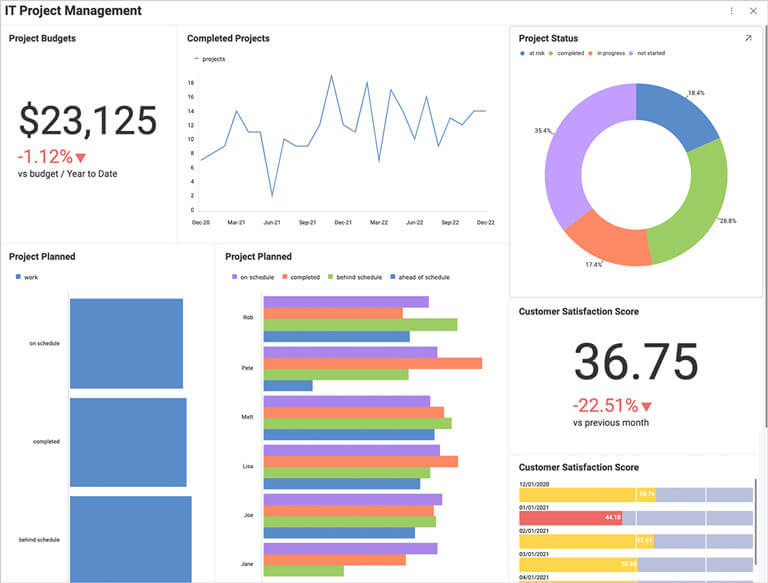 IT Project Management Dashboard
This IT dashboard helps track every step of your IT projects like project statuses, project completion times, customer satisfaction and finance metrics related to the project.
Frequently Asked Questions
What is IT analytics?
IT analytics is responsible for supporting existing IT systems, analyzing data and making the data-driven decision-making process better and faster.
How is analytics used in the IT industry?
By collecting and analyzing huge amounts of data, ITs can discover, interpretate and communicate meaningful patterns in data. IT systems are continuously collecting data from networks, applications and others that can be used to build strategies for building better IT products and services or planning IT budgets.