Why Embedded Sales Analytics Is the Right Solution for Your Business?
A sales analytics solution allows your sales rep to identify the characteristics of customers that spend the most money on your product/service and focus their time engaging with those high-quality leads that add value to your business.  
Bilyana Petrova
8 min read
If you're involved in the world of business intelligence in any way, then you've most likely aware of the fact that sales data is the drumbeat of any organization. It is of vital importance for businesses and when it comes to it, there's not much room for error.
If you want to achieve your sales goals month after month, then guesswork and intuition aren't your best friends – sales analytics is.
Embedded sales analytics provides intelligence to improve your sales strategies, sales effectiveness and start making more data-backed sales decisions.
In this article, we'll dig deeper into what embedded analytics is for sales, how and why it benefits your team, how to choose the right embedded sales analytics software, and more.
What Is Embedded Sales Analytics?
The definition of sales analytics is very well described by Gartner:
"Sales analytics is used in identifying, modeling, understanding and predicting sales trends and outcomes while aiding sales management in understanding where salespeople can improve. Specifically, sales analytic systems provide functionality that supports discovery, diagnostic and predictive exercises that enable the manipulation of parameters, measures, dimensions or figures as part of an analytic or planning exercise."
Embedded sales analytics is close to the same thing only embedded into an enterprise business application. Data from different sources is taken and analyzed in order to find relationships and opportunities that may be leveraged by the organization. It provides valuable insights into the performance of your product/service, market opportunities, sales forecasting, and more directly in the context of your user's workflow.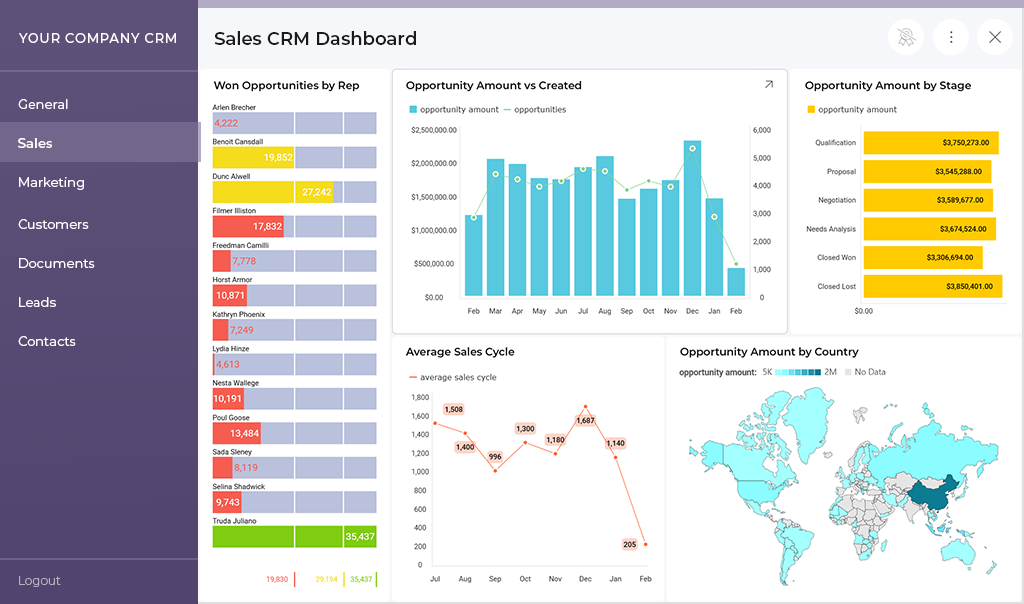 Sales analytics is divided into four categories:
Descriptive sales analytics (what happened?) – provides an easily digestible snapshot of what happened without providing information about why it happened or what would happen afterward.
Diagnostic sales analytics (why did it happen?) – examining and drilling down into your sales data to determine exactly why something had happened – why your sales dropped or what made people buy more, for instance.
Predictive sales analytics (what is likely to happen?) – by using the results of descriptive and diagnostic analytics, along with ML (machine learning) & AI (artificial intelligence) algorithms, predictive sales analytics estimate the likelihood of future events and outcomes. This allows sales professionals to make more educated decisions about sales strategies and activities.
Prescriptive sales analytics (how will it happen?) – shows you how you can best take advantage of the future outcomes that have been predicted and recommend the best plan of action.
Why Is Sales Analytics Important?
Sales analytics allows businesses to easily access data and generate accurate reports. Depending on the embedded sales analytics solution your organization employs, you should be able to view your insights and KPIs-rich dashboards and reports from any device.
This improves the efficiency and productivity of your sales team by enabling businesses to spot key trends. They can dive deeper into their data, and predict outcomes to make more precise judgments that will benefit them in the long run.
When all this is in place, you can best adjust your sales process to convert non-customers into paying clients and ultimately generate more sales.
How Can an Embedded Analytics Tool Boost Your Sales Activities?
There are many ways in which an embedded sales analytics solution can boost an organization's sales activities, including but not limited to:
Help you find your most profitable customers – a sales analytics solution allows your sales rep to identify the characteristics of customers that spend the most money on your product/service and focus their time engaging with those high-quality leads that add value to your business.
Help you serve your customers better – data helps your company and sales reps understand your customers' needs better and as a result find ways to keep them happy and establish deeper relationships. When you have achieved that, you can also upsell and cross-sell to these existing customers more easily.
Help you make data-driven decisions – the insights you gather from your sales analytics tell you what is working, what isn't working, how the same sales activities are performing against each other over different periods of time, etc. When you know that, you don't have to wonder any longer and test different strategies to find the one that would work. Embedded sales analytics enables businesses and sales reps to make better decisions by determining the best course of action to achieve new goals.
Help you get awareness of the market trends – sales analytics also serves as a vector for future market expansion allowing you to identify market trends and opportunities. Are you preparing to launch a new product or a service? Sales analytics will help you better understand what people are looking to buy and give you the ability to tailor your marketing and sales efforts in the right direction.
Help you spotlight new opportunities for your business to pursue – all the insights you gain from your embedded sales analytics present so much more than the ability to make better business decisions. With the right information at your fingertips, you can easily spot new opportunities that are worth the pursuit. Without that real-time data, you would hardly be able to spot these new opportunities and as a result of that, your business will lose money.
What to Look for in Embedded Sales Analytics Software?
There are many embedded BI solutions available for sales analytics. Once you've realized that you need an embedded sales solution, you should carefully investigate its features. Here's what to look for:
Integration capabilities – the right embedded sales analytics tool should seamlessly integrate to all your applications and devices. Whether deployed in a cloud or on-prem, the tool should easily integrate with all your data sources and shouldn't add additional weight and complexity. The first step in evaluating a sales analytics vendor should involve running through all your application & business requirements – data sources, front-end technologies used, etc.
Connectivity – look for more than the reporting and visualization capabilities that a vendor offers. If it cannot connect to all of your data, what good is it? Make sure that the embedded sales analytics solution offers seamless integration with all the data sources that you need.
Self-service capabilities – one of the most important features that you need to look for in an embedded sales analytics solution is self-service functionality. With a simple, user-friendly interface that is tailored to the different experiences and skill levels of different users, everyone within your organization can create insightful sales dashboards and charts on their own.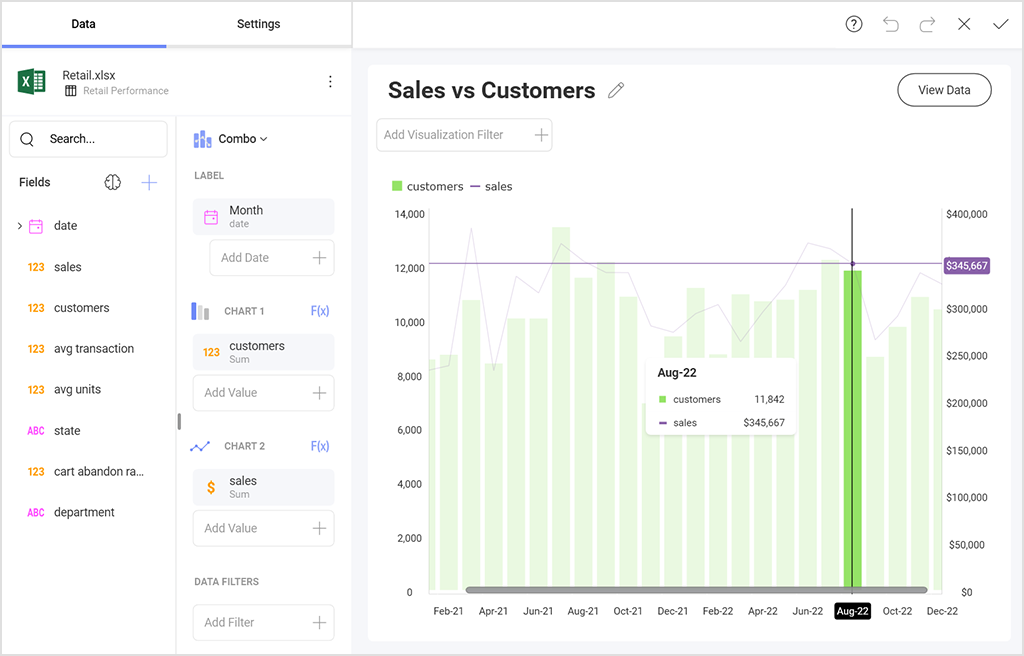 Customization – a seamless, personalized experience is the key to customer loyalty. So, if you suddenly add sales analytics capabilities, but they don't look or feel like the rest of your application, customers will notice. If the embedded sales tool doesn't offer any customization opportunities, then you better look for another one. Invest in a solution that will allow you to maintain your unique branding and customize the visual elements of dashboards and charts.
Native mobile app – nowadays, having important business insights at your fingertips is a necessity. Mobile BI capabilities allow sales professionals to leverage the power of sales analytics even on the go. That way, they can access valuable sales insights on their smartphones at any time and at any moment.
Scalability – the scale of the solution's operations must be able to upscale or downscale in response to an increase/decrease in its user base. This means that a good embedded sales BI software will allow you to increase your existing resources to accommodate increased business needs or changes.
Pricing – many embedded sales BI vendors use shady pricing tactics to maximize their profits. You don't want to partner with a vendor that will charge you unpredictable costs like usage and users, for example. We recommend choosing an embedded BI vendor that has a 100% transparent pricing model that won't escalate as your app sales increase.
Embedded Sales Analytics Dashboard Examples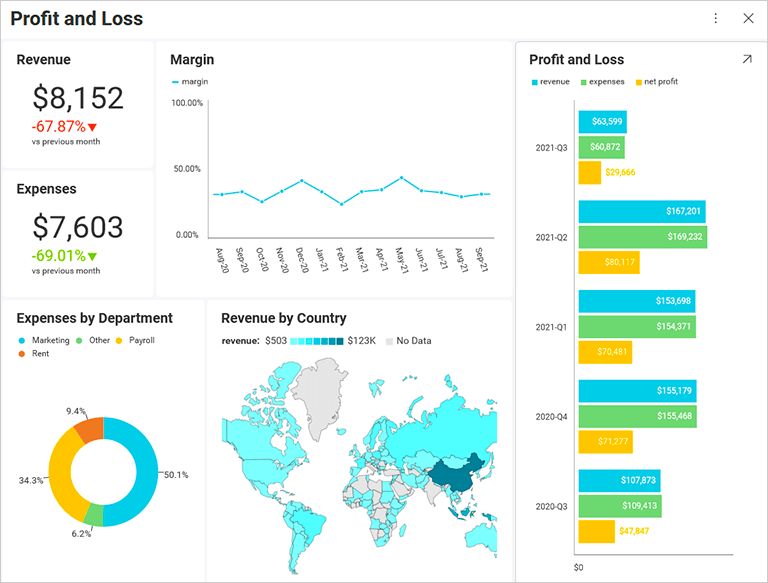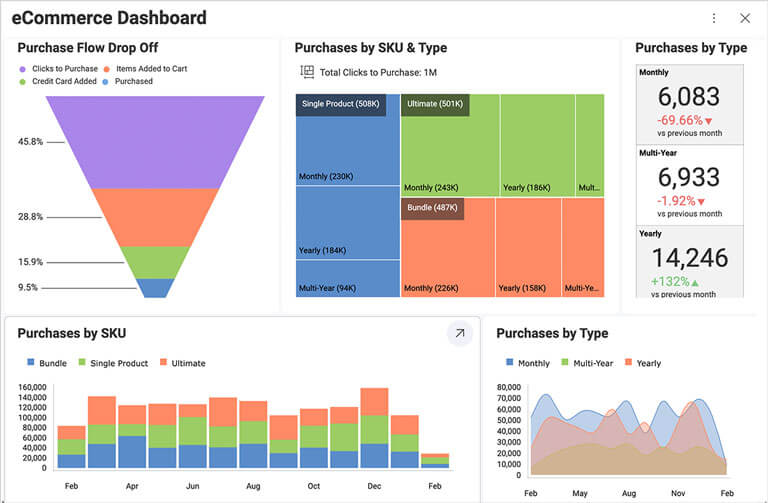 Introducing Reveal Embedded Analytics
Reveal is a self-service embedded analytics solution that enables your teams and customers to drive data insights with embedded intelligence, accelerate time to market, and transform the user experience of your apps. Built with embedded in mind first, on today's most modern architecture, Reveal's powerful API removes the complexity of embedding analytics into your SaaS applications.
Reveal provides interactive data visualizations, true self-service and white label capabilities, advanced analytics, including machine learning and AI, drill-down, collaboration, sharing, and drag-and-drop dashboard creator experience. Users can easily access and create beautiful yet informative dashboards at any time and from any device.
You can learn more about Reveal by downloading the Reveal SDK, or by scheduling a quick product demo.