Embedded Real Estate Analytics
Real estate analytics harnesses the power of data and AI to uncover microtrends and insights that drive property value. Real estate firms, asset owners, and managers can get an overall picture of a location's future opportunities and risks to build confidence in making the best decisions when it comes to real estate whether it is buying, selling, renting, investing, brokering, or planning real estate.
Request a Demo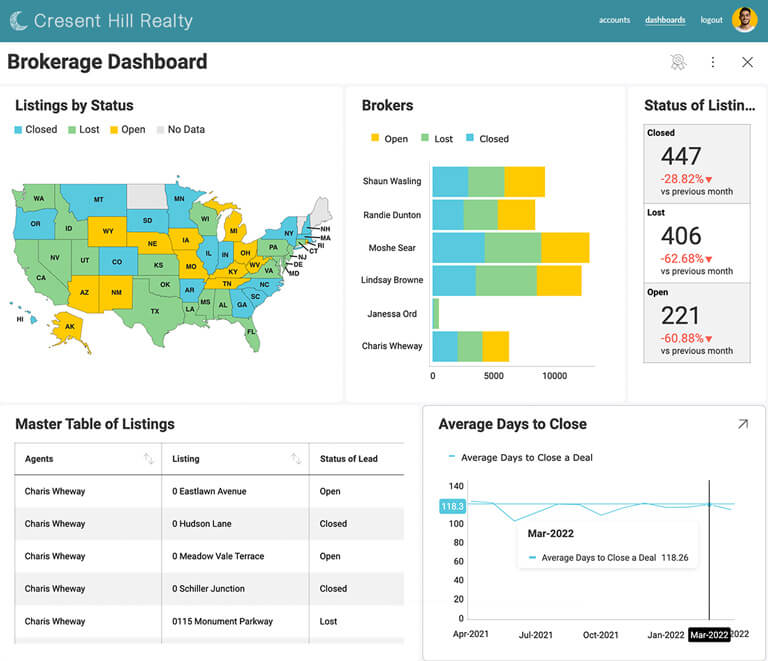 The Importance of Embedded Real Estate Analytics
Nowadays, more and more real estate companies and professionals are turning to data-driven real estate analytics for its ability to ensure wise, profitable decisions. Realtors can easily find the best places to invest in real estate and confidently decide whether it would be best to rent out a given property the traditional way or to opt for services like Airbnb. By extracting the best out of every possibility, they can build wealth to grow their business and improve their competitive advantage.
4 Key Benefits of Embedded Real Estate Analytics
Improves property evaluations
Real estate professionals can appraise homes easier than ever before. Predictive algorithms and AI models help them base prices on current market trends and years of market data such as current supply, demand, sales volume, property characteristics, and more. In that way, analytics allows real estate firms to stay competitive and grow.
Enhances marketing and sales
By utilizing data analytics in real estate, you can also improve the way you market your properties. For example, analytical tools can use digital advertising and search engine data to help realtors refine their audience and target potential buyers. They can also help them better understand what customers want and respond with personalized offers.
Digitalize real estate management processes
With all of the data about properties and buyers already stored online, real estate analytics makes it easier for buyers and sellers alike to get the information they need in real-time and move all the deal related documents and processes online.
Lowers costs and increases revenue
Real estate analytics uses the insights gathered from data to improve realtors' decision-making on all levels. As a result, real estate companies and investors can lower their costs by identifying more efficient ways of doing business, and ultimately increase their revenue.
Real Estate Analytics Examples
Gain a complete overview of your real estate business and quickly identify problems and opportunities before they happen.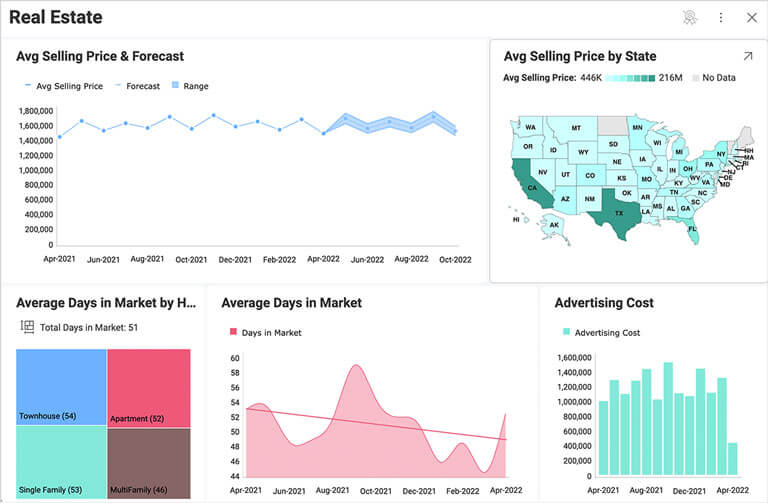 Real Estate Management Dashboard
Tracking your real estate business operations is super easy with a real estate management dashboard that allows you to gain deep insights into your data from one convenient location. Monitor the number of days on the market, sales by region, advertising and promotion costs, and more to improve your overall productivity and ultimately increase sales and rental revenue.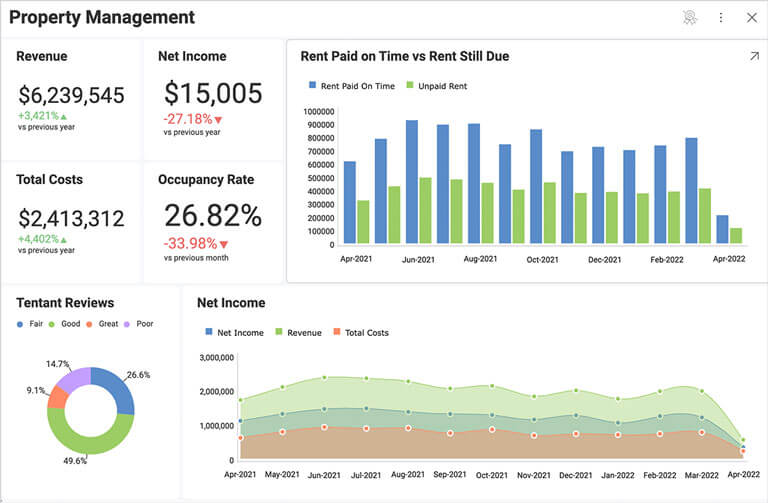 Property Management Dashboard
Property managers need to track bookings, tenant data, financial metrics, maintenance costs, repairs, and so much more. By gathering all the important data in one place, analytical tools allow property managers to identify peak demand dates and set up their prices accordingly. Furthermore, they can predict future occupancy and analyze competitors' listings performance.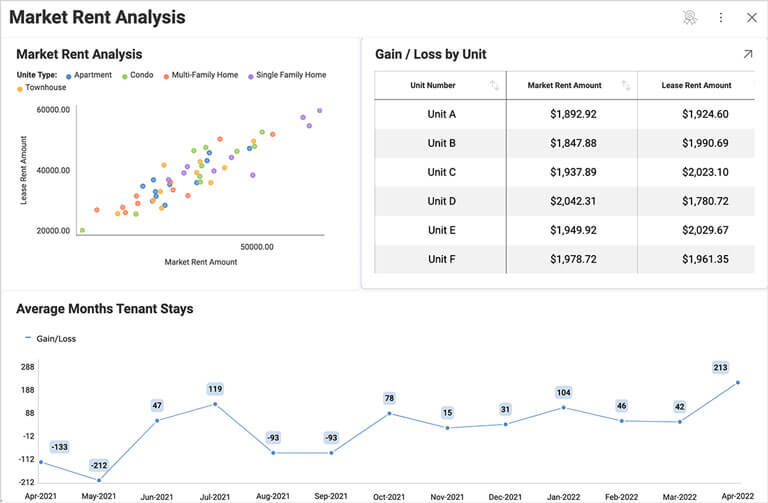 Market Rent Analysis Dashboard
Build interactive market rent analysis reports to assess the rental potential of a specific area. You can filter data by many criteria such as unit type, gross potential rent, gain/loss to lease and more to get a better understanding of properties potential and shape your sales strategies more intelligently.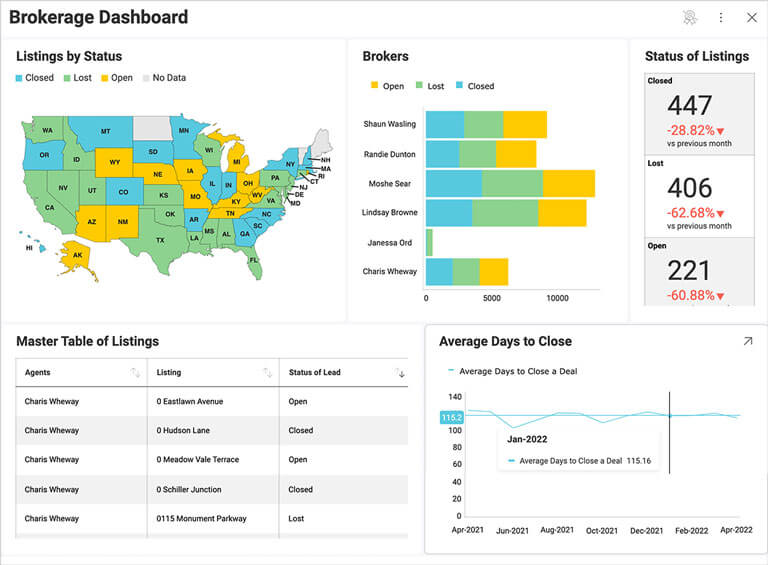 Brokerage Dashboard
A brokerage dashboard gathers key information about your brokerage agent's activities and performance and lets you track the average days that it takes them to close a deal, the number of total leads received by the agent for a given period of time, a summary of listings of each agent, etc.
Frequently Asked Questions
What is real estate analytics?
Real estate analytics refers to the processes and tools used to collect, store, retrieve, and analyze data for the purpose of making better, and data-driven decisions in the real estate industry.
How to create an interactive dashboard for real estate?
Analytical solutions such as Reveal allow you to build interactive dashboards for your real estate business in no time. You just have to connect to your data, and then the drag-and-drop interface allows you to refine your dashboard in the best way possible for the insights you're going to present.
What is predictive analytics in real estate?
Predictive analytics (the analysis of current and historical data) in real estate helps realtors analyze customers buying patterns, build a profile of customer preferences, and predict which consumers are likely to buy or sell their properties soon. Real estate professionals can also use predictive analytics to predict investment feasibility and demand in a specific location, as well as identify future risks and opportunities.
What to look for in real estate analytics software?
The top analytics features that you should look for in a real estate analytics software include advanced and predictive analytics, including machine learning, forecasting, and statistical functions, self-service capabilities, robust dashboards, and interactive data visualizations.