Why You Need Data Driven Decision Making
Data-driven insights can help you identify business opportunities, detect customer journey leaks, and proactively identify weaknesses in your product before they grow into serious problems.  
Casey McGuigan
7 min read
What Is Data-Driven Decision Making?
Data-Driven decision-making is the process of using data points, metrics, and facts to guide your strategic business decisions. This means that you eliminate the gut decisions and stop following the loudest voice in the room and start making choices based on facts – that align with your company goals and objectives.
Business Intelligence tools enable data-driven decision-making by keeping data at the forefront and accessible to everyone in your organization.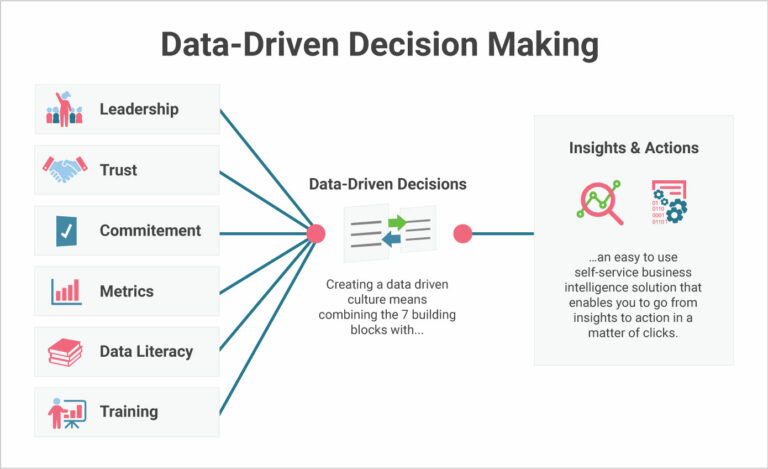 Why Data-Driven Decision Making is Important
Data and analytics are changing the basis of competition. Leading companies are using their capabilities not only to improve their core operations but to launch entirely new business models. Increasingly the role of data and analytics is no longer being a stand-alone discipline but as a catalyst for digital strategy or transformation.
"By 2023, data literacy will become an explicit and necessary driver of business value, demonstrated by its formal inclusion in over 80% of data and analytics strategies and change management programs."

— 10 Ways CDOs Can Succeed in Forging a Data-Driven Organization, Gartner
Analysts have projected for years that data analytics will become increasingly important for business success. And data and analytics capabilities have made a huge leap forward in recent years with new self-service tools, simpler integration of data sources, real-time reporting, interactive data visualizations, and much more.
Benefits of Data-Driven Decisions Making
Here are some of the benefits companies see when they build a data-driven culture:
Make More Confident Decisions: When you can better understand the impact of your decisions, you will be more confident in making them.

Become More Proactive: Data-driven insights can help you identify business opportunities, detect customer journey leaks, and proactively identify weaknesses in your product before they grow into serious problems.

Achieve Greater Success and Longevity: With regular insights into market changes or trends, organizations become more agile and can pivot and maximize their resources for success.

Gain Awareness and Transparency: Keep everyone in your organization in the know, and aware of company goals, customer satisfaction, and more.

Answer the Why: Gain a deeper insight into your customer's journeys, and identify funnel leaks and success points to drive acquisition.

Identify New Revenues of Growth: Tying company insights into market trends can help discover new revenue streams.
However, these benefits don't just happen when you purchase a business intelligence tool. To really unlock these benefits, you need to establish a data-driven culture.
How Can You Accomplish a Data-Driven Culture?
There are 7 key building blocks that you can follow when establishing a data-driven culture:

Leadership
If a data-driven mindset isn't embraced by a company's leadership, it's unlikely it will filter down to the rest of the organization. This is because adopting a data perspective involves significant changes to how each part of a business operates. It may mean that executives will no longer accept decisions made by managers without data that backs up their plans. It may mean that executives set aside time for themselves and for their employees to learn new data skills. What's important is that a strong message comes from the top that this is a high priority.
Trust
"By 2020, 90% of corporate strategies will explicitly mention information as a critical enterprise asset and analytics as an essential competency." – Gartner
Trust is another important principle in data-driven companies. All parts of a company, from the workers through managers and up to executives, must trust that the data is accurate and reliable.
This ultimately is inspired by data stewards, employees throughout the company that have a facility with data analytics, and instill trust in others that the information is accurate. It's also facilitated by a single source of truth, a source that everyone trusts so that colleagues avoid the "he-said-she-said" trap and reduce time spent hunting for data.
Commitment
Building a data-driven culture cannot be a set-it-and-forget-it process. It depends on a long-term commitment from everyone in the organization. To ensure this commitment long term companies must:
Ensure analytics ties back to critical business

efforts

Keep data at the forefront of employee

coaching

Make sure team goals are always present for gauging team

performance

Invest in AI technologies that will keep data

ever-present
Metrics (That Matter)
While we have focused to this point on the importance of data and metrics, also keep in mind that it's not just any metrics that matter; you must be judicious in which data you focus on and how you expect your employees to use it.
As Jerry Z. Muller noted in his book, The Tyranny of Metrics: "Trying to force people to conform their work to pre-established numerical goals tends to stifle innovation and creativity—-valuable qualities in most settings. And it almost inevitably leads to a valuation of short-term goals over long-term purposes."
Avoid this by following these key ideas:
Choose the right KPIs to measure success – if you measure the wrong KPIs, you'll never get the answers that you

need
Research and look at historical data to set realistic

goals

Identify new technology needed for the organization to access and analyze

data

Assign data administrators responsible for ensuring accurate data and providing the proper access to the

organization
Data Literacy
Adjusting to working with data means changing the way we operate in our day-to-day activities. This means that people may not have the needed skills to be data-driven out of the box.
Developing a data literacy plan across organizations means ensuring that employees understand what data means and how to read business charts and graphics.
Training
"Every beginner possesses a great potential to be an expert in his or her chosen field."―Lailah Gifty Akita, Think Great: Be Great!
Data can only make an impact if it's incorporated into the decision-making process. Training employees on "how" to get to data is just the beginning. The real goal is how to turn that data into "actionable insight":
What tools do you currently have or need to acquire?
Is data readily available? REST APIs,

Odata

, direct connections?

Does my team understand data visualizations?

Do we hire a data scientist or build from within?

Can we do effective Data Storytelling?
Find key stakeholders in the business that have the visibility and data mindset, give them data literacy training, and empower them to promote a data-driven culture in your organization.
Data-Driven Decision-Making Examples
The decisions that we make every day for our products and services are endless! How can you make sure that before these decisions go into action they are data-driven? Here are three examples:
Looking to shift marketing funds into a new Territory? Make sure that choice is based on the search volume for target keywords, historical leads for your product or service coming from that territory, conversion rates from leads to new seats, and more.

Don't

shift the budget off gut instinct or one conversation.

Looking to improve product experience? Take a look at your application's data to see where people are getting stuck the most or maybe aren't even using certain

features

Want to make a change to your website? Well,

don't

just make changes just cause you think they are a good idea. Run A/B tests to provide users with different experiences and see what version performs the best and make your decisions based on that!
Watch the Webinar Recording
Gain a deeper understanding of how you can grow your business by watching Creating a Data-Driven Culture webinar with the Senior VP of Developer Tools at Infragistics, Jason Beres, and the Reveal Product Manager, Casey McGuigan.