Augmented Analytics Guide: Definition, Examples & Use Cases
Powered by two of the greatest analytics technologies, augmented analytics allows users to ask questions and automatically generate insights by exploring their data using conversational language.  
Bilyana Petrova
9 min read
While businesses continue making analytics and BI their top investment priority, new techniques and trends emerge, making data analytics faster, easier, and even more powerful.  
According to the global IT research firm, Gartner, augmented analytics is one of the top data analytics trends to watch for moving forward. The augmented analytics approach will grow soon as AI and ML become more intertwined in our everyday lives.  
But what is the definition of augmented analytics, who is it for, and how does it work with embedded analytics are all questions that many people still don't know the answer to.
What Is Augmented Analytics?
In its essence, augmented analytics refers to the use of artificial intelligence (AI) and machine learning to make it easier for users to prepare, analyze, visualize, and interact with their data at a contextual level.  
Research company Gartner Inc. describes very well what exactly augmented analytics is: ''Augmented analytics is the use of enabling technologies such as machine learning and AI to assist with data preparation, insight generation, and insight exploration to augment how people explore and analyze data in analytics and BI platforms. It also augments the expert and citizen data scientists by automating many aspects of data science, machine learning, and AI model development, management, and deployment.''
Powered by two of the greatest analytics technologies, augmented analytics allows users to ask questions and automatically generate insights by exploring their data using conversational language.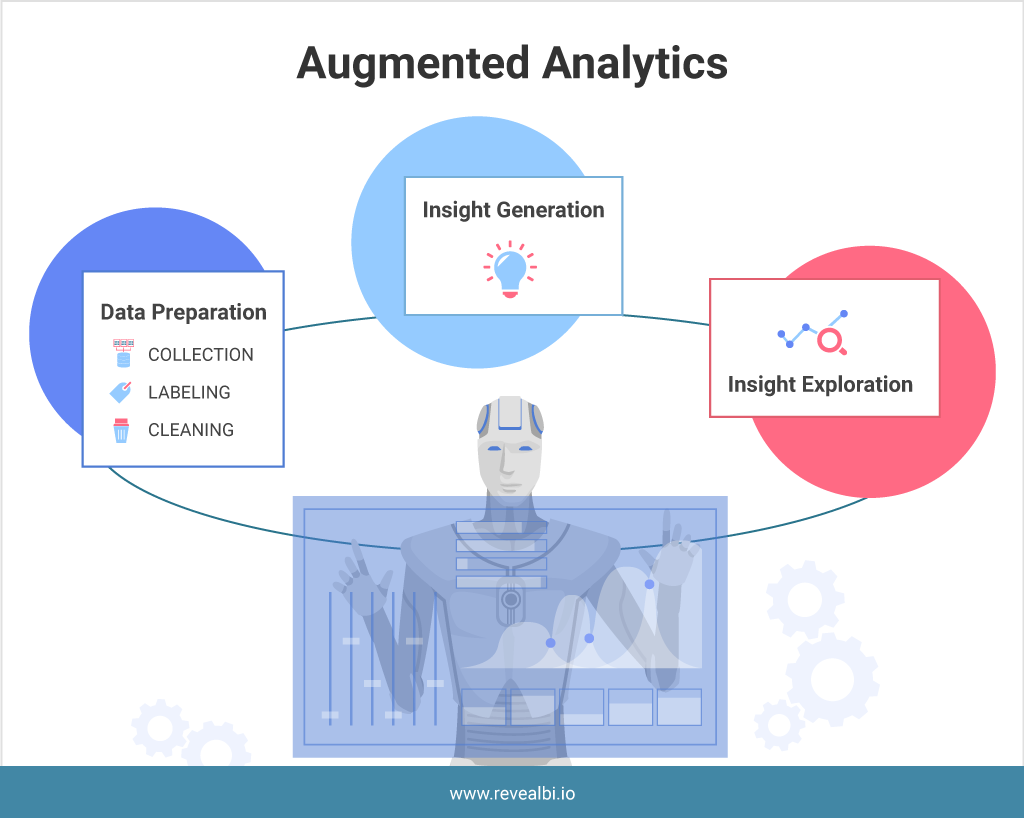 Who Is Augmented Analytics For?
Augmented analytics allows companies of all industries and sizes to bring the power of data to their daily workflow and augment decision-making and results. All business users can get value from using augmented analytics as it helps them extract meaningful insights from multiple data sources quickly and without the need for technical or data analysis skills.  
And while augmented analytics enables those without analytics experience or knowledge, it also helps professional data analysts and advanced business users perform better and smarter analysis and data prep faster.
Augmented Analytics Benefits
AI techniques are making the greatest impact in the real world to date, and it's what organizations are most likely to use in their business due to the power and benefits that augmented analytics brings to users. It is, however, important to understand exactly how augmented analytics helps at all stages of the analysis process.  
Here are some of the top benefits of augmented analytics: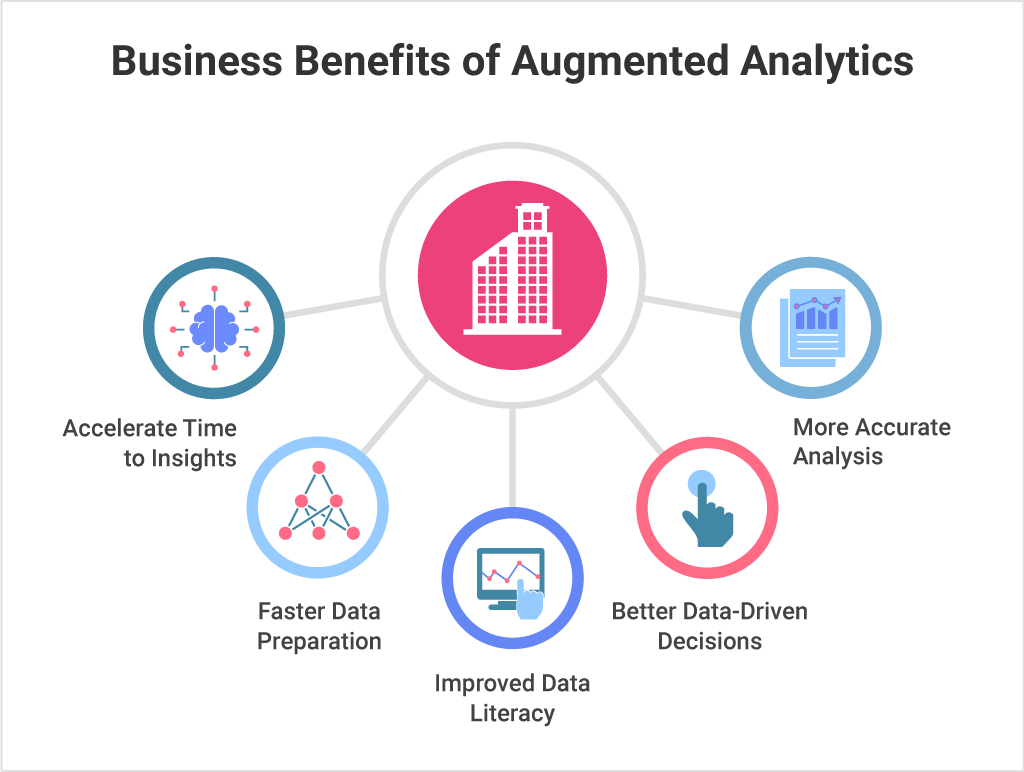 Accelerate Time to Insights
With augmented analytics, you can accelerate the search for insights by trimming the search space and surfacing relevant data to the right user at the right time. Instead of professional analysts manually testing different combinations of variables in the data, in augmented analytics, ML and AI algorithms can detect correlations, segment, cluster, and outlier data and automatically apply it.  
Faster Data Preparation
Did you know that data scientists spent 45% of their time on manual data preparation? Augmented data preparation uses AI/ML automation to combine data from multiple sources much faster. Algorithms replace manual processes and automate the data preparation process in a fraction of the time, saving professionals 45% of their time and energy, all while enhancing productivity and efficiency. 
Improved Data Literacy
As businesses continue to collect massive amounts of data, it's imperative that everyone in an organization have the opportunity to gain value from data, regardless of their skills. By using augmented analytics to surface insights and get recommendations, your users can improve their data literacy and confidently take action on their data. This can assist in creating a data-driven culture that benefits the entire organization in the long run.  
Let Users Make Better, Data-Driven Decisions
In our Trends in Software Development and Analytics report, we found that 41% of companies saw an increase in requests for access to data and analytics. One of the top reasons? To enable users to make data-driven decisions. 
The business results that are being driven by augmented analytics can dramatically affect a company's bottom line. For example, the ability of AI and ML algorithms to make data-driven decisions makes a huge difference between keeping up with the competition and falling further behind. It helps answer key business questions intelligently and discover new questions that users didn't know they had to ask. 
More Accurate Analysis
AI and ML technologies behind augmented analytics can effectively analyze complex data so the users can make the most informed decisions based on deep and more accurate analysis. That gives users a more complete view of the situation and helps avoid confirmation bias in the end. It also provides contextual suggestions that reveal insights users never thought they needed.
Augmented Analytics Examples & Industry Use Cases
Businesses of all kinds of industries incorporate AI and ML into their BI and data analytics platforms because of the benefits that they get. Here are a few real-world examples of how six different industries use augmented analytics and how you can too make the most of your data:  
Finance: Shape future strategies and improve the decision-making process in real-time
Due to modern fintech solutions, government regulations, and increasing customers' demand for better services and more personalized offerings, financial institutions are forced to innovate to keep up with trends and satisfy customer needs. Augmented analytics help financial services providers process and analyze key data such as their customer acquisition cost, loan requests, gross profit, and more.  
With the insights gained, financial institutions can promote the right services to the right customers, adding more value to their customer and business relationships. Augmented analytics also helps financial services make smarter and more informed decisions about shaping future business goals, short and long-term strategies, optimizing operational efficiency, and much more.  
Marketing: Enhance campaigns and understand customers better
In a world where marketers need to achieve more with less, augmented analytics provides marketers with smart insights from their marketing data, uncovering valuable information which could otherwise be missed or too time-consuming to obtain. Marketers can optimize ongoing and future campaigns faster and more precisely to maximize the ROI of their marketing activities.
By exploring and analyzing large volumes of different types of information and running algorithms on multiple customer micro-segments, augmented analytics can be used to predict customer behavior and calculate customer lifetime value. It is also a powerful tool for enhancing and tailoring campaigns across different platforms and social media networks.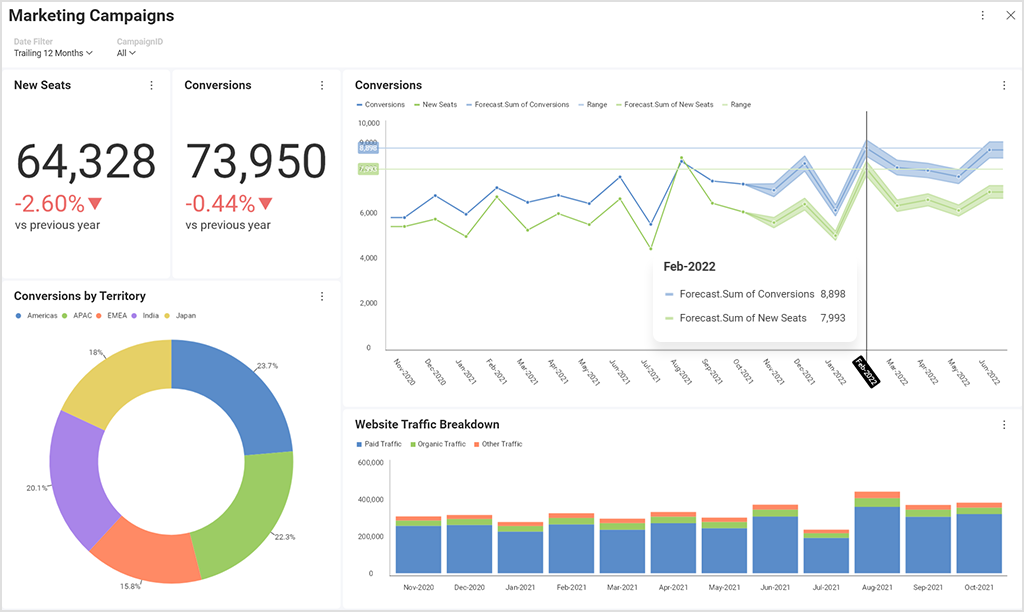 Manufacturing: Bring efficiency to the manufacturing chaos
From supply chain distribution to raw material shortages, manufacturers must rely on the power of data to be able to meet demands and survive in the market. With real-time contextual data at manufacturers' fingertips, they can easily bring efficiency to the manufacturing chaos. From warehouse management to predicting demand forecasts, the benefits of augmented analytics in manufacturing are tremendous. By utilizing augmented analytics, manufacturers are able to estimate shipping timings, production capabilities of the production line, warehouse space availability, and more.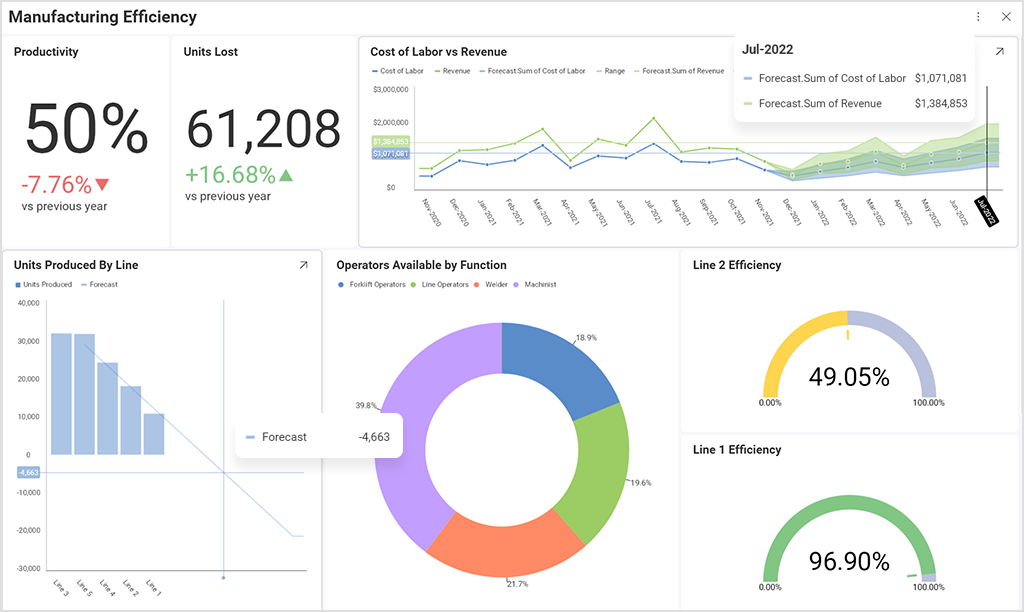 Retail: Forecast future sales and calculate efficient inventory policies to optimize stock levels
Through the power of augmented intelligence and analytics, retailers gain a single source of truth to improve their decision-making process, making decisions around sales, operations, and marketing better, smarter, and, most of all, data-driven. 
With the help of augmented analytics in retail, retailers can keep track of how empty or full their stocks are and make sure to provide the number of products needed accordingly. Retail marketing also benefits from analytics as it assists marketers to plan future campaigns targeting their audiences more accurately. 
Telecommunications: Personalize deals, solve customers' problems and sell more
Telecommunication companies are sitting on a treasure trove of data. On one side, this makes it more challenging for telecom companies to provide the best plans and services to their customers because of the competition. But on the other side, it also makes it easier for them to segment the market and provide the exact personalized deals that different customers want. 
Augmented analytics helps telecom companies better understand their customers by reviewing their services' usage, service preferences, billing and location data, purchase history, and more. This can help businesses identify what impacts the customer experience and optimize it accordingly. Telecommunication analytics can also identify security threats and anomalies and use the insights gathered to strengthen network security and prevent cyber-attacks before they can cause any damage.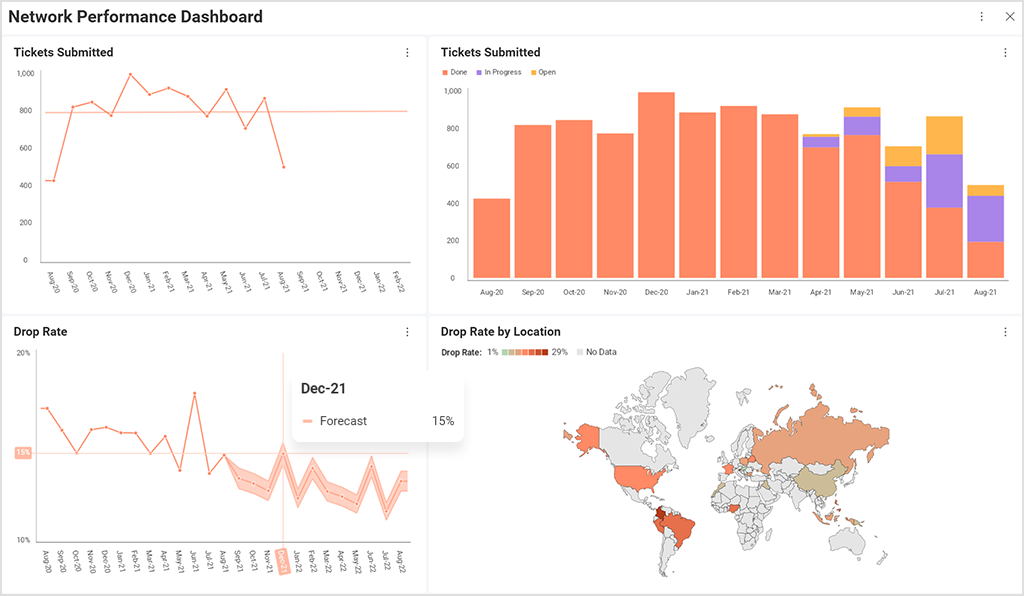 Healthcare: Provide the right healthcare to patients at the right time
The biggest benefit of augmented analytics in healthcare is that it can improve patient care and provide accurate diagnoses. With this, healthcare organizations, hospitals, and doctors can access, analyze and process patient data to deliver personalized and more effective treatment. By analyzing current and historical healthcare data, healthcare professionals can even predict and manage the spread of disease outbreaks. 
At a business level, with the help of analytics in healthcare, organizations can simplify internal operations, polish the utilization of their resources, and improve care teams' coordination and efficiency.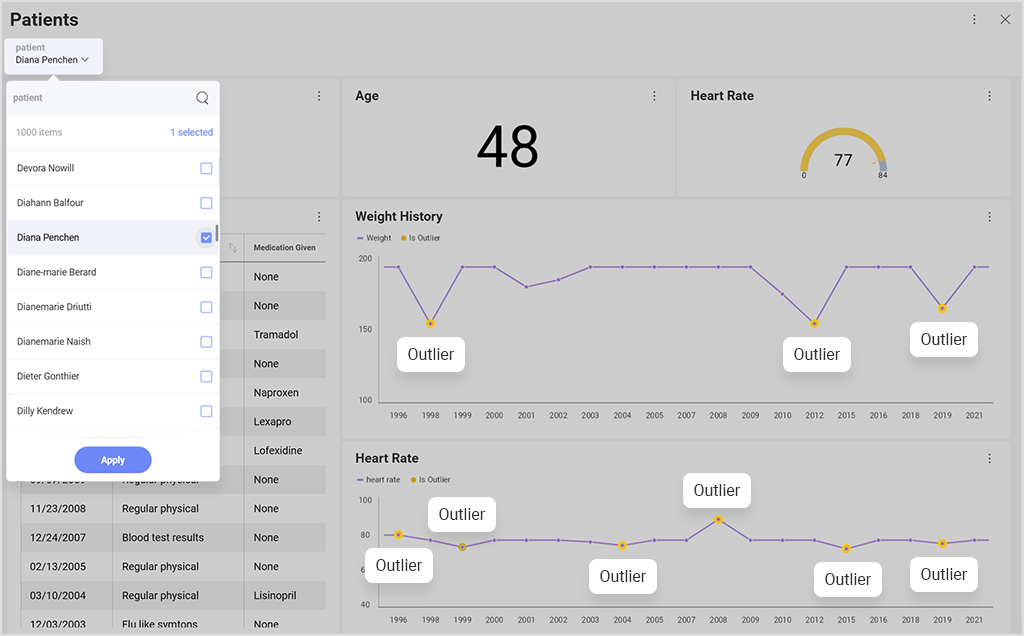 Augmented Analytics With Embedded Analytics
In embedded analytics software, augmented analytics builds more efficiency into the data analysis process, arms business users with tools that can answer their questions in seconds, and helps companies gain a 360-degree view of their business data. 
Augmented analytics is an integral part of Reveal's end-to-end embedded analytics platform, working simultaneously with its robust feature set of data integration and data visualization capabilities and utilizing machine learning models from Azure ML and Google BigQuery. Reveal's engine leverages augmented analytics to proactively provide your company with a real-time, contextual view of your data, uncovering valuable insights and guiding decision-making.  
Reveal also provides interactive dashboards, drill-downs, collaboration, sharing, and true self-service with a drag-and-drop dashboard creator experience on any device that lets anyone build beautiful dashboards in their apps. More so, Reveal's advanced analytics features, such as forecasting, data blending, data modeling, and in-memory data, help you strengthen your competitive advantage and increase your revenue. 
If you have found that any of the benefits of augmented analytics would be something that your company can leverage, we invite you to request a demo and learn more about how you can accelerate your time to insights with Reveal.