As businesses continue to make analytics and BI their top investment priority, choosing the right embedded analytics vendor to partner with is paramount. But what exactly does embedded analytics do, what are its benefits and key elements, and how to choose the best solution for your business needs are all questions that we know a lot of you still ask yourself. Here, we've gathered everything that you need to know about embedded analytics.
Table of contents:
What Is Embedded Analytics?
Embedded analytics software delivers real-time reporting, interactive data visualization and/or advanced analytics, including machine learning, directly into an enterprise business application. The data is managed by an analytics platform, and the visualizations and reports are placed directly within the application user interface (UI) to improve the context and usability of the data for business users.
What Is Embedded Analytics Used For?
Embedded analytics tools can be used in many different industries, allowing businesses to collect and analyze data for various purposes. The main usage of embedded analytics is to provide that data and up-to-date business insights in the simplest way possible so that any user or application can use it and act on it.
When you integrate analytics into your business applications, you can achieve many benefits, such as:
View, edit and create sales, KPI dashboards, and more directly from your app
Provide dashboards in context with other features in your application
Connect your different data sources for easy access
Turn on and off features for your end users or customers
Total control over the security and look and feel of the data in your app
Customize actions based on your customers' interaction with dashboards and visualizations
Organizations are taking advantage of these benefits by integrating embedded analytics into their web pages, business applications, commercial software products, and external portals
What Is the Difference Between Embedded Analytics
And Traditional BI?
In contrast to traditional BI, which requires users to leave their workflow applications to look at data insights in a separate set of tools, embedded analytics lets users view data visualizations or dashboards in context—while in the application itself. This immediacy makes embedded analytics much more intuitive and likely to be viewed by users.
In other words, when using traditional BI users are forced to switch between different apps to gain insights and take action, which results in frustration, waste time, and decreased efficiency. A December 2016 report from Nucleus Research found that using BI tools, which require toggling between applications, can take up as much as 1-2 hours of an employee's time each week. Whereas, embedded analytics users use only one application, which saves time, increases productivity, and delivers a better analytics experience.
Another difference between traditional BI and embedded analytics is that sometimes BI fails to deliver the intended value because it is not integrated with the user's workflow. Due to that, it doesn't give the context and the insights needed to act. On the other hand, embedded analytics helps the decision-making process by providing insights on a dashboard – users can use it to take immediate action and report at any time.
What Is a Modern Embedded Analytics Platform?
Not all analytic products have been designed to be embedded. Many of today's embedded analytics and BI vendors built their standalone applications first so they are not purposely designed to be embedded into applications.
Modern embedded analytics platforms don't deliver a set of monolithic tools. Instead, they support a full stack of integrated analytic functions — from reporting and dashboards to self-service analytics, alerts, collaboration, data preparation, and machine learning on a unified, scalable architecture with common administrative and management functions. And unlike more restricted analytics platforms of the past that limited what users could do, newer embedded platforms give end-users the freedom to edit visualizations or dashboards or to create their own.
Also, they are designed from the ground up for the web, cloud, and mobile delivery. Modern embedded analytics platforms also make it easier for developers to create custom analytic applications.
Benefits of Embedded Analytics in Your Software Application
Embedded analytics tools offer many advantages to businesses. From seamless user experience and revenue growth to cultivating data-driven decision making, we gathered 5 fundamental benefits of using embedded analytics in your software application.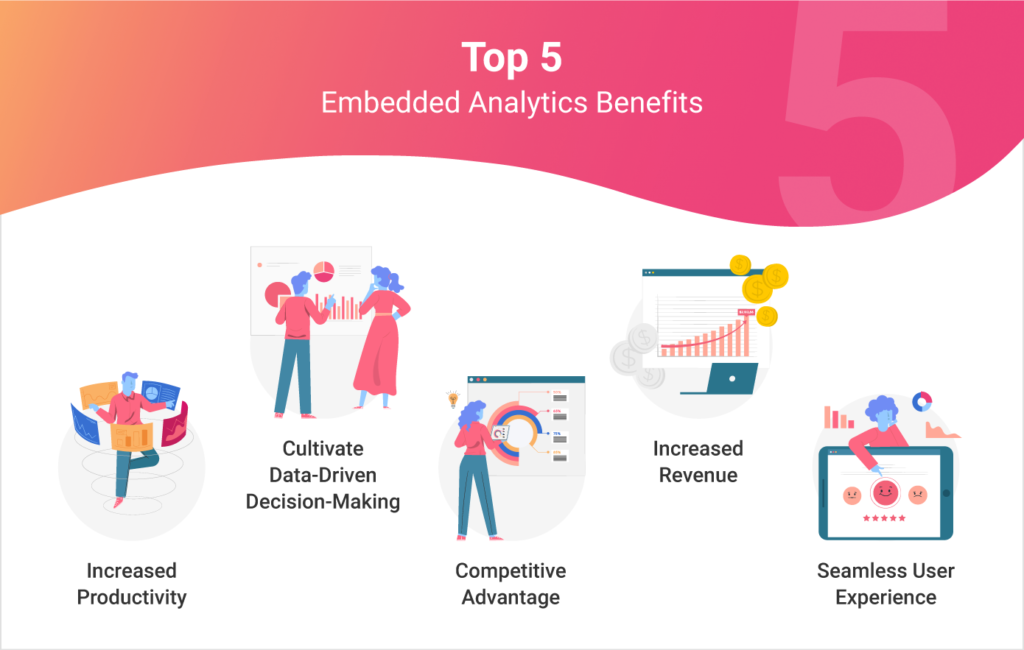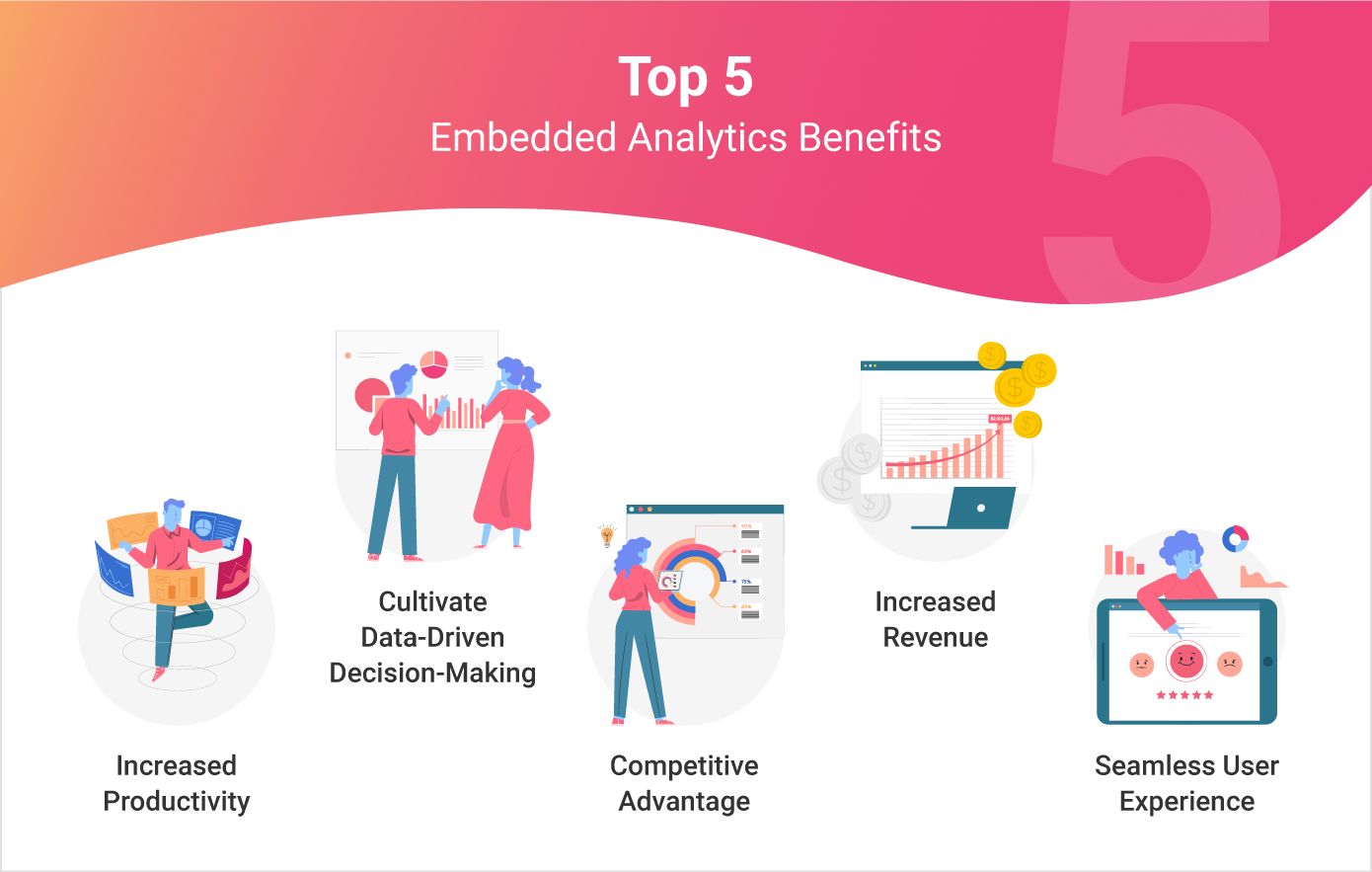 Increased Productivity
When using embedded analytics, users are looking at key business data in context, which removes the need of bouncing between multiple different apps to find the insights that they need. Therefore, when users don't need to switch from business applications to analytics tools they can spend more time and focus on essential tasks. Plus, seeing data being represented in beautiful visualizations also drives perceptions.
Competitive Advantage
One of the biggest benefits of embedded analytics is the competitive edge that it provides both software providers and end-users, including:
Modern app experience when your users experience in-application access to data or dashboard creation.
Deeper understanding of markets and customers when you can spot trends in your data, staying a step ahead of your competitors.
Users spend more time in your app because embedded analytics provides more data points to your users without the need for them to go to another source.
App becomes stickier as you collect more data about your users. Users become less likely to switch to another app because your app contains information collected over time that is useful for them. This in turn increases customer satisfaction for your users.
Seamless User Experience
Users won't waste time switching between apps but instead focus on the value that the embedded analytics software provides. Having their answers and key insights right in front of them leads to increased productivity and increased customer satisfaction.
In our recent survey, we found out that one of the top motivators for developers to embrace embedded analytics is to make smarter, data-driven business decisions (45%), understand business problems better (44%), and increase work productivity (43%).
Increased Revenue
As per another research published in AnalyticsWeek, of the 500 project managers, software developers, engineers, and executives surveyed, 96% said that embedded analytics contributes to their overall revenue growth, and 92% reported an increase in competitive differentiation.
On top of that, embedded analytics tools can provide additional revenue streams. Thanks to its huge value for the business, some of the features and functionalities could become extra and your sales team could upsell them to new and already existing customers.
Cultivate Data-Driven Decision Making
Embedded analytics provide insights to users, but on the other side, it also provides useful insights to your team. Presenting accurate and up-to-date data enables analytical thinking that could ultimately drive to innovative ideas and improved products.
In-context analytics enables your users to make better, faster decisions that are based on the information available at that moment or visible on the specific screen they are viewing. When people can better understand the impact of their decisions, they tend to feel more confident in making decisions.
What Are the Key Elements of Embedded Analytics?
These are some of the key functions that are included with embedded analytics software:
Dashboards
Dashboards are embedded analytics tools that visually display data patterns for analysis, presentation, and easy understanding. Dashboards can consist of pie graphs or charts, bar or line graphs, scatter plots, color-coded maps, or any other kind of visual data representation.
Key features include:
Drag-and-drop Capability
Cloud-based Dashboard Software
Responsive Design
Data Blending Features
Database Plug-ins
Drill-down takes a user from general overviews to more detailed analysis with a single click.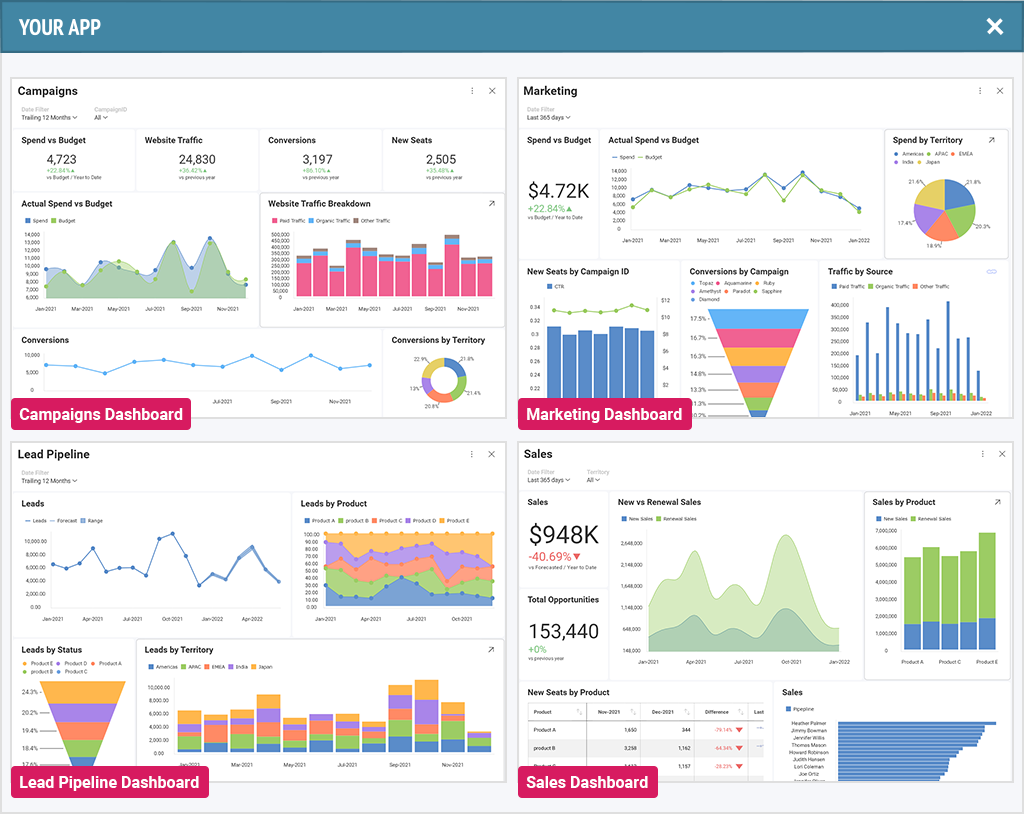 Data Connectors
Modern embedded analytics software lets users connect seamlessly to many different data sources and then combine these data in one place for comprehensive analysis. Data sources may include Azure Synapse, Google BigQuery, Box, Sharepoint, Google Drive, One Drive, Microsoft Analysis Services, Microsoft SQL Server, CRM, and many more.
Some embedded analytics platforms also offer a feature called "in-memory data source", which lets users directly connect to a data source that the software doesn't support out of the box.
Visualizations
Visualizations refer to a range of chart types and the best embedded analytics solutions let you choose from many pre-built templates. These range from column, doughnut, and funnel to bubble, scatter, or sparkline charts, to more advanced ones such as tree map or geospatial mapping. Users can also combine these various visualizations to make a beautifully integrated dashboard.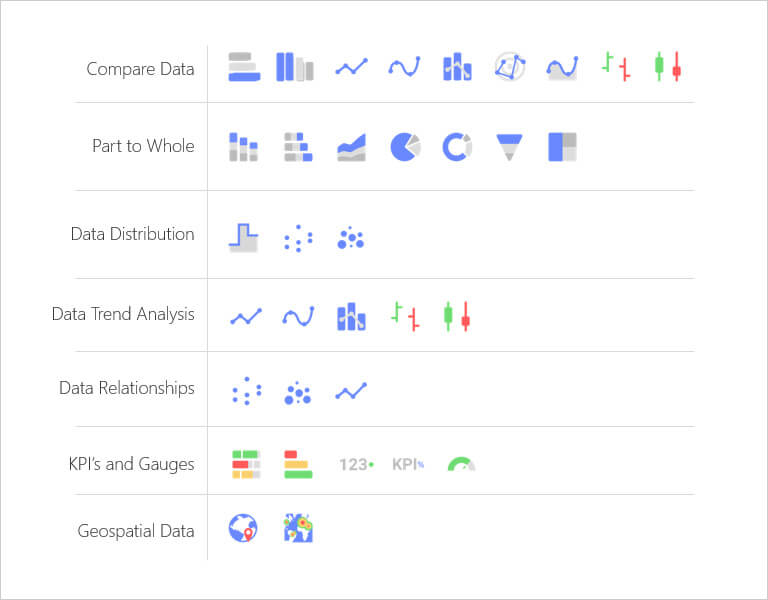 What Are Embedded Analytics Statistical Functions?
Wikipedia defines statistics as the study of the collection, analysis, interpretation, presentation, and organization of data. In terms of data analytics, this can include key statistical functions such as outliers detection, time series forecasting, and linear regression, as well as the ability to embed these interactions into visualizations or allow features such as dashboard drill-downs and dashboard linking.
Outliers Detection
Outliers Detection lets users easily detect points in their data that are anomalies and differ from much of the data set. They can show or hide these outliers from view, so they're always showing or so they don't interfere with the analysis.
Time Series Forecasting
By using Time Series Forecasting, users can make predictions on future values based on historical data and trends. This is useful in any number of applications, such as sales and revenue forecasting, inventory management, and many others.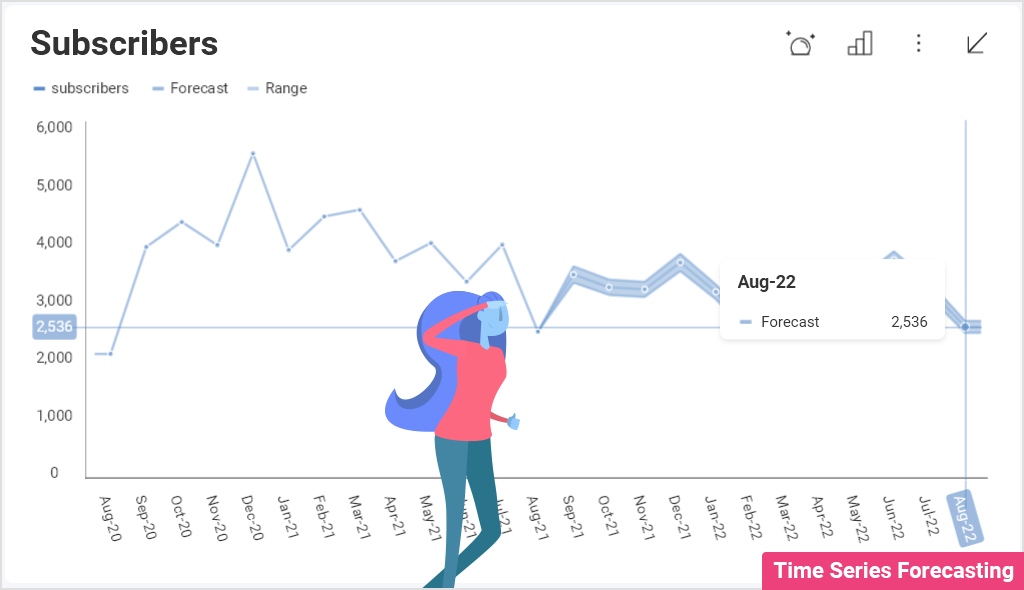 Linear Regression
Linear Regression lets users visually see trends in their data by finding the relationship between two variables and seeing a linear approximation of the data – including future trends. Along with Linear Regression, other algorithm trend lines include Linear Fit, Quadratic Fit, Cubic Fit, Quartic Fit, Logarithmic Fit, Exponential Fit, Power Law Fit, Simple Average, Exponential Average, Modified Average, Cumulative Average, and Weighted Average.
Embedded Analytics – Build vs Buy
Organizations that consider investing in embedded analytics software have two options: either to build their own data analytics platform or buy and embed an existing solution into their product. Depending on your business needs, resources, and budget there are pros and cons to both decisions.
Why Build Embedded Analytics?
Building your own embedded analytics solution might be the right option for those who could afford a higher budget and the human resource to do that. It gives you total control over the software, as well as it has more options for customization.
Also, building your own embedded analytics platform allows you to solve any security problems internally. This is important and might be a great bonus to those who are working with sensitive data that requires higher security levels.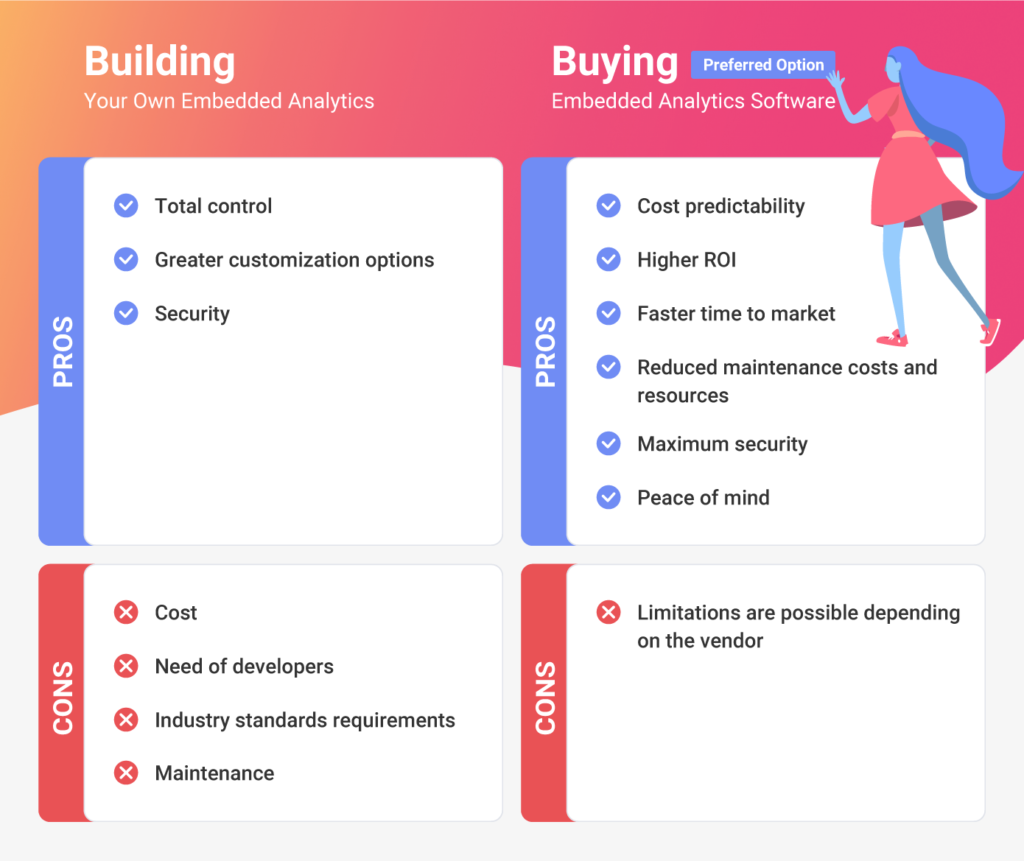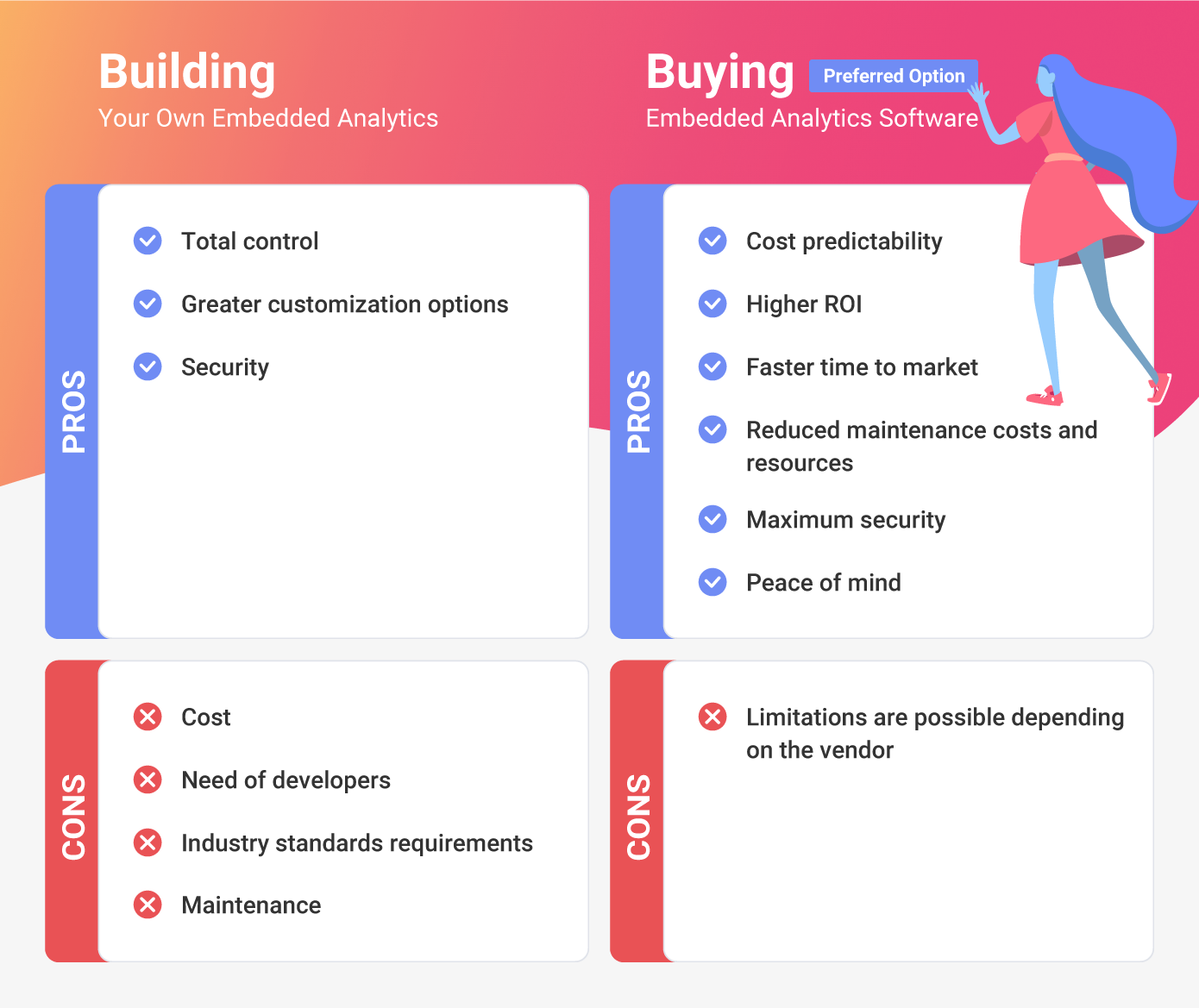 Pros of building your own embedded analytics:
Total control
Greater customization options
Security
Cons of building your own embedded analytics:
It's more expensive
You need a dedicated team of specialists to build it
You need to keep up with industry standards
Maintenance
Why Buy Embedded Analytics?
Most organizations decide to buy an already established embedded analytics solution to integrate with their existing software. One of the top reasons why this is the preferred option is that buying it instead of building it saves you both time and money. It also allows you to free up your developers' resources and time so that they can focus on your core competency and what your business was initially designed for.
Pros of buying embedded analytics software:
Cost predictability
Higher ROI
Faster time to market
Reduced maintenance costs and resources
Maximum security guarantees
No need to worry about keeping up with industry standards
Cons of buying embedded analytics software:
Depending on the solution provider, you may be limited to basic dashboards and reports, as well as have limited customization options.
Examples of Embedded Analytics
A recent 2019 survey report produced by Infragistics found that the most popular applications that development teams were either actively embedding analytics into or were planning to do so soon are shown in the graphic below: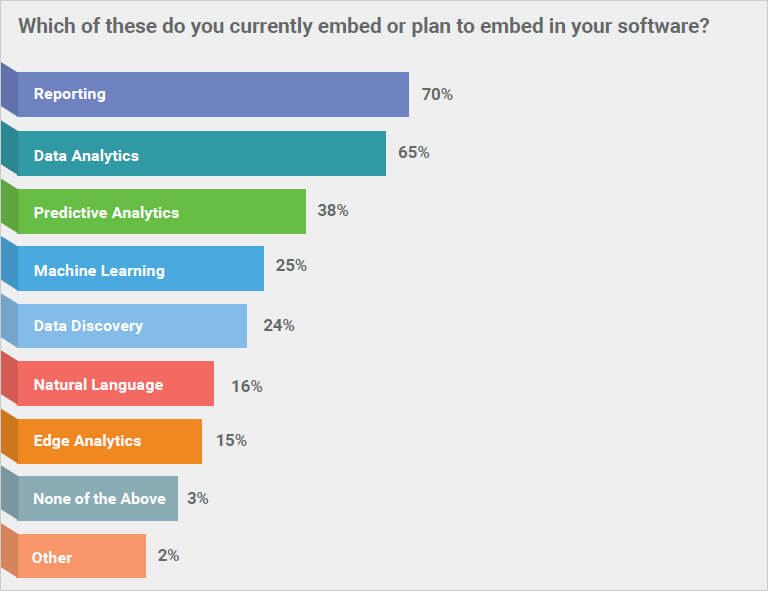 Some leading industries that incorporate the power of embedded analytics include:
Embedded Analytics in Healthcare
By embedding analytics in the healthcare industry, hospitals, doctors groups, and other healthcare groups apply the power of data into every aspect of patient care and operations management. It is used by healthcare professionals to find opportunities to make more effective and more efficient operational and clinical decisions, predict trends, and even manage the spread of diseases.
For example, predictive analytics in healthcare can identify patients with cardiovascular disease with the highest probability of hospitalization based on age coexisting chronic illnesses, and medication adherence and start early innervations so deeper complications can be avoided.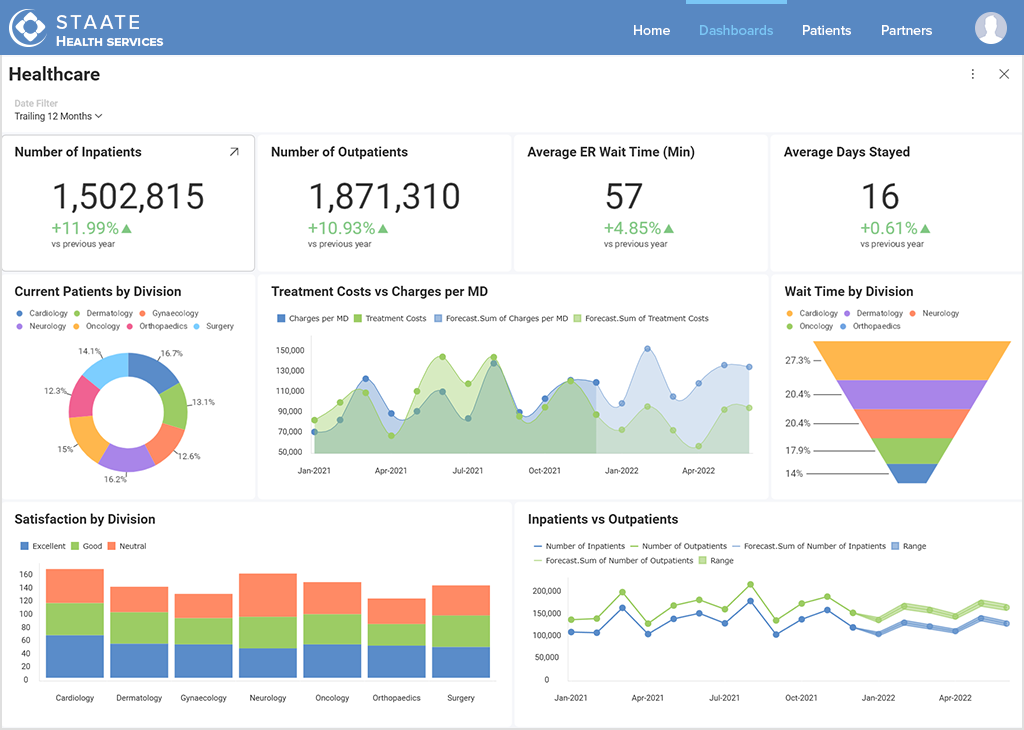 Embedded Analytics in the Manufacturing Industry
From supply chain distribution to raw material shortages, manufacturers must rely on the power of data to be able to meet demands and survive on the market. Manufacturing analytics collects, processes, and analyzes large amounts of data from numerous sources like machines, orders, delivery, and people to estimate shipping timings, production capabilities of the production line, warehouse space availability, and more.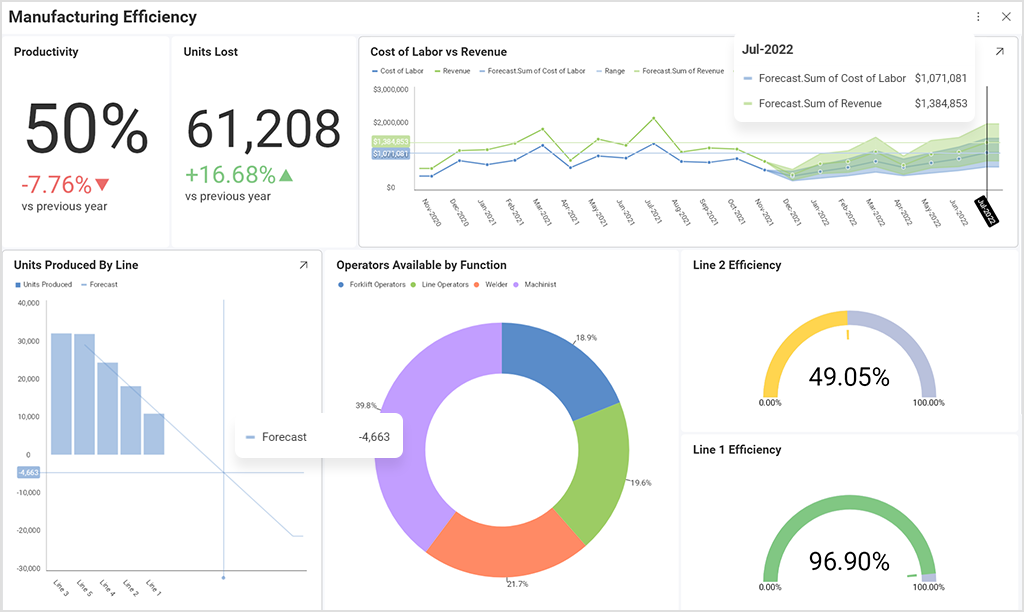 Embedded Analytics in Marketing and Social Media
With the power of embedded analytics, marketing teams can gain a better understanding of their customers' and campaigns' performance. Marketers can observe how consumers react to their campaigns, determine what strategies and types of content are working and what isn't working, and use these insights to improve their marketing activities in the future so that they lead to an increase in sales.
Native metrics from social media platforms give you limited information, that is why most of these networks use embedded analytics to help them see their campaigns from a broader perspective. Embedded analytics tools help them to predict campaign performance, suggest content recommendations, recommend the best time for publishing based on time zones, offer various paid ads analytics, and more.
Your Facebook, for example, always knows what you have bought online and uses this data to up-sell related items each time you log in to the app.
Netflix and Spotify, for example, use embedded analytics to come up with relevant series/song recommendations that they know their users would love.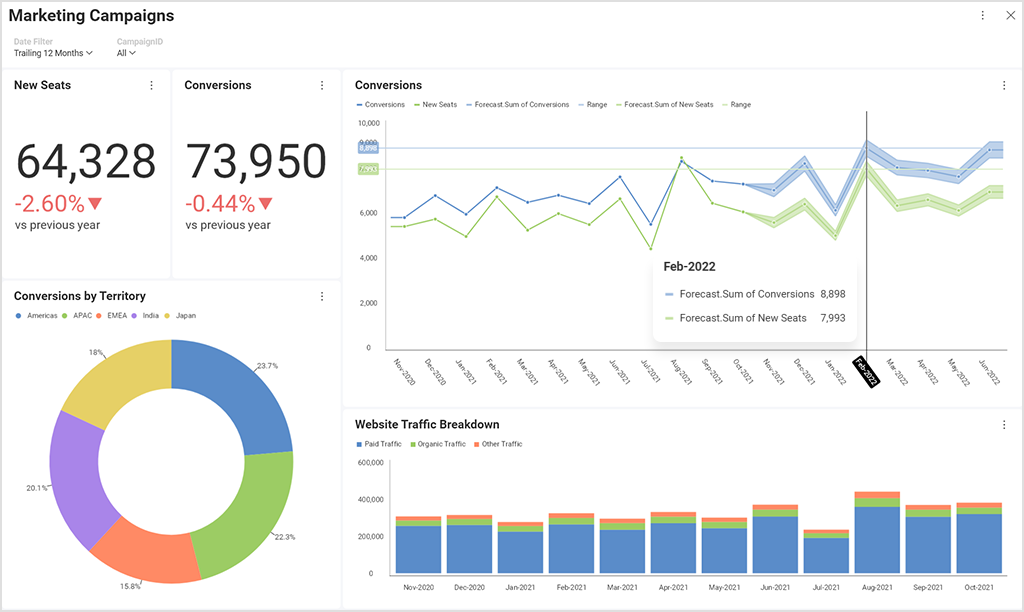 Embedded Analytics in the Financial and Banking Sectors
Embedded analytics is used in the financial industry to optimize budgeting, financial planning, forecasting, portfolio management, and more. Finance analytics help financial services providers to process and analyze key data such as their customer acquisition cost, loan requests, gross profit, and more. With the insights gained, financial institutions can promote the right services to the right customers, adding more value to their customers and strengthening their business relationships.
Banking analytics allows banks a better way to manage their assets, marketing campaigns, model credit risk, forecast consumer trends, ensure compliance, and much more. To evaluate risk and prevent frauds, banks are using BI to With advanced data algorithms, you can identify potential risks related to lending money to customers with poor credit scores and help you decide whether to approve or decline their loan application. Embedded analytics also allows banks to monitor customer spending patterns and identify unusual behavior that can be an indication that their account is under threat.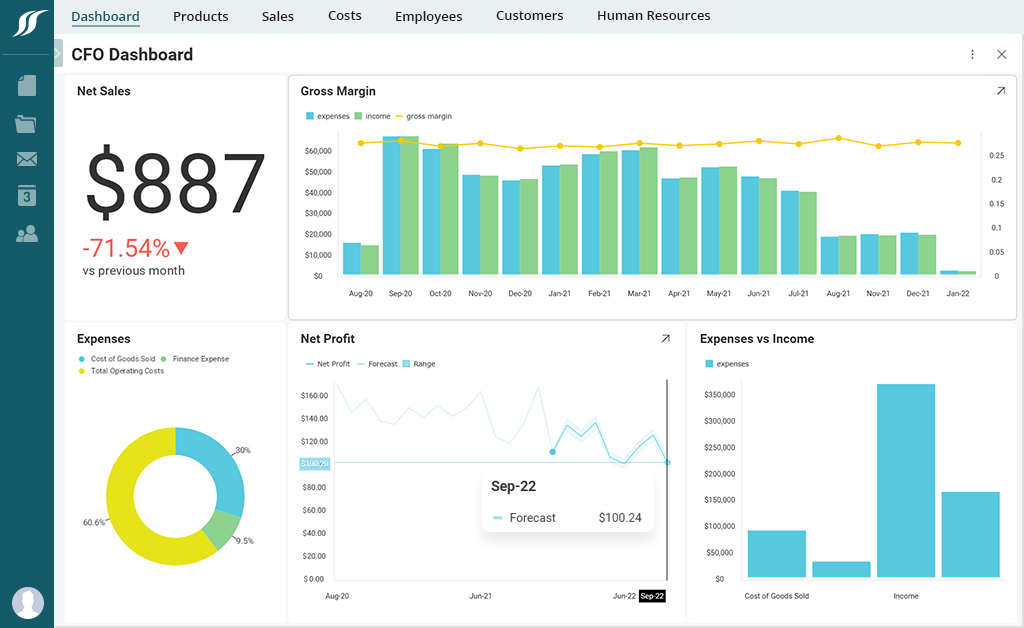 Embedded Analytics in the Retail Industry
In the retail industry, data analysis is key to discovering important insights related to sales, inventory, customers, and operations. When you embed analytics in your retail business, you can forecast future sales and calculate efficient inventory policies to optimize stock levels. Analytics can also help you optimize pricing strategies and improve customer service.
Embedded Analytics in Transportation & Shipping
Allows transportation managers to track the path of an order: order fulfillment, shipping, and delivery tracking, and if there are any issues that require attention and action. Furthermore, transportation and shipping companies use embedded analytics for their business to increase the productivity of their workers and so that warehouse managers could keep track of key indicators such as average time or shipping and preparing the order.
What to Look for When Choosing an Embedded Analytics Software?
Choosing the right embedded analytics solution for your business is paramount. We know that in today's highly competitive business environment and flooded markets, choosing a vendor to partner with could be quite overwhelming, and to help you make the best choice, we've gathered this list of key things to look for:
Native integration with your app – the embedded analytics solution must be able to seamlessly integrate with all your applications. You don't want to burden your IT team, so look for a solution that won't add additional weight and complexity. Look for a solution that has been built from the ground up with embedded in mind first.
Connectivity – if the solution cannot connect to all of your data, what good is it? Make sure that the embedded analytics vendor offers seamless integration with all the data sources that you need.
APIs – the embedded analytics solution that you decide to invest in should also include an application programming interface (API), which allows the business application to use custom hooks when embedding the BI capabilities.
Product features – the embedded analytics features that a solution provider offers are basically the primary advantage of it. A good solution will offer a lot more than just data visualizations. Make sure to look for more advanced features like dashboard linking, dashboard blending, data blending, white label capabilities, self-service capabilities, machine learning, forecasting, statistical functions, in-context editing, and native SDKs.
Scalability – the scale of the solution's operations must be able to upscale or downscale in response to an increase/decrease in its user base. This means that a good embedded analytics solution will allow you to increase your existing resources to accommodate increased business needs or changes.
Pricing – many vendors use shady pricing tactics to maximize their profits. You don't want to partner with a vendor that will charge you unpredictable costs like usage and users, for example. We recommend choosing an embedded analytics solution that has a 100% transparent pricing model that won't escalate as your app sales increase.
As you can see, whether you produce an app or a service, and regardless of in which industry your business lies in, embedded analytics comes with tremendous opportunities to expand your business, add value for your customers, increase productivity, and of course, drive revenue. In today's business era, embedded analytics is no longer ''nice to have'', but a ''must have'' solution.