Survey Report 2021: Trends in Software Development and Analytics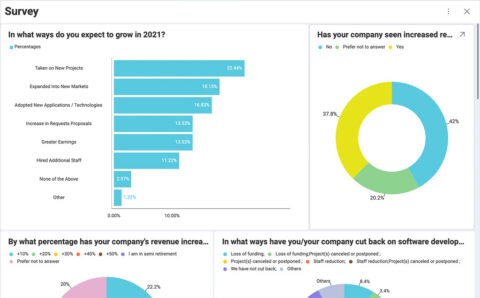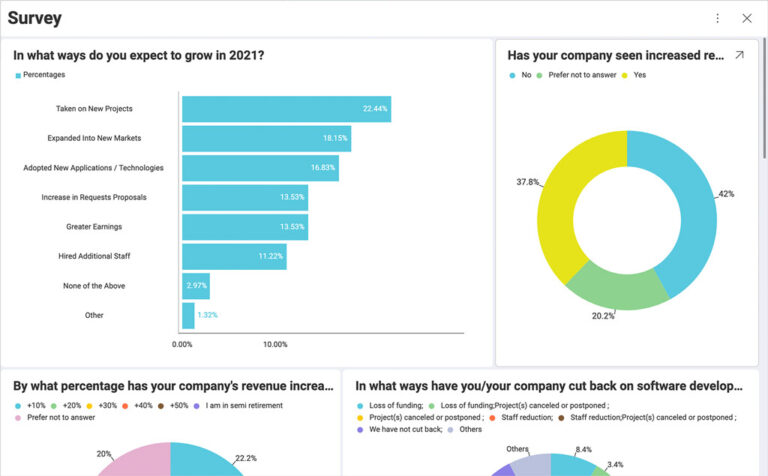 Software Developers Prove Resilient in 2020, and Predict Growth in 2021  
2020 was a difficult year for many businesses for numerous reasons, including the transition to remote work, lockdowns and budget freezes. Reveal surveyed software developers and IT leaders to understand how they were impacted by COVID-19 in 2020, their projections for 2021 and their plans for technologies and products moving forward.      
We discovered three major themes: 
Many tech companies thrived even during a tough year. 
While COVID-19 devastated many industries, high tech was less impacted as companies ramped up their digital strategies, and consumers flocked online for entertainment, health, connections, and much more. Still, some tech companies saw revenues drop and projects delayed or canceled. 
Analytics growth skyrocketed, consistent with the rapid acceleration of digital transformation. 
In its May 21, 2020 article, Accelerating analytics to navigate COVID-19 and the next normal, McKinsey & Company authors state "organizations are standing up analytics capabilities in a matter of weeks to inform business responses to COVID-19 challenges and prepare for the future." Respondents in our survey confirmed this trend with almost half reporting an increase in their use of data and analytics. 
More companies adopted embedded analytics and expressed strong interest in new technologies such as machine learning.
Consistent with the rapid adoption of analytics in general, software developers indicated a faster deployment of embedded analytics, which allows them to deliver real-time reporting and interactive data visualizations directly into enterprise business applications. And many of the newer technologies, such as machine learning and predictive analytics, make it easier for customers to quickly gain insights from data.
Continue Reading
Fill out the form to continue reading.
2020 Presented a Mixed Picture
The survey found that, in terms of revenue in 2020, 38% of respondents saw increased revenues and of those, more than a third saw an increase of 30% or more.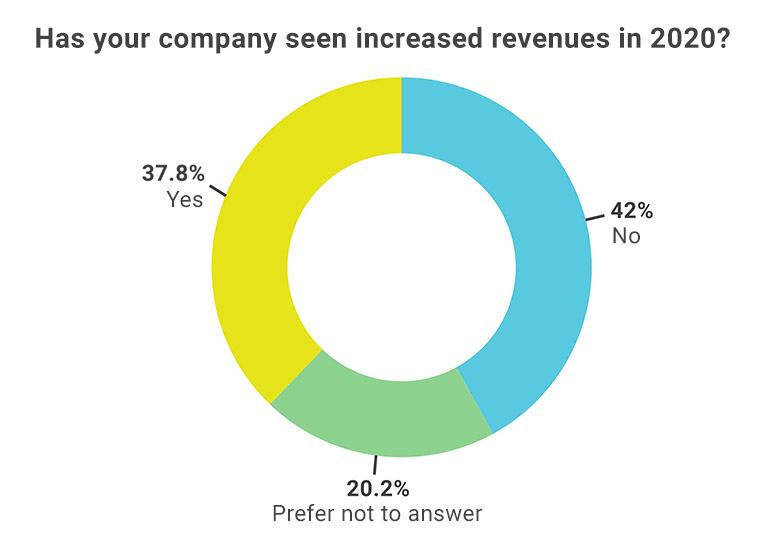 For those who saw revenue increases in 2020, the largest segment (42% of respondents) reported gains of up to 20%. However, some saw gains as high as 40% (7% of respondents) and 50% (13% of respondents), reflecting tech's overall strength during COVID-19.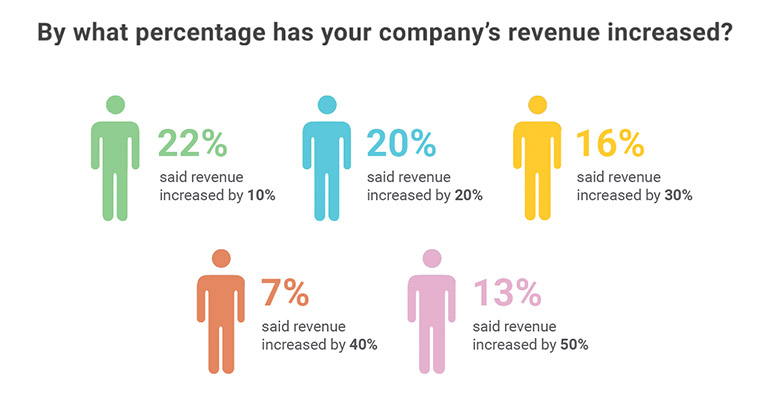 But while many saw opportunities and strong results in 2020, the full picture was decidedly mixed. Some companies saw revenues drop and projects delayed or canceled, yet almost half of respondents did not face cutbacks.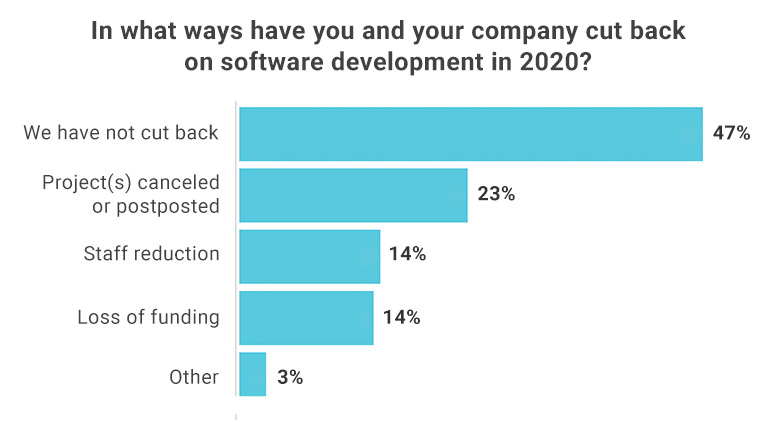 With 2020 in the rearview mirror, many were bullish on 2021. Nearly a quarter plan to take on new projects, along with other expansions and new technology adoptions. COVID-19 has caused a massive acceleration in digital technologies —Zoom, WFH, virtual learning, instacart, streaming, telehealth —and many of these will continue to be used post-pandemic. Pre-COVID-19, total annual revenues of US telehealth providers was estimated at $3 billion; post pandemic, Medicare projects up to $250 billion of current US healthcare spend could potentially be virtualized.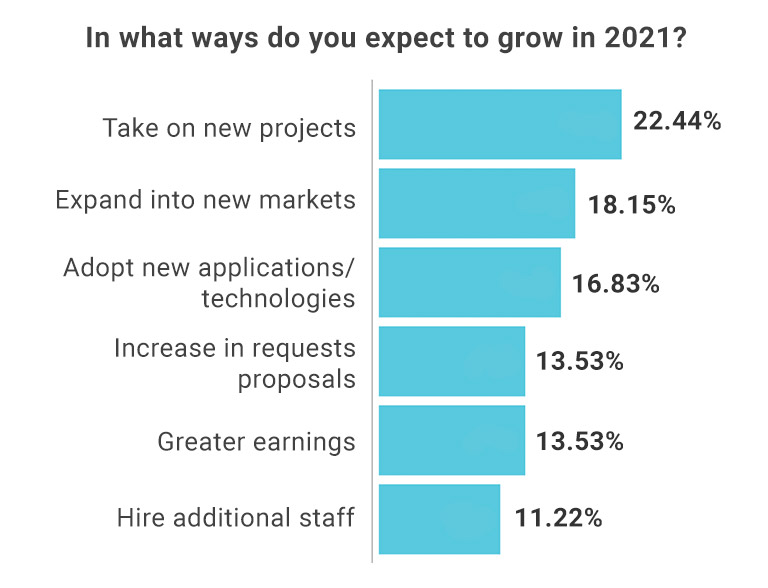 Growth in Analytics Seen During COVID-19
The pandemic caused a rise in digital transformation within enterprises and almost half of respondents reported an increase in their use of data and analytics, affirming the continued movement of modern data and analytics offerings from an early market into the mainstream. 
While the increase in the use of data and analytics may be a natural progression, it's likely that the pandemic had a hand in this rapid adoption. Almost half of respondents said that they were seeing increased requests from their customers for access to data and analytics, while only 15% indicated a decreased interest from customers.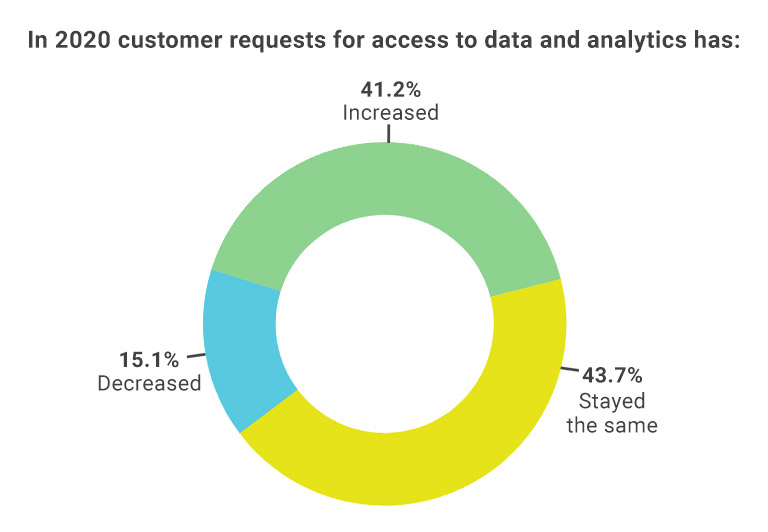 Embedded Analytics and Data-Driven Decision Making Show Strong Adoption 
The survey also revealed a growing adoption of  embedded analytics, which allows developers to deliver real-time reporting, interactive data visualization and/or advanced analytics directly into enterprise business applications. This is different from standard BI tools, which require users to leave their workflow applications to look at data insights in a separate application.  
Of those respondents who have adopted embedded analytics, almost half have been using them more than five years, while 28% have been embedding for two to four years.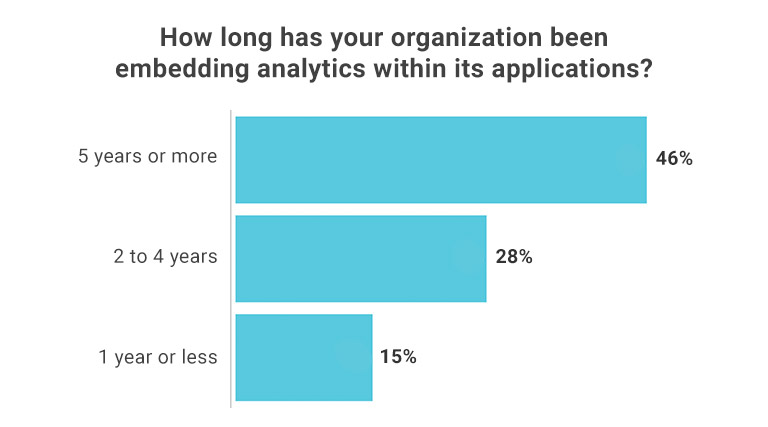 Top Use Cases for Embedded Analytics 
One of the most powerful features of embedded analytics, robust visualizations and analytical functions, was selected by a quarter of respondents as their main use case. But the survey also showed that respondents were very outcomes focused:  the largest percentage, 33%, were embedding analytics to achieve a competitive advantage. And just under a quarter were motivated by "data-driven decision making," validating a growing trend known as data storytelling — using data to gain insights and present more compelling messages to executives, customers, or partners.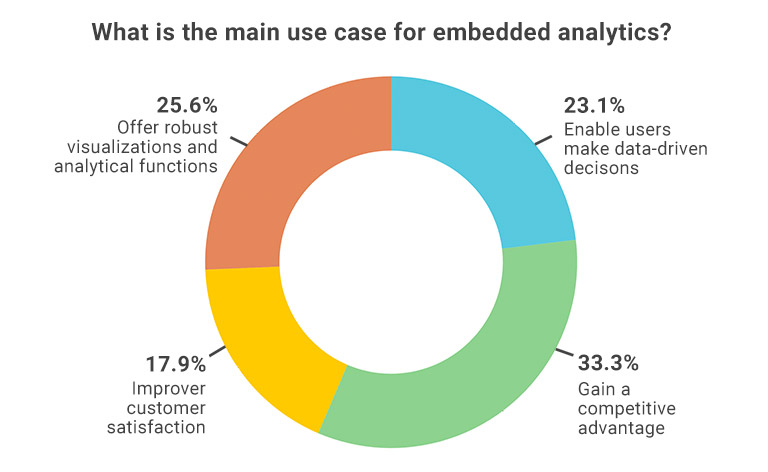 Machine Learning Breaks Out of the Pack 
Machine learning is a subset of artificial intelligence that enables systems to learn and predict outcomes without explicit programming. Because it is adept at prediction, such as calculating the likelihood of events or forecasting outcomes, machine learning is a perfect match for analytics. 
While machine learning has been bubbling under the surface for many years, plans for it surged in 2020 in relation to embedded analytics.  Sixteen percent of respondents indicated plans to implement machine learning in the near future, a strong increase over the 6% of respondents who are currently embedding it. The survey also indicated a growing interest in edge analytics, natural learning, and predictive analytics, while plans for reporting and data analytics slowed — an indication that many respondents have already done this.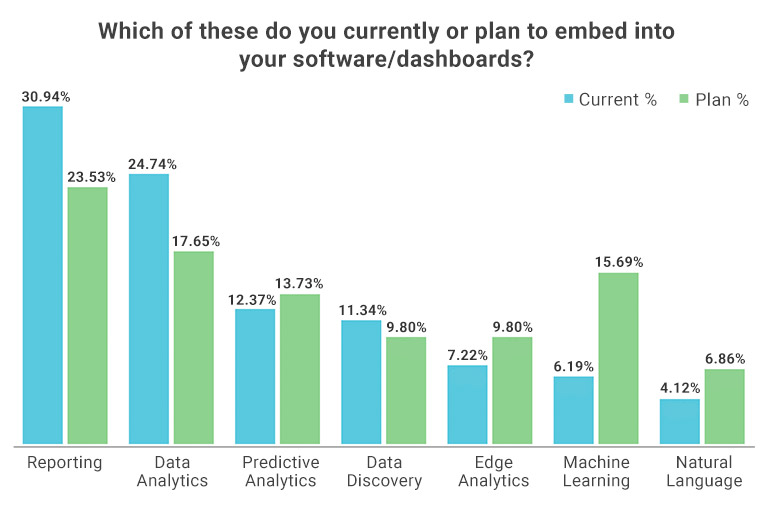 Conclusion
Software developers and IT leaders have proven their resilience during the trying  times of 2020. Faced with budget freezes and delays in the development cycle,  they were able to take advantage of market opportunities, bringing on new projects  and adopting new applications and technology. 
The mass disruptions of 2020 have proven that data and analytics are  indispensable for everything from business productivity and solving problems to  the insights of daily life. The opportunity for growth in 2021 is positive.  In the coming year, business intelligence and analytics will continue to make an impact, allowing enterprises to gain data insights that inform and guide — through visualizations that not only tell a story but offer  actionable insights. 
Live Dashboard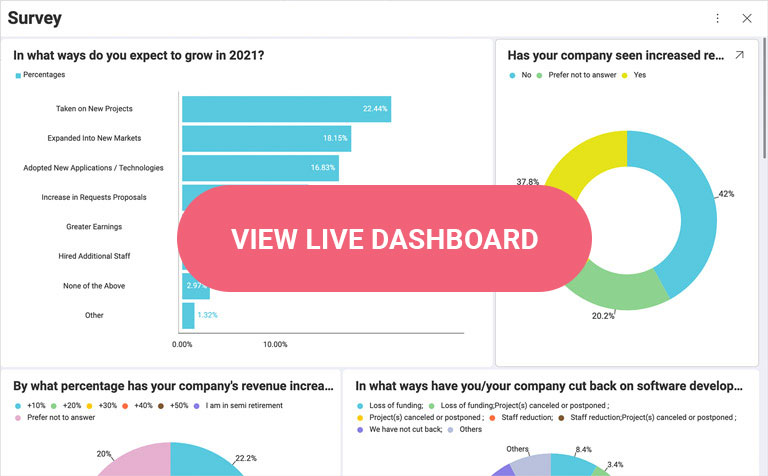 About the Survey
The survey results are based on responses from 124 software developers and IT leaders who participated in the Infragistics Trends in Software Development and Analytics survey, conducted in November 2020.