Embedded Analytics for SaaS Companies
Integrating analytics capabilities into third-party applications is where you begin to see a boost in productivity and performance. Users don't need to waste time hopping between multiple tools and systems. Instead, they can log in, access, and engage with data visualizations and dashboards directly within their natural workflow and the apps that they use on a daily basis. 
Bilyana Petrova
7 min read
SaaS companies face the challenge of maximizing the adoption of their tools and providing customers with the best ROI. They can achieve this and can greatly improve their existing product's value proposition through embedded analytics.
And we don't mean just basic charts and visualizations displaying your data insights; we're talking about advanced analytics capabilities, including dashboard linking, statistical functions, machine learning, and more.
Integrating an embedded analytics solution into your SaaS application's data, security, brand, and deployment strategy allows you to create a better analytics experience for your users and employees without straining engineering resources.
What Is SaaS Analytics?
Software-as-a-service (SaaS) analytics is the analytics process used by SaaS companies to analyze data, derive actionable insights from it, and make data-driven decisions.
Companies from all industries and sizes can improve their product offering by embedding data analytics capabilities into their SaaS applications. Often times SaaS companies can see an overnight growth in the number of their users and workers, so SaaS data analytics systems must be able to handle large amounts of complex data and scale as their data visualization and reporting needs expand.
Why do SaaS Providers Need Analytics as Part of Their Product Offering?
If we look back in time, we can see a tremendous shift in technology. And as far as data analytics is concerned, we've seen it grow and evolve faster than any other practice.
Especially today, in the age that we live in, data and data monitoring is EVERYTHING. When you market your SaaS business, you want to know the numbers – how many leads are you getting, what is the conversion rate, how much is being invested, and what is the ROI rate?
SaaS providers need analytics as part of their product offering because when you have this information right in front of you, you see trends and patterns in data you would've otherwise missed. And when you have real-time access to such valuable insights, you make better-informed decisions that can guide you to success.
Data analytics has always provided a competitive advantage to companies in every industry, be it manufacturing, healthcare, banking, retail, or education.
Challenges of Building Your Own Analytics Solution
Many companies who decide to integrate analytics capabilities into their SaaS applications start by considering the option of building their own in-house analytics solutions. And while building your own analytics solutions has its benefits, it certainly also comes with many challenges.
Although it may not seem like a big deal, the build vs buy decision will have a significant impact on your company's productivity, speed, and, ultimately, your ability to increase your revenue and drive growth.
Unfortunately, a lot of companies neglect the true cost of building an in-house analytics solution – and we're not just talking about money.
So, what are the challenges of building your own analytics solution?
Alter resources from your core product – companies underestimate the time and resources needed to build an analytics solution. On average, it takes about 7 months to build your own analytics solution, and those are 7 months in which you alter resources from improving your core product. By buying an already established solution, you can free up your developers' resources and time so that they can focus on your core competency and what your business was initially designed for.
Think about data access – accessibility in the context of data analytics means that anyone in your company (even those who don't know SQL and have no technical skills) will be able to access your company's data to answer their questions at any time. If your company's data is siloed to your IT or analytics team, then everyone who needs insights to answer questions and make decisions will have to go through an analyst. Your ITs and analysts will be getting backlogged with requests and become more unproductive. Turnaround times will be longer and thus, your company will be losing momentum.
Lengthen the time to insights period – following the previous point, if you want to operate as fast as possible, self-service analytics capabilities and data access are a must. Oftentimes, speed is the defining factor separating successful companies from the rest of the market, so you would want to eliminate any bottleneck between data and the end users, shortening the time to insight.
Buying an established embedded analytics solution helps you focus on your core product offering, saves time and money over training a development team, and eliminates the need for training where internal resources are simply unavailable. Maintenance and support are also included when you're buying, so you will not have to allocate resources for fixing issues if and when they occur.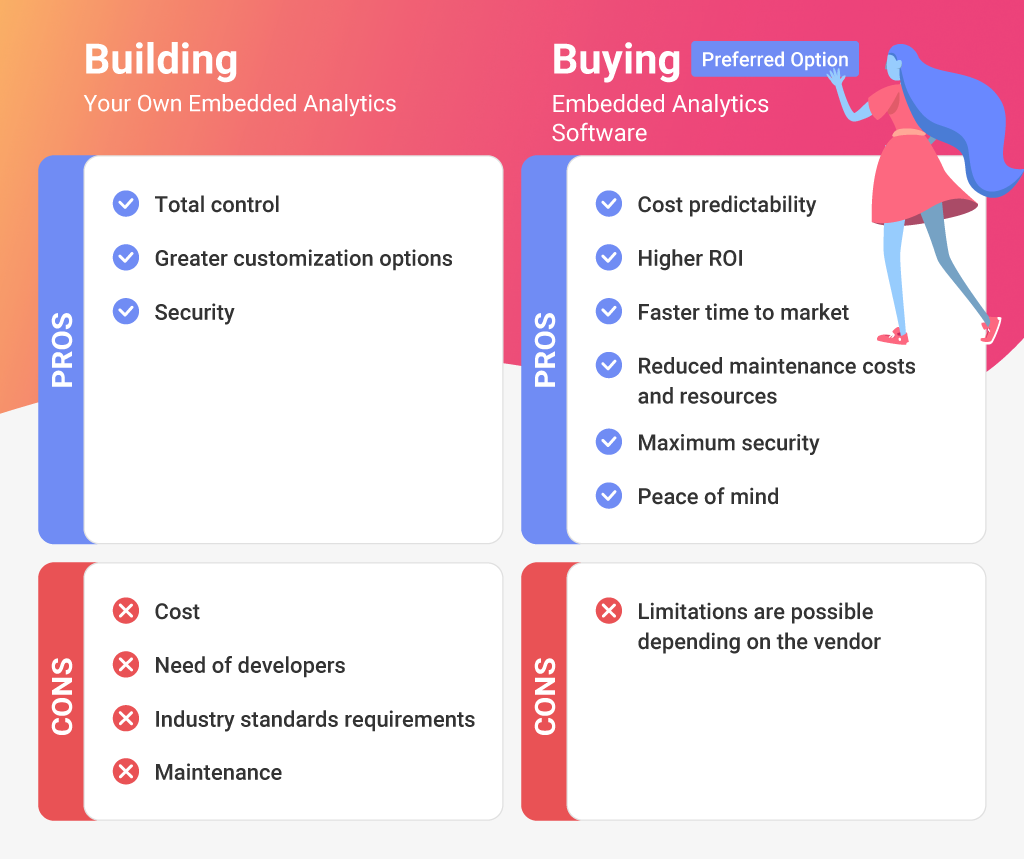 Embedded Analytics for SaaS, Real-Life Example
Integrating analytics capabilities into third-party applications is where you begin to see a boost in productivity and performance. Users don't need to waste time hopping between multiple tools and systems. Instead, they can log in, access, and engage with data visualizations and dashboards directly within their natural workflow and the apps they use daily.
Infragistics' project management and team collaboration tool, Slingshot is a SaaS that incorporates Reveal's analytical functions and capabilities.
Slingshot makes it easier for users to be data-driven and quickly find the insights they need by providing them with an extensive catalog of analytics, data sources & sets, visualizations, and dashboards. On top of that, Slingshot is a tool that simultaneously aggregates data analytics, project, and content management, chat, and goals-based strategy benchmarking – all in one, intuitive app. Thanks to the Reveal BI engine inside it, Slingshot allows users to easily connect to your different data sources, analyze data and create beautiful yet interactive dashboards in just a few clicks.
Sales and marketing teams can especially benefit from the embedded analytics capabilities in Slingshot. This example shows a Reveal dashboard embedded into Slingshot, allowing users to see insights and make use of their organization's marketing data without exiting the SaaS app.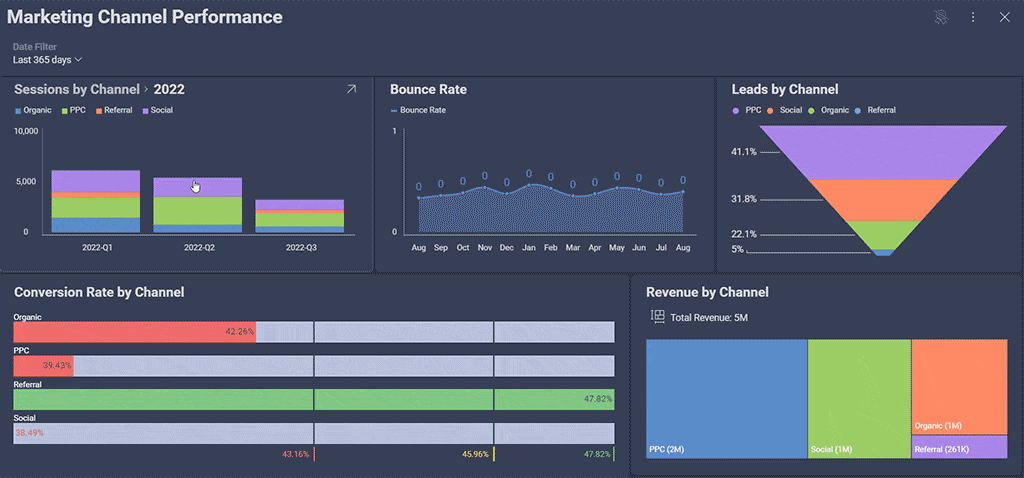 Why Using Embedded Analytics Is the Right Solution for Your Business?
No matter your SaaS application, embedded analytics capabilities would provide you with tremendous opportunities. Integrating powerful BI into your SaaS apps allows you to streamline workflows, manage resources, and optimize performance. Data helps businesses reveal where and how to improve and optimize their processes and performance for maximum profitability. Moreover, data helps identify new product/service revenue opportunities; it can tell you what your users need, so you can develop new offerings and sustain those customers.
BI tools such as graphs, charts, and dashboards also have the ability to improve data literacy across an organization. Data literacy, which is the ability to read, understand, create, and communicate data as a story, further helps users make better and smarter decisions. Data-driven decision-making is very important as it is based on facts rather than guesses and gut feelings. With access to SaaS analytics, everyone can make more intelligent decisions confidently and at the moment of impact.
Another one of the benefits of embedded analytics is that it helps keep teams on the same page with a centralized place for all business data where everyone can find the data they need. It allows users to explore the full data set in a secure data environment, boosting their confidence to extract the actionable insights they need.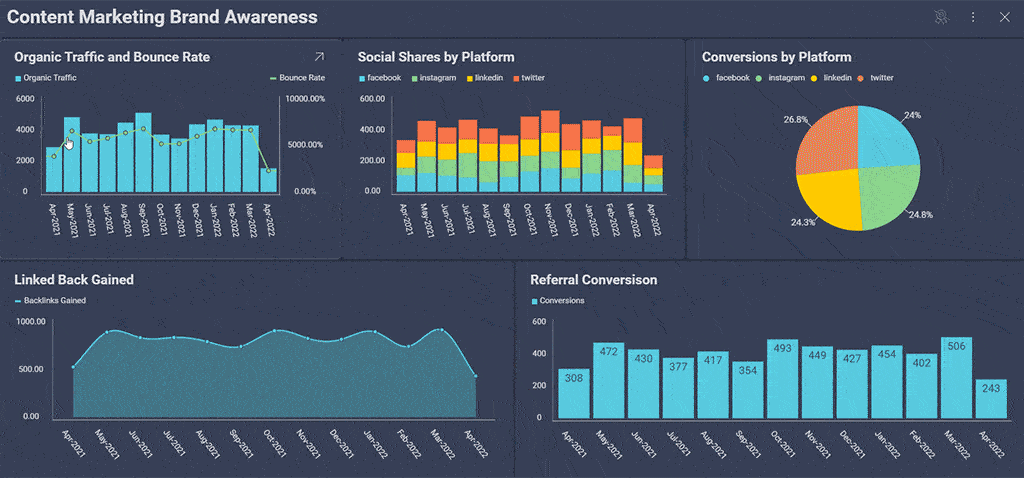 Why Choose Reveal?
Reveal is a self-service embedded analytics solution that enables your teams and customers to drive data insights with embedded intelligence, accelerate time to market, and transform the user experience of your apps. Built with embedded in mind first, on today's most modern architecture, Reveal's powerful API removes the complexity of embedding analytics into your SaaS applications.
Reveal provides interactive data visualizations, true self-service, white-label capabilities, advanced analytics, including machine learning and AI, drill-down, collaboration, sharing, and drag-and-drop dashboard creator experience. Users can easily access and create beautiful yet informative data visualizations and dashboards at any time and from any device. 
You can learn more about Reveal by downloading the Reveal SDK, or by scheduling a quick product demo.