The Do's & Don'ts When Embedding Analytics Into Your Applications
Even though there are many technologies making embedding analytics into your applications easy, you still need to take the time to ensure you're picking the best technology for your own unique business use case.
Bilyana Petrova
11 min read
It's hard to believe that many organizations in today's data-driven world are still struggling to make use of the vast amounts of data they possess and that, for most, accessing and analyzing data remains a distant goal.  
Embedded analytics tools can help Enterprises centralize the information they have and perform different types of analysis, predictive modeling and forecasting, machine learning and AI, and other advanced analytical functionalities that will provide them with the insights they need to maximize ROI and strengthen their competitive advantage.
You can greatly improve your existing product's value proposition by integrating an embedded analytics solution into your own software, SaaS, Angular application, or other apps.  
But what you SHOULD DO and what you SHOULDN'T DO when integrating an analytics solution into your workflow are important things you need to be aware of before investing in a tool to partner with.
Here, we're going to cover all of the do's and don'ts when embedding analytics into your applications.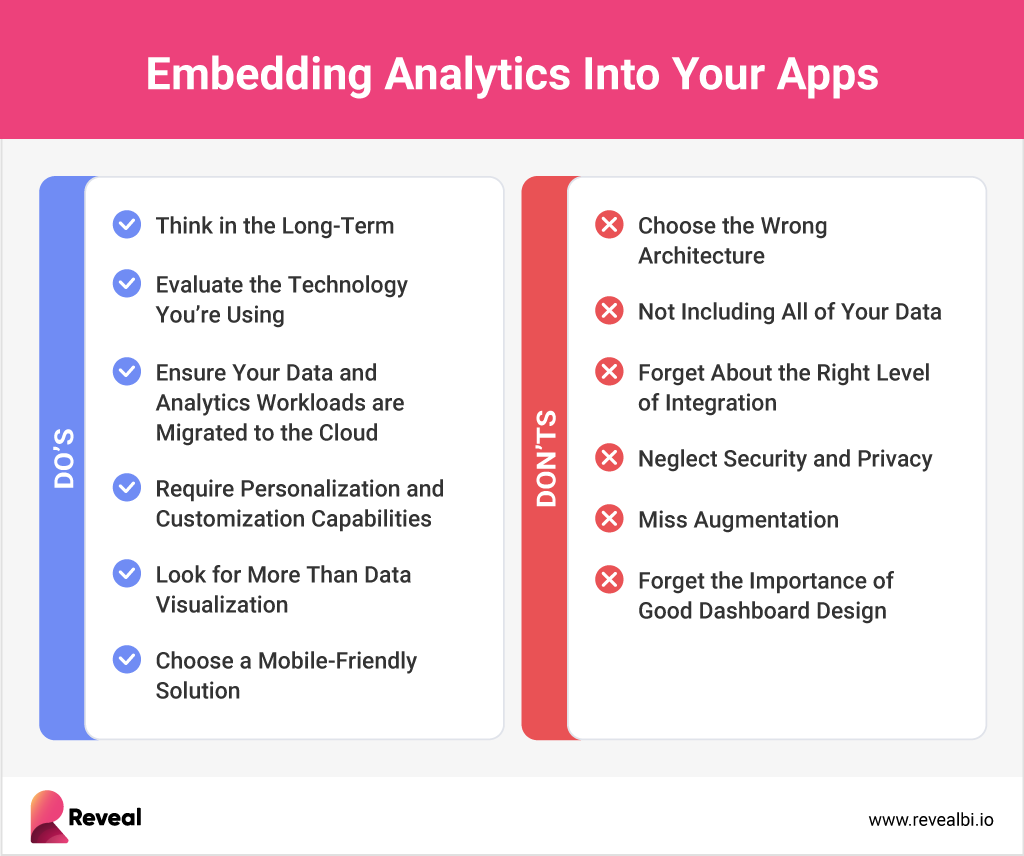 The Do's of Embedding Analytics Into Your Apps
DO: Think in the long-term when investing in an embedded analytics solution
Choosing the right embedded analytics vendor to partner with is paramount. Choose a solution that can grow as your business does and will become your valued long-haul partner. Determine if the vendor can grow with you throughout your journey, especially if you're just starting out. The solution must be able to advance as you progress from small analytics projects to more complex use cases. They must have a transparent roadmap of innovative features so that your solution doesn't become stale. That way, you'll feel more comfortable with the solution you use, and as you grow and are ready to start using more advanced features, you wouldn't need to start from scratch.  
DO: Evaluate the technology you're using to deploy embedded analytics
Even though many technologies make embedding analytics into your applications easy, you still need to take the time to ensure you're picking the best technology for your unique business use case. Review your technical and non-technical requirements to establish whether you have the expertise needed to deploy embedded analytics. At the minimum, you'll need web developers and people with the skills required to handle authentication and single sign-on, as well as traditional analytics skills, including data modeling.  
Also, consider who will use the embedded analytics inside your organization – understand their skill sets and identify any potential resource gaps before you move to the evaluation phase.
DO: Ensure your data and analytics workloads are migrated to the cloud
According to a survey by Hosting Tribal, 94% of enterprises already use a cloud service, and the demand is only expected to grow in the future. Migrating to the cloud comes with its fair share of benefits, including data security, flexibility for changing business needs, lower maintenance requirements, fast and easy access to software and hardware upgrades, and much more.  
In the embedded analytics space, the cloud allows you to do more through expanded application programming interface (API) integrations that help make complex use cases, such as applying filters or custom views for users, much easier to perform. Cloud infrastructure also allows you to scale to support larger workloads and more users and can even run in geographical locations near end-users to reduce network latency.  
DO: Require personalization and customization capabilities
When the analytics users are being provided with don't look or feel as if they belong in the application and are just bolted on, the user experience of your application can drop dramatically. White labeling is the ability to embed reports, dashboards, and data visualizations to match your own unique application's fonts, colors, and overall brand theme. It allows you to customize all UI elements (theming & styling, roundness vs squareness, dialogs, etc.) to match your brand perfectly in a way the users will never even notice the difference in the application. Thanks to the white labeling capability, users won't get distracted but instead focus on the value of their data insights.

DO: Look for more than just data visualization
The best embedded analytics platforms provide a lot more than just data visualization capabilities. The embedded analytics features and functionalities that a given platform comes with are basically the primary advantages of what it has to offer. So, don't settle for anything less. Look for advanced features like statistical functions, in-context editing, dashboard linking and dashboard blending, data blending, predefined dashboard templates, etc.
DO: Choose a mobile-friendly solution
Mobile is changing the way we work and consume information, and software that doesn't support a mobile version nowadays is a no. In the analytics and BI space, that means looking for a solution that offers a native mobile application that allows users to access business insights to guide their decision-making process even on the go. Access to real-time insights helps in seeing business opportunities sooner, reacting to market conditions in a timely manner, and increasing the opportunity to up-sell and cross-sell. Investing in a mobile BI solution makes you more flexible and more adaptable to business shifts. 
The DON'TS of Embedding Analytics Into Your Apps
DON'T: Choose the wrong architecture
When it comes to embedding analytics into your applications, architecture matters. The developer experience can make or break an embedded analytics implementation. Choosing an old, legacy system will only limit your performance, flexibility, and scalability. Not to mention the frustration it will cause.
Choosing a modern, cloud-native system will not only support embedding data visualizations and charts, but will also allow deeper analysis of your data, flexibility, and customization and will integrate with your own apps seamlessly. Look for a native SDK that utilizes the specific features of each platform and provides a superior user experience, robust APIs to handle dashboard creation and rendering, deep liking in dashboards and custom UI for data source acquisition, and a modern API design with multi-channel distribution capabilities.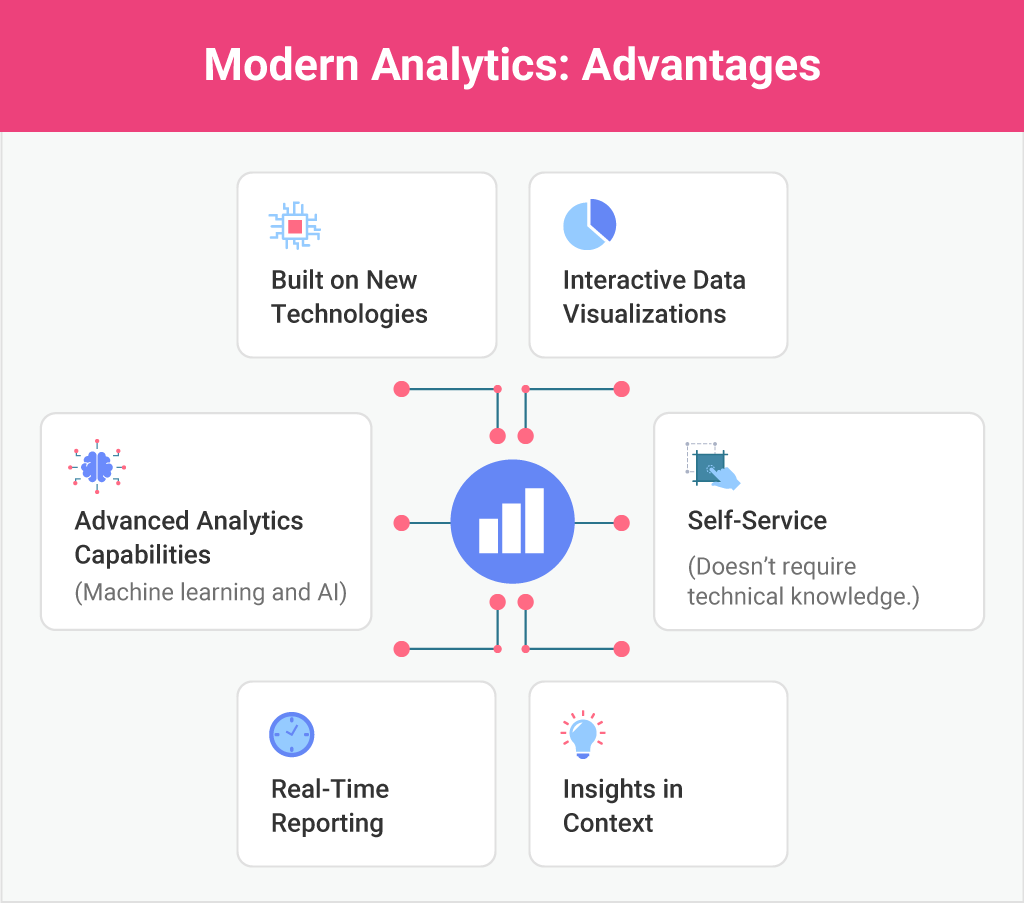 DON'T: Not include all your data
Do you know that only a fraction of corporate data is ever made available for others to analyze? That means businesses are only getting a partial picture of their data, which prevents them from making smarter business decisions and, as a result, missing out on key revenue opportunities.  
The problem is that they don't connect to all of their data sources or that the data is semi- and unstructured, which many analytical tools on the market simply cannot process.  
To avoid that, make sure that the vendor you decide to go with supports a wide range of data sources that users can bring together into one view or location for a more comprehensive analysis and can connect to all of your data no matter where it lives – on-premises databases, analytical tools, CRMs, spreadsheets, cloud services, or public data sources.
Some modern embedded analytics platforms also offer a feature called "in-memory data source, " which lets users directly connect to a data source the software doesn't support outside the box. 
DON'T: Forget about the right level of integration
Many of today's embedded analytics platforms were built as standalone applications first, so they are not purposely designed to be embedded into applications. In time, many of these same vendors decided to create an embedded option and allow their customers to deliver analytical capabilities in their own apps.
The problem is that creating a seamless embedded analytics experience is hard.
When a solution hasn't been purposely built for embedded, that adds tremendous complexity, requiring complicated integration with their back-end proprietary system. Analytics tools offer no value if they are too complex to start with and don't integrate seamlessly with your applications.  
To get the real value of an embedded analytics solution and unlock the full potential of your data, the platform you decide to partner with needs to be fully embedded into the tools your users are already using on a daily basis.
*Many embedded analytics vendors claim to be embeddable, so make sure the one you choose was really built from the ground up for embeddability.
DON'T: Neglect security and privacy
This is a big one. The security and privacy of your data are an ever-growing concern. Many organizations that possess sensitive data cannot trust sending their data to a third-party analytics tool and we understand that. However, others focus solely on the dashboard creation experience and capabilities and neglect the security and privacy of their data when embedding analytics into their apps.
Don't neglect security and privacy, and don't be afraid of sending your data to a third-party analytics tool, all while missing on growing your user base and profits.  
Select an embedded analytics platform capable of working with your application's security model and providing you with the right control over your data. And a solution that gives you an option of where to deploy it – a public or a private cloud or your own on-prem servers. 
DON'T: Miss augmentation
According to the global IT research firm, Gartner, one of the top data analytics trends to watch for moving forward is augmented analytics. Powered by two of the greatest analytics technologies – AI and machine learning – augmented analytics allows users to ask questions and automatically generate insights by exploring their data using conversational language.
So, as AI and ML become more intertwined in our everyday lives and continue to make a great impact in the real world, it is of imperative importance to choose an embedded analytics vendor to partner with whose AI and ML capabilities include things like data preparation, natural language interfaces, and guided recommendations.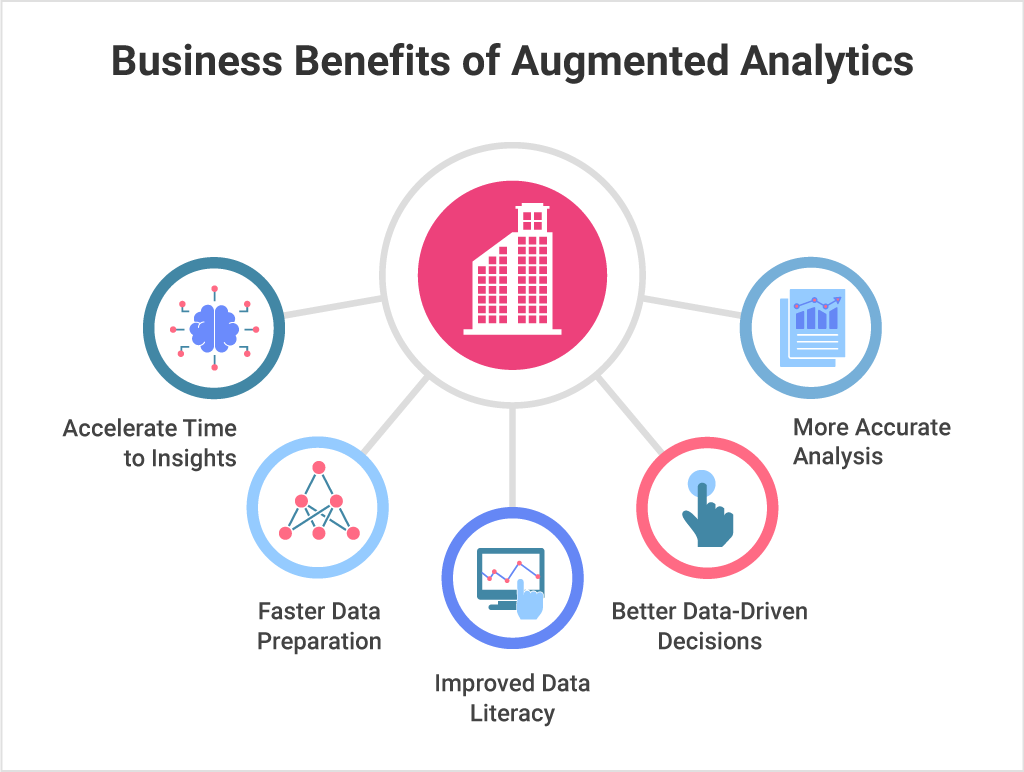 DON'T: Forget the importance of good dashboard design
One of the most common mistakes users make when creating dashboards is to allow themselves to be influenced by the way they previously interacted with data. And, of course, not just them but also the people who will be viewing the dashboard.  
Just because people are used to seeing data in a certain way doesn't mean it is the most effective way to convey your data insights. A well-designed high-impact dashboard helps users absorb information easier, better, and way faster.
Fortunately, embedded analytics platforms that leverage self-service capabilities make it easy for anyone to build their own dashboards and reports. Moreover, they come with a variety of chart types to choose from, so you can choose the one that will help you to best get your message and data story across. And on top of that, modern embedded analytics platforms make it easy to create interactions, allowing users to slice and dice data to gain deeper insights into the questions they want to answer through dynamic filtering, dashboard linking, drill-down, and more.  
Introducing Reveal Embedded Analytics
Reveal is an end-to-end embedded analytics platform, working simultaneously with its robust feature set of data integration and visualization capabilities and utilizing machine learning models from Azure ML and Google BigQuery. Reveal's engine leverages augmented analytics to proactively provide your company with a real-time, contextual view of your data, uncovering valuable insights and guiding decision-making.  
Built from the ground up with embedded in mind first, Reveal allows you to easily integrate data analytics, interactive dashboards, and robust reporting into your own applications with no added requirements. Reveal's flexible architecture and rich APIs give you control of the features in your app, making it a seamless part of the user experience.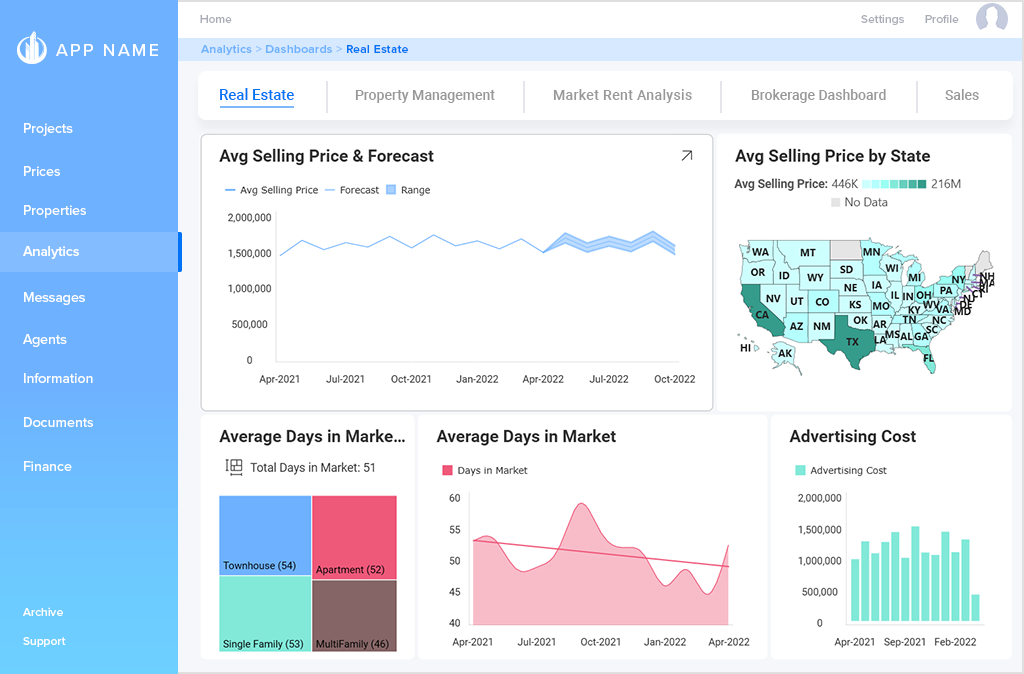 Reveal offers self-service and white-label capabilities and advanced and predictive analytics, including machine learning, forecasting, statistical functions, drill down, dashboard linking, dashboard blending, in-context editing, data blending, and more. 
With the power of data, you, your employees, customers, partners, or suppliers will no longer need to waste time trying to analyze spreadsheets with rows of numbers but instead have more time to focus on the insights gathered and make more intelligent business decisions based on facts. You can act at the right moment and never miss an opportunity by having access to real-time data.  
You can learn more about Reveal and how it works by downloading our SDK or by scheduling a quick demo.