What Is Embedded Reporting?
Embedded reporting refers to the integration of reporting capabilities such as dashboards, charts, and other data visualization techniques into other software applications. These reports typically cover various aspects of an organization's metrics, ranging from finance and performance to sales, marketing, and other operations. Reporting serves as a window for the end-user into the data presenting it in the easiest-to-understand way. The reporting deals only with collecting and presenting data, not the actual analysis process.  
In the past, IT departments were responsible for the incorporation of reporting tools into existing software. Nowadays, embedded reporting puts data visualization in the context of other applications so that all end-users, regardless of expertise, can easily view what is important to them inside of the business applications that they already use and are familiar with.
How Is Embedded Reporting Used?
Data integrated from various different sources contains millions of rows, and it is quite difficult to extract any meaningful insights from it. Reporting tools ingest data from these sources and present it visually so that users can understand the information faster. These reporting tools present the data in a very appealing way (tables, charts, infographics, dashboards, etc.), making data more readable, understandable, presentable, and, most importantly, useful.  
There are several ways different businesses use embedded reporting and embedded analytics; one of the most common uses of these tools is in CRM platforms. CRM platforms are an increasingly popular way to centralize and optimize sales and marketing operations. These users need to quickly collect data and present it clearly. Embedded reporting allows them to stay within their preferred application and make intelligent decisions after careful consideration of visually represented data points.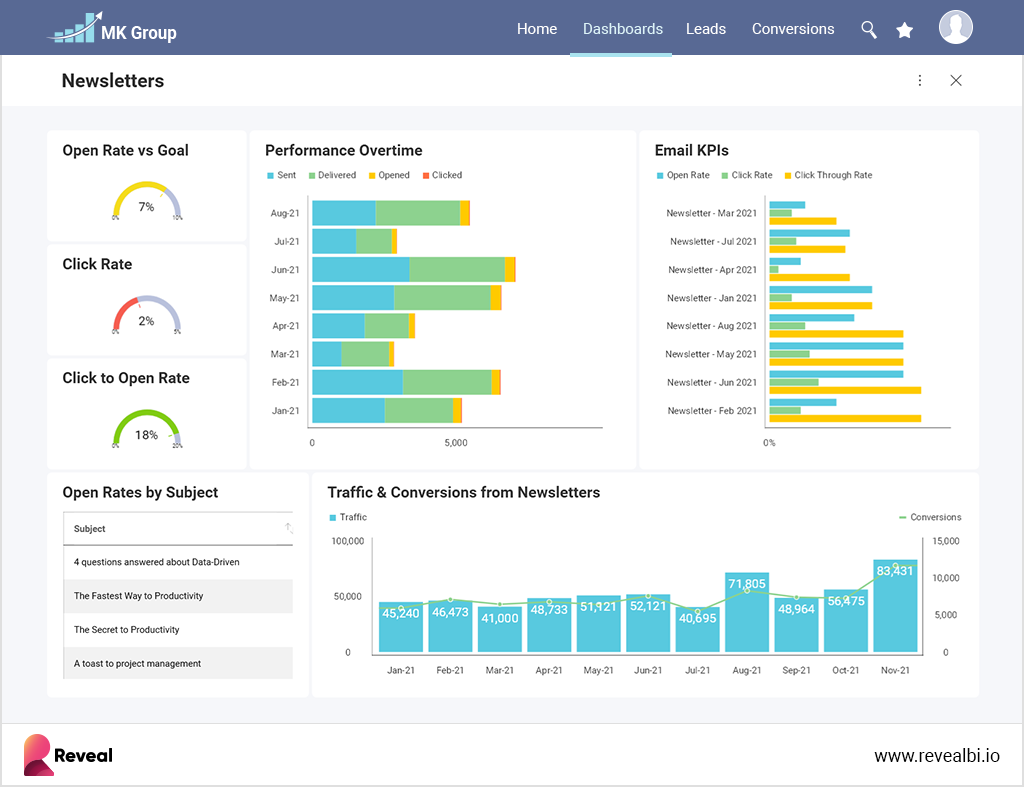 Benefits of Embedded Reporting
There are numerous benefits to investing in an embedded reporting tool. These are just a few of the best:
Embedded Reporting Helps Turn Raw Data Into Actionable Information
To present spreadsheets with rows of numbers is not enough for people to gain value from data. But when data insights are communicated through data visualizations, dashboards, charts, and other visual elements, it is easier for users to understand its importance and act accordingly.
The ability to turn raw data into easy-to-read and easy-to-understand information is a structured approach called data-driven storytelling. It is invaluable in business because it allows us to see trends, or understand problems, or interpret campaign performance. Data by itself cannot provide that meaning because it must be understood in the context of the situation, and embedded reporting tools help with that.  
Embedded Reporting Improves Visibility & Efficiency
When using embedded reports in the form of visual elements, you're improving your entire organization's visibility to data. By having a unified view of all the data that you need, you can more easily identify areas for improvement – all without leaving the application and disturbing your workflow.
Embedded Reporting Consolidate Data
With the help of embedded reporting tools, you can easily consolidate data from multiple large data sets and data sources and get a 360-degree view of your business and/or specific areas of it. This decreases users' time analyzing different data sets, accelerates your time to insights, and significantly improves workflow productivity.  
Embedded Reporting Enables Data-Driven Decision-Making
Giving users relevant and timely insights right within their workflow promotes a data-driven culture and encourages more analytical thinking. In-context reporting enables users to make smarter and faster decisions that are based on the information available at that moment or visible on the specific screen they are viewing.
By enabling data-driven decision-making and cultivating a data-driven culture in your organization, you allow all of your users to make sound decisions rather quickly and completely eliminate the chance of anyone making a decision based on their gut feelings. Trusting data to direct your decisions means not starting from scratch but relying on something that has worked well before, or at least taking it into account.  
What to Look for When Choosing an Embedded Reporting Tool?
More and more analytics solutions include embedded reporting capabilities as part of their offerings. But despite what most of these vendors may say, there is no one-size-fits-all embedded reporting tool that works for every use case. However, there are a few must-have features regardless of your use case and business needs – and that is the minimum a tool should offer to be worth your consideration.  
Here's what you should be looking for in an embedded reporting tool:
Flexible deployment – the right embedded reporting tool should be one that your developers can easily embed anywhere on any device. Whether deployed in a cloud or on-prem, the tool should easily integrate with all your data sources. The first step in evaluating a vendor should involve running through all your application & business requirements – data sources, front-end technologies used, etc.
Self-service capabilities – It is important not to forget that all of your users are different, and all have a different level of sophistication when it comes to reporting. For that reason, self-service is one of the most important features you need to look for in an embedded reporting tool. With a simple, user-friendly interface that is tailored to different experiences and skill levels for different users, everyone within your organization can create beautiful yet informative dashboards and charts on their own.  
Customizable tools – a seamless, personalized experience is the key to customer loyalty. So, if you suddenly add reporting capabilities, but they don't look or feel like the rest of your software, customers will notice. If the embedded reporting tool doesn't offer customization opportunities, you better look for another one. Invest in a solution that will allow you to maintain your unique branding and customize the visual elements of dashboards and charts.  
Mobile use – mobile is changing the way we work, and as we are hardly offline nowadays, users need to have access to reports at any time to be able to make decisions faster, even on the go. Having important company insights at your fingertips is the most valuable advantage of mobile BI. When your users can access important data insights on their mobiles, they can make decisions and take action at any moment of impact.  
High security – everything that is embedded may cause a security problem, so you need to be sure that you're investing in a highly secured tool. As such, it must be easy to incorporate into your existing security policy, allow you to adjust user roles, set permissions to access reports, support robust authentication methods, and secure other user data from multi-tenant environments.  
All kinds of industries, including banking, finance, healthcare, sales, and marketing teams, and many more, can significantly benefit from embedded reports. With the right tool, embedded reports reduce the waste of resources and time, making your software products and services more competitive on the market.