Top 7 Questions to Ask When Choosing an Embedded Analytics Vendor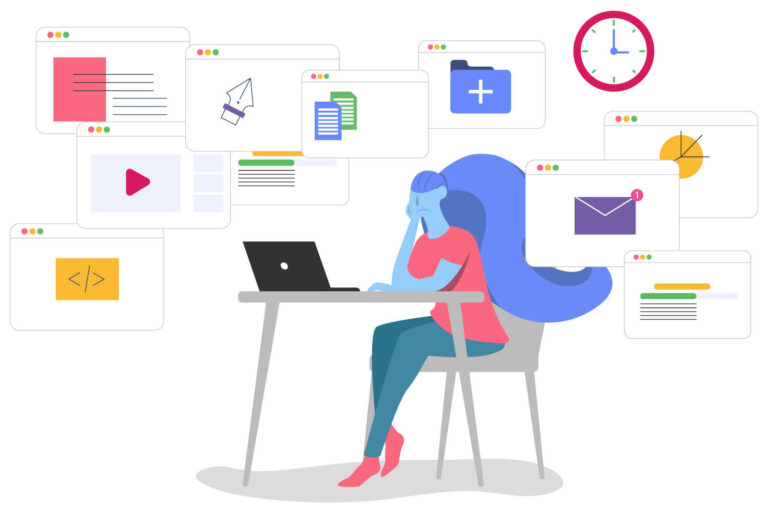 So, you have decided to accelerate your time to insights, improve user and customer experience and bring the power of embedded analytics into your own application.
Great!
Next comes the question of which embedded analytics vendor to partner with.
We know that in today's highly competitive business environment and flooded markets, choosing an embedded analytics vendor for your business needs could be quite overwhelming.
What features and functionalities does it offer, how was it built, and does it fit your budget?  
To help you make the best choice, we have gathered the essentials of what you should be looking for.  
We believe these are the top 7 questions you should be asking when talking to different embedded analytics vendors:
Is the application experience consistent on every platform?  
Is the solution built on modern architecture? 
Was the solution purpose-built for embedded?  
Does it offer a great mobile experience? 
Is pricing 100% transparent? 
Is localization handled seamlessly through your app?  
Is the product roadmap public?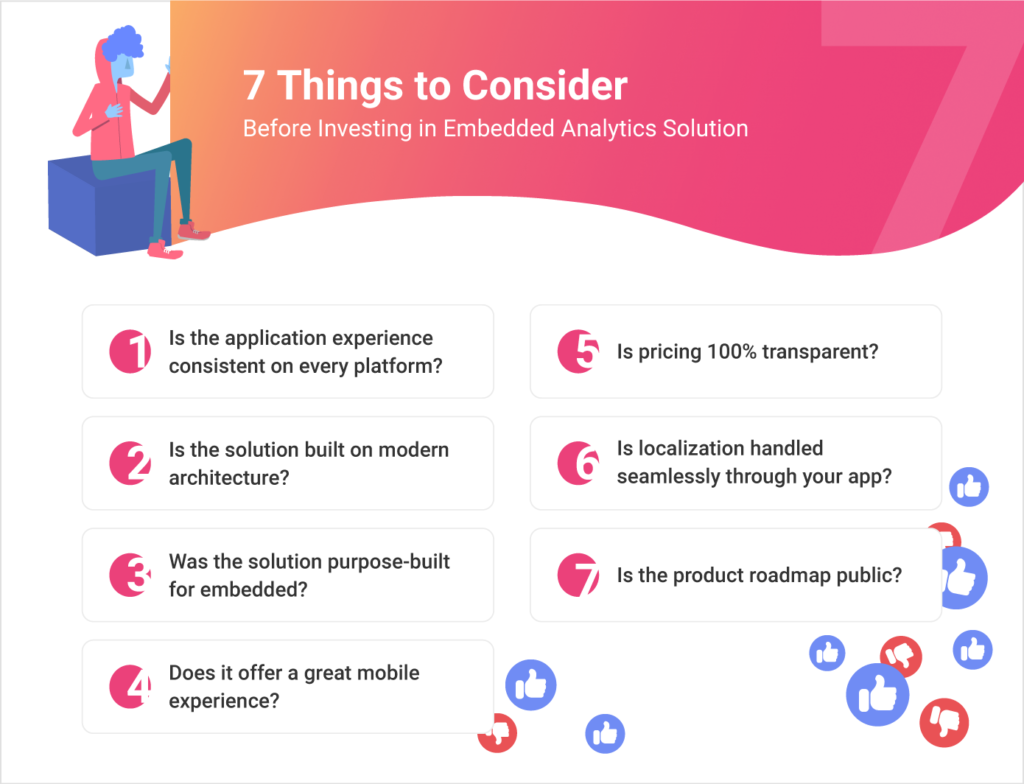 Continue Reading
Fill out the form to continue reading.
Is the Application Experience Consistent on
Every Platform?
We believe that a beautiful app experience that is simple and functional across every major platform should be the goal of every application. That is the reason why one of the first questions worth asking when choosing an embedded analytics vendor is whether the analytics experience is consistent on different platforms – desktop, mobile, etc.
Ask whether the vendor provides the following:
Beautiful visualizations and dashboards across every platform and device size.  
Dashboards that are intuitive to view, edit, and share.  
User interactions that are instinctual on all visualizations and dashboards in the app.  
Reveal answers Yes to each of these points, giving you an experience that can transform the UX of your app and deliver higher customer satisfaction. At the same time, our vision of simplicity and beauty makes your app 'stickier' to your users. This lowers the risk of losing customers because you're differentiating on the experience.
Is the Solution Built on a Modern Architecture?
Easy to use and understand analytics is a crucial part of every modern SaaS application. Yet, many organizations still rely on legacy systems to analyze and work with their data. And while these legacy systems might be good enough to perform simple analytical processes, they don't allow integration with new technologies, are no longer maintained and don't allow room for growth.  
In today's highly competitive business environment, organizations need more than static data visualizations and simple reporting. They need real-time, up-to-date tools and technologies to be able to survive on the market.
With this in mind, the vendor you decide to partner with must keep pace with modern technology to make the analytical processes simple for your users. Contrary to legacy systems, applications based on modern architecture are built on new and innovative technologies that deliver a superior experience to customers.
An application is a modern application when it is built with a combination of modular architecture patterns, DevOps, DevSecOps, serverless operational models, and agile development processes that allow businesses to reduce risk and accelerate time to market. Modern applications also cover use cases that include web and mobile backends, IoT applications, AI/ML workloads, shared services platforms, and more 
To find an embedded analytics vendor based on modern architecture and technologies, ask for:
Native SDKs that utilize the specific features of each platform and provide a superior user experience. 
Robust APIs for dashboard rendering, dashboard creation, deep linking in dashboards, and custom UI for data source acquisition.  
Modern API design with multi-channel distribution capabilities. 
Reveal offers a broad set of modern, native SDKs, learning libraries, and detailed samples in all major platforms, including .NET, JavaScript (Angular, React, WebComponent), iOS, and Android. Revel's embed technology doesn't get in your way of a successful deployment; it enhances it.
Was the Solution Purpose-Built for Embedded?
Many of today's embedded analytics and BI vendors were initially built as standalone applications, not purposely designed to be embedded into other apps. In time, many of these vendors realized the power of embeddability and created an embedded option allowing their customers to deliver data analytics functions in their own apps.
But one of the top challenges for embedded analytics is creating a seamless experience.
When the solution hasn't been purposely built to be embedded in other applications, that adds additional complexity to the back-end proprietary system and requires complicated integration. If the embedded analytics solution doesn't integrate seamlessly with your apps and is too complex to start off with and derive value from, then it may not be worth the commitment.  
To be able to extract a real value from an embedded analytics solution and leverage all the power that your data keeps within it, look for a vendor that was purposely built to be embedded into the apps your users use in their daily workflow. But because many embedded analytics vendors claim to be embeddable, while they are not entirely, ask them these questions:
Was the embedded experience an afterthought? Or was it designed for embeddability from the ground up?  
Does the embedded user get the full app experience?  
Can the user go beyond simply viewing dashboards, and be able to edit existing dashboards and add new ones as well?  
Do you see limitations in the embedded product when compared with the SaaS or desktop offerings? 
It's important that the experience is the same from the desktop to the web to the embedded app, on every device. With Reveal, there is no compromise: the experience, on any device on any platform, is consistent, including dashboard creation.
Does it Offer a Great Mobile Experience?
In today's smartphone and laptop-dominated world, businesses are in the unique position of having access to huge amounts of data everywhere they are. Readily available dashboards and data at your users' fingertips drive the speed at which businesses operate. By leveraging mobile BI, your business users can maximize profit and compete more effectively even while away from the workplace.
This eliminates the need for help from IT and BI teams, which results in having a greater bandwidth to focus on other critical issues and solve business problems in real-time.
When evaluating a vendor for its mobile capabilities, ask about:
Are the mobile SDKs native per platform, with the expected UX and app experience for Android, iOS, or Windows?  
Did the vendor simply "wrap" a responsive website? Is their mobile SDK simply a web page in an HTML iFrame linked to your app?  
Do you get the entire app experience in the mobile SDK, including dashboard creation, editing, and sharing? 

We designed Reveal to be developer first, cloud-first, and mobile-first. We take extra care to ensure that the app experience is native to the platform. When you embed Reveal in your app, no matter which platform you are using, you get the most modern UX and app experience in that platform.
Is Pricing 100% Transparent?
Pricing is always a top 3 consideration when looking at any software purchase, but it shouldn't be the most stressful part of the evaluation process.
Unfortunately, however, many vendors make figuring out pricing a nightmare. And that is because they use unpredictable embedded analytics pricing structure techniques so they can charge you on a per-user or usage-based model, maximizing the price of the product while leaving ''no money on the table''.
The reason why this pricing structure is often a poor choice for you in the long term is that when you experience user or usage growth, your costs will increase dramatically and unexpectedly.
So, imagine that your app skyrockets in popularity, and suddenly your embedded analytics bill skyrockets as well.  
Ideally, you would want to know upfront the cost of the solution and be confident that your bill won't escalate as your app sales increase.
Make sure to look for a vendor that has a 100% transparent pricing model with no hidden fees, no usage, or user tiers. Ask straight:
How much does the solution cost?   
What are their cloud usage and per-user fees? Are there other fees you should be aware of? 
Can the solution be deployed on Windows or Linux containers for local or cloud-based hosting? 
The Reveal motto: no-surprise pricing. We have no hidden fees. See for yourself.
Is Localization Handled Seamlessly Through Your App?
Localization is something all successful SaaS vendors incorporate into their app optimization strategies. Delivering culture-and language-specific deployment creates new revenue streams and marketing opportunities and should be of utmost importance.
Many businesses make the mistake of only using English for their app, developer guides, and documentation. But when you've got the option to localize your app why not take it. If you want global app success, it's essential to localize your app.  
Localization helps users feel like your app has been tailored to them, makes it more accessible, and increases your usage base.  
Ask your embedded analytics vendor the following questions:
Does the application automatically handle locale-specific rendering like data/time and numbers? 
Does each SDK give the ability to insert message strings based on region and locale?  
Is the documentation translated to different languages so that development teams can successfully use the SDK?  
Reveal ships with localization built-in. We also ship native language SDK documentation in Japanese, Korean, Mandarin, Malaysian, German, French, Russian, Italian, Dutch, Portuguese, Korean, Malay, Chinese Standard, and Chinese traditional. We will also be localizing Japanese and Spanish in-house.
Is the Product Roadmap Public?
And last, but definitely not least, you need to learn what the vendor is planning on doing next. Ask for a product roadmap to get a better idea of what you can expect in the future. A product roadmap is a strategic plan that defines desired outcomes.
You would want to make sure that the vendor is innovating and delivering value as fast as your customers will be asking for it. A vendor that doesn't or doesn't plan to expand its features and functionalities in the future, is likely to become a legacy system that won't serve you in the long term.
Having visibility of a vendor's roadmap is the key to knowing what's coming next and what you could benefit from in the near future. It gives you assurance and peace of mind that the vendor you choose to partner with will be working just as hard as you do to satisfy your customers' needs.
When considering a vendor, ask these questions:
Is a public roadmap prominently posted?  
Is the roadmap up to date?  
Do they show success in the delivery of previous roadmap commitments? 

The Infragistics Heritage: Introducing Reveal Embedded Analytics
Reveal is a self-service embedded analytics solution that provides organizations with the most powerful, flexible, and transparently priced analytics tools on the market. It enables users to easily create data reports and dashboards from any device and make quicker, data-driven decisions without interrupting their workflow. Reveal is available in both on-premises and cloud-based deployment models and its native SDK can be integrated into applications on any platform and tech stack including: .NET Core, Java, NodeJS, and front-end technologies such as React, Angular, WebComponent, VueJS, jQuery, MVC and Java Frameworks like Spring, Tomcat, Apache. Reveal embedded analytics also offers native apps for iOS, Windows, and Android devices. 
Built with embedded in mind first, Reveal includes robust dashboards, interactive data visualizations, self-service and white label capabilities, and advanced and predictive analytics, including machine learning, forecasting, statistical functions, drill down, dashboard linking, dashboard blending, data blending, in-context editing, and more.  
With the power of data, you, your employees, customers, partners, or suppliers will no longer need to waste time trying to analyze spreadsheets with rows of numbers but instead have more time to focus on the insights gathered and make more intelligent business decisions to grow your profits.
You can learn more about Reveal and how does it work by downloading our SDK or by scheduling a quick demo.