Modern App Development: Top 5 Benefits of Low-Code/No-Code BI Solutions
Low-code/no-code development platforms are great at reducing the time needed for an application to be fully functioning and completed. Users with no coding experience can create BI applications with powerful data visualization and reporting capabilities, and developers can create apps from start to finish in a matter of minutes rather than weeks or months of traditional hand coding.  
Bilyana Petrova
9 min read
Low-code/no-code development is a game-changer.
According to Reveal's top software challenges for 2022 report, citizen developers and low-code/no-code tools can help meet the demand for building applications faster and with fewer resources. More than half of the survey's respondents (54%) are planning to economize in 2022 by using low-code/no-code (app builder) tools to automate many developer/IT/analyst processes, all while reducing the need to hire new employees.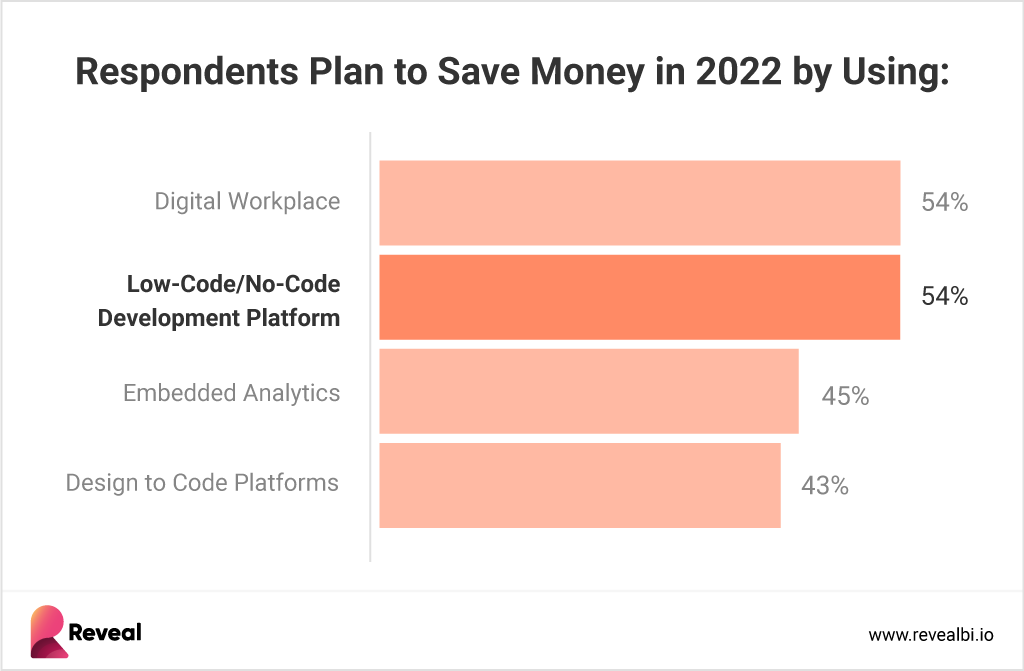 Furthermore, another report by Gartner forecasts that by 2024, low-code adoption will be so widespread that 75% of the software solutions built around the globe will be made with the help of such tools.
Being able to create fully polished business intelligence (BI) solutions with no technical experience and without any knowledge of coding is one of the top embedded analytics trends to watch out for in the years to come.  
Yet, many people in the embedded analytics and BI space are still not aware of how such tools can benefit their organizations and help them maximize their profits.  
Continue reading and find out what are the top benefits of low-code/no-code BI solutions and why your organization should consider them.
What Is Low-Code/No-Code Development?
As Infragistics' Sr. VP of developers' tools, Jason Beres describes it:  
''Low code app development platforms help digital product teams create apps with visual tools that require little to no up-front coding but will need a development team to 'finish' an application before deployment. This type of approach is helpful for the developers to eliminate the need for heavy hand-coding in areas like screen design, UX flows, theming and branding and can all but eliminate the need for manual HTML & CSS tweaking which, according to Gartner, can take up to 60% of the application development time.''
And then he continues,
'' A no-code platform is built on the promise of enabling anyone in an enterprise to build applications in a visual, WYSIWYG environment. Typical no-code development platforms include strict guidelines in the app dev process, with the guarantee that anything the platform can build will be runnable and usable without any professional development to 'finish' the application.''
What Is the Role of Low-Code/No-Code Development in BI?
As the name itself suggests, low-code/no-code tools and technologies can help organizations build business intelligence (BI) applications with minimal hand-coding. These low-code/no-code solutions provide a suite of features and capabilities that help design and development teams build BI apps faster than ever before.
Most low-code/no-code development tools offer simple drag-and-drop capabilities to assist users with no technical skills in building BI apps. These kinds of tools are one of the latest innovations in the BI space and come with pre-built components like charts, grids, gauges, tables, etc., that users can easily drag and drop into their custom dashboards.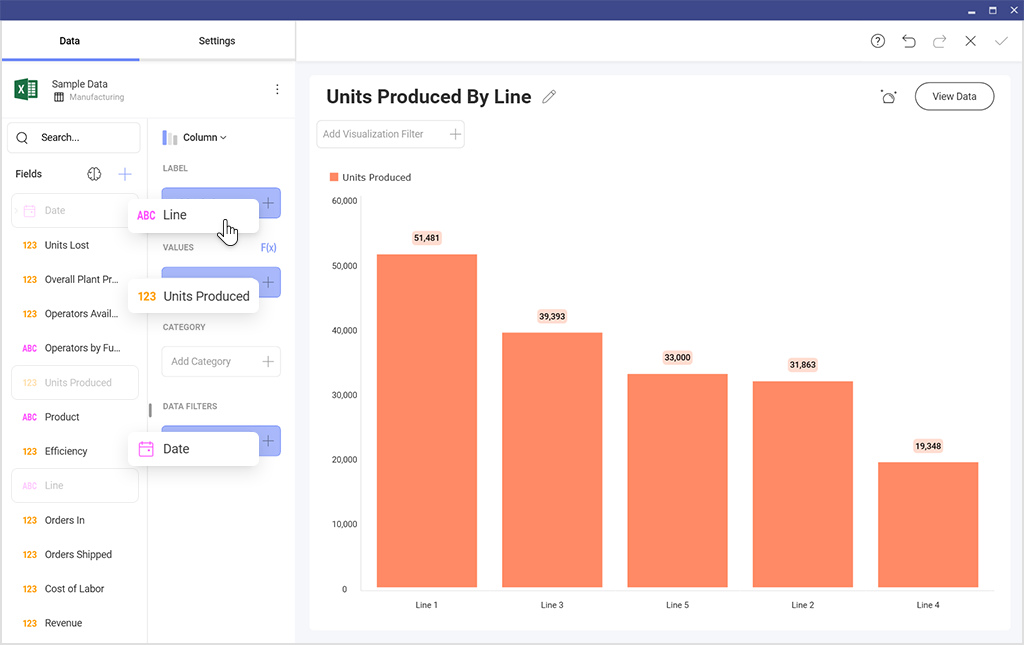 Benefits of Building BI Apps with Low-Code/No-Code Tools
1. Speeding Up the App Development Process
Low-code/no-code development platforms are great at reducing the time needed for an application to be fully functioning and completed. Users with no coding experience can create BI applications with powerful data visualization and reporting capabilities, and developers can create apps from start to finish in a matter of minutes rather than weeks or months of traditional hand coding.
2. Faster Results
Since designing low-code/no-code apps doesn't require spending time writing custom code or any traditional programming language experience, such tools can help you get and see results faster. By creating apps for different purposes that you can up-sell to your existing customers or to new ones faster, low-code/no-code tools are also helping your organization in creating new revenue streams.   
This is especially beneficial for organizations that haven't previously used BI software and are new to the world of BI in general. Small-to-medium-sized businesses that don't have the budget or the need for a more sophisticated data analytics platform can build custom applications for analytics, reporting, and data visualization.  
3. More Flexibility
Low-code/no-code BI solutions give you more flexibility when working with business data. They provide a free-form approach to data construction that allows users to collect and merge data from multiple different sources in one unified view.
You can leverage the flexibility that such tools provide you with to develop organizational, department, or individual-level high-impact BI dashboards suited to the audience that will be viewing them.  
4. Lower Costs / Saves Money
A significant cost is associated with building your own high-code (traditional development of manually writing code) analytics solution, which takes about seven months to complete on average. The estimated average cost is as much as $350k, which only includes the salaries of developers, UI/UX designers, data scientists, and QA professionals. Not to mention the technology stack involved in building a software solution.  
5. Increases Productivity
Low-code/no-code development tools bridge the gap between business users and ITs. Without waiting for developers to get to their business users' requests or vice versa, both can solve real business issues and roadblocks that can impact the organization much more quicker. By removing the complex coding development from your organization, anyone, including business leaders, will be able to create their own application to serve their needs all while enhancing workflow productivity.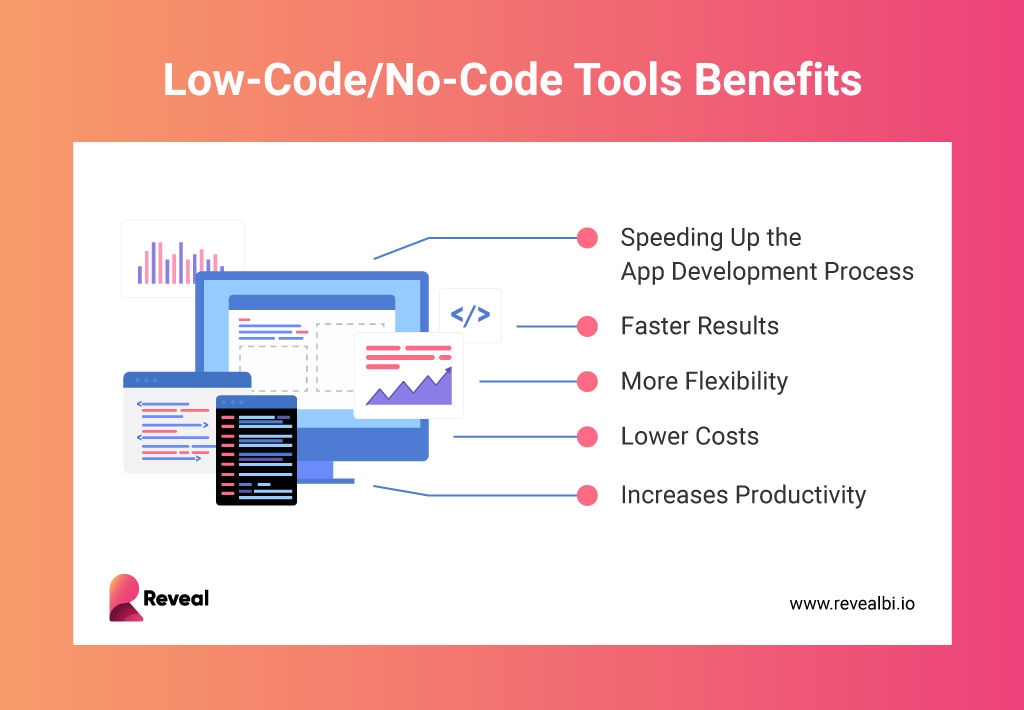 Examples of How Low-Code BI Can Help Different Industries
Low-Code BI in Manufacturing
A manufacturing BI dashboard lets manufacturers monitor their machines, orders, inventory, and supply chain data at all times, so they can identify risks and help predict future risks by spotting trends and patterns throughout the supply chain and manufacturing processes.  
Low-code/no-code BI tools provide a simple way to merge all the data coming in from disparate data sources into one view and allow manufacturing professionals to build insights-rich dashboards in a matter of minutes to a couple of hours.
Manufacturing BI dashboards provide actionable insights and KPIs that can be suited to the demands of different roles in the manufacturing process. For instance, a plant floor manager can focus on the metrics for a specific line and identify whether it meets and forecast production and production standards.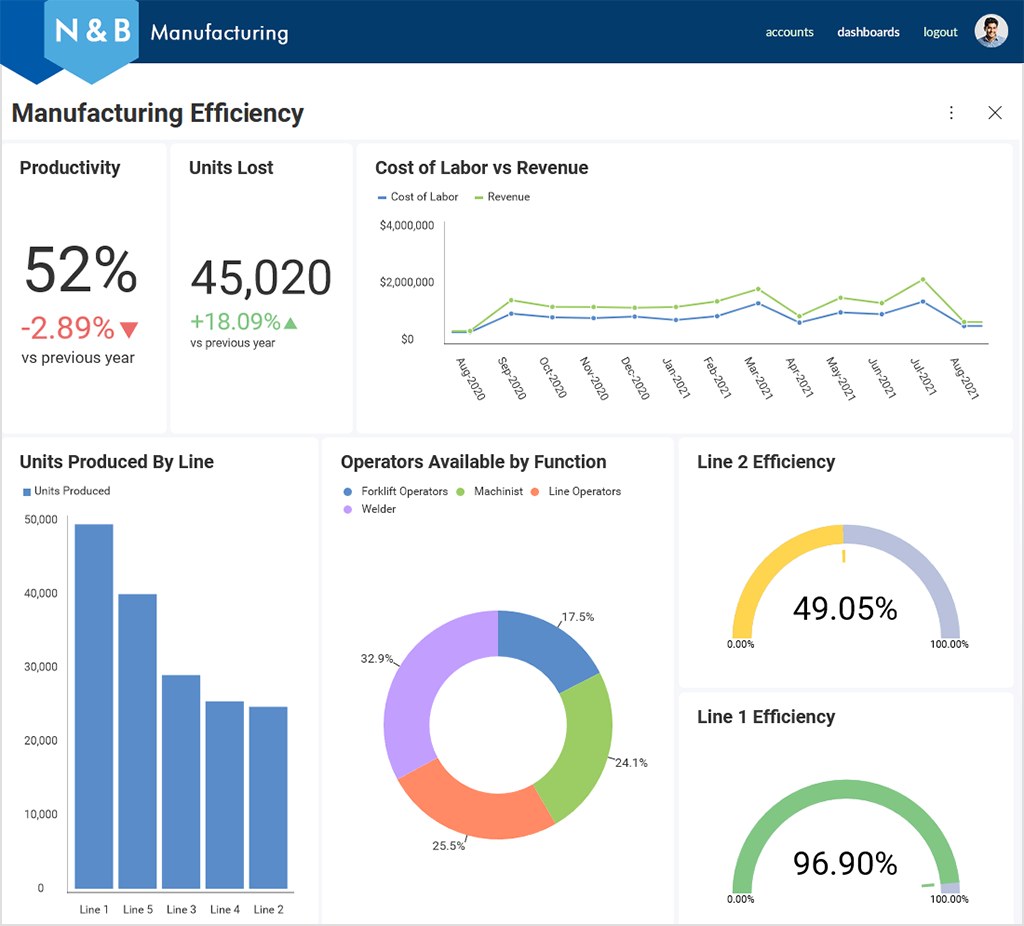 Low-Code BI in Healthcare
Healthcare organizations, hospitals, and doctors need real-time visibility of patient data so they can deliver data-based quality healthcare, accurate diagnosis, and personalized treatments, which in some scenarios could be life-saving.
A healthcare BI dashboard lets healthcare professionals monitor the overall health of their patients, diagnostic trends, and more to gain deeper insights into people's health and hospital performance. They can also provide predictive analytics in healthcare, assisting healthcare professionals in analyzing current and historical healthcare data to find opportunities to make more effective and more efficient operational and clinical decisions, predict trends, and even manage the spread of diseases. 
Modern low-code/no-code BI solutions can help healthcare organizations, doctors, hospitals, pharmacies, pharmaceutical companies, physicians, psychologists, and every other healthcare stakeholder to display key insights into patients' overall health and track heart rate, temperature, blood pressure, and other vital signs. Such healthcare dashboards, for example, can display patients' lab results and piece them into their overall health picture, including physical activity, quality of sleep, and weight.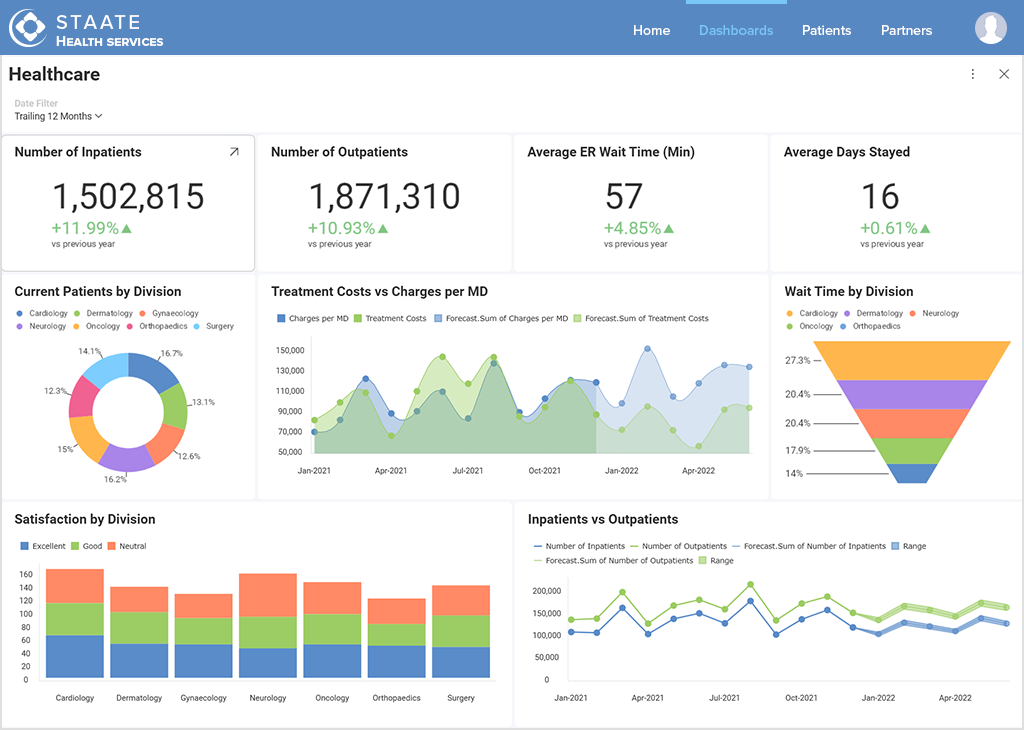 Low-Code BI in Retail
Building a retail BI dashboard to visualize key data points and insights is often time-consuming and costly as it involves connecting to so many third-party APIs to collect data from shopping cards, POS transactions, stock orders, and more. This process usually requires a technical team to build and connect the various integrations.
With the use of a low-code/no-code BI retail solution, retailers can quickly build custom dashboards with minimal to no coding to help them streamline in-store operations, gain insights into customer behavior, optimize the customer experience, and improve promotions.
Having real-time key insights and KPIs at your fingertips allows retail companies to gain a single source of truth and improve their decision-making process, making decisions around sales, operations, and marketing better, smarter, and, most of all, data-driven.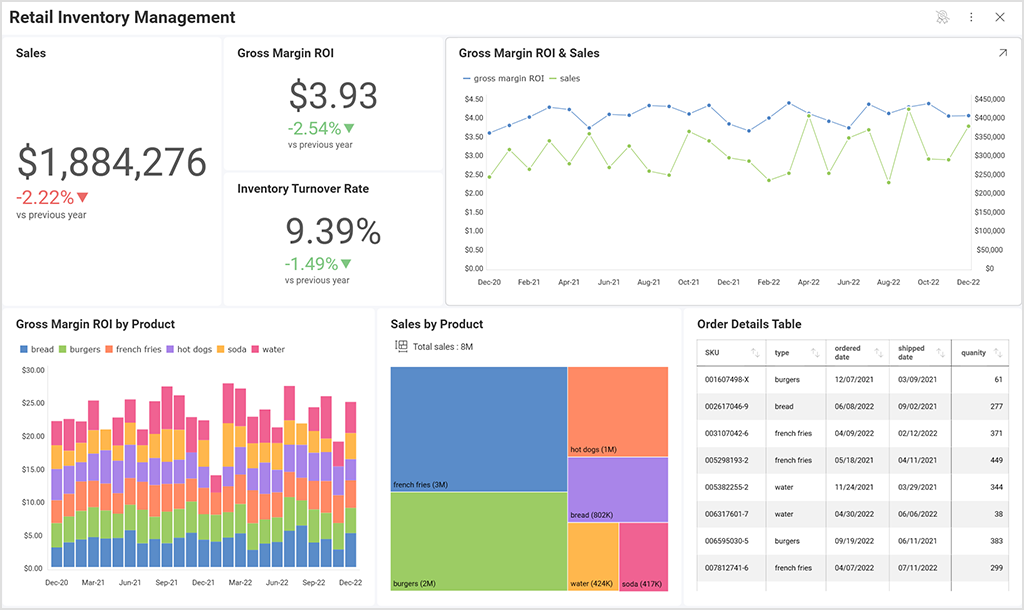 Why Should Businesses Consider Switching to Low-Code/No-Code BI?
Creating custom applications by writing custom code can be extremely time-consuming and expensive. Modern low-code/no-code development tools help users build mobile and web applications without the need to hire in-demand developers. With them, you can build end-to-end applications within a few hours without writing any code and can immediately start seeing an increased ROI.
As Jason Beres also says, ''Because low-code dramatically reduces the complexity of software development, companies of any size that adopt this approach have the power to increase developer productivity and speed.''
Low-code analytics platforms like Reveal, which, when embedded, pack robust connectors for developers for simplified integration with their organization's standard business applications, are on the rise for their ability to enable data-driven decisions, gain a competitive advantage and drive sales. 
Reveal is a product of the Infragistics company (founded 1989), an organization with 30+ years of experience in developers' tools, application design tools, and, most recently, business intelligence tools. The company specializes in low-code app building tools and brings together Reveal and App Builder to allow customers to create end-to-end solutions with beautiful UX, interactions, theming, data binding, and self-service dashboards and BI in minutes vs weeks or months of tedious and error-prone hand-coding.  
Reveal is a self-service embedded analytics solution that enables users to easily create data reports and dashboards from any device and make quicker, data-driven decisions without interrupting their workflow. But the only way to know if it's a good fit for your organization is to try it – learn more about how it works and how it can benefit your business by downloading our SDK or scheduling a quick demo.