Build vs Buy Embedded Analytics: Comparing the Pros & Cons
For app development houses whose tools collect data that could be useful for the end user to make decisions with, there is little excuse not to use embedded analytics and visualizations.   Embedded analytics delivers real-time reporting, interactive data visualization and advanced analytics, including machine learning, directly into an enterprise business application. The key benefits of […]
Casey Ciniello
8 min read
For app development houses whose tools collect data that could be useful for the end user to make decisions with, there is little excuse not to use embedded analytics and visualizations.  
Embedded analytics delivers real-time reporting, interactive data visualization and advanced analytics, including machine learning, directly into an enterprise business application. The key benefits of embedded analytics include the fact that such tools help enterprises centralize the information they have for better and easier access and allow business users to perform different types of analysis to improve decision-making, maximize ROI, and strengthen their organization's competitive advantage.  
You can greatly improve your product's value proposition by embedding an analytics solution into your own software, SaaS, Angular application, or any other type of app.  
So, is it better to build the data analytics embedded analytics machine yourself or buy a bolt-on solution from a third party? Let's explore the pros and cons of both options:
Build vs Buy Embedded Analytics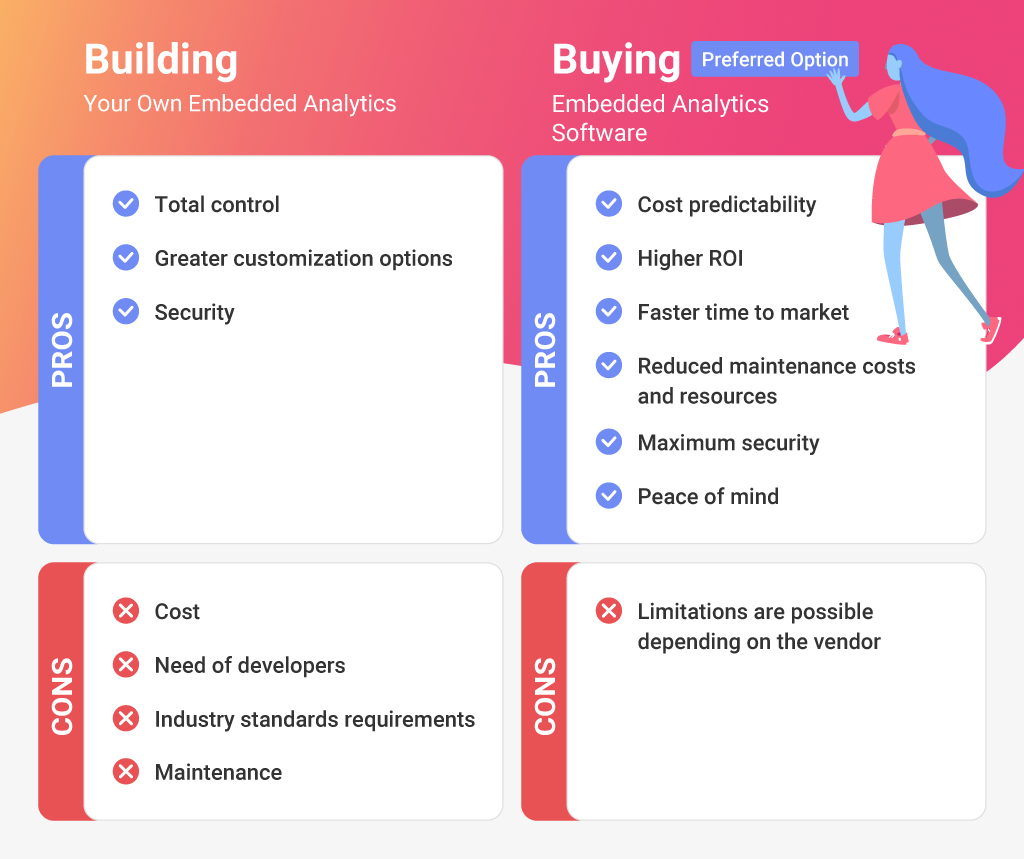 Pros & Cons of Building Your Own Embedded Analytics Software
PRO: You are in full control
The most convincing argument in favor of building your own embedded analytics software is that it lets you control every aspect of the development process, including what functionalities you want to add, the look and feel, the branding – all of it. When you're building your own embedded analytics solution in-house, you have the flexibility and freedom to design that analytics solution to be exactly what you need. You can tailor functionality and everything specifically to your unique business needs.  
PRO: Perfect solution for small and fast projects
Another convincing argument in favor of building your own embedded analytics solution is that developing the solution in-house is the best option when working on small projects with limited requirements. For example, if you only need basic data visualization tools to visualize your data insights, your developers can easily build those, and therefore, the building will be the best option for your business.  
However, if, or more like, when you start to need advanced analytics functionalities, please consider the extra time and cost associated with adding them to your own solution (also, don't forget that many advanced functionalities will require a specific skill set or experience to be built). 
PRO: Data security is in your own hands
This could go either way – depending on the point of view. Data security is a growing concern and one of the main things you have to consider whether you're building or buying an embedded analytics solution. In the build scenario, the security of the data will be entirely in your hands, and you will have full control to decide how you secure it.
Some organizations see that as a huge benefit, while others that don't have the internal expertise to do it themselves consider that as a disadvantage and don't want to take that risk.
CON: It takes a lot of time to develop your own embedded analytics solution
Building your own embedded analytics solution takes a minimum of seven months on average. Those seven months don't include the couple of extra months that might be needed in training your developers in data analytics, so when you add those, the whole process of building your own solution could take up to a year.
Don't forget that every day you spend your development resources on adding analytics capabilities, the rest of your product roadmap takes a major hit – affecting revenue streams. So, when deciding whether you should build or buy embedded analytics, ask yourself the question – can you waste that time?  
CON: It requires MANY resources, both development, and maintenance
You've built a functioning in-house embedded analytics solution – great. However, the work doesn't stop here. After building comes maintenance, and this process involves a great understanding of data analytics and keeping up with the latest embedded analytics trends. If you don't have analytics specialists in-house, you need to spend more money and resources on training your team or hiring such specialists. Consider whether it is worth the extra time and money and whether you can afford it. 
CON: It is very expensive to build your own embedded analytics solution
It is estimated that the average cost of building embedded analytics is as much as $350k (based on average U.S. salaries). That cost includes 4 software developers and 1 QA specialist for 7 months, 2 UX/UI designers for 6 months, and 1 data scientist for a month.
Standard price entry points when buying embedded analytics start at anywhere from $30K to $75K per year.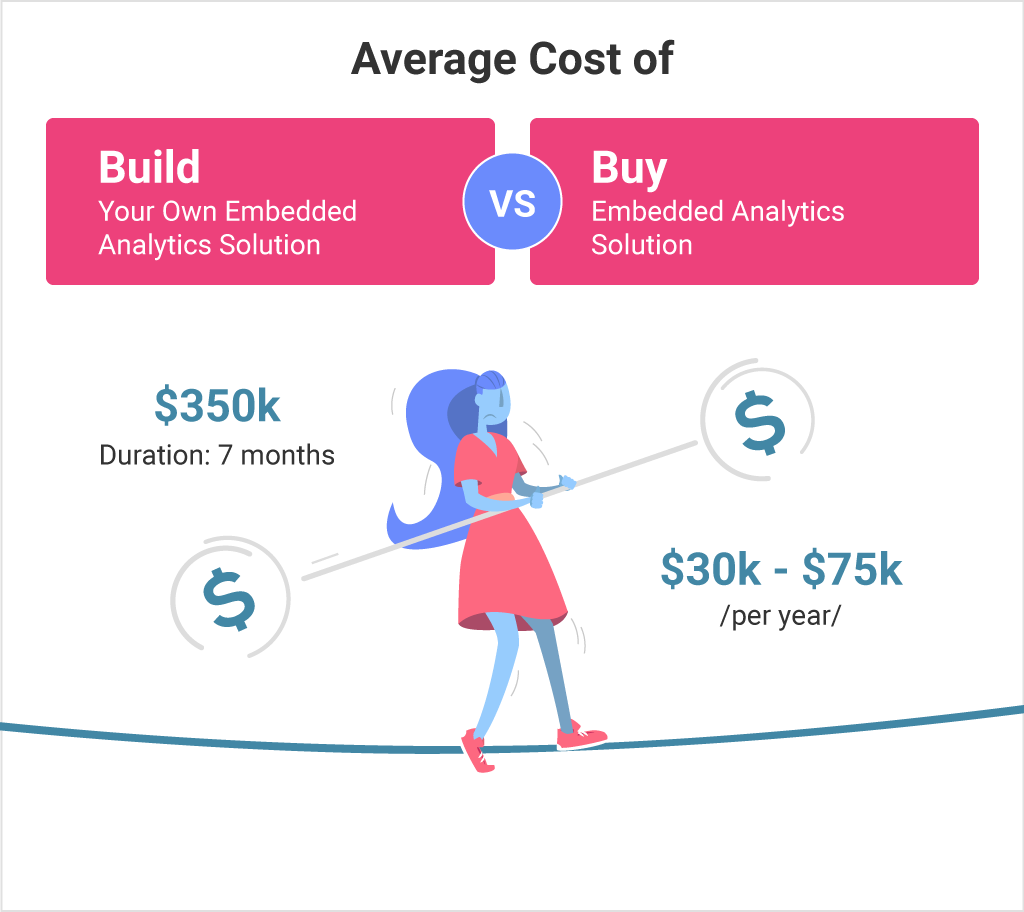 Pros & Cons of Buying Embedded Analytics Software
PRO: Frees up your time so you can focus on your core product
When you decide to build your in-house solution, your development team must switch their efforts towards development activities and analytics solutions instead of focusing on working and improving your core product. Buying allows your developers to focus on what your product/service was initially designed for, improve it, add to it, and so on.
PRO: Faster time to market
In the highly competitive business environment and market, buying a pre-built embedded analytics solution drastically improves time to market and, therefore, time to insights, decisions, and ultimately profits. You can meet your customers' demands faster instead of wasting months on development.
PRO: Maintainance is included
When you decide to buy an already established embedded analytics solution, you don't have to worry about the maintenance as it is covered for you by your service provider, therefore, you don't need to spend extra money and resources on it.  
PRO: Maximum security is also guaranteed
The embedded analytics solutions that are out there on the market must comply with high data security standards, the quality of which is assessed by SSL security certificates. Knowing that you shouldn't worry about keeping your data safe and protected with an embedded analytics vendor.
PRO: High ROI for you and your customers
In the context of embedded analytics, an embedded analytics ROI is the tangible contribution of the given solution to your business. According to Nucleus research, analytics return $13.01 for every dollar spent. That's a 13:1 ROI for you and your customers when you offer embedded analytics in your SaaS solution.
CON: Vendor limitations
Depending on the vendor, you may be limited to basic dashboards and visualizations tools, or have limited customization options. It's worth taking some extra time to research the market and the different solutions that are on offer, so you can find the one that has it all and best fits your needs.
CON: Support often comes as an add-on
Support services are offered by all embedded analytics vendors, but unfortunately, these are not typically included in the price of the package but instead come as an add-on. With this in mind, make sure to ask embedded analytics vendors the right questions to find out what is included and what isn't included in their price package.
Build vs Buy Embedded Analytics, the Conclusion
So now that you know what the main differences and pros and cons of building vs are buying embedded analytics software, we hope that you can make a better decision for your business needs. If you choose to build, don't spare money and resources. But if you choose to buy, take the time to research and test different vendors before making an investment. Choosing the right embedded analytics software is very important and can skyrocket your business when partnering with the right vendor.  
Introducing Reveal Embedded Analytics
Reveal is an end-to-end self-service embedded analytics solution that enables your teams and customers to drive data insights with embedded intelligence, accelerate time to market, and transform the user experience of your apps. Built with embedded in mind first, on today's most modern architecture, Reveal's powerful API removes the complexity of embedding analytics into your applications and allows you to seamlessly integrate your data from any SQL database or data warehouses, such as Microsoft Azure SQL Data Warehouse, Google BigQuery, Amazon Redshift, and more.
The embedded analytics platform by Reveal provides interactive data visualizations, white-label capabilities, advanced analytics, including machine learning and AI, drill-down, collaboration, sharing, and drag-and-drop dashboard creator experience. Users can easily access and create high-impact dashboards at any time and from any device.
You can learn more about Reveal by downloading the Reveal SDK, or by scheduling a quick product demo.