As data is taking over the world, ISVs must make embedded analytics part of their applications' tech stack. Working with partners to complement their value proposition and broaden their potential market reach is no longer just an option for those who want to get ahead of the competition and generate higher revenue.
Continue reading and find out why the mutual benefit for ISVs and partners goes beyond just offering another feature. In this blog, we go through the top 5 ways in which ISVs can benefit from strong analytics offerings.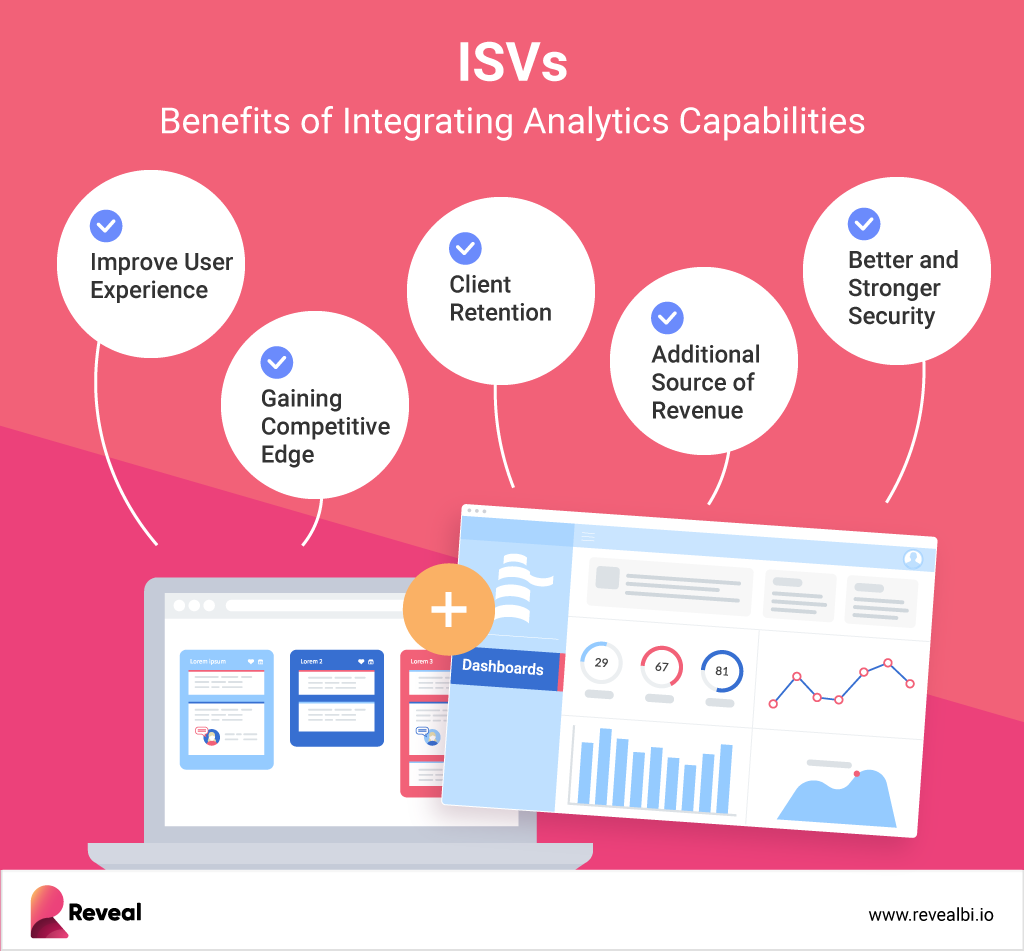 What Is Independent Software Vendor (ISV)?
An Independent Software Vendor (ISV) is a business or an individual who builds, develops, markets, and sells software solution/s to be consumed by end users. Or an organization whose primary function is to distribute its software product/service.  
What Is an ISV Partner?
An ISV partner is a software vendor that delivers all types of software and/or SaaS (software-as-a-service) offerings that provide additional functionality that is not available with the standard version of another software.
A good example of an ISV is Reveal, which provides data analytics and visualization software focused on business intelligence and data-driven decision-making to other software products that have been designed to serve other business needs and requirements.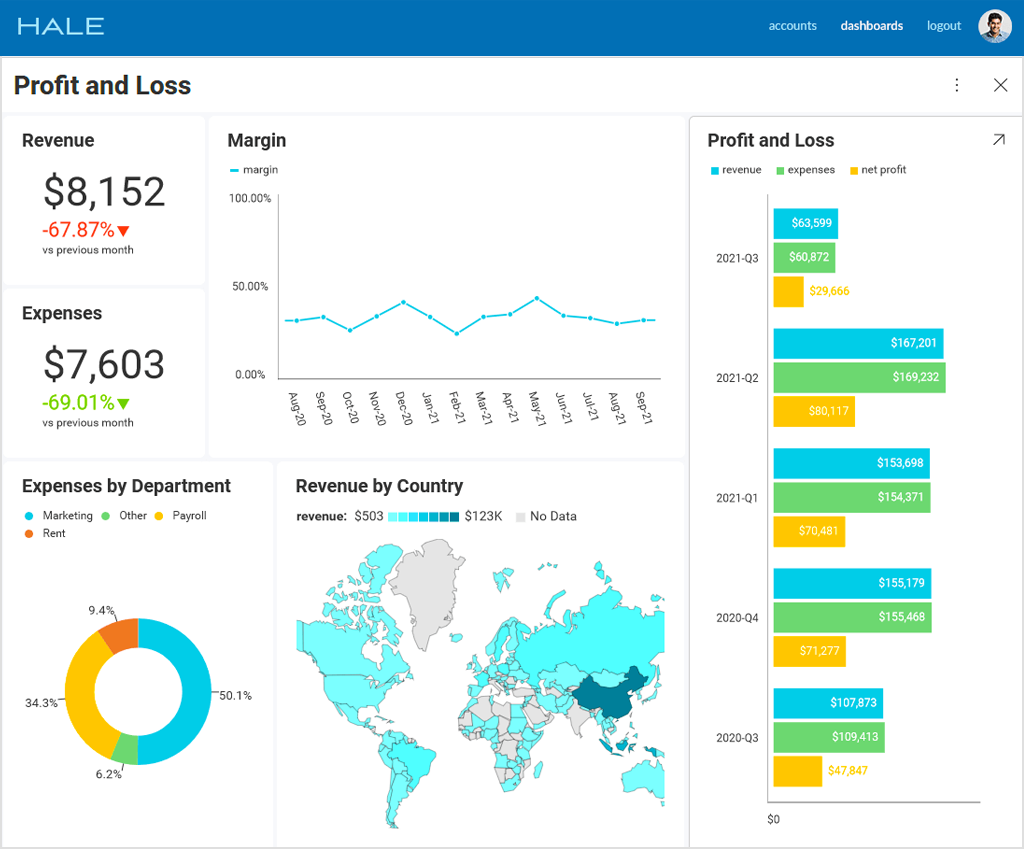 How Can ISVs Benefit from Strong Analytics Offering?
To be able to compete and survive in growing markets, ISVs need to constantly add value to their products/services. By integrating analytics capabilities from vendors who specialize in certain areas, ISVs can achieve benefits quicker, such as:
Gaining Competitive Edge
One of the primary benefits of embedded analytics is the competitive edge that it provides to both software providers and end users. While your competitors don't leverage or offer embedded BI capabilities into their SaaS offering and are still trying to figure it out, your business can utilize or offer your customer's business' insights to get ahead. Embedded analytics applications and their features provide a competitive edge by allowing:
Quick and easy access to in-context data for analysis and reporting purposes
A better, and deeper understanding of your customers and targeted market
Discovery of opportunities for improvements or performance issues that require action
Cost reduction and revenue increase possibilities
Improve User Experience
Another way in which ISVs can benefit from a strong analytics offering is by bringing insights and data directly into your applications that users are already using and are familiar with. That removes the need to switch between multiple different apps to find insights, chat, manage projects, etc. – instead, users can focus on what data is telling them and act on it in the context of their workflow.
Additional Source of Revenue
New app experiences and exciting new features give new opportunities to offer differentiating value to drive new revenue. When you improve user experience, increase customer satisfaction, escalate application usage, and provide your customers with the ability to make better, faster decisions based on data – you will also create additional revenue streams. Embedding analytics is a win-win for both parties involved, driving additional revenue streams for both purchasers and sellers.
Embedded analytics can help improve customer retention and grow your business by:
Increasing word of mouth through customer satisfaction
Expanding your potential customer reach to appeal to more users
Collecting more insights and data to analyze and reduce customer churn
Client Retention
When you integrate analytical capabilities within your software, you give your customers a reason to stay with you longer. Analytics and data discovery tools offer businesses myriad opportunities to learn more about their customers and act on these insights. In today's data-driven world, if you don't offer that, your customers will simply go looking for it somewhere else instead.
Better and Stronger Security
Embedded analytics systems remove security gaps that you might have or could possibly face by keeping all processes in one place. They also convert data to ''tokens'' which keeps your customers free of vulnerable customer data in their system. Such layers of security provide peace of mind as with an embedded analytics solution in place, your data never leaves the provider's secure environment. Data can also be governed at the user level to protect both you and your clients from data theft or losses.
Why Choosing an Embedded Analytics Vendor Instead of Building Your Own Analytics Solution?
One of the biggest embedded analytics challenges is the decision of whether to buy or build an analytics solution. A lot of organizations that decide to integrate analytics capabilities into their software applications start by considering the option of building their own analytics solution from scratch. Building your own analytics solution undoubtedly has its benefits, but it also certainly comes with plenty of challenges.
With average build-it-yourself times taking seven months or more, as well as thousands of dollars in investment, the buy option is preferable because it helps you get your product on the market as quickly as possible.
Buying an established embedded analytics solution helps you focus on your core product offering, saves time and money over training a development team, and eliminates the need for training where internal resources are simply not available. Maintenance and support are also included when you're buying, so you will not have to allocate resources for fixing issues if and when they occur.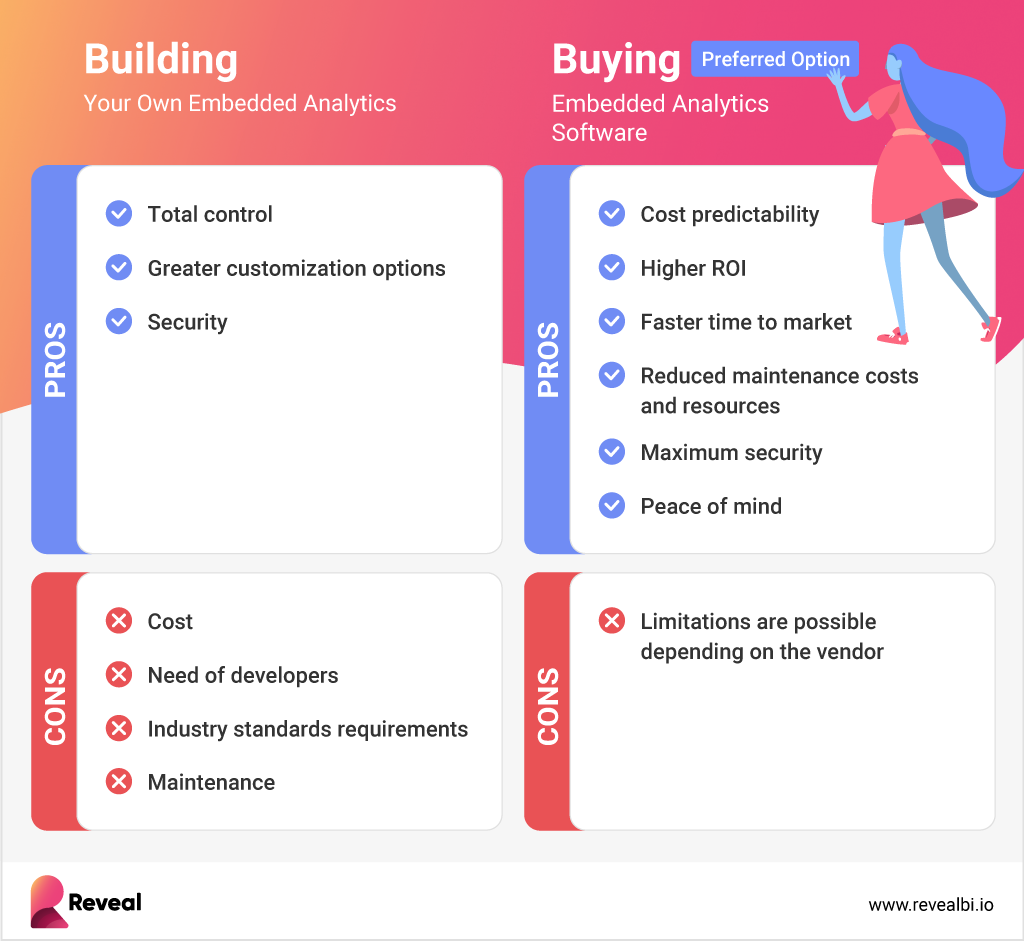 Introducing Reveal Embedded Analytics
Reveal is an end-to-end self-service embedded analytics solution that brings the power of data into the hands of your employees, customers, partners, and suppliers. At its core, Reveal is centered around data-driven decision-making, and it has been designed to allow you to easily integrate interactive dashboards and data visualizations, white-label capabilities, advanced and predictive analytics, including machine learning, forecasting, statistical functions, and more into your apps, so your users can access real-time insights and build beautiful and informative dashboards anywhere and on any device.
You can learn more about Reveal and how it works by downloading our SDK or by scheduling a quick demo. 
Categories:
Embedded Analytics