Why is ERP the Most Popular Embedded Analytics Application?
It's important that analytics and visualizations are embedded within the ERP software itselfitself, so users don't have to export the data to a separate application. And if the analytics are easy for business users to use with self-service capabilities, then more people throughout a company can do deeper dives into a range of pertinent business data.
Casey Ciniello
10 min read
In a survey report that we produced a while back, Trends in Embedded Analytics 2019, we found that 29% of respondents were currently embedding—or were planning soon to embed—analytics into their ERP apps, the largest vertical segment in our report. The survey includes responses from 478 software developers, IT and Ops managers, and enterprise business decision makers.
The interest in including embedding dashboards and visualizations within enterprise resource planning—or ERP—applications makes sense as the complexity and volume of ERP data lend themselves to simplification. ERP systems typically include a range of business applications, including accounting, human resources, manufacturing, CRM, or inventory management. The value of ERP systems is that they maintain a database of information related to these business applications and breakthrough silos by allowing data to be shared across a company. 
What is Enterprise Resource Planning (ERP)?
As the name suggests, ERP is a business process management software that organizations of all sizes and across various industries use to manage day-to-day operations, financials, manufacturing, HR, reporting, marketing, supply chain, etc. The ERP software makes it possible to enable the flow of data between all those different business processes providing a single source of truth. That helps plan and budget activities and growth strategies and maintain the organization's financial health.   
How Does an ERP System Work?
ERP systems collect data from multiple different parts of the business and store it in a centralized database where everyone who needs insights from it can easily access it and use those insights to take better and informed decisions. One of its main uses is to simplify the employees' workflow and reduce manual labor by automating some repetitive tasks. That removes the silos many organizations suffer from and ensures that the business is run optimally, improving and driving profitability.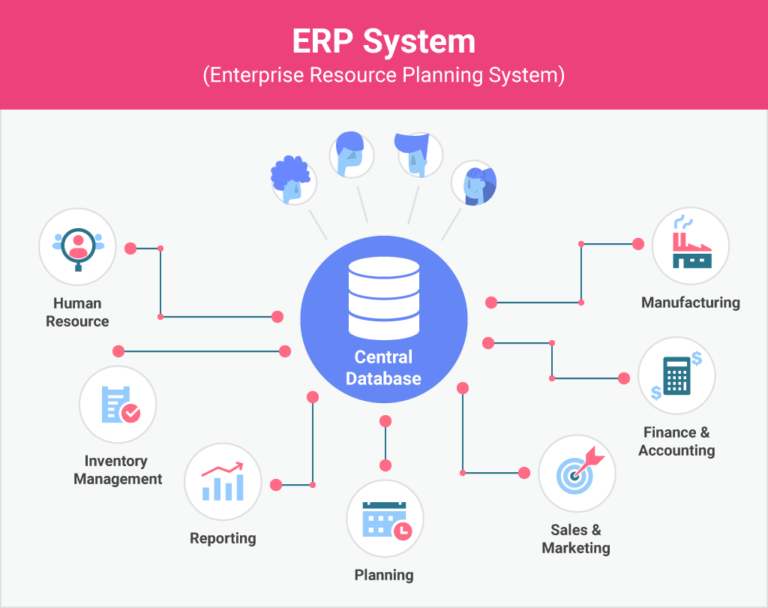 Why is ERP Important for Businesses?
It's no coincidence that businesses in real estate, manufacturing, retail, health, and many other industries are looking for or already using ERP systems. In fact, 81% of businesses are in the process of implementing ERP or have already successfully completed it. The value that ERPs offer businesses is huge. Here are some examples of ERPs benefit businesses:  
Improved business performance

 – 

F

or example, an ERP system 

can improve your business performance in marketing 

by tracking conversion rate, sales pipeline velocity, 

sales close rate, customer satisfaction

,

 

return

 on ad spend, and more. 

 

Reduced 

operating 

costs 

– 

Business Automation Specialists

report that businesses using an ERP system are reducing their inventory costs by 22%, operational costs by 20% and administrative costs by 18%.

 

Improved data security

 

– All the data in the ERP systems is 

stored in a centralized system, so access is closely monitored

. There are strict restrictions and controls to prevent data breaches.

 

Processes

 efficiency

 

– Improve daily business activi

ties in all departments by streamlining processes, elim

inating repetitive ones,

 and

 

making it easier to collect and work with data. This

not only 

improves productivity but also makes the work of everyone a lot more efficient. 

 
Of course, there are many other reasons why ERP systems are important for businesses. Another thing that's worth mentioning is accurate forecasting. Having the opportunity to think ahead and plan accordingly, it's one of ERP systems' biggest strengths.  
Types of ERP Systems:
The different types of ERP systems can be grouped by business size, deployment, and industry. The specific type of ERP system that an organization needs depends on its size and the system's ability to meet the organization's needs. Therefore, the different types of ERP systems are grouped into three categories: business size, deployment, and industry.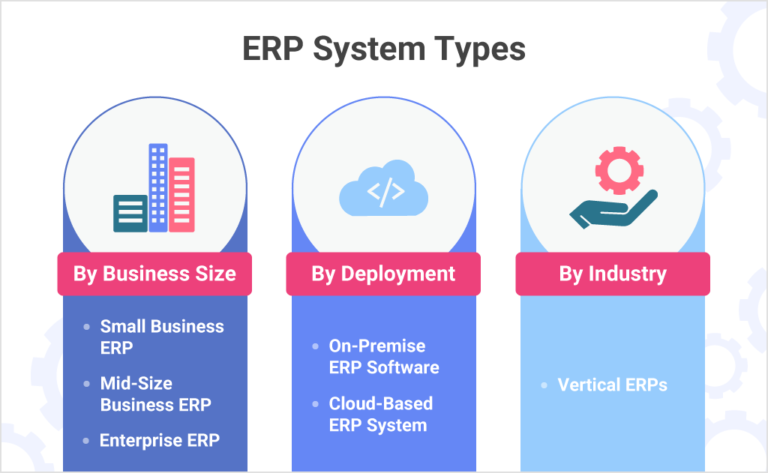 By business size:  
Small business ERP
A small business that might have just started out is obviously not operating on the same scale as bigger businesses and organizations. Its needs and the functionalities that it can require from an ERP system are different as well. That's why there are ERP systems designed to fit the specific needs of these small businesses. They would have fewer features which would keep the cost down and reduce the time and resources needed to train employees on how to use them. 
Mid-size business ERP
Mid-size businesses should be getting an ERP system that can meet their growing needs as they scale. In comparison to the small business ERP systems, mid-size business needs and should require more features and functionalities to help collaboration between departments, customizations, advanced data capabilities, automation of processes, etc. 
Enterprise ERP
Enterprise ERP systems are designed to support all components and processes of large organizations. These ERP systems have all the features and functionalities that the small and mid-business ERP systems support but are more robust; they can manage and organize all day-to-day and cross-department activities and collect, process, and analyze vast amounts of data. 
By deployment:  
On-premise ERP software
The on-premise ERP software is deployed on-site on a company's computers and servers and is primarily controlled by the enterprise after installation. This solution is great for those who want to be in total control of ERP system security. 
Cloud-based ERP system
Cloud-based ERP system, aka SaaS (software as a service), comes with flexible design and allows anyone within your organization easily process and analyze data. These types of solutions are usually very user-friendly, so your employees don't need specialized skills or training to get started with it.  
With cloud-based solutions, a third-party manages the entire service and your data. If this is the deployment solution you want to implement, choose the provider wisely. When you give control to a vendor to handle your data, you need to be sure that you can trust this vendor and that your sensitive business data will be secured. 
By industry:  
Vertical ERPs
Industry-specific or vertical ERP systems are typically smaller and more expensive but also better suited to specific industries like finance, retail, or manufacturing. The vertical ERP solutions are designed to support clearly defined business processes in a certain industry by having less highly customized features to solve specific business challenges. 
Key Features of ERPs
The functionalities of ERP systems vary widely – the following list, however, includes essential ERP features that are commonly found in these types of systems:  
Integration – This is perhaps the most important feature of ERP systems. It allows you to connect to other systems so you can have all the information needed in the context of your workflow and in one centralized location.  
Automation – We already mentioned automation a couple of times, but let's explain why this is one of the key features of ERPs. Automation cuts down hours of repetitive processes allowing more time for your employee to focus on more important tasks. On top of that, and highly important, it also reduces the chances of human errors. Sometimes mistakes can cost your business a lot, but automation eliminates that possibility.  
Financial management – Financial management or accounting helps track expenses, plan budgets, and forecast finances for growth. This feature allows you to make better spending decisions and create more informative and accurate financial reports.  
Customer relationship management (CRM) – Manage customer data and help sales and marketing departments in their strategies to address specific customer needs and understand their preferences and buying patterns better. Also, keeping all customers' information in one place for easy access allows users to quickly discover customer addresses, for example, to process shipments. 
Data analysis – The data analytics feature allows you to get real-time data updates to help you stay ahead of competitors and improve decision-making. 
Reporting – In ERP, the reporting feature is all the tools needed to present data in an understandable way to end users. These tools include dashboards, different types of charts and graphs, and other visual elements. 
Why Embedded Analytics is Now Important Part of ERPs?
The ability to visualize this data easily in attractive charts or dashboards provides faster insights into specific issues and can assist in developing business goals. Data analytics also allows you to spot trends and outliers and even do statistical tests of what you are seeing. 
It's important that analytics and visualizations are embedded within the ERP software itself so users don't have to export the data to a separate application. And if the analytics are easy for business users to use with self-service capabilities, then more people throughout a company can do deeper dives into a range of pertinent business data, including customer characteristics, satisfaction levels, product data, production data such as plant efficiency or orders shipped, and more.   
Here's an example: 
SuperStream, a global ERP organization based in Japan, offers the SuperStream-NX ERP system that instantly visualizes the ERP information of group companies across their overseas subsidiaries. The program provides local business practices, currencies, and other features crucial to successful globalization.  
The company has integrated Reveal business intelligence software into SuperStream-NX and is excited by Reveal's ability to visualize its ERP data and the ease of deployment.   
"We provide an ERP package to over 9000 clients in Japan," says SuperStream chief technology officer Makoto Yamada. "With Reveal, we are able to show large amounts of data with beautiful graphs and charts. The graphs are also easy to create and greatly help with workplace efficiency." 
Yamada also noted that because the interface was so easy to navigate, there was no need to create a manual to guide its clients. And with Reveal's In-Memory support, SuperStream was able to implement graphs and charts across all of the ERP functions.  
Integrate Reveal Embedded Analytics into Your ERP System
Only a few years ago, it was common that enterprises would use a third-party BI product and have teams of highly-trained analytics professionals analyze and interpret data from the ERP system. But this caused a bottleneck as all analysis had to be routed through busy, centralized resources that could be backed up for weeks or months.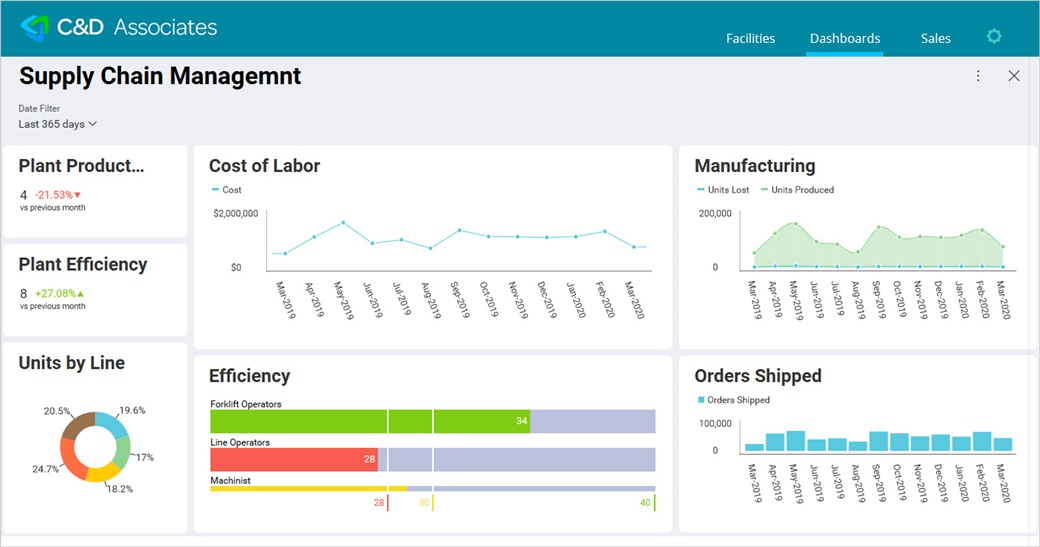 A supply chain management dashboard turns complex rows of data into beautiful charts and graphs that reveal operating efficiencies, trends and opportunities.
With the growing market demand for analytics built into software applications, it's become expected that ERP systems will provide intelligent data that can be used to drive business decisions and strategy, not just numbers.  
And that's what Reveal does best.  
Reveal brings the power of data to the hands of your employees, customers, partners, and suppliers. It allows you to easily integrate data analytics into your application with no added requirements. Reveal's flexible architecture and rich APIs give you control of the feature in your app, making it a seamless part of the user experience.  
Reveal provides interactive dashboards, drill-downs, collaboration, sharing, and true self-service with a drag-and-drop dashboard creator experience on any device that lets anyone build beautiful dashboards in their apps.   
With the power of data, you, your employees, customers, partners, or suppliers will no longer need to waste time trying to analyze spreadsheets but instead have more time to focus on the insights gathered and make choices based on facts. You can act at the right moment and never miss an opportunity by having access to real-time data.   
If you want to learn more about Reveal Embedded Analytics and how it could help you leverage data to grow your business, schedule a demo, and we'll show you its power.