Logi Analytics Embedded Analytics Alternative
We are taking a deeper look into the pros and cons of the Logi Analytics embedded analytics solution and introduce you to the #1 Logi Analytics alternative – Reveal.  
Bilyana Petrova
6 min read
Logi Analytics is one of the first white-labeled/OEM embedded analytics providers for small-to-medium-sized businesses.
But is Logi Analytics the right embedded analytics solution for your organization?
We are looking deeper into the pros and cons of the Logi Analytics embedded analytics solution and introducing you to the #1 Logi Analytics alternative – Reveal.  
Reveal has been rated as one of the highest-performing embedded analytics solutions on the market based on customer satisfaction ratings. 
In this article, we will compare features, integration options, pricing, and more, so you can understand how Reveal and Logi Analytics stack up against each other in order to differentiate the solution that will best answer your business needs.
Logi Analytics Overview
Founded in 2000, Logi Analytics was initially selling development tools for building web-based applications. The company was then acquired in 2017 by Marlin Equity Partners and bought Zoomdata and Jinfonet software solutions in 2019. Most recently, in 2021, Logi Analytics was acquired by insightsoftware, a global provider of enterprise software solutions for the office of the CEO. In the same year, they also bought two other embedded products- Izenda and Exago.
Currently, Logi Analytics, or as it is currently known as insightsoftware, provides solutions for end-user companies, as well as targeting software companies as buyers.
Logi Analytics has a suite of applications called Logi Symphony that include:
Logi Composer – embedded analytics platform that's specifically intended for software companies
Logi Report – embedded reporting tool
Logi Info – a developer-grade embedded analytics platform
The Pros of Logi Analytics
Logi Analytics is a web-based business intelligence solution that connects to a range of data sources, on-premises, and in-cloud, to source and optimize business-specific data. The key features of Logi Analytics include interactive data analytics and visualizations, advanced reporting, self-service, and data discovery capabilities. Another feature that sticks out is the ability to customize the solution on many levels, including dashboards and charts. Users can also access style sheets and add their own CSS and JavaScript to reports.  
Logi Analytics also has robust API capabilities, customization options, and great security, and it supports various operating systems, including Linux and mobile. 
The Cons of Logi Analytics
What is perhaps the biggest con of Logi Analytics is that it is a developer's BI platform rather than a business user's platform. Logi Analytics requires a lot of SQL coding, and to use the full potential of its functions and capabilities, one must have a strong knowledge of SQL programming, HTML, JavaScript, and CSS. So, although Logi Analytics offers a lot of freedom, it can be also extremely time-consuming to manually set attributes or to perform manual tasks on every element in a dashboard or a report.  
If you have a development team with robust SQL skills, then that wouldn't necessarily be a con; however, ideally, you will want to reduce the complexity of BI so that all of your users could analyze data, extract valuable insights from it and make better, data-driven decisions.  
Another con of Logi Analytics is that the three separate products that we mentioned above (the Logi Symphony) do not integrate into one seamless platform. And when looking to integrate Logi Analytics into your apps, the implementation options are very limited.  
The UI (user interface) of Logi Analytics could be also improved so that it makes the user experience better. Logi's users often report that the UI feels outdated, so it takes extra time to get used to it and start benefiting from its capabilities, especially if you have used another BI tool before.  
Logi Analytics Embedded Analytics Alternative
As part of the Infragistics company (founded 1989), an organization with 30+ years of experience in developers' tools, application design tools, and most recently, BI (business intelligence) tools, Reveal is a self-service embedded analytics solution and the #1 Logi Analytics alternative. Reveal enables users to easily create data reports and dashboards from any device and make quicker, data-driven decisions without interrupting their workflow. Reveal is available in both on-premises and cloud-based deployment models, and its native SDK can be integrated into applications on any platform and tech stack, including .NET Core, Java, NodeJS (coming soon), and front-end technologies such as React, Angular, WebComponent, VueJS, jQuery, MVC and Java Frameworks like Spring, Tomcat, Apache. Reveal embedded analytics also offers native iOS, Windows, and Android apps.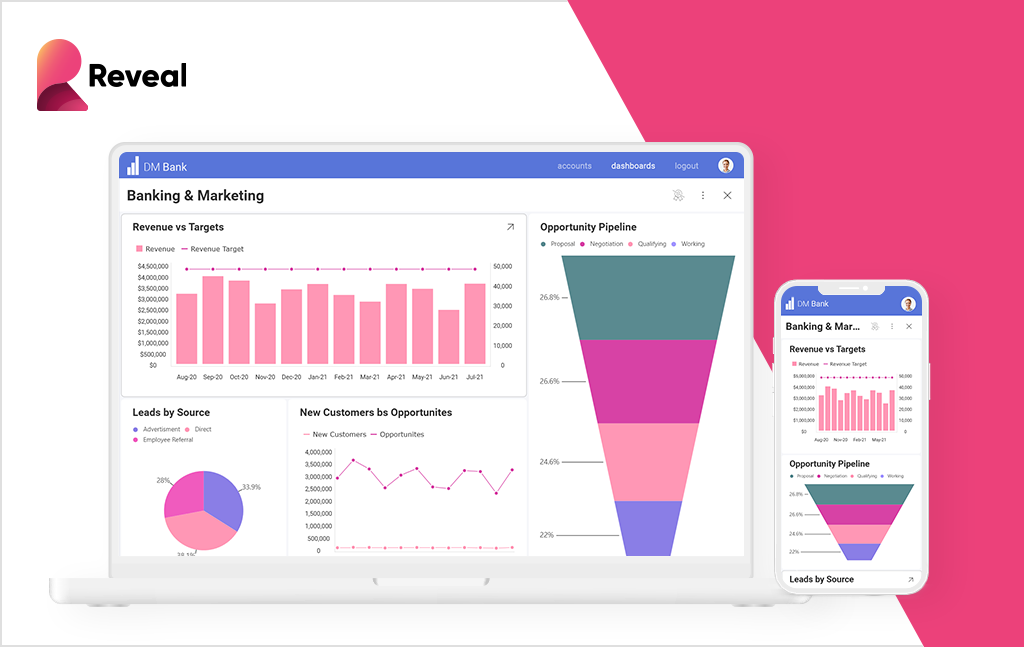 Reveal allows users to connect to various databases, including online sources like cloud storage drives, social media platforms, and SaaS applications, as well as offline sources like SQL database, Excel, and more. Users can choose from multiple visualization types to create and share real-time dashboards to monitor and display key performance indicators. As well as being shared across teams, dashboard instances can also be integrated into any third-party application. 
Reveal is used across various industry verticals, including finance & banking, healthcare, manufacturing, insurance, retail, IT, and more.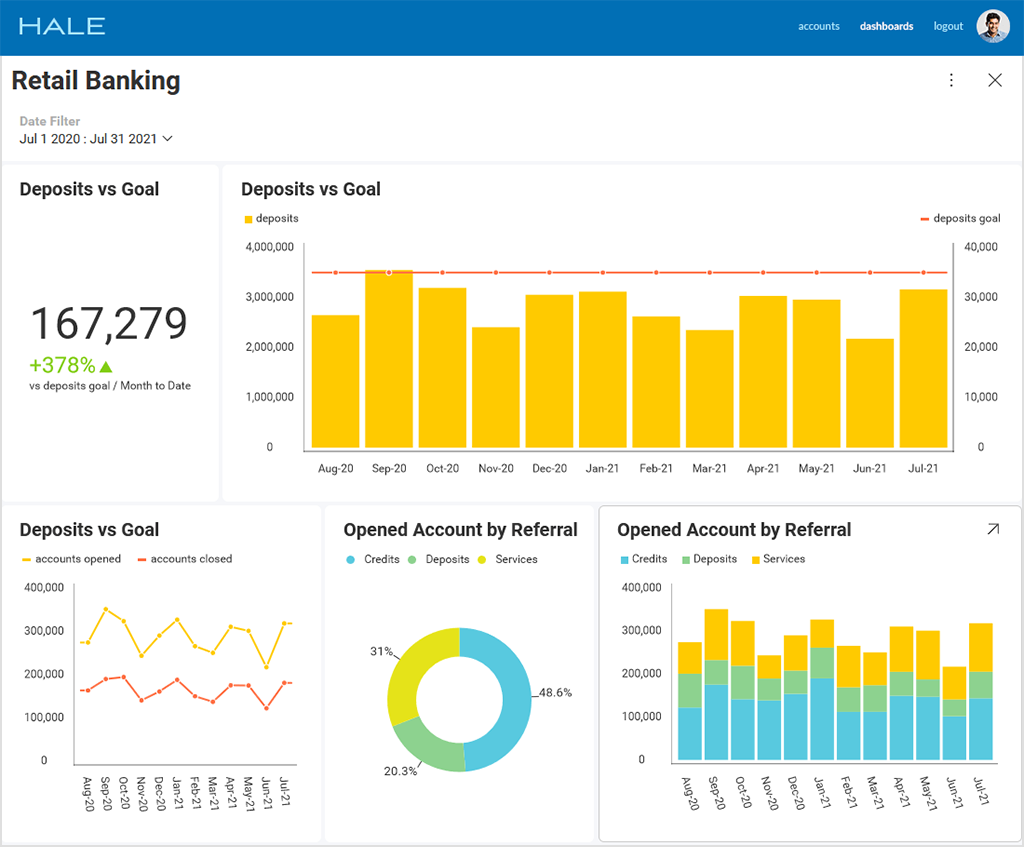 How Does Logi Analytics Compare to Reveal?
Here's a comparison of some of the key embedded analytics features of Reveal vs Logi Analytics:
Why Choose Reveal as Your Embedded Analytics Vendor?
Reveal was built with embedding in mind first, on today's most modern architecture removing the complexity of embedding analytics into your application. Reveal's flexible architecture and rich APIs give you full control of the features in your app, making it a seamless part of the user experience. 
Reveal offers robust dashboards, interactive data visualizations, self-service and white-label capabilities, and advanced and predictive analytics, including machine learning, forecasting, statistical functions, and more. The key features are completed by drill down, dashboard linking, dashboard blending, in-context editing, data blending, and native SDK.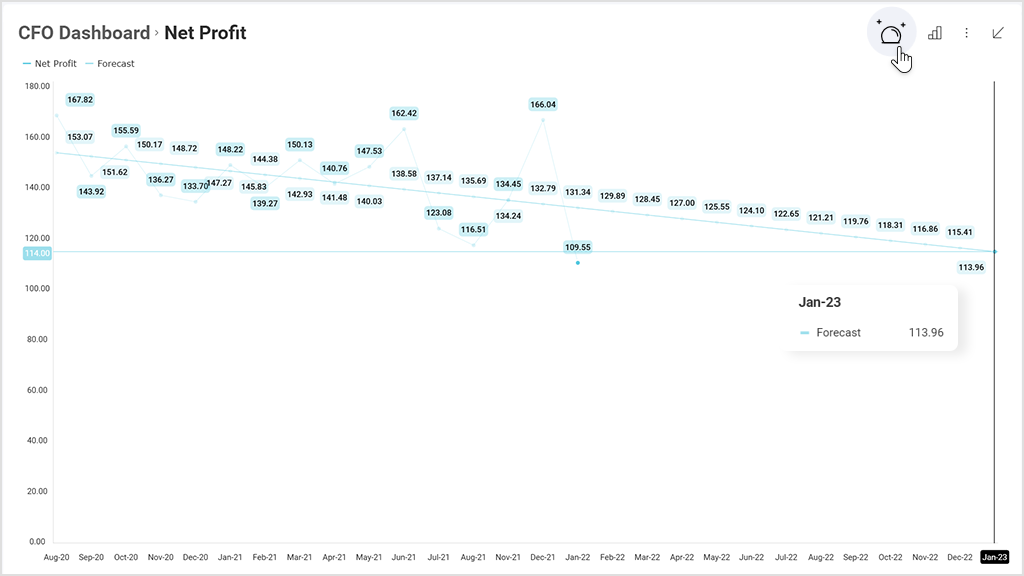 Reveal provides organizations with the most powerful, flexible, and predictable priced analytics tool on the market. It offers one single, simple, and affordable price point that enables you to reach unlimited users per application- with no user or usage tiers. 
Final Words…
Logi Analytics is a fine choice if your needs are limited to basic pre-designed visualizations, reports, and dashboards and if seamless integration, development timeliness, and scalability are not important considerations for you. If so, Logi Analytics might be a good fit for your business.  
If those things are important to you, then we believe, Reveal is a more advanced analytics solution. Reveal is more user-friendly, offers seamless and reliable integrations, and provides greater data visualization and customization capabilities.  
Pricing is also in favor of Reveal. Logi Analytics pricing is complex and complicated, whereas, with Reveal, you get fixed pricing that won't change and increase with your user base.
If you're interested in learning more about the Reveal Embedded Analytics solution, schedule a product demo, and our solution consultants will show you how it works and how you can leverage the power of data to your advantage.