Reveal vs Tableau for Embedded Analytics
If you're looking for an alternative embedded analytics solution, in this article you're going to find out how Tableau compares to Reveal. We are comparing features, integration, pricing, and more.
Bilyana Petrova
8 min read
Among all embedded analytics products on the market, Tableau is certainly one of the most popular BI tools for analyzing, visualizing, and working with data.
Tableau has been helping businesses to transform raw data into valuable insights for more than 16 years. It is known for its great visualization capabilities, rich features offering, and mobile friendliness.
But like any other software solution on the market, Tableau is also not perfect and surely not the best fit for every business use case.
So, if you're looking for an alternative embedded analytics solution, in this article you're going to find out how Tableau compares to Reveal. We are comparing features, integration, pricing, and more:
*You can also read our comparison articles of Reveal vs Sisense, Reveal vs Looker, Reveal vs Logi Analytics, and Reveal vs Power BI.
The Pros of Tableau Embedded Analytics
The data visualization capabilities of Tableau are one of the vendor's top benefits. Users can quickly and easily build dashboards and reports in many creative ways by using their wide range of visualizations like histograms, boxplots, motion charts, and of course, the more basic type of data visualizations such as Gantt charts, bar charts, tables, and more. Tableau allows users to translate unstructured information into comprehensive, fully functional, interactive, and visually appealing dashboards (after the data has been properly cleaned in the underlying database first).
One of the most compelling benefits of Tableau is the overall user experience – the vendor offers many analytics functions and capabilities to assist users in analyzing and working with data.
Tableau embedded analytics is very flexible and allows you to connect to various different kinds of data. You can connect to many data sources including SAP, HEADOOP, and DB Technologies, as well as to an Excel file, JSON file, text file, and more. Additionally, Tableau also allows you to connect to different servers including Tableau Server and Microsoft SQL Server. This improves data analytics quality and enables users to create unified and informative dashboards for any user.
Another great benefit of Tableau Embed is the Ask Data feature that lets you type a query for your data in a common language, which the system reads, understands, and as a result provides you with the most relevant answer in the form of an automatic data visualization.
Tableau users can also incorporate Python & R scripting languages for performing complex table calculations.
The Cons of Tableau Embedded Analytics
The primary focus of Tableau is data visualization, an area in which they are great. However, Tableau cannot work with unstructured data. In order for your users to work with uncleared data in Tableau, they (IT specialists or data analysts) need to do proper data cleaning in the underlying database first.
Another con of Tableau is that even though the solution provides self-service capabilities, to get deep into the software's capabilities, technical knowledge is a must, and IT involvement is a necessity if an organization wishes to expand the solution's functionality. Many operations require the creation of SQL queries, which is impossible for the ordinary business user. Non-technical business users can easily leverage the solution and build basic dashboards and reports independently, but they cannot get the most out of Tableau without the assistance of IT and data analysts' specialists.
Other cons of Tableau Embed that are worth attention include:
Tableau works with static parameters, which means that you can only select a single value using a parameter and whenever the data is changed, these parameters must be updated manually (automatic updates are not supported).
The software doesn't provide an automatic option for refreshing reports. That increases manual efforts to update data in the back-end.
It also doesn't support version control. Once you build and publish a dashboard or a report, you can't go back to the previous level of data.
There is a limit of 16-column table display. That makes larger tables difficult to display.
In 2019 Tableau got acquired by Salesforce. The CRM company continually invests in new capabilities and improvements, but you should bear in mind that this means, Tableau is no longer an independent BI vendor, and the product development will certainly always have a Salesforce flavor.
Users often report that Tableau has poor support and users regularly have to solve issues by themselves.
Also, compared to other BI tools, Tableau remains one of the priciest solutions on the market. Their pricing model is based on the number of users and deployment requirements, a pricing model which is quite a costly solution for most small to medium-sized businesses and makes Tableau affordable primarily for large enterprises. The vendor also requires clients to purchase the creator license plus all the other overly priced SKUs from the very beginning, and many companies quickly come to the conclusion that they don't need all their licensed features and prefer the opportunity to be able to buy a set of required ones and scale them if necessary.
Reveal Embedded Analytics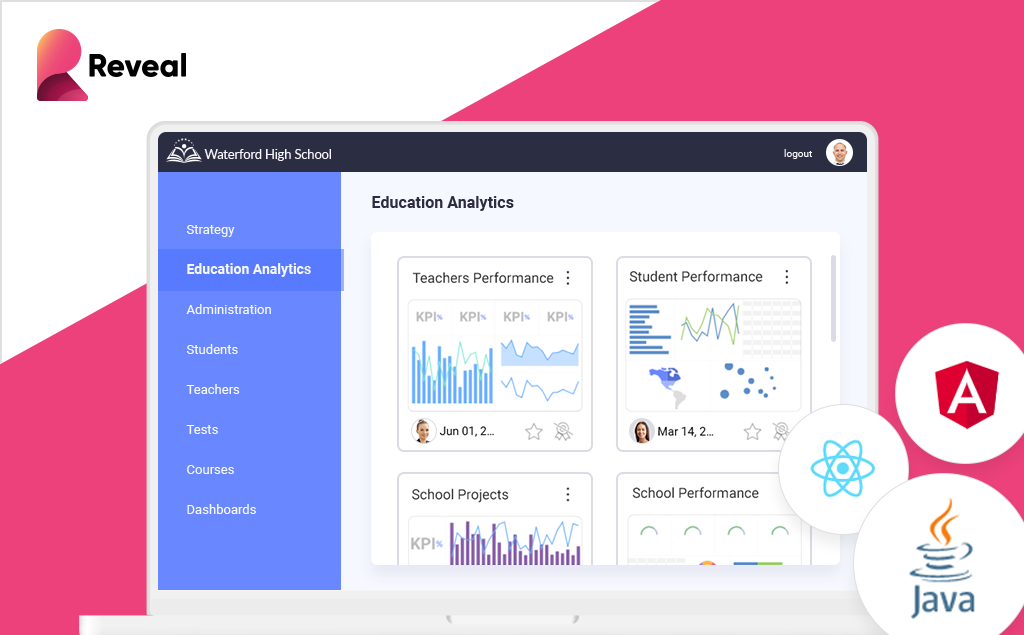 As part of the Infragistics company (founded 1989), an organization with 30+ years of experience in developers' tools, application design tools, and most recently business intelligence tools, Reveal is a self-service embedded analytics solution and the #1 Tableau alternative. Reveal enables users to easily create data reports and dashboards from any device and make quicker, data-driven decisions without interrupting their workflow. Reveal is available in both on-premises and cloud-based deployment models and its native SDK can be integrated into applications on any platform and tech stack including .NET Core, Java, NodeJS (coming soon), and front-end technologies such as React, Angular, WebComponent, VueJS, jQuery, MVC and Java Frameworks like Spring, Tomcat, Apache. Reveal embedded analytics also offers native apps for iOS, Windows, and Android devices.
Reveal allows users to connect to various databases, including online sources like cloud storage drives, social media platforms, and SaaS applications as well as offline sources like Excel, SQL database, and more. Users can choose from multiple visualization types and create and share real-time dashboards to monitor and display key performance indicators. As well as being shared across teams, dashboard instances can also be integrated into any third-party application.
Reveal is used across various industry verticals including finance & banking, healthcare, manufacturing, insurance, retail, IT, and more.
How Does Tableau Compare to Reveal?
Take a look at some of the key features of Tableau vs Reveal:
| | Reveal | Tableau |
| --- | --- | --- |
| Embedded Creator Experience | Native clients for Desktop, Web, iOS, Android | Desktop, iOS, and Android |
| Embed / API Creator Experience | | |
| Native SDK Solution | | |
| Maintenance Costs | Simple Fixed Price | Complex |
| Predictable, No Capacity-Based Pricing | | |
| No Dedicated Server Required | | |
| Custom License Options | | |
Why Choose Reveal?
Reveal was built with embed in mind first, on today's most modern architecture removing the complexity of embedding analytics into your application. Reveal's flexible architecture and rich APIs give you full control of the features in your app making it a seamless part of the user experience.
Reveal offers robust dashboards, interactive data visualizations, self-service and white label capabilities, advanced and predictive analytics, including machine learning, forecasting, statistical functions, and more. The key features are completed by drill down, dashboard linking, dashboard blending, in-context editing, data blending, and native SDK.
Reveal provides organizations with the most powerful, flexible, and predictable priced analytics tool on the market. It offers one single, simple, and affordable price point that enables you to reach an unlimited number of users per application- with no user or usage tiers.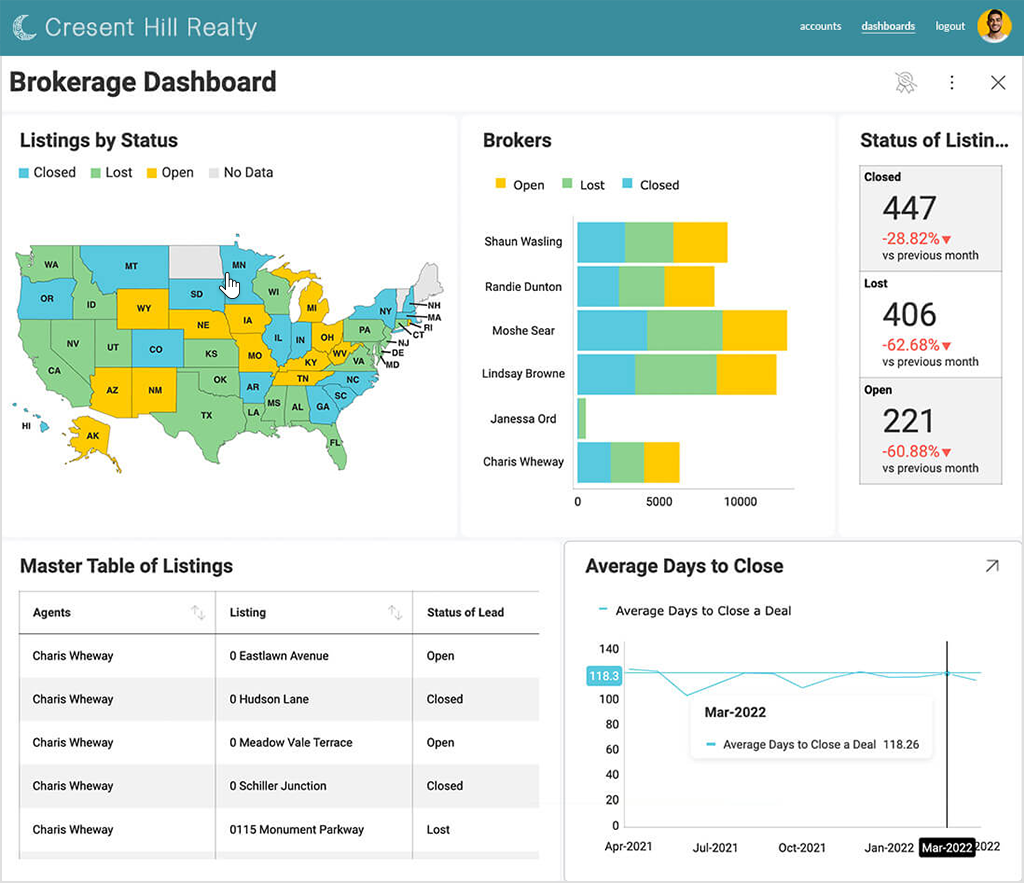 Final Words…
Both Reveal and Tableau have their own specific features, benefits, and drawbacks, and the selection of one is situation-dependent. For businesses, it shouldn't be the case of which one of both solutions is the best BI tool, but rather which one is the best fit.
We covered the basic information and features of both embedded analytics solutions so you can better understand some of their key differences. To make a smart decision and choose between the two, however, one needs to consider several parameters like the size of the organization that is going to use the tool, who is going to use it, what are the technical and implementation requirements, your data maturity, your budget, and most importantly, the use cases you want to solve.
The ultimate goal is, and will always be, to gain valuable business insights from your data in order to improve your organization's decision-making process for better outcomes and maximum profitability.