Reveal VS Looker for Embedded Analytics; Which Solution Is Better for You?
In this article, we are taking a closer look at two of the most popular embedded analytics solutions on the market – Reveal and Looker, to help you find the best tool for your needs.  
Bilyana Petrova
13 min read
Collecting data is easy, yet interpreting that same data is difficult. This is where tools such as Reveal and Looker come in handy – they convert raw data into easy-to-understand and easy-to-use insights that enable organizations to reshape and modernize the way they do business.
In this article, we are taking a closer look at two of the most popular embedded analytics solutions on the market – Reveal and Looker, to help you find the best tool for your needs.
What Is Reveal?

Reveal is an embedded analytics and BI (business intelligence) platform that makes adding powerful analytic capabilities and data visualizations to your apps easier. It brings the power of data to the end users' hands by transforming raw data into actionable insights which they can immediately understand. Reveal provides interactive dashboards, drill-down capability, sharing, white-label analytics, true self-service with a drag-and-drop dashboard creator experience, and so much more.  
Purpose-built for embedding, Reveal's modern architecture includes native SDKs for any platform to deliver the best experience across devices. This makes connecting anywhere and anytime from the cloud, desktop, and mobile devices easy and convenient.  
Reveal embedded analytics solution is part of the Infragistics company (founded 1989), an organization with 30+ years of experience in developers' tools, application design tools, and, most recently, business intelligence tools.  
What Is Looker?

Looker is a browser-based business intelligence platform that helps collect, analyze, and visualize raw data. It facilitates dashboard coloration and also offers a user-friendly workflow making it a bit easier for businesses to develop insightful visualizations.  
In 2019, Looker got acquired by Google and is now part of the Google Cloud platform.
Reveal VS Looker – Comparing Features & Functionalities
A good embedded analytics solution offers a lot more than data visualizations. To be able to really leverage such a tool to its full potential so you can stay ahead of the competition and increase your revenue streams, you need to focus on all capabilities available to help you make this happen.
In this part of this article, we'll go through the key features and functionalities that differentiate Reveal and Looker, so you can easily pick the right platform for your organization's needs.
Reveal's Pros & Cons
Pros:
Fully self-service – One of Reveal's top embedded analytics features is the self-service capability. That means that it brings the processes and tools to empower end-users to analyze large amounts of complex data, build custom dashboards, and create reports independently. In other words, it allows your non-technical staff and departments to work and understand data by themselves instead of relying on your IT or BI experts.  
Fully customizable – The Reveal SDK allows you to white-label and customize all UX elements (theming & styling, roundness vs squareness, dialogs, etc.) to match the look and feel of your own unique brand. That way, users won't get distracted and even notice that they, in fact, use an entirely different solution as part of your own. The full customization capability helps increase user adoption, ensures brand consistency, and ultimately leads to a seamless user experience.  
Dashboard linking – This feature allows you to link one visualization or dashboard to another dashboard or a URL. For example, let's say you are looking at a high-level dashboard around your sales numbers. If you want to dig deeper into revenue in a specific region, you can easily do so by linking your high-level dashboard to a more detailed view that will pass through the region parameters you clicked on.  
Data blending – The data blending features allow you to find insights easier by bringing multiple data sources together into one visualization for a deeper, side-by-side view. 
See predictions with machine learning – Reveal's machine learning feature can be used to identify and visually display predictions from your data to make more evidence-based business decisions. It enables electronic systems to learn from existing data and then use the insights gained to independently make predictions and decisions.  
Rich data analysis – With Reveal's statistical functions and drill-down functionality, you can gain deeper insights into your data. The drill-down takes a user from general overviews to a more detailed analysis with a single click. Statistical functions such as outliers detection, time series forecasting, and linear regression allow you to operate on data in a much more data-driven and targeted way in comparison to basic data visualizations.  
Native SDK – Reveal offers a broad set of modern, native SDKs, learning libraries, and detailed samples in all major platforms, including .NET, JavaScript (Angular, React, Web Components), iOS, and Android.
In-context editing – This feature allows users to make edits right within your application without leaving it and going to another app. They can make the edits they want and then easily push the updates to a server.  
Calculated fields – This feature allows you to create additional fields of your data source to utilize out of the box for your data visualizations.
Cons:
Reveal has many powerful features and functionalities, but as I newly developed tool, it's still missing some useful capabilities. A few things that we wouldn't necessarily consider as cons as they are currently a work in progress include grid features, series highlighting and filtering, and a full toolbar for improved data analysis. Also, Reveal's team is working on adding new data visualizations and more data sources.  
Looker's Pros & Cons
Pros:
Multi-cloud friendly – You can easily change where you want to deploy Looker with no impact on the end user's experience. Supported databases include Amazon S3, Azure storage, Google Cloud Storage, Actian Avalanche, Mongo, Vector, and more.
The power of SQL Runner – By using Looker's SQL Runner, you can easily create insightful information groups without using technical extraction methods. Navigate the tables in your schema, run prewritten descriptive queries on your data, share queries, and more. 
Integration with Slack – The Slack integration allows Looker's users to bring insights into any conversation. The downside of this integration is that you still need to switch between different apps instead of having everything all integrated within your workflow.
Looker Blocks – Pre-built data models that users can utilize for common analytical patterns and data sources. You can use blocks other users have created instead of creating them from scratch, and then you can customize the blocks to your exact specifications. Some of the available blocks include embedded blocks, data blocks, analytics blocks, etc.
Data blending – The same feature as Reveal's data blending feature with the difference that Looker supports data blending with the concept of Merged Results. To perform data blending, you need to create a query from an Explore to generate a result set, then you'll need to add another one to merge into the original query.
Cons:
iFrame, Browser-based – Looker is an entirely web-based platform that requires you to have a Looker login in order to view embedded assets. This means you have zero control over the user experience of your embedded analytics in your app. Instead of providing your users with white-labeling functionality to customize everything to match their unique brand, you are stuck with Looker's UX, colors, style of buttons and dialogs, the way dashboards are presented, etc. Looker was built and designed as a SaaS-based self-service BI tool, not an embedded SDK. Therefore, no SDK, API, or Components give you a truly embedded analytics experience in your application. 
Data on Looker Servers: Looker requires your data to reside on their server where it executes commands. This forces you to push your data from a secure, on-premise location to the cloud and 100% depend on Looker for security, authentication, and authorization. It is no secret that even the biggest companies on the planet have been hacked in the last few years, so it is better to go with a vendor that can guarantee the security and safety of your data. Moreover, once your data goes to Looker's cloud, you lose flexibility over it. That means that you must abide by the rules and configuration of Looker just to get dashboards and add unnecessary complexity, maintenance, and governance over your own data.
Tiered Pricing: Looker prefers not to publicly release their pricing information on their website but instead chooses to offer a custom-tailored model. The final quote you get from Looker's pricing specialists will depend on multiple factors, including total users, types of users (viewer vs editor), database connections, and scale of deployment. This means that whatever quote you get will be the starting price for Looker, but it would grow as your user base grows too. According to a third-party site, Looker's pricing starts from $3000-$5000 a month for 10 users, with an additional $50 a month for each new user. This pricing structure may not appeal to prospects who are familiar with transparent SaaS-based pricing. 
Reveal Integration
When it comes to integrating analytics into your existing application, it is essential that the software flows seamlessly without adding additional weight and complexity. It needs to be built from the ground up with embedding in mind first, just like Reveal is. With an architecture that provides flexibility and no added requirements, with Reveal, you can quickly integrate analytics into your code, keeping up with customer demand.  
Reveal's SDK is made for developers. With it, developers aren't forced to simply embed iFrames into your application and configure dashboards with a parameterized URL. Your developers can use real code with real objects and real properties.  
For more in-depth technical information, you can read Reveal's detailed SDK and API documentation.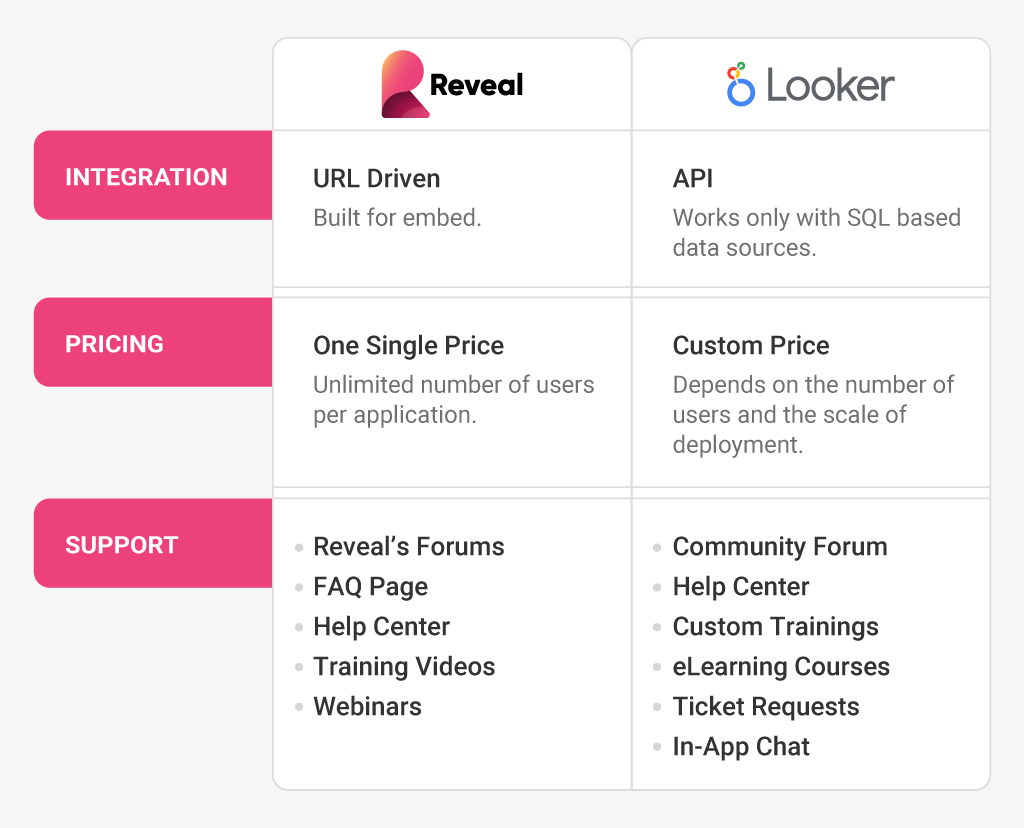 Looker Integration
Looker analytics works only with SQL-based data sources, which means that it can integrate with any SQL database or data warehouse, such as Microsoft Azure SQL Data Warehouse, Amazon Athena, and Greenplum.  
If you have your data stored in NoSQL, REST-API files, etc., Looker will need to put some form of an SQL database to query against. 
On the other side, Looker's API integrates data into customer and third-party applications and other applications like Google Docs and Excel.
Reveal Dashboard Example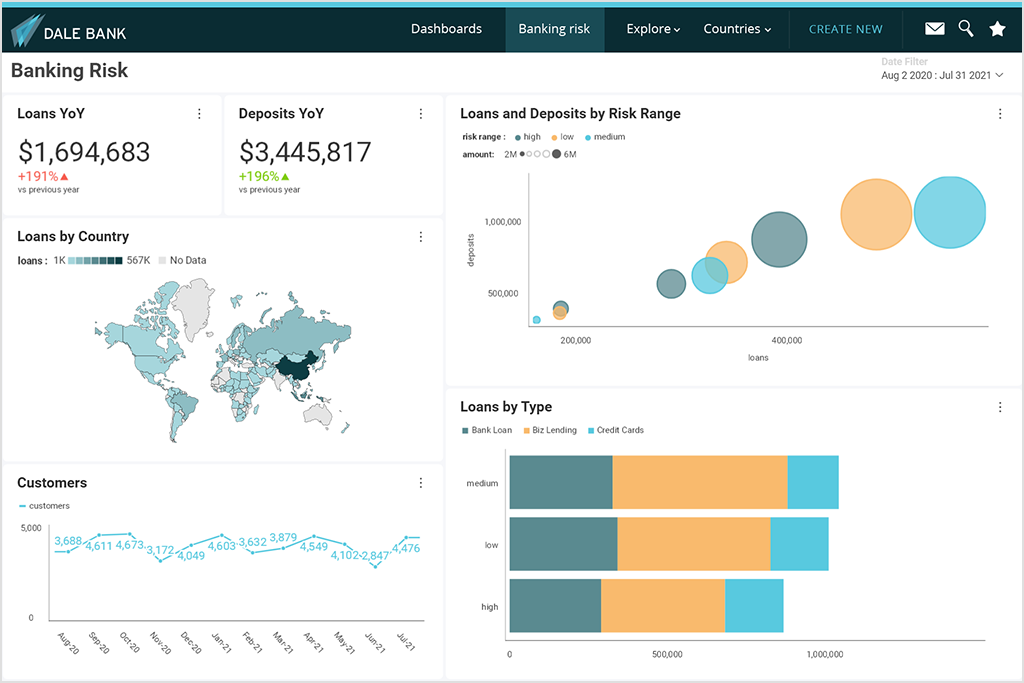 Looker Dashboard Example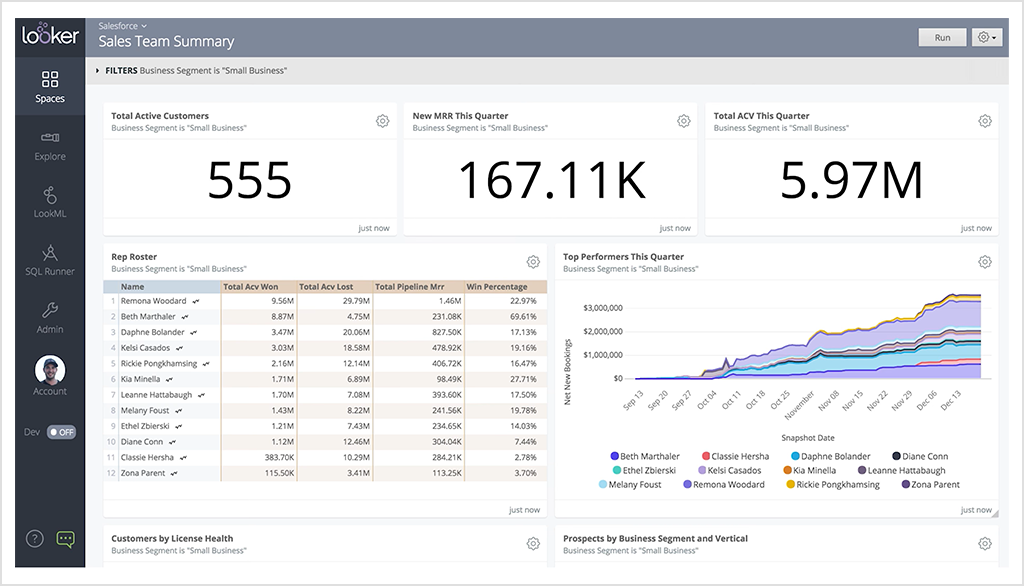 Pricing
Understandably, pricing is one of the main things to consider when deciding which embedded analytics provider to partner with. In the embedded analytics space, you'll find that most vendors keep their pricing a secret and charge you unpredictable costs like usage and users, for example.
So, what about Reveal and Looker?
Reveal offers one single, simple, and affordable price point that enables you to reach unlimited users per application. Reveal's pricing structure is transparent and affordable to companies of all sizes. Transparent means that you can predict exactly how much you will be paying and therefore calculate your ROI easier.  
Reveal's goal is to become a valued long-haul partner to its customers and promises no surprising fees, usage, or user tiers ever.  
On the other hand, Looker's pricing is customized for each customer based on factors such as the number of users and the scale of your deployment. Their pricing is designed to fit any size of business, and you get pricing specialists to work directly with you to ensure the ideal pricing structure for your business. 
At first glance, that might seem like a good deal, but we recommend giving it a second read.  
Pricing customized for each customer based on their number of users and the scale of deployment means that the price you will pay will increase as your business and user base grow.
This might be okay for some, but it is important to know it in advance as vendors don't warn customers in advance, and when your invoice comes, you end up shocked to see the numbers on it.  
Support
When choosing between vendors like Reveal and Looker for an embedded analytics partner, you should also consider both solutions' support. Quality and experienced support can help you succeed with the software and, therefore, in your business.  
Let's explore how Reveal and Looker stack up against each other in respect of support.
Reveal offers a range of ongoing support services with no additional costs, in conjunction with a friendly 24-hour community that can answer any questions on Reveal's forums. Furthermore, you can find plenty of helpful resources on Reveal's FAQ page, help center, and training videos.
For more in-depth know-how and advanced information, you can follow Reveal's webinars.
Looker provides a variety of support services, too. You can find self-paced eLearning courses, for example, as well as custom trainings. You can also browse articles in the help center, network with other users in the community forum, and submit support ticket requests. Users particularly like the in-app chat support.
Wrapping It Up…
In conclusion, there's nothing much more to say than both Reveal and Looker are great embedded analytics tools. However, depending on your needs and budget, one would definitely be a better solution for your business than the other.
We believe that Reveal has very strong advantages over Looker – it's much easier and faster to implement and start with, offers better customization and visualization options, and leverages native advanced analytics features such as machine learning and AI, just to name a few.  
Another major difference between Reveal and Looker that we believe is in favor of the first one is the pricing structure. Knowing how much you'll be paying from the beginning, no matter how much you grow, is better, we think, than getting an invoice with a higher and higher amount to pay every month.  
But we'll, of course, leave it to you to decide.
If you're interested in learning more about the Reveal Embedded Analytics solution and seeing how it works in action, schedule a demo, and our analytics experts will show you how to use and leverage the true power of data.