Chartio Is Going Away – Choose Reveal as Your New BI Vendor
Chartio is a cloud-based business intelligence and analytics solution that provides business teams with the tools and functionalities for data exploration and data visualization. It's one of the most popular visualization tools on the market that helps decision-makers make refined graphs, reports, and dashboards, and take the best case decisions faster. Or it used to be. You may […]
Bilyana Petrova
7 min read
Chartio is a cloud-based business intelligence and analytics solution that provides business teams with the tools and functionalities for data exploration and data visualization. It's one of the most popular visualization tools on the market that helps decision-makers make refined graphs, reports, and dashboards, and take the best case decisions faster.
Or it used to be. You may have heard already, Chartio is going away on March 1, 2022.
If you're a current Chartio customer and are thinking ''what am I going to do now, where would I go?'', don't worry, we have a solid solution for an analytics and BI platform to switch to. Continue reading to find out what your #1 Chartio alternative is:
Chartio Atlassian Acqusition
Atlassian is an Australian company that builds platforms and tools for businesses and software developers. The company was founded in 2002 and since then developed or acquired many popular platforms including Jira, Confluence, and Trello. Their latest acquisition is Chartio.
"If you haven't seen our announcement, Chartio has joined Atlassian and the product will be shutting down on March 1, 2022. While we're excited for the new chapter ahead, we understand the impact this may have on you and we want to ensure you have what you need to smoothly transition off Chartio."

Atlassian sees Chartio as a great opportunity to bring the data analysis and visualization components to their platform and take advantage of the data locked in its products. The plan is to incorporate Chartio technology across all of their products of which they'll start with Jira.
Chartio reported that 280,000 users have created 10.5 million charts for 540,000 dashboards pulled from over 100,000 data sources. Regardless of that success, however, Chartio believes that it will be better off as part of Atlassian.
So, what about their customers?
Well, there's nothing else that customers can do but figure out a migration plan into Atlassian or start looking for another BI solution. According to Chartio's notice, customers will have plenty of time to export their data to another solution. The notice includes a link to instructions on how to do this and how they can help you with it.
What Should You Look For in a Chartio Alternative
Finding an embedded analytics vendor could be quite a daunting task. However, if you know what exactly to look for in a BI solution, choosing the best embedded analytics for your business needs feels like a piece of cake.
Here are the main things to look for in a Chartio alternative:
Easy transition – When migrating to a new BI vendor, you will need to pull your company data and account data from Chartio and import it to your new analytics solution. With this in mind, make sure to choose a vendor that will make this transition smooth and easy rather than rough and complex.
Modern, flexible architecture – One of the most important questions to ask when choosing an embedded analytics vendor is whether the application was built on modern architecture. Look for native SDKs that utilize the specific features of each platform and provide a superior user experience and robust APIs for dashboard rendering, dashboard creation, deep linking, and custom UI for data source acquisition.
Data sources and visualizations – Make sure that you'll be able to connect to all of your data no matter where it's stored and that the vendor provides a range of data visualizations to help you easily understand your data insights.
Product features – The embedded analytics features that a vendor offers are the essence of the product. These are the tools and functionalities that will help you differentiate your product and get ahead of your competitors, so don't settle for anything but the best features. Some of the key embedded analytics features include self-service capabilities, machine learning, dashboard linking, and white-label capabilities.
Pricing – Don't let vendors fool you. Most embedded analytics vendors use sketchy pricing tactics so they can charge you on a per-user or usage-based model, maximizing the price of the product while leaving ''no money on the table''. Be smart and look for a 100% transparent pricing model that won't escalate as your app sales increase.
If you're wondering how to find such a solution, Reveal got you covered.
Reveal BI as a Chartio Alternative
Reveal is an embedded analytics solution that brings the power of data to all your employees, customers, partners, and suppliers. Reveal BI provides interactive data visualizations, true self-service and white label capabilities, advanced analytics, including machine learning and AI, drill-downs, collaboration, sharing, and drag and drop dashboard creator experience. In Reveal, anyone from data professionals to users with no specialized knowledge in data can build beautiful dashboards, graphs, and reports in their apps, easily and independently.
By using Reveal, you can identify trends and patterns, understand complex information quickly, communicate insights, and drive better and smarter decisions. Reveal provides users with access to real-time data in their natural workflow meaning that they no longer need to switch between different apps, but instead increase productivity and focus on what matters the most.
It allows you to easily integrate data analytics into your application with no added requirements. Reveal's flexible architecture and rich APIs give you control of the feature in your app making it a seamless part of the user experience.
More so, Reveal offers a wide scope of database connections, ensuring it connects with the database you use.
With a one-simple fixed price, Reveal provides organizations with the most powerful, flexible, and transparently priced analytics tools on the market.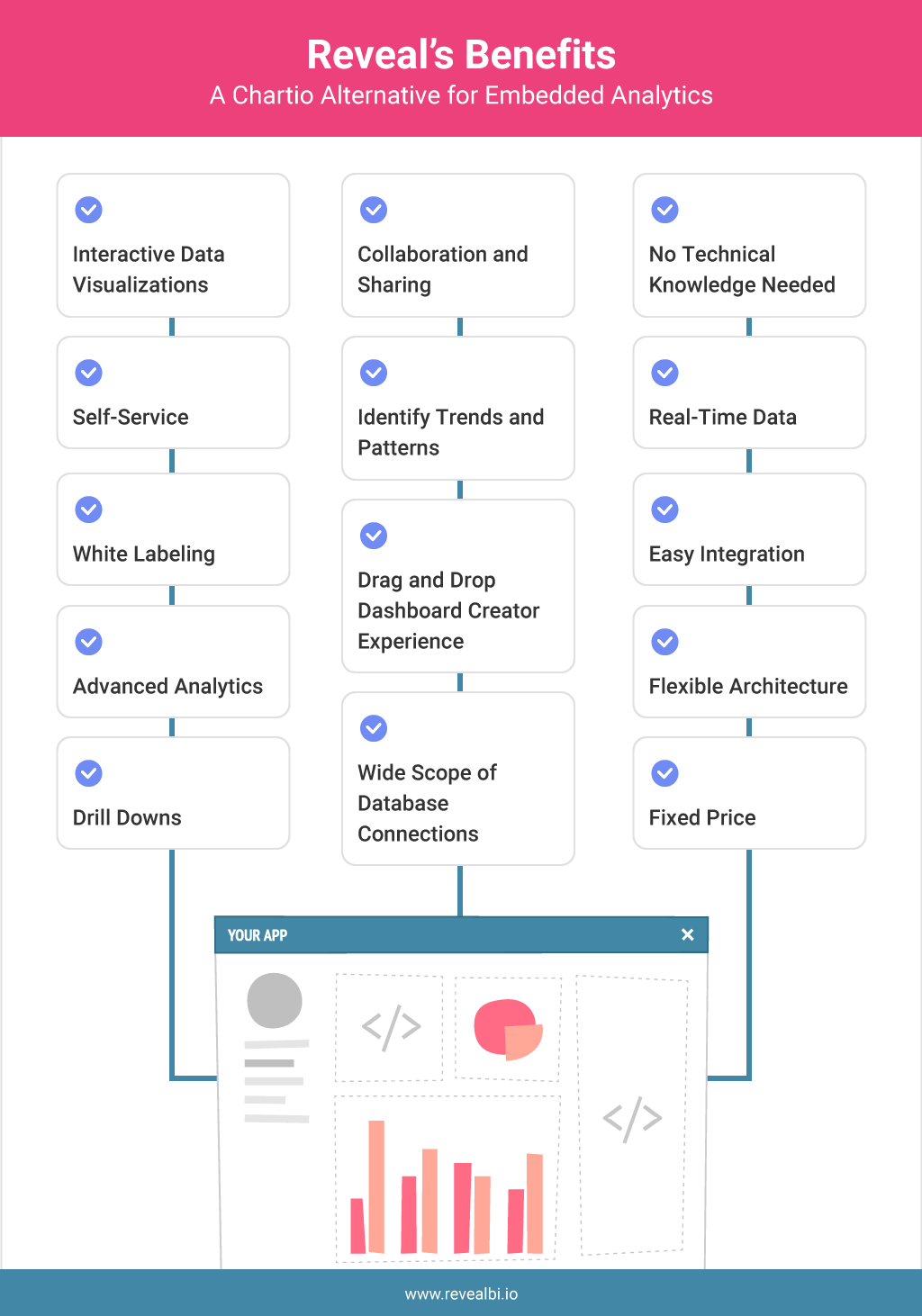 Embedded Analytics Benefits
Built with embedded in mind first, Reveal is a great analytics solution for those who want to add robust BI and data analytics functionalities to their offerings. No matter if your business is in retail, manufacturing, finance, telecommunications, or else, you can use Reveal to bring real-time, interactive data visualizations and business intelligence capabilities directly into your enterprise applications – creating in-context analytics that improves the usability of data for business users.
There are many benefits of embedded analytics with some of the primary ones being that it enables data-driven decision making, provides a seamless user experience, increases productivity, and ultimately boosts your profits. Research published in AnalyticsWeek, of the 500 project managers, software developers, engineers, and executives surveyed, 96% said that embedded analytics contributes to their overall revenue growth, and 92% reported an increase in competitive differentiation.
Chartio Dashboards in Reveal
We know how important it is to you to be able to create beautiful and informative dashboards for your business. For that reason, we choose a random dashboard from Chartio to recreate it in Reveal, so you can get a glimpse of how your new dashboards could look if you opt to switch to Reveal.
Dashboards made in Reveal: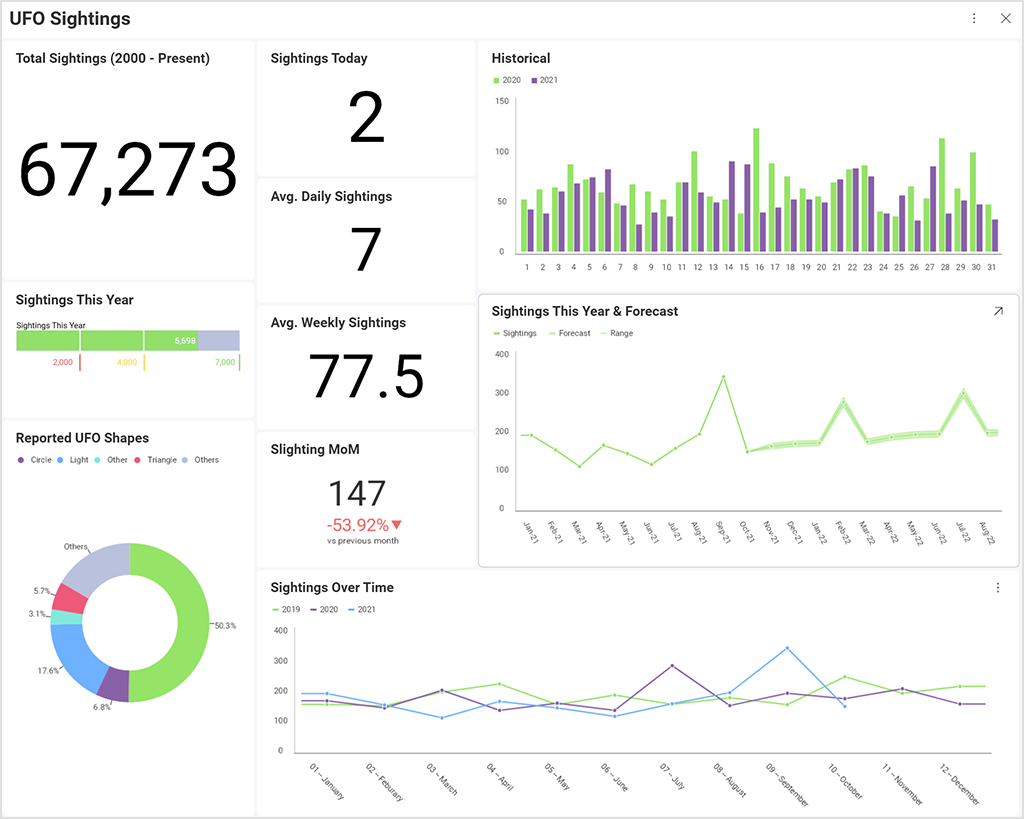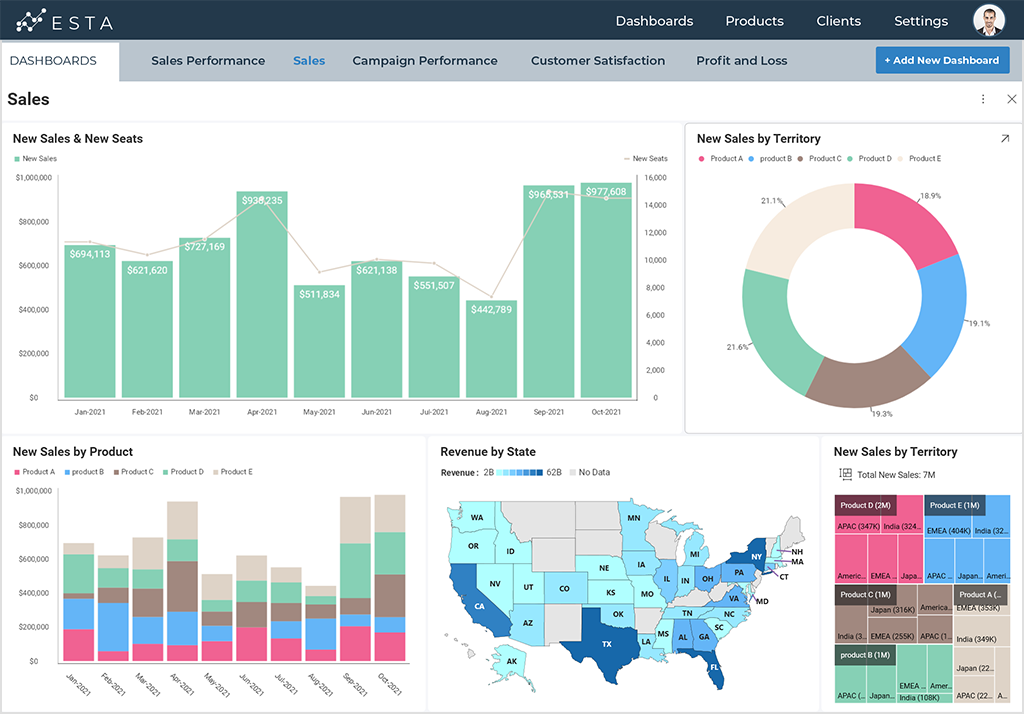 Reveal application users are provided with several options to customize the way their data insights are visualized. Reveal offers two native themes that look great in both light and dark themes and with Reveal's SDK, you can easily create your own custom themes and control all aspects of your dashboards.
You can learn more about Reveal and how does it work by downloading the SDK or by scheduling a free product tour.