Reveal Survey Report: Top Software Development Challenges for 2022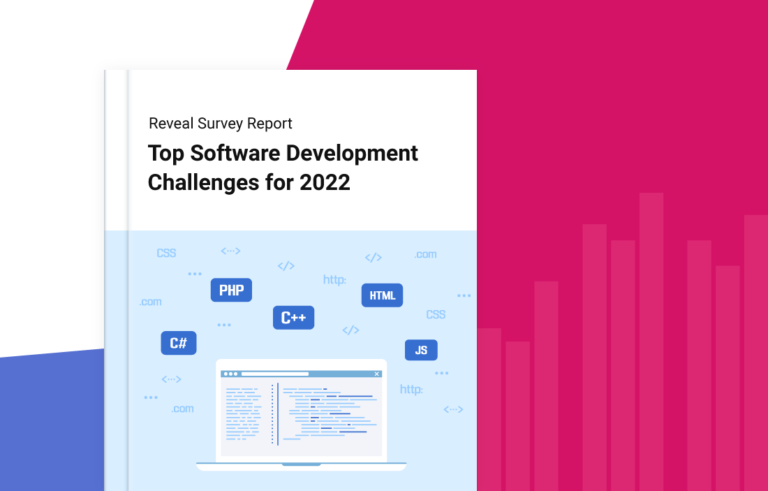 2021 was a year of optimism tempered by uncertainty and challenges for software developers and IT professionals. New products were updated and released and technologies that make developers' lives easier emerged. Despite these positive innovations, software developers encountered a myriad of obstacles in their daily workflow.
To find out what obstacles faced developers in 2021 and reveal their future challenges, we surveyed 2,015 software developers and IT professionals to determine their biggest pain points, challenges, and areas for growth.
The Reveal survey examined: 
The critical shortage of software developers
Top software skills needed in 2022 and beyond
The rising popularity of business intelligence/data analytics to solve problems and drive decision making
Interest in new technologies such as low code/no code, digital workplaces, design-to-code software
Ways to employ resources to save money and address skills gaps
Expansion and growth plans for 2022
Get the details in this report of how software developers plan to confront these issues and adopt new tools and technologies to expand business in 2022.
Continue Reading
Fill out the form to continue reading.
Key Findings
The biggest business challenge in 2022 will be recruiting developers with the right skills, according to the Reveal survey. Respondents plan to address these shortages by using low-code/no-code (app builder) tools, embedded analytics, and design-to-code platforms. The data indicates that citizen developers and low-code/no-code tools can help meet the demand for building applications faster and with fewer resources. 
The Reveal survey also found that business intelligence and data analytics tools are burgeoning due to their ability to solve problems and drive the decision-making process.
The business areas with the greatest need to address skills gaps are data analytics and IT/mobile, and/or web design and management.

According to a McKinsey survey
Top Software Development Challenges
The Reveal survey examined the top software challenges for developers and IT professionals. The three biggest challenges facing software developers in 2022 will be: high client expectations (41%), increased customer demands (40%), and issues with project management within the digital workplace (36%). 
The rapid pace of change, mounting pressure to accelerate digital transformation and a shortage of software developers have made it difficult for teams to meet these software development challenges. However, software developers who use new solutions to become more customer-centric, maximize value, and champion new initiatives can better meet customer demand, eliminate pain points, and achieve true transformation.
In today's job market, where demand for employees outstrips supply, we found that the other top software development challenges include:
Not enough time to get work done (31%)
Inability to keep pace with innovation in developer tools (28%)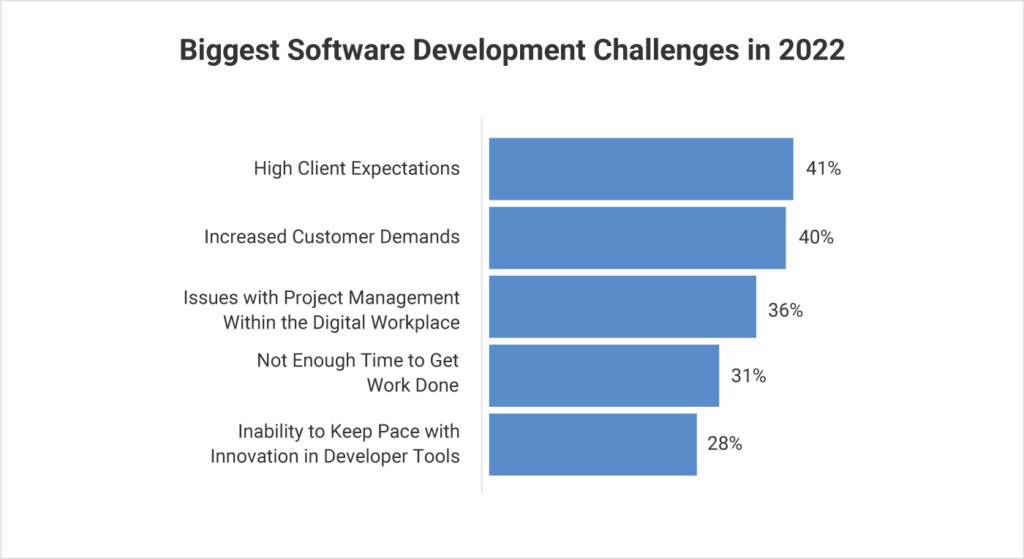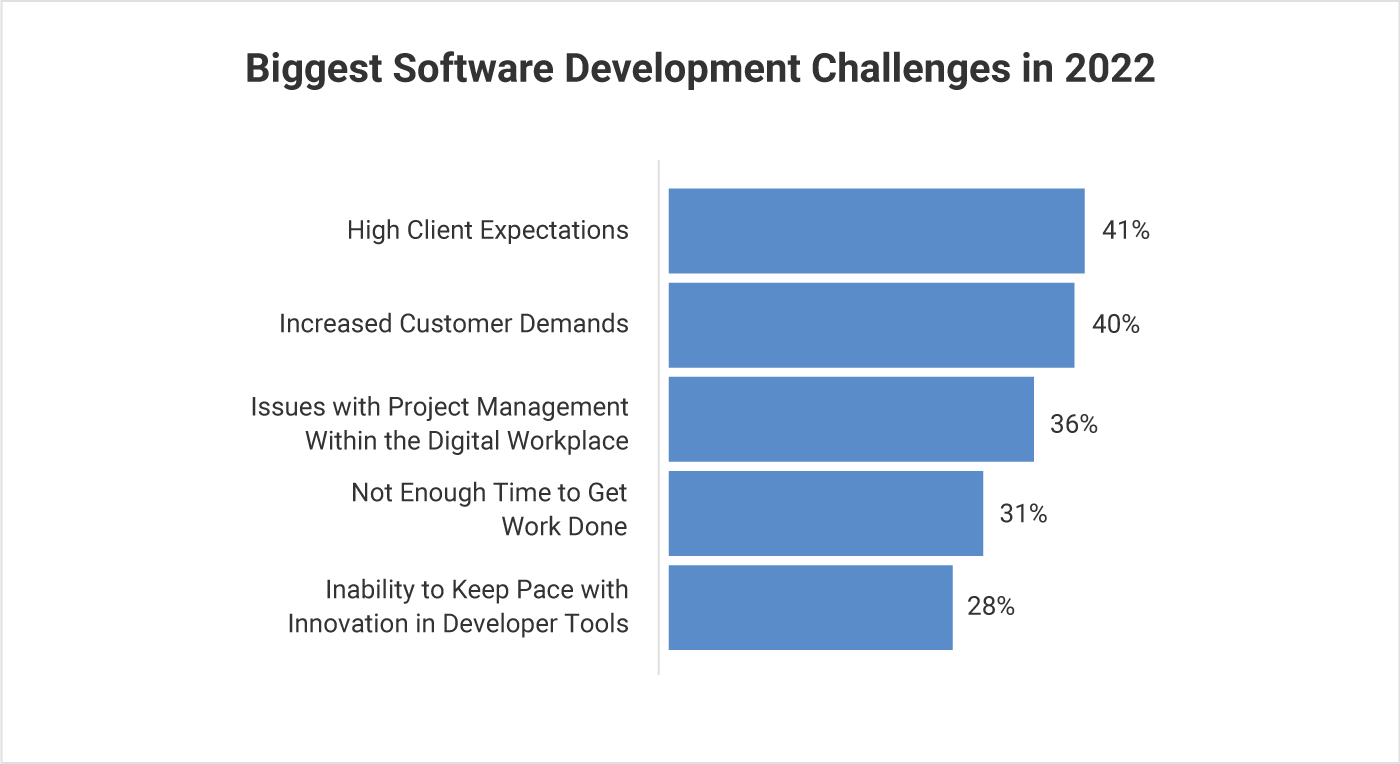 Top Business Challenges for Software Developers
Respondents reported that their biggest business challenge in 2022 will be recruiting developers with the right skills (53%). According to the Bureau of Labor Statistics, the U.S. labor market will add 316,000 software developer jobs over the next 10 years (a 22% growth rate). Software developer skill shortages could become even more acute in the years to come as the supply of trained developers won't be able to meet the increased demand, leading to lost productivity and reduced innovation.
Our survey found that Blazor is the platform that most (64%) managers are looking to recruit skilled developers for, followed by .NET (48%), Angular (40%), and React (37%). 
Other key business challenges for software developers include:
Maintaining current talent (46%)
Keeping employees engaged (43%)
Limited resources – lack of budget, unable to maintain software (39%)
Enterprises today are finding creative ways to recruit and keep talent for the long haul, as well as motivate them to solve new problems in creative and efficient ways.
At Infragistics, for example, we look to hire people who are entrepreneurial, curious and love to learn. Organizations that want to be successful in recruiting and retaining talent should support innovation, welcome creativity and offer a culture of inclusion, creativity, and respect.
Saving Money and Employing Resources in 2022
More than half of Reveal's survey respondents (54%) plan to save money in 2022 by incorporating a digital workplace platform. The pandemic and the move to remote work accelerated the need for digital workplace platforms that can help organize workflow, files, communication, and even manage and analyze data from a single app.
In addition, more than half of respondents (54%) plan to economize in 2022 by using low-code/no-code (app builder) tools, embedded analytics (45%), and design-to-code platforms (43%). These tools automate many developer/IT/analyst processes, all while reducing the need to hire new employees.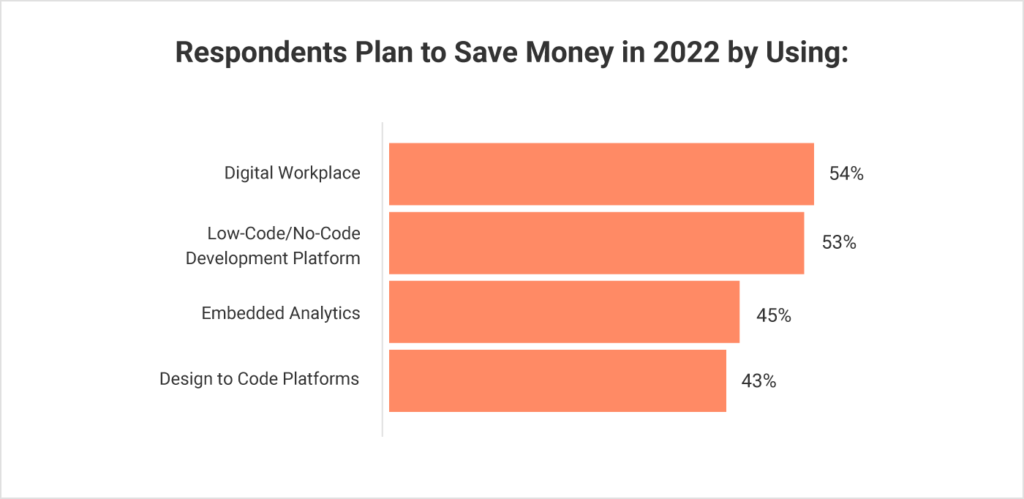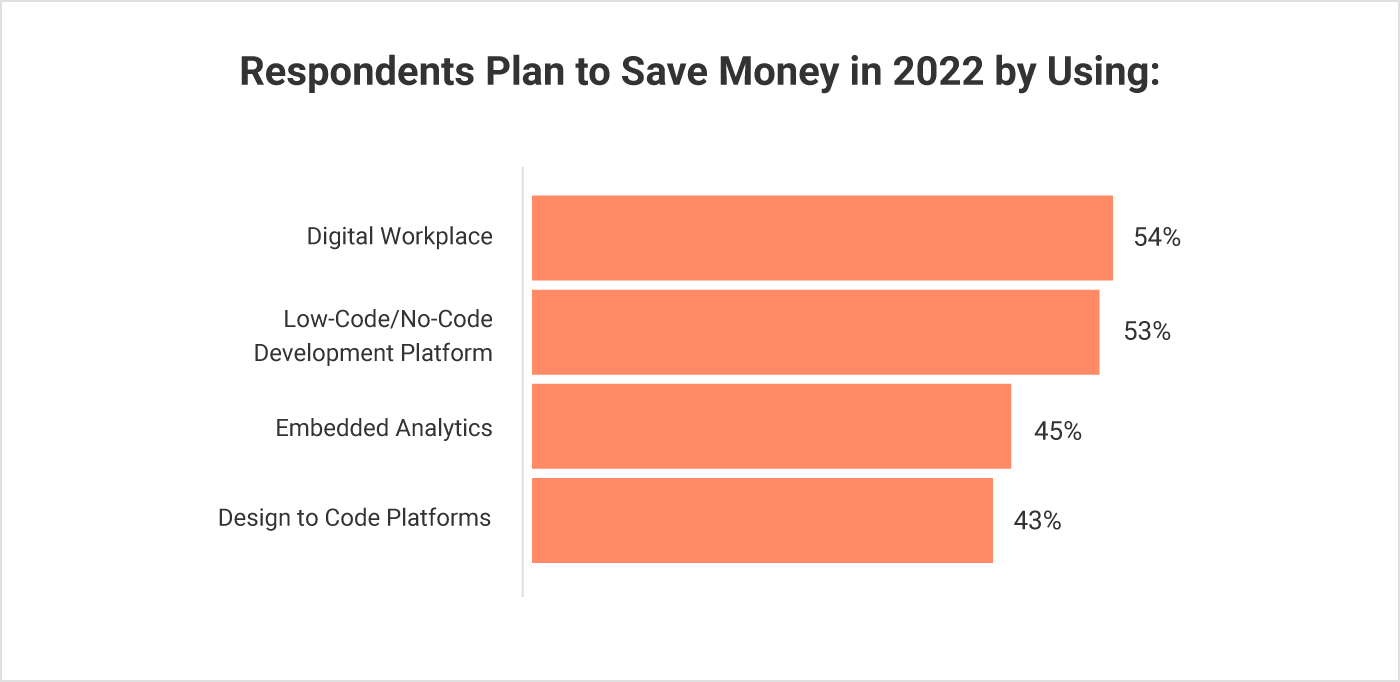 The biggest business challenge — the lack of skilled developers — has led to the development of new innovations and platforms such as no-code/low-code tools that allow non-technical stakeholders and citizen developers to build software. A report by Gartner forecasts that by 2024, low-code adoption will be so widespread that 75% of the software solutions built around the globe will be made with the help of such tools.
In addition to saving money through new software platforms, respondents also identified ways they will best employ their resources, including utilizing remote staff (48%), downsizing office space or getting rid of physical offices (47%), using software that will work for citizen developers (46%) and improving designer/developer collaboration.
41% of respondents have active citizen development initiatives and 20% of those who don't are either evaluating or planning to start citizen development initiatives.

Gartner The Importance of Citizen Development and Citizen IT
Business Increases and Expansion Plans
Software developers have numerous plans for expansion in 2022. Forty-two percent expect to take on new projects (compared to 22% in 2021); 39% expect an increase in requests for proposals; 38% plan to adopt new technologies/applications; and 37% will expand into new markets.
To meet the added demands and plans for growth in 2022, software developers and teams are taking advantage of new tools and technologies that allow them to work more effectively from home. New digital workplace platforms enable teams to align on projects and responsibilities as well as organize tasks in one centralized application, allowing them to be completed more efficiently. These innovative tools help save time, which can facilitate expansion plans.
The software industry saw an increase in business in 2021 that was much higher than predicted in our previous survey, with 36% taking on new projects, 33% expanding into new markets, and 31% adopting new technologies/applications. Just 17% of respondents had layoffs in 2021 while 25% hired additional staff.
Year Over Year Business Expectations vs Growth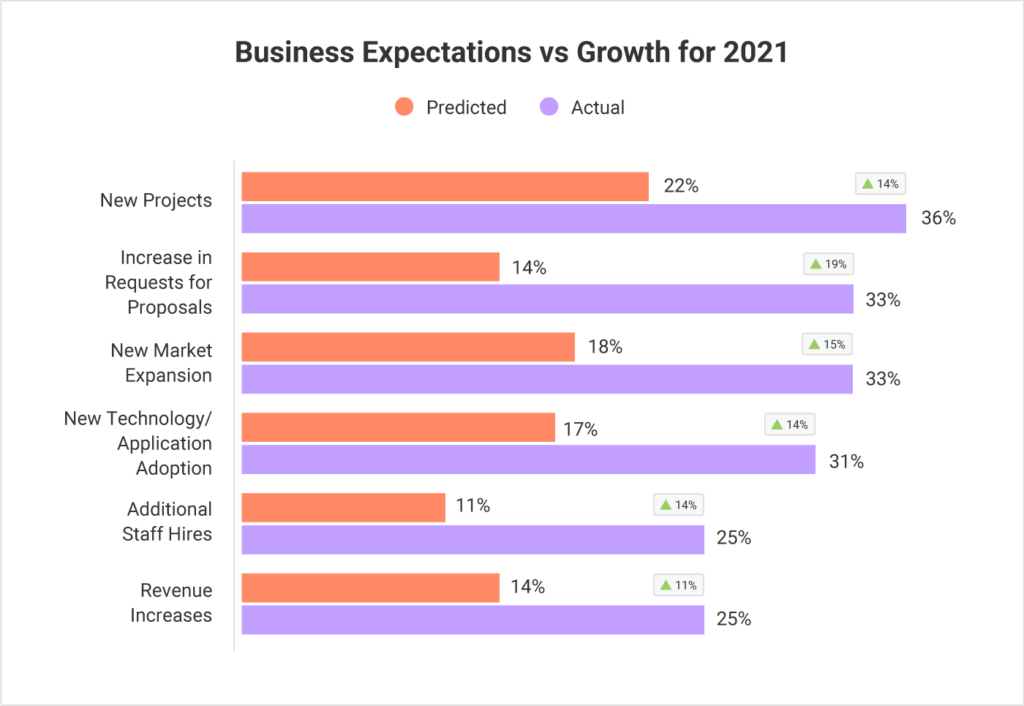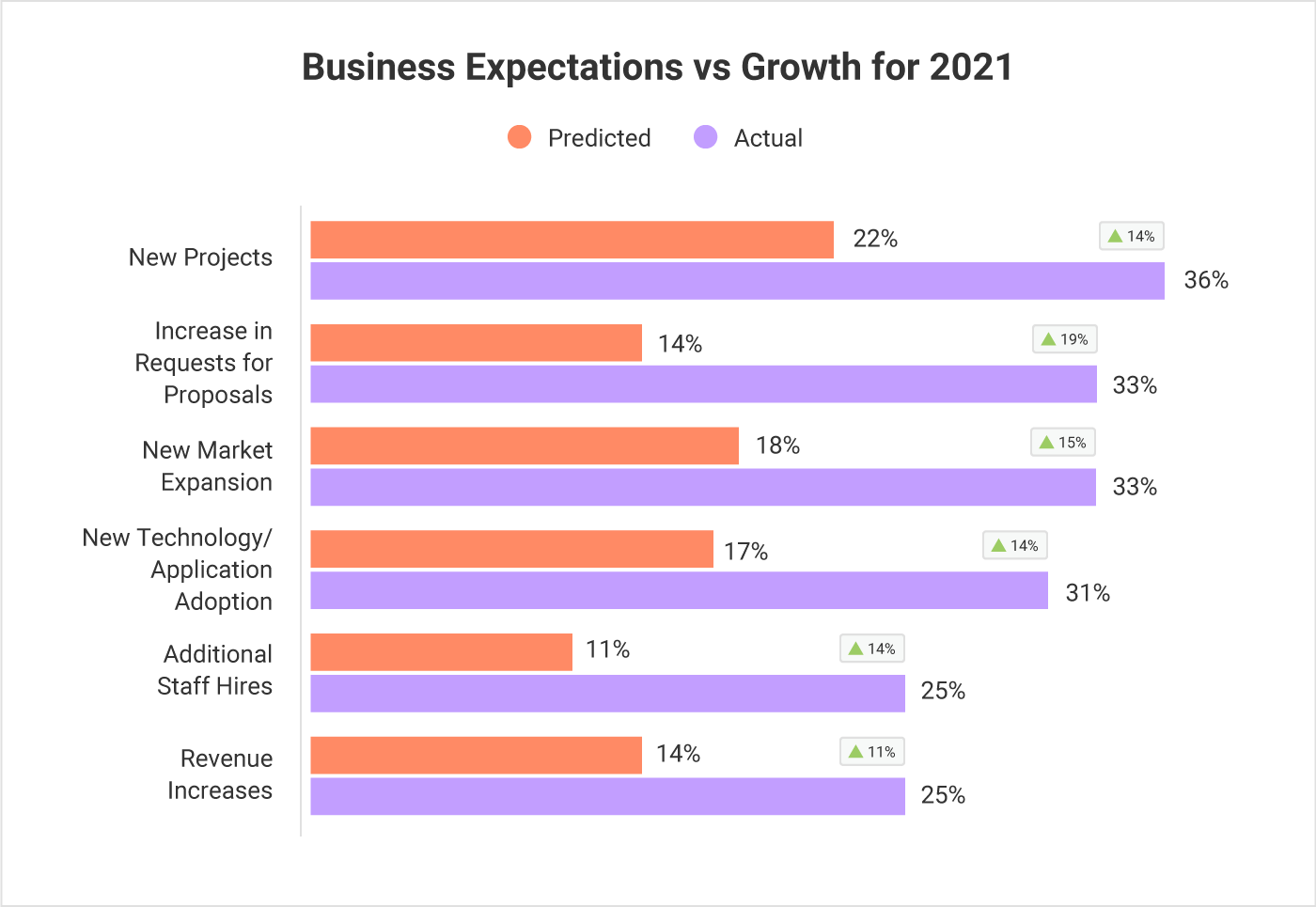 Revenue increases 2020 vs. 2021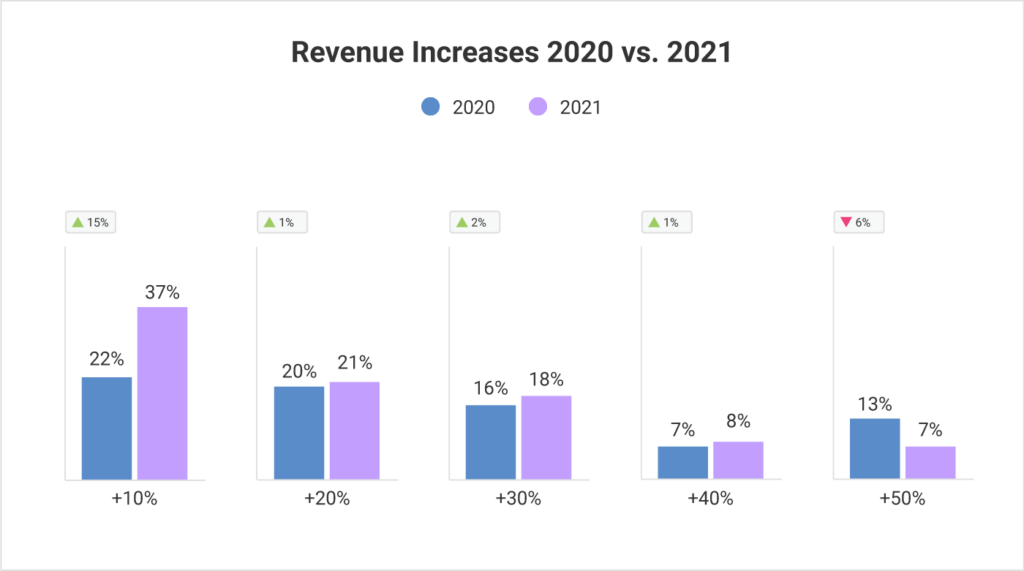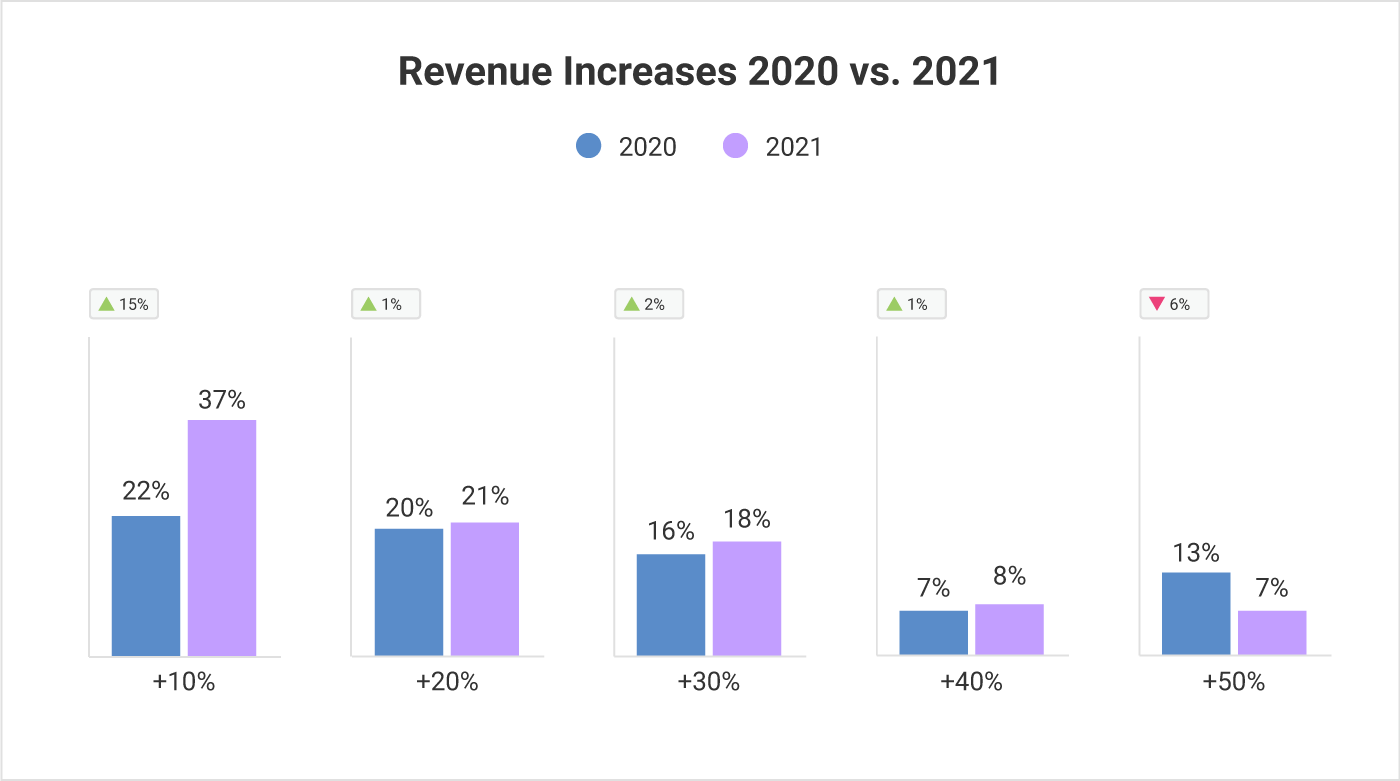 COVID-19 set back the development cycle for 19% of software developers in 2021. The chart below shows the amount of time their software development cycle was negatively impacted.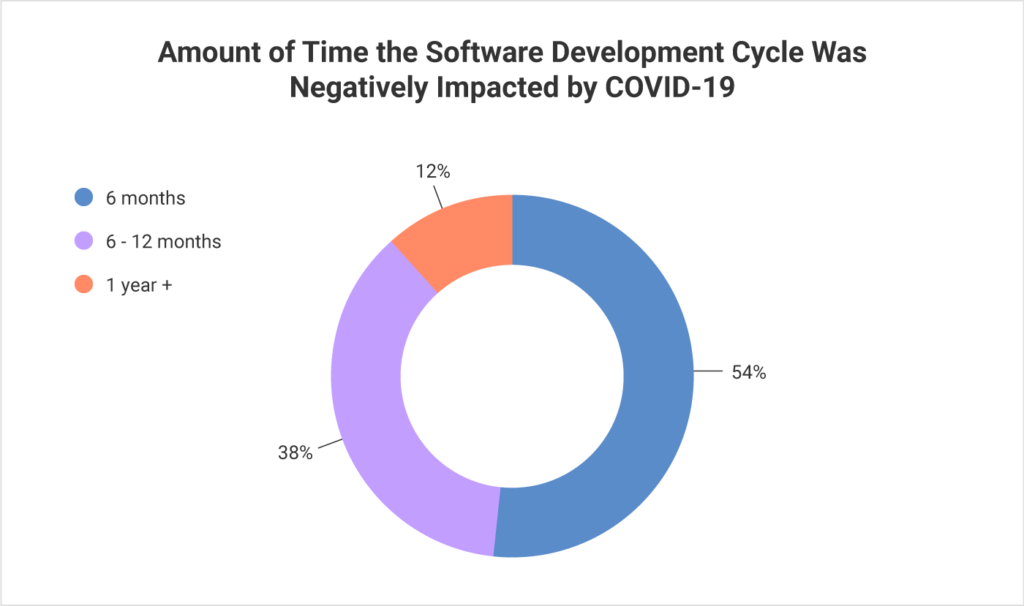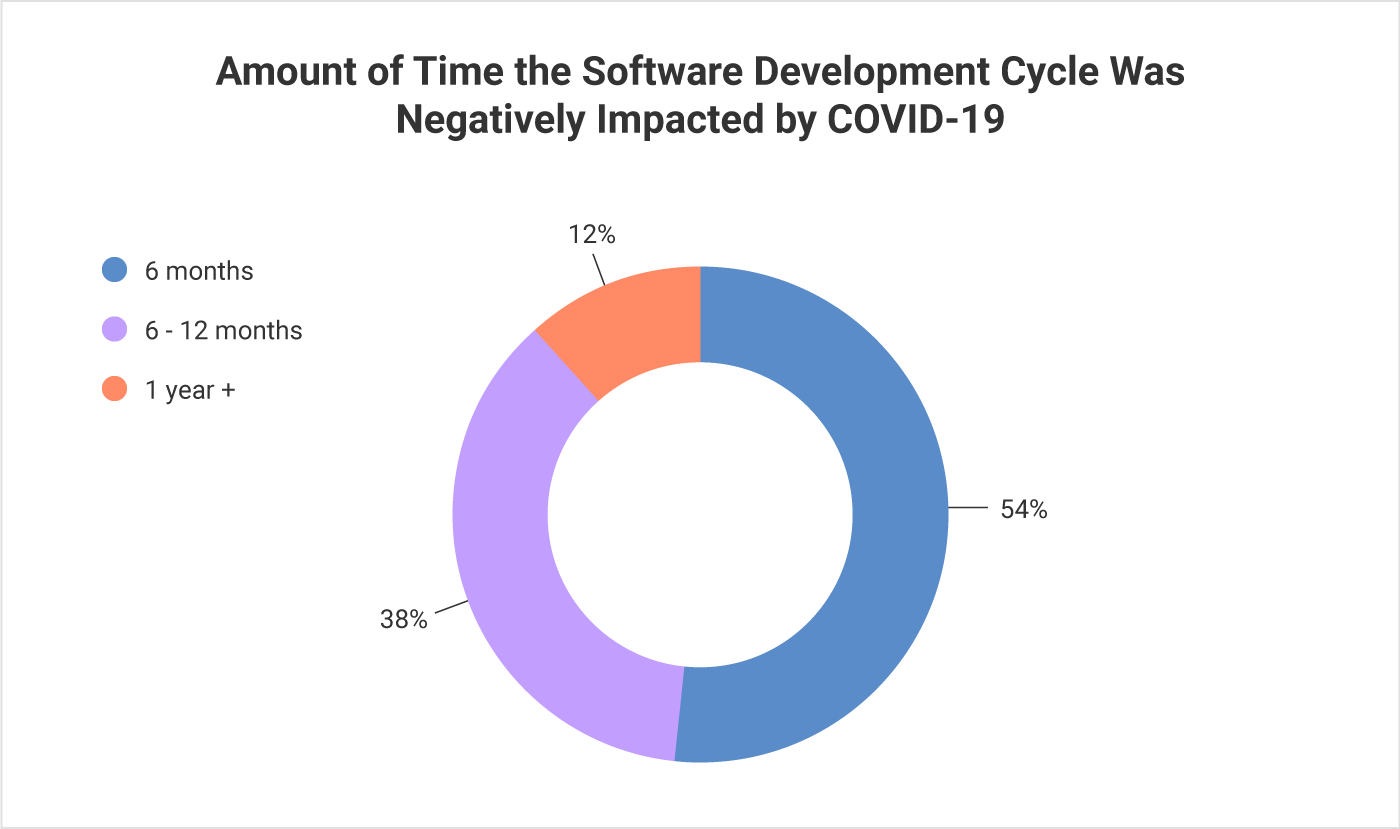 While software developers are hopeful about 2022, they indicated the potential for cutbacks in 2022. Forty-seven percent expect a reduction in funding, 45% expect projects to be canceled or postponed and 31% predict a reduction in staff. However, 35% are positive about the future and have no plans to cut back in 2022.
Rise of Embedded Analytics
Business Intelligence (BI) is the science of making more accurate decisions based on data, enabling organizations to analyze events, trends and market changes to achieve a competitive advantage. Business intelligence is gaining importance with 79% of respondents seeing an increase in interest in business intelligence and data analytics tools in 2021. Seventy-one percent of software developers expect their focus on business intelligence to increase in 2022. Embedded analytics is also on the rise with 58% of software developers embedding analytics in apps for their own use. In comparison, last year just 33% of respondents were using embedded analytics. 
More than three-quarters (77%) of software developers are currently incorporating business intelligence apps into their products developed for end-users.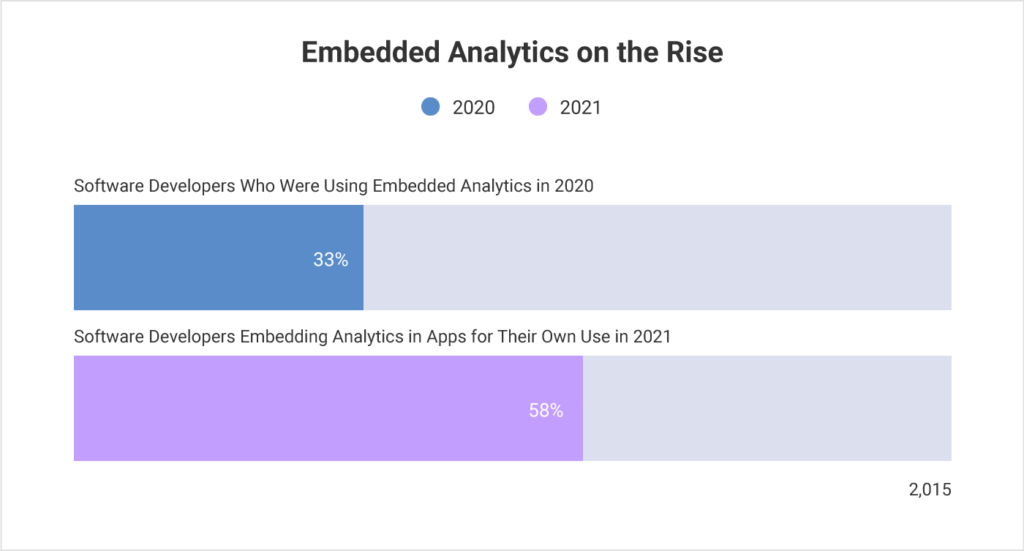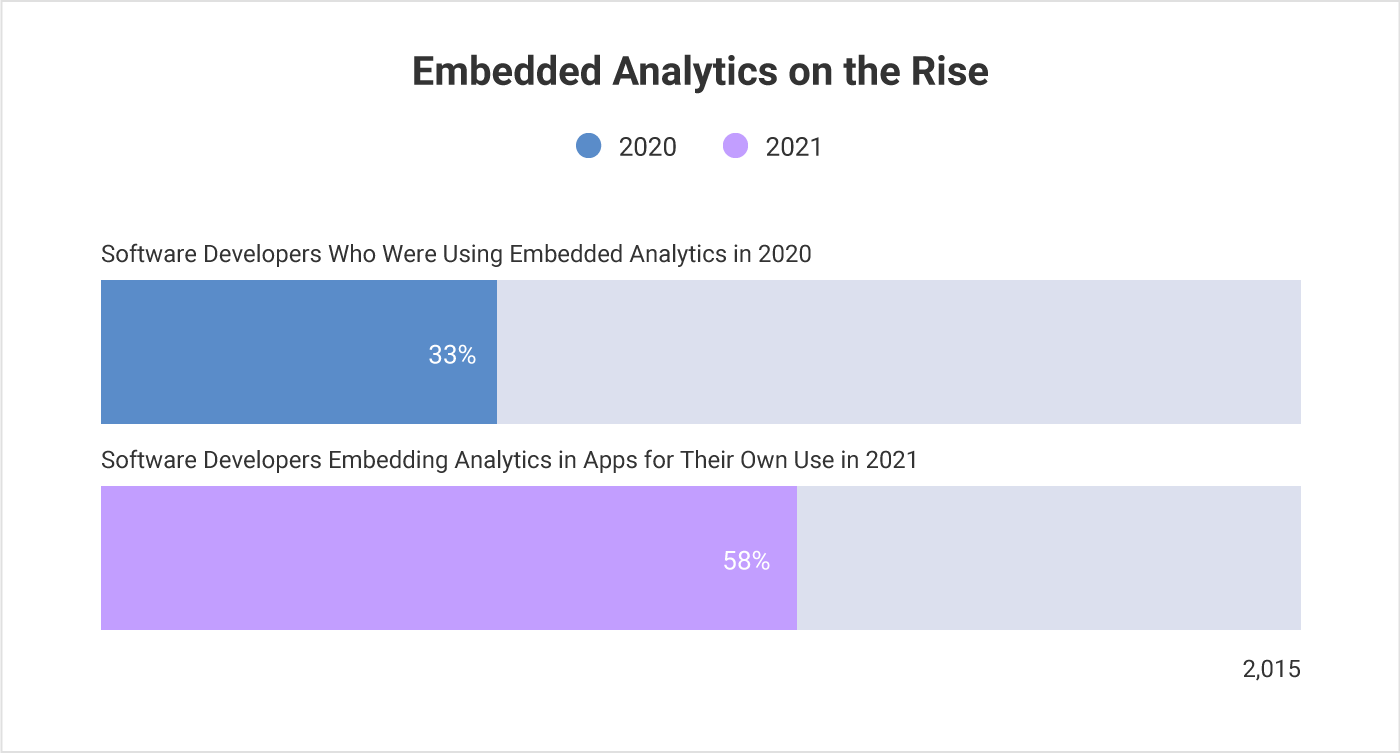 How Business Intelligence is Driving Decision Making
Internally, developers and their employees are using business intelligence software to drive decision making in these areas: sales (44%), productivity (42%), customer relationship management (38%), to find ways to cut costs (36%) and to identify trends and new market opportunities (34%).
The main business reasons end-users want business intelligence/data analytics software is to make smarter, data-driven business decisions (45%), understand business problems better (44%) and increase work productivity (43%).
Conclusion
In these trying and uncertain times, the software development industry is facing many challenges such as talent shortages, a lack of time to get the work done, and setbacks in the development cycle.
But there is hope on the horizon, as evidenced by new projects, expectations for revenue increases, and plans for expansion in 2022. IT leaders have also identified tools that will help save money and enhance the business — low-code/no-code (app builder) tools, digital workplace platforms, and design-to-code platforms.
Other platforms — business intelligence and embedded analytics – are soaring in popularity for their ability to make data-driven decisions, gain a competitive advantage and drive sales.
Our analysis found that advancements in technology have resulted in effective tools for helping software developers solve many of today's challenges in managing remote work, simplifying the digital workflow, addressing skills gaps and transforming data into business insights.
About the Survey
A total of 2,015 software developers and IT professionals participated in Infragistics' Reveal survey from December 10, 2021, to January 12, 2022.