Business Intelligence Tools Enable Data Driven Decision Making
What does it mean to be data driven? Becoming data driven means not only looking at data on a daily basis, but using it when approaching every business decision. Every member of your team or organization should be expected to analyze and learn from data. Your business metric-driven goals and objectives should be transparent throughout […]
Casey McGuigan
4 min read
What does it mean to be data driven?
Becoming data driven means not only looking at data on a daily basis, but using it when approaching every business decision. Every member of your team or organization should be expected to analyze and learn from data. Your business metric-driven goals and objectives should be transparent throughout the team so everyone is in the know.
Why do you want to be data driven?
You want your team to be data-driven because you want them to make strategic decisions based on data analysis and interpretation and not assumption. By enabling employees at every level to use the right data at the right time, data can foster conclusive decision making and become part of your companies' competitive advantage. It is better to make decisions that are supported by hard data rather than decisions that are based on observation or guessing.
Making data-driven decisions improves businesses because data leads to insights, and those insights then are turned into actions and decisions that improve businesses. Data-driven decisions help companies improve and understand business processes which ultimately leads to the company saving time and money. These decisions also lead to company consistency and growth. Ultimately, data-driven decisions enable companies to create new business opportunities, predict future trends, produce actionable insights, generate more revenue and optimize current operational efforts.
How can reveal help your team become data driven?
Reveal gives anyone in your organization the ability to create beautiful dashboards directly from your data and present them in a way that is easy for anyone to analyze.
On top of this, we have made it easy for you to create organizations and teams right from within our application:
How to create an organization in Reveal:
Sign in. That's it, you're done!
No, but really. When you log into Reveal using your organizations Google or Microsoft email we are able to detect your organization and either create one for you if you are the first to come from your company, or add you to the existing organization.
The benefits of this organization is having one central place of "truth" for your company. Set permissions to your members to allow your data pros to add dashboards for the entire company to consume.
How to create a team in Reveal
In addition to including your organization, you can also have teams. Creating a team is super easy in Reveal.
There are two ways to get started with Joining or Creating a team. From either the bottom of the left hand panel or the bottom of your team drop down click the button that says "Join or Create a Team"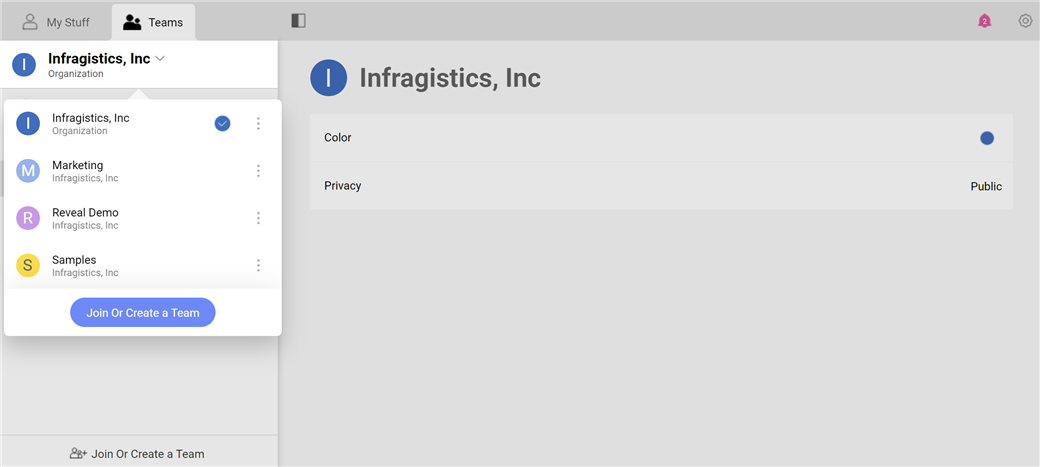 Now, if you are logged in with your Google or Microsoft account and other people in your organization have created public teams you will be able to explore and join them here. To create a new team, select "+ Create Team" in the first card.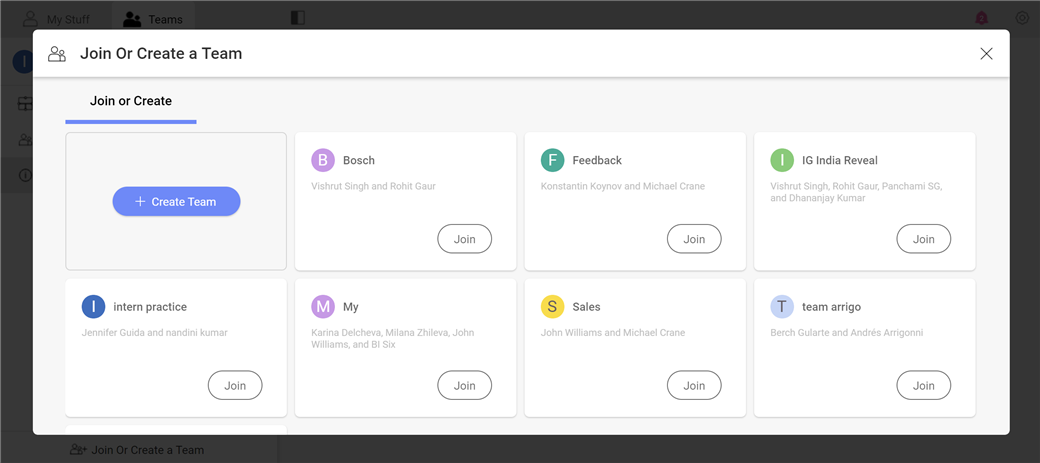 Give your team a name. I will name this team Reveal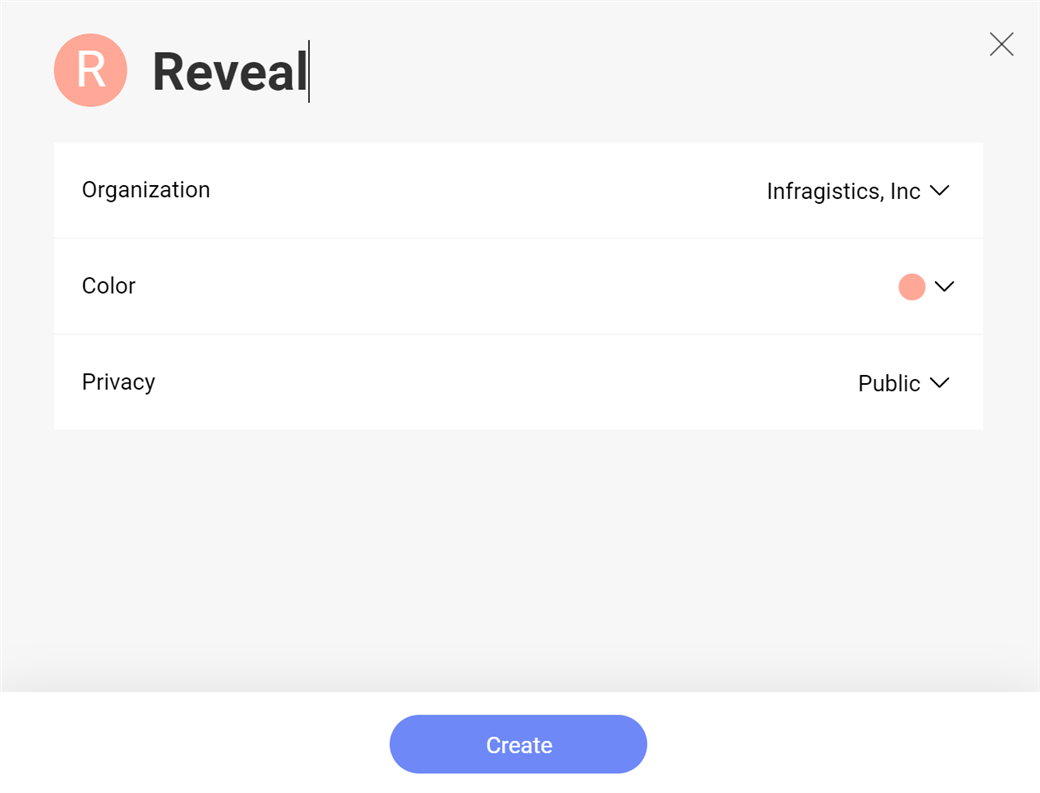 Select the Organization. If you are a part of multiple organizations you can choose what org this team lives under, or you can choose none to have this team live outside any organization
Select a themed color for your team to add a little more personality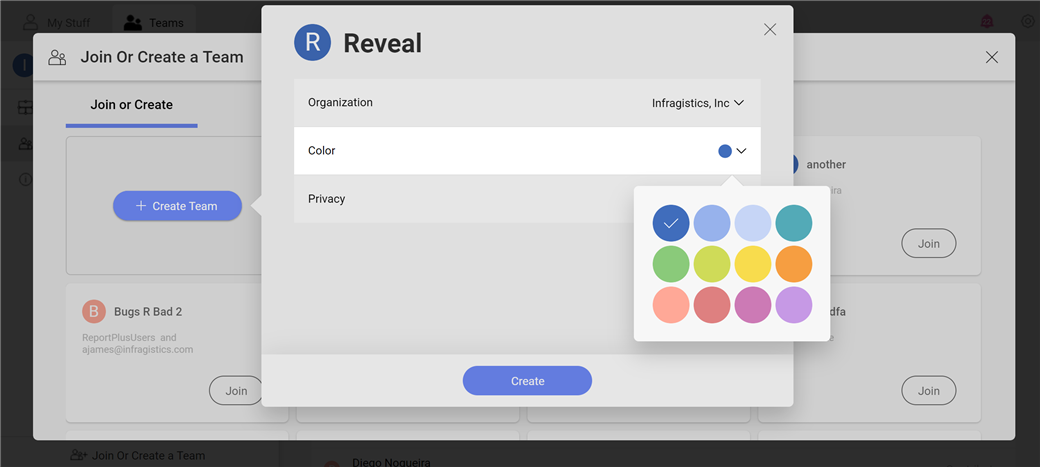 Select your privacy setting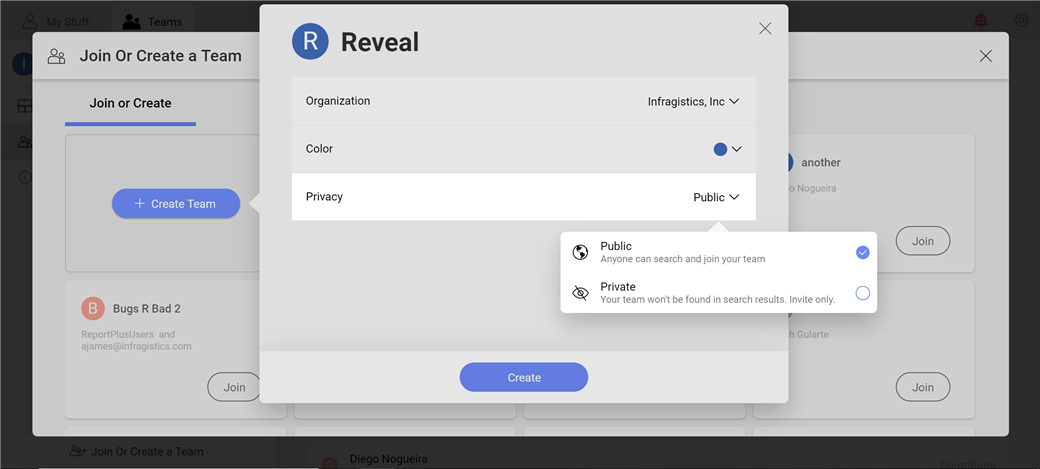 Begin to add your team members here, or skip for now and add them later in the Manage Members tab of your team.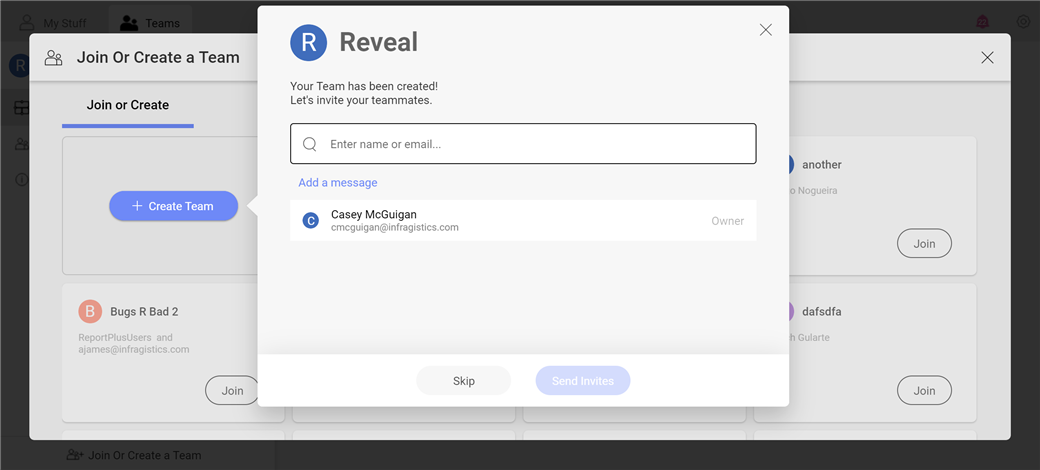 In the Manage Members tab of your team you can add new members, change permission levels to current members or, as the owner, remove members from the team.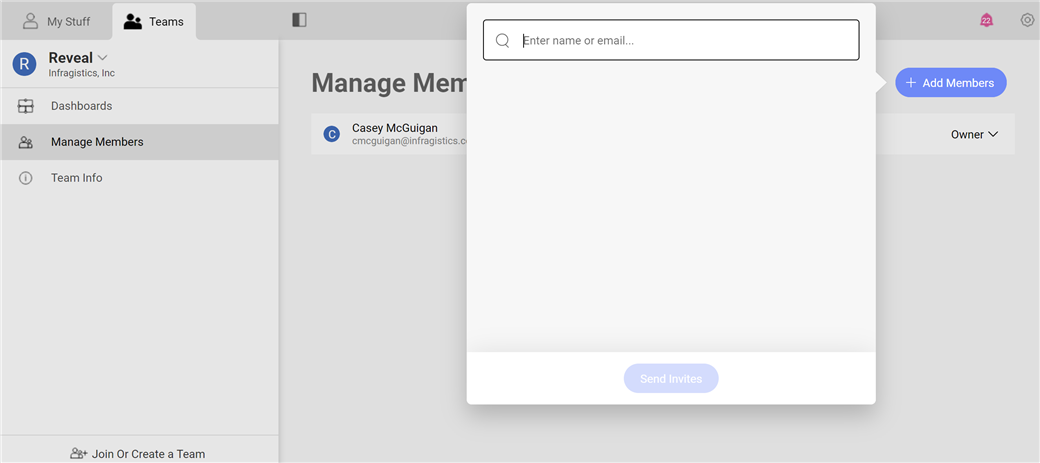 Data-driven teams are the future of business. You can see how easy it is to create teams in Reveal and share data and visualizations among your colleagues.