The apps you create, whether for mobile or desktop, generate huge amounts of data, both from user input and information collected passively. If your app can make use of this data in way that creates value for the end user, your app will be more "sticky" — a key differentiator in a highly competitive market. Many app developers are now providing such features as standard in their tools. But should independent software vendors (ISVs), systems integrators (SIs) or companies building internal apps build them in-house, or should they buy them? This post is the first in a series that explores how to get more value out of the data your apps create, whether to buy or build, and the most important factors to weigh if you choose to buy.
SaaS models have changed the industry 
The proliferation of software-as-a-service (SaaS) subscription-based business models has changed what people expect from ISVs and SIs. Cloud computing has revolutionized how people pay for software and has altered the relationship they have with vendors.
Today, users tend to pay a subscription on a regular basis and receive constant support and updates, resulting in consequences for development houses:
Retention is the measure by which success is defined: The industry's standard of success is measured by churn rate — the number of users who cancel their subscriptions or simply stop using an app.
Customer satisfaction is more important than ever: Most ISVs and SIs embed analytics as a way of adding value and increasing customer satisfaction. They rarely charge a premium for these additional features and need their deployment to be as economical as possible.
There is constant pressure to improve and differentiate the app to reduce churn: In an age of free trials where users often "try before they buy," the apps that succeed will be those that are "stickier" — the ones that give users more value the more they use the app.
At the same time, these apps are also creating data, which presents a major opportunity for growth that's waiting to be realized.
The data opportunity 
Individual apps collect large quantities of unstructured data on the back end. Every time a user interacts with your app, this information can be stored. But to be useful, this data needs to be converted from meaningless numbers to something users can understand. Embedded analytics tools can convert this information into visualizations that appear in the user interface.
The proliferation of generated data from apps and the need to continually add app value have caused app providers to explore embedded data visualizations as a means to retain customers, reduce churn, and differentiate.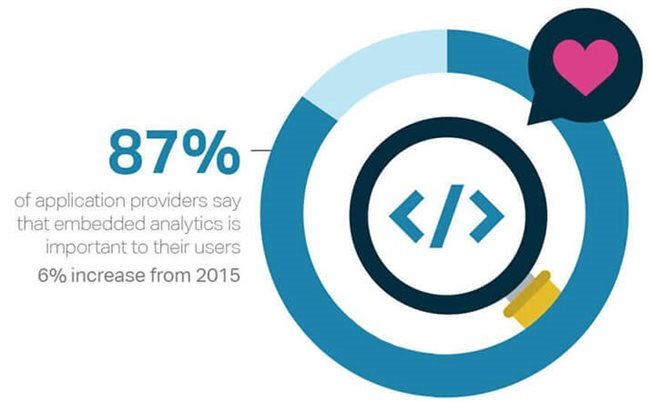 Embedded Data Visualizations as a Solution 
What are embedded data visualizations? 
Embedded data visualizations make complex information comprehensible by presenting it visually. They collect the data that users generate via an embedded analytics processor, and then make it accessible in the form of maps, pie charts, picture, and graphs. And because they're built into the application itself, embedded visualizations make it easier for the user to view data and gain insights real-time and in context, removing the need to navigate away from the app.
Customer benefits of embedded analytics: Embedding analytics provides end users with insights. Users expect their apps to help them work smarter and make better decisions. When the app offers this additional valuable content, it becomes "stickier," a useful part of their everyday life or work.
In the B2B market: A task management app shows the end user how they spend their time at the office. By providing embedded visualizations, this kind of app offers insights into how they could use their time better. For instance, a simple chart can tell them that they are spending over a third of their time in unproductive meetings.
In the consumer market: A consumer fitness app that tells someone how many calories they've burned today compared with yesterday is much more motivating. The more data is collected about the user, the more "sticky" the app becomes. Users become less likely to switch to another app because your app contains information collected over time that's useful for them to see – such as their long-term progress toward a fitness target.
Inside your own business applications: An integrated dashboard that pulls in data from your ERP and CRM systems gives users the information they need to make decisions quickly, without having to click through disparate applications.
Developer benefits of embedded analytics 
Today's app developers are competing in a crowded market. With all this availability, end users have little patience for apps that fail to bring them any particular value. If an app provides only short-term worth, users are likely to uninstall it fast; this is as true in the enterprise app space as it is in the consumer market.
Users are keen for apps that continue to provide them with real, lasting value. Increasing numbers of developers are turning to embedded data visualizations as a means of providing this kind of value, differentiating their app and reducing churn.
Now that you have a clearer idea of what embedded analytics can do for you, the next question is: Buy or build? The next post in this series breaks down the pros and cons of both. For a full decision tree on building vs. buying embedded analytics, go here. And if you're ready, drive insights and better business decisions by adding powerful analytics to your next app with Reveal Embedded.
Categories:
Embedded Analytics