Infragistics Launches Reveal Embedded Analytics Platform
Purpose-built for embed, Reveal's modern architecture simplifies how you integrate, manage, and pay for analytics.  With the launch of the Reveal Business Intelligence platform, we are making it easier to add powerful embedded analytics and data visualizations to your apps. Transform your app's UX with Reveal's eye-catching visualizations and increase app loyalty. With Infragistics' 30+ years of experience in UI frameworks, we optimized Reveal […]
Casey Ciniello
5 min read
Purpose-built for embed, Reveal's modern architecture simplifies how you integrate, manage, and pay for analytics. 
With the launch of the Reveal Business Intelligence platform, we are making it easier to add powerful embedded analytics and data visualizations to your apps. Transform your app's UX with Reveal's eye-catching visualizations and increase app loyalty.
With Infragistics' 30+ years of experience in UI frameworks, we optimized Reveal to be a developer-, cloud- and mobile-first solution.
Unlike many competitors, Reveal was purpose built to be embedded. Reveal includes native SDKs for any platform to deliver the best experience across devices with very high performance. This capability lets your customers connect anywhere, anytime from the cloud, desktop, or on mobile devices. Reveal is also faster to integrate into your code as it doesn't require that you host it in a third-party cloud location.
Reveal pricing—simple, affordable, predictable
Most embedded BI vendors use a complex tiering price structure where embedded costs continue to add up as your app becomes more successful. Many embedded BI vendors charge $100,000+ annually, with the pricing costing more than your app! To learn more, read The Pricing Secret: What Embedded Analytics Vendors Won't Tell You.
Reveal offers a single flat price: $90,000 once for a three-year license for one app, or $40,000 annually for three years. A one-year $50,000 option is also available. With this pricing, your embedded costs are capped, and you retain 100% of any incremental revenue from additional sales of your app.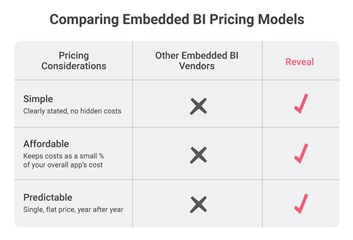 Modern UI interface
Reveal's drag and drop interface makes it simple for your customers to create beautiful dashboards such as sales metrics dashboards, digital marketing dashboards and much more. With our collaboration features, your customers can annotate dashboards or charts to highlight specific data points—and with a click share their data stories with their team. To understand the value of telling stories with data, read the Data Storytelling whitepaper.
Faster for you to setup
Reveal is much simpler to setup than products from competing embedded BI vendors. Competing products require a cumbersome and complex series of imports and exports across multiple applications. And many are based on legacy technologies requiring complicated integration with their back-end proprietary system. Reveal is built with the latest technologies including native toolkits for web, desktop, and mobile, letting you integrate Reveal quickly into your code.
Embedded BI tool
We estimate that, with Reveal, you can cut development time by 85% over building your own in-house solution. You also can save as much as $350k (based on average U.S. salaries). Reveal lets you keep your team's focus on their domain expertise. Rather than switch their focus away from your core product to create complex analytics features, you can simply embed our dashboards and visualizations with our native SDKs. Read more in our Buy or Build whitepaper.
Embedded data visualizations make complex information comprehensible by presenting it visually. They collect the data that users generate via an embedded analytics processor, then make it accessible in the form of category charts, pie charts, pictures and graphics. And because they are built into the application itself, embedded visualizations make it easier to view data and gain insights real-time and in context, removing the need to navigate away from your app.
Here are a few of Reveal's key benefits:
Purpose-Built for Embed: Built with embed in mind first on a modern architecture, Reveal provides flexibility and no added requirements—so you can embed analytics into your apps quickly.
Deliver a Beautiful UX:  Drive new revenue and increase customer satisfaction by adding a new, modern UX to your apps.  Reveal Embed includes engaging, informative and eye-popping visual dashboards that can transform the user experience of you app.
No Hidden Metering Costs: Competitors insist you host storage and compute on their servers. Choose your own cloud backend with Reveal or host it on-premise. And skip the costs. You'll also never pay for additional dashboard creation licenses.
Evolve Your App Experience on any Device:   Keep users in your application and continue to evolve your app with a key differentiator like embedded analytics.  This adds immediate value to your application, enabling users to make smarter decisions faster.
Drive New Revenue:  New app experiences and exciting new features give new opportunities to offer differentiating value to drive new revenue. Software vendors face constant pressure to improve and differentiate their app to reduce churn.  In an age of free trials where users often "try before they buy," the apps that succeed will be those that are "stickier" — those that give users more value the more they use the app.  This stickiness, this value, is the UX of the dashboard experience, plus the ability to add new native mobile device options (iOS, Android) to your branded solutions.
You can do the following with Reveal:
Let customers view, edit, and create sales and KPI dashboards directly from within your app.
Work with charts and graphs using a user-friendly, drag-and-drop interface.
Provide an intuitive, easy way for customers to connect your data sources and quickly access them.
Use control filters to determine which features you want your customers to see.
Use authentication methods with total control over the security of the data in your app.
Enable custom actions based on your customers' interaction with dashboards and visualizations.
Connect to any on-premise or cloud-based back-end and use our powerful in-memory data source to connect data from any source into a dashboard.