How BI and Data Warehousing Accelerate Business Decisions 
It's hard to believe that many organizations in today's data-driven world are still struggling to make use of the vast amounts of data they possess and that for most, accessing and analyzing data remains a distant goal.
Reveal and Panoply can help Enterprises centralize the information they have and perform different types of analysis, predictive modeling and forecasting, machine learning and AI, and other advanced analytical functionalities that will provide them with the insights they need to maximize ROI and strengthen their competitive advantage.
In this webinar, Reveal and Panoply are coming together to discuss:
How you can use Panoply to connect to all your data sources without the need to write any code
Best practices for transforming raw data into ready-to-analyze BI tables
How to go from tables of data to beautiful, actionable, and embeddable data visualizations and dashboards
How Reveal adds value to your applications by enabling all your users to transform raw data into embedded insights
About the presenters
Casey McGuigan
With a background in mathematics and an MBA, Casey brings a wealth of experience as well as a data analytics and business perspective to Infragistics. Casey is the Product Manager for Slingshot and was instrumental in product development, market analysis and the product's go-to-market strategy. She's been at Infragistics since 2013 and when she's not in the office, she enjoys playing soccer and attending concerts.
Jason Beres
As the Sr. VP of Developer Tools at Infragistics, Jason and his team spearhead the customer-driven, innovative features and functionality throughout all Infragistics' UI, UX, Data Visualization and Business Intelligence products. Jason works directly with Infragistics customers around the globe to ensure that their needs are met through our products and roadmaps. Jason is a former Microsoft .NET MVP, and he is the author of several books on software development, covering topics like SQL Server, C#, Visual Basic, Rich Client and Web Development. Jason is a national and international conference speaker and keeps very active in the developer & UX community. You can follow Jason at @jasonberes on Twitter.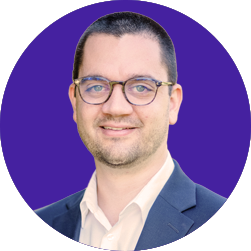 Dillon Shaw
Dillon has been in SaaS sales for over 9 years working for Citrix, LogMeIn, Oracle and currently leading the sales team at Panoply.
Sorry, but this webinar has concluded. Check out our
YouTube channel
to watch the recording.