Data Analytics Build for Embed – Simple. Fast. Predictable.
That is our headline for Reveal. Ever since we launched this re-imagined product for embedded analytics we've had 3 main goals:
Fast & Easy Integration – Easily integrate data analytics into your application with no added requirements. Reveal's flexible architecture and rich APIs give you control of the features in your app, making it a seamless part of the user's app experience.
Superior User Experience – Excite your users by making it easy for them to create, edit, and apply machine learning models to their own data visualizations without leaving your application. Increase adoption of evidence-based decision-making.
Transparent, Affordable Pricing – Know exactly what you'll be paying without any surprises. With our simple, fixed price, you can reach an unlimited number of users on any device without paying any extra usage fees.
Our goal is to deliver an amazing end-user UX for self-service BI, deep data analytics, and data storytelling. With this, an SDK experience that is easy to use and get started. This means a simple and beautiful experience with the right level of features that deliver overwhelming value to you and your stakeholders.
With this in mind, we focus our efforts in these 4 areas:
Data Connectors
Data Visualization User Experience
Easy to Use API in the SDK
Advanced Analytics / Artificial Intelligence
In 2020, we focused most of our time in these 3 areas:
Data connectors
Re-factored API in the SDK
Advanced Analytics / Artificial Intelligence
In 2021, we're continuing the work on Data Connectors, but most of our time is going towards:
Improving the overall simplicity of the SDK experience (API, Docs, Samples)
Re-imagining the interactions on Dashboards and individual visualizations in a dashboard
I'll detail the dashboard UX a bit more later in this blog, but first, let's talk about release timing. Historically, we are around every 8 to 10 weeks for major features, with monthly and on-demand hot fixes. In other words, you can expect large features every couple of months (like a new data connector or a new chart type) and smaller features or bug fixes on a monthly basis or sooner.
So as to bugs, if you have a critical bug that we can't provide a workaround for, we make it available to you as soon as it is fixes – we know that you are building software just like we do, so we can understand the importance and emergency of such a matter.
When you install / update the SDK, you can select the version, as bugs are addressed, we'll let you know which version to install.
This shows a high-level view of the release schedule goals for the remainder of 2021:


It's important to note that the Reveal SDK does not have a Published Service Release schedule; we are in a continuous delivery model with releases on demand.​ We publish as bugs are addressed and in the case of critical bugs or security issues, the Reveal team will notify you of the issue and the updated path.​
Installing the latest release of Reveal Embed SDK includes all bug fixes since the last major release.​
In general, we look at the critical nature of the bug:​
If there is a workaround, and the bug is not a critical issue, the bug fix will not be immediately prioritized, and the workaround will be the recommended path forward.  ​
Critical bugs are addressed immediately.​
Roadmap
Our roadmap is customer-driven. Everything we add is based on customer feedback and demand. While we may add items that we believe make us competitive in the market or features that are based on the general market direction or analyst feedback, we are constantly adjusting and adapting to what you, the customer, need to deliver successful software.
At a high-level, here is what the remainder of 2021 looks like for feature delivery: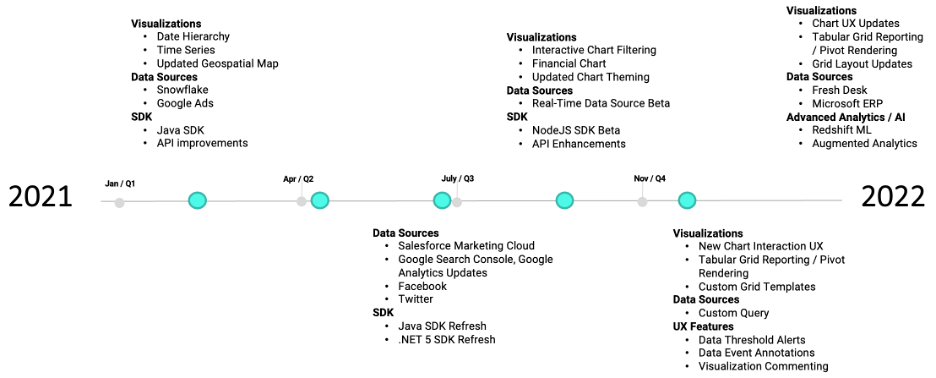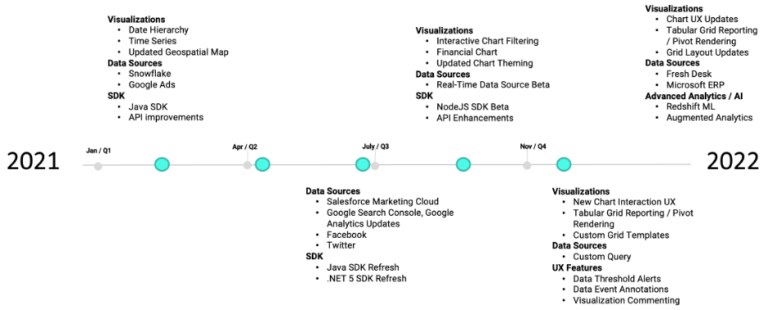 Most of this is self-explanatory, however, like I mentioned earlier, there are 2 main areas we are focusing our time on this year:
Improving the overall simplicity of the SDK experience (API, Docs, Samples)
Re-imagining the interactions on Dashboards and individual visualizations in a dashboard
Let's dive into these 2 areas.
SDK Improvements
The SDK approach is the heart of Reveal. We looked at the market over 5 years ago and realized there were no 'embeddable' BI tools that delivered a premium experience to the end-user within the context of an existing application. Every option on the market was a 'bolt-on' experience – BI was experienced via iFrames in an application and controlled by URLs, or the dashboard experience was static – meaning zero interactions, and certainly zero dashboard creation experience.
In 2021 we will continue to push the limits of what you can do with Reveal's SDK, from an end-user dashboard viewer / creator experience, and from a developer API experience. As we continue to simplify the API, you'll see us reduce the amount of code by double-digits for most method calls. We are also moving closer to a 'configuration' experience – where the SDK is 100% containerized and driven from a configuration file, allowing you to deploy to the cloud and embed in your app while only needing to focus on the client experience. The server-side almost becomes code-less if you choose, but not required!
As part of the SDK work, we'll ship and updated .NET 6 server, and a brand new NodeJS Server. This puts us in the unique position of being the only vendor in this space that ships:
And API-driven SDK
Java, .NET & NodeJS server options
This means deploy on any platform, to any cloud. Here are some additional improvements you should see this year:
Refactored / simplified API for key methods for RevealView object (Save; Save As; Filer; Add Data Source; Change Data Source)
NPM packages with updated TypeScript for more aggressive tree-shaking to reduce SDK deployment size
New APIs to control visualization-level UX like Data Series Colors, Series Hover Modes, Extended Visualization Color Palettes, Visualization Annotations, and more
New individual components for Dashboard Thumbnail View / Selector
Enable Python and R visualization configuration via SDK plus research for Web access
Enable Machine Learning providers via SDK configuration
We have a much longer list, but this gives you an idea of the bigger (and hotter) items that we want to tackle in Q3 and Q4. If there is something that you don't see, but want to, make sure to email me at CaseyM@revealbi.io and let me know!
Dashboards and Visualization UX
Enabling the best interaction experience on the dashboard level and on the individual data visualization level is our goal. We want your customers to experience a simple & beautiful UX while being able to perform in-depth data analysis.
Beginning in Q3 2021 you'll start to see improvements in the chart UX. Here is what to expect:
Better Y-Axis and X-Axis horizontal label handing when there are too many data points to show
Time-Series visualization with interactive zooming with horizontal X-Axis labels with no label rotation
Charts will be "active" in the dashboard, enabling interactions, tooltips, crosshairs, and drilldown without needing to click to activate the visualization
Each visualization in a dashboard will now activate a toolbar on hover with features like drilldown, lasso selection tool, export, table view, and statistical functions without needing to maximize visualization
Connected visualizations for interactive drilldown / filtering
User or data-driven Annotations on data points
Horizontal user or data-driven value overlay lines
Horizontal and Vertical strip lines
… and lots more!
Being able to do better data storytelling is really important to you and your customers. We realize this and are doing more on the visualization interactions to ensure that you can deliver the best experience on the market. All while keeping to our goal of simple & beautiful – we don't want to require a PhD in BI to use Reveal – anyone should be able to build interactive data stories and rich, interactive dashboards with Reveal and share with their team!
Wrap up
I hope this blog gives you a good idea of what we are planning for the remainder of this year. As usual, a quick disclaimer – roadmaps are aspirational – we aim to deliver everything we set out to, but some things will inevitably get pushed. If you are looking for features that you don't see, have a new product idea, product question, or product problem, send me an email directly at CaseyM@revealbi.io and let's discuss!
Categories:
Embedded Analytics
,
Business Intelligence
,
Data Visualization
,
Product Updates